The new and the modern era of generation have been greatly influenced by the advanced technology, people nowadays are more dependent upon this technology.
The use of technology is nearly implemented in each and every sector and this is because it reduces our work burden to a very high rate and makes the given more easy for us.
One of latest trends of the use of this technology that is becoming popular worldwide is the interview process over Skype.
Skype has become very popular over the past few years and it offers a very easy way of connecting to people present at distant places.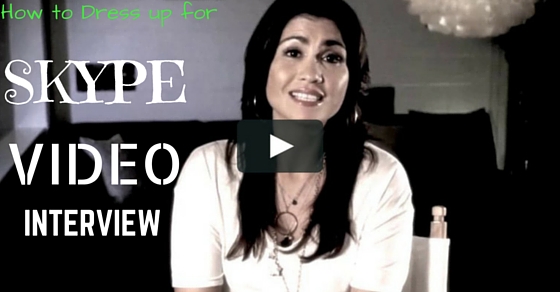 What is a Skype Video Interview Like?
When a person has completed his education then the next step towards his successful career is getting selected for a good paying job. So when he starts his pursuit to get a good job then he needs to send a good and attractive CV to different companies, but most of the times it happens that there is no reply from any of the companies and we start to lose hope by every passing day.
There comes a time when we are tired up of waiting for a call and refreshing our email inbox, but on one random day we suddenly get a call or a confirmation mail which says that you are shortlisted and you need to give a Skype Interview.
Yes, you heard it right i.e. a Skype interview; this is one of the most trending ways of interviewing people that is opted by most of the companies. This is because it saves a lot of time and the company doesn't have to gather a huge crowd which keeps the environment of the company undisturbed.
Moreover the candidate also gets a benefit of staying at his place and giving the interview without going and facing the employers. More over the candidate also feels comfortable and relaxed when he is giving the interview from his home.
Things to Keep in Mind While Giving a Skype Video Interview:
There are many different factors that play a vital role during your Skype interview but one of the main things that are considered as the most important factor of the Skype interview is the "Presentation". Yes, your presentation of yourself over the Skype interview can be the deciding factor for your selection for the particular post that you have applied for.
Most of the people fail in these interviews because they take it too lightly and casually as a result the employer don't even tend to take the full interview and gives a straight forward 'NO' for the post that you have applied for.
Your presentation matters the most because when you are going to start the Skype video call for the interview, this will be the very first time when the interviewers will see you and as we all know that "First impression is the last impression", the employers judges you from the type of outfit and presentation you provide them.
The image which they see on their screen is like an open book which tells each and every thing about your character, behavior and personality. The better you look the more are our chances of getting selected in the Skype interview. But most of the candidates prepare hard for the Skye interview then also fail to get selected, at this point of time a common question that comes in his mind is; why he got rejected? How to get selected while giving a Skype interview?
Well Prepared for Interview, But Rejected?
Most of the people are well aware of the fact, that the big MNC's will definitely take a Skype interview for the selection so they start their preparation long time before the Skype interview. But still there is something missing because of which these candidates fail in getting through the interview successfully. This is because of a very common and silly reason i.e. dressing. You're outfit or the dress you wear is the most important part of your presentation during the Skype interview.
Most of the times people overlook this factor because they think that only proper dress won't become the deciding factor of their future, but they forget that; the Molded Gold is way more valuable as compared to the Raw Gold. So one should be very careful about his/her outfit, because you never know that your decent outfit may take you through the interview with ease.
What Dress is Appropriate for a Skype Video Interview?
1. You need to do some homework before coming live on the interview day. Look out for the company's dress code and uniform, this will give you a hint of the taste of the company regarding the clothes which they have preferred for the employees. If you have done this home work and you get to know this information, then you can select the suitable matching style of the dress.
If in case you have not done the homework or you failed in knowing about the company's dress code then you can go with the Skype interview standards of dressing.
2. You need to look for professional and decent looking attire which fits perfectly with your personality. But keep in mind that your dress should not be over professional which challenges the attire of your employers. So go mild and decent with a conservative look by selecting a suit with a jacket along with the matching set of trousers having the gray, navy blue or brown colors. The shirt can be a bottom curved style shirt with a perfect ascent color and lastly a pair of matching shoes.
3. The dress does not end here; it is still incomplete without the matching accessories. You need to get yourself the matching accessories such as the tie or the tie pin, belt, cuff links, decent fine necklace, small and catchy earrings and a simple and sober wrist watch.
4. Once the accessories part is over then you need to get your hairs in a perfect shape. If your hairs are in a casual form or in a disordered form, then get yourself a perfect decent haircut before you go live for the interview. The styling of your hair should be done well and according to the interview not according to a party or function, so make sure that when you go for your hair styling you need to be careful and get your hair a new and fresh look.
5. For men it is preferred to have properly combed or styled hairs along with a clean shave or trimmed facial hairs.
6. Once you have done all these preparations then you need to do a demo test of your appearance, most of the people does this demo by dressing up and looking at the mirror but practically it is the wrong way of knowing your looks for the interview. You need to dress well and then you need to sit in front of your computer or laptop on a chair and table and then you need to see your image in the webcam. This will tell you how actually your employer will see you during the interview.
7. Seeing your image in the web cam is half the demo so you need to turn on the internet connection and then you need to do a Skype video call with a friend or a family member who is near you so that you can see your image on the other side which is transferred by the internet. Once you have confirmed that your image is satisfactory then you can relax.
8. If in case there are problems with the output on the other side then you need to work on the following factors:
Change the background of your position.
Change the room light and make it brighter.
Use a focused light or a lamp which shows your full image clearly.
Do some fair makeup.
Lastly check on the speed of the internet connection.
Once you are fully satisfied with your looks then your level of confidence automatically increases and then you are
ready to move on to prepare for the next factors of the interview.
Skype Interview Etiquette – Dos and Don'ts:
1. Do not make any excuses:
Even if you are a Skype hater and you have been short listed for the Skype interview, congrats you have been selected form a huge number of people. So you need to be calm and minded and go ahead by downloading the Skype without delaying any further.
2. Make your Username Professional:
Most of the time people forget that their username will be shown on the screens of the employers so you need to set a user name which looks perfectly professional. The best recommendation is be simple and use your original name which is their in your documents instead of catchy and attractive short liners or nicknames.
3. Dress like never before:
As guided above, you need to dress well and look fabulous on the day of your Skype interview. When you get dressed your clothes should be perfectly ironed and you should definitely take a bath before dressing up because this practically keeps you energetic, calm, cool and fresh throughout the Skype interview.
4. Improve the nearby setup of the room or your location:
You may look perfect but if you have a scrambled and scattered background then it will itself tell the full story to the employer and chance of you getting successfully selected will come down. So you need to make sure that the background of your image is perfectly tide and is good in shape.
If in case your home does not have tidy looking walls then you can place neat and clean, bright and light colored curtains in your background. By doing this, your background will look good and your presentation will also become more effective in front of the employer.
5. Use a high quality Headset/Headphone:
Most of the time it gets very annoying and embarrassing when we do each and every thing in the correct way and at the last moment we find that our employer is not able to hear our voice clearly. This could be the possible reason for your rejection in the interview. So when you are preparing everything you need to get yourself a high quality headset along with a built-in microphone.
At the time of your interview your system catches lots of background noise so with the help of the high quality headphone your voice will be perfectly transmitted and the employer will clearly understand each and every word of yours.
6. Maintain eye contact and Practice of handling the Technical problems of Skype:
You need to be straight forward and for this you also need to maintain proper eye contact in the web cam, if you are not doing so then the interviewer will catch your nervousness and low confidence level. So be confident when making a straight eye contact with your employer.
There are times when the network or the Skype shows problem while working, at this point of time most of the candidates' loss their patience and end up the interview then and there. So be calm and speak frankly to the interviewer about the problem, as they too well understand that technical problem comes in such type of interview. Moreover practice before hand on troubleshooting the common problems of the Skype so that at the time of the interview you do not land up wasting time in experimenting with the Skype software.
Once you have followed all the above instructions in the right format then only your skills and luck are the parts which will decide whether you fit perfectly in the post that you have applied for. So go ahead and prepare well for your Skype interview.