Hollywood is like sunshine in which everybody wants to be in. This super exciting multimedia industry of the world entices unending aspirants to be the part of the galore. It has got the power to place an actor from zilch to zenith.
Every year Hollywood stuns its spectators with many outstanding movies and performances. Hollywood actors and actresses are like the hypnotizers of this showbiz world, touching millions of hearts with their movies.
Some of the most talented people of Hollywood who infuse life through their actions have been mentioned below in topmost popular actors in Hollywood list.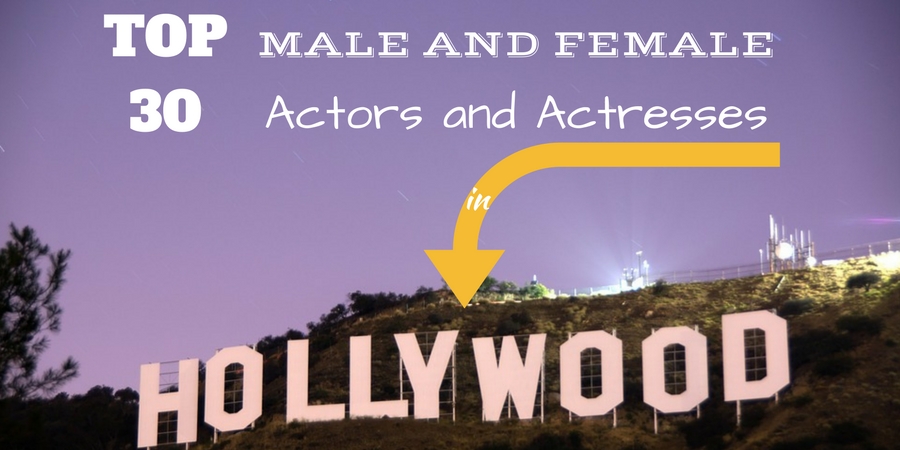 Top Hollywood Actors and Actresses:
Let us now look at the top 30 Hollywood actors of all time.
Top Male Actors in Hollywood:
Who can forget Will Smith's performance in Bad Boys and Men in Black series? This actor, producer, singer, rapper, and songwriter came into the industry as a rapper but soon turned into acting as well. He has been nominated five times for the golden globe awards and has won four Grammy Awards proving his mettle.
2. Robert Pattinson:
The star who made females yearn for him with his romantic movie twilight, Robert Pattinson. Back then in 2010, he became one of the most influential people as declared by one of the prominent magazines. He has continued to hit the right chords of the heart of Hollywood fanatics with his work.
Johnny Depp is the worldwide, critically acclaimed actor of Hollywood. He is popular for playing larger than life roles like Alice in Wonderland or Charlie and the Chocolate Factory or his commercially most successful movie the Pirates of the Caribbean films.
Johnny is deemed as the sexiest man in the world and is amongst the highest-paid actors of Hollywood. He has won many prestigious awards like the Golden Globe award, Screen Actors Guild award and the Academy. Apart from acting, Depp is popular as a musician too.
4. Ben Affleck:
Ben Affleck is an American actor and filmmaker. He has been honored with two Academy Awards, two BAFTA Awards, three Golden Globe Awards and two Screen Actors Guild Awards.
He started his career at the age of eight and tasted success after playing coming-of-age comedy. Lately, he has gained popularity through his batman role.
5. Brad Pitt:
One of the most dashing personalities of Hollywood, William Bradley Brad Pitt, has always delivered great performances through diverse roles. This American actor and producer have received many awards and nominations, which also includes the Academy Award as a producer under his production company Plan B Entertainment. He has instigated many social projects with his wife Angelina Jolie.
6. Robert Downey, Jr:
Our very own iron man Robert Downey, Jr entered Hollywood at the tender age of 5. Hollywood seems to flow in his blood, being the son of Robert Downey Sr. and actress née Elsie Ann Ford.
He was born in 1965 and age just seems to be a number for him. He has acted in more than 40 movies and his work in films like Sherlock Holmes and the Iron Man series has been much appreciated.
7. Mark Wahlberg:
Amongst the top-paid actors of Hollywood, Mark Wahlberg has fixed his place. He made his entry into Hollywood as the rapper, but didn't restrict himself with that and has been successful as an actor, model, and producer.
The departed, the Italian Job, Rockstar, the perfect storm, the planet of the Apes are only some of the movies from a long list of movies in which Mark has starred.
8. Chris Hemsworth:
The handsome hunk who has instilled Thor's character with vigor is Chris Hemsworth. This Australian actor debuted as a television star and then subsequently acted in movies.
Along with the killer looks and outstanding acting abilities, Chris has played different roles with ease. The Avengers, Red Dawn, Blackhat, etc. are some of the films Chris has done.
9. Tom Hanks:
Tom Hanks is amongst the most successful actors of Hollywood. He has received the Academy award consecutively for two years. Born in 1956, he is well-known both as an actor and filmmaker.
Some of his amazing movies include Splash, Big, Turner & Hooch, A League of Their Own, Sleepless in Seattle, Philadelphia, Forrest Gump, Apollo 13, Saving Private Ryan, You've Got Mail, The Green Mile, Cast Away, Road to Perdition and The Da Vinci Code. He has even voiced animated films The Polar Express and the Toy Story series.
10. Leonardo DiCaprio:
Leonardo DiCaprio may have started humbly in Hollywood, but today he is amongst the leading actors of the industry. Titanic and Romeo and Juliet brought laurels to his career and then he never looked back.
From an award-winning actor to producer, success followed this Los Angeles actor in every walk. He has won four Academy Awards and 2 Golden Globe Awards as well as nominated eight times for Golden Globe Awards.
11. Tom Cruise:
Heart Throb Tom Cruise is one of the highest-paid actors of Hollywood. He debuted in the industry at the age of 19 with the movie Endless love. This actor and filmmaker have been prominent in showbiz with his various roles and movies.
His work in the mission impossible series is commendable. He has in his account three Golden Globe Award nominations and three Golden Globe Awards along with various other honors.
12. Bradley Cooper:
Can you imagine The Hangover without Bradley Cooper? His acting is so natural that all the movies he does seem to be the very part of his life. Born in 1975, he started his career doing supportive roles and television shows.
His career boomed with a movie, Sexiest Man Alive. His movies like Silver Linings Playbook, American Hustle and American Sniper have brought him consecutive Oscar nominations.
13. Matt Damon:
Born in Cambridge, Matt Damon touched the threshold of Hollywood in 1988. Apart from his acting skills, Matt is proficient as a screenwriter, voice actor, producer, and philanthropist. For his acting skills, he has won an Oscar Award, an Academy Award, and a golden globe award.
One of the highest-paid actors, Jackie Chan is the Jack of many arts. Apart from acting, he is a singer, stunt performer, martial artist, director, and producer.
He started his career at 5 and has embellished many movies through his acting skills like Police story, CZ12, Rush hour, Who Am I, Drunken master, Armour of god, Shanghai Noon, Shanghai Knights, The Forbidden Kingdom, The Medallion, The Tuxedo, The Karate Kid and The Spy Next Door. Showcasing his singing talent, he has released over 20 albums.
15. Dwayne Johnson:
One of the most loved action heroes, Dwayne Johnson is a popular professional wrestler. Famous by his ring name, The Rock serves him right seeing his strong maintained athletic body.
As a lead in Hollywood, his first movies was The Scorpion King, after which he has done many movies in the leading role like getting Smart, Be Cool, The Rundown, Walking Tall, Doom, Tooth Fairy, Gridiron Gang, Hercules, etc. He is an expensive actor to be roped in for a movie.
Top Female Actors in Hollywood:

The following mentioned is a list of few top Hollywood female actors.
1. Jami Gertz:
Jami Getz is an American actress who was discovered by Norman Lear in a nationwide talent search. She is famous for movies like Sixteen Candles, Crossroads, The Lost Boys, Less Than Zero and Quicksilver. Her net worth is $2 billion and is amongst the topmost richest actresses in the world.
2. Kate Winslet:
Every time there is a mention of the movie Titanic, Kate Winslet automatically comes into mind. This English actress has been awarded many prestigious accolades for her acting, viz. an Academy Award, a BIFA Award, three BAFTA Awards, four Golden Globe Awards, an AACTA Award, a Primetime Emmy Award, a Grammy Award, and three Screen Actors Guild Awards.
3. Sandra Bullock:
Sandra Bullock is the German-American actress who is also a producer (Fortis Films) and philanthropist. She is a costly actress and charges over $20 million for a single movie. She has done many successful movies, few of which are Miss Congeniality, Two Weeks Notice, Crash, The Proposal, and The Heat. Soon Her net worth will be $200 million.
4. Olivia Wilde:
Olivia Wilde is famous as an actress and fashion model. She is even deemed as one of the hottest actresses in the globe. In 2010, She was chosen as the PETA sexiest celebrity. She has been the part of various TV series and commercial movies. She has done several successful movies few of which are Tron: Legacy, Cowboys & Aliens, Her, Drinking Buddies and Rush.
5. Julia Roberts:
Julia Fiona Roberts is an actress and producer who believe that inexhaustible work ethics, talents and charm is the recipe for success. She has received eight nominations for Golden Globe Awards and bagged three awards out of eight.
She has also been nominated for 4 Academy Awards and her acting in the movie Erin Brockovich helped her win the Academy Award for Best Actress.
6. Mila Kunis:
Mila Kunis is an American actress who debuted on television from her school days itself. That '70s Show was the TV series in which she gets a meaty role and got popular. She started her career in movies in a Forgetting Sarah Marshall.
Some of her movies are film Max Payne, The Book of Eli, Friends with Benefits, Ted, Oz the Great and Powerful and Black Swan for which she is appreciated worldwide. She got a star Screen Awards for her exceptional performances.
7. Cameron Diaz:
Born in 1972, this American actress began her career at the age of 15 as a model. Then she began acting and Cameron Diaz with her mesmerizing blue eyes and a slender tall physique charmed her fans.
The first film of her career was The Last Supper. Various roles she did augment her success and placed her among the topmost actresses in Hollywood.
8. Emma Stone:
Also known as Riley Stone and Emily Stones, Emma was born in 1988. Her elegant appearance has made her one of the most beautiful actresses of Hollywood.
She debuted in the film industry in 2007 with Superbad. She is the part of blockbuster movies like The Amazing Spiderman Series, The Help and many others.
9. Megan Fox:
Megan Fox is an American actress who is born in 1986 and has acted in various TV shows as well as movies. In the beginning, she sufficed her acting quench with the minor roles both in Television and movies.
She then debuted in a teen comedy movie, Confessions of a Teenage Drama Queen in 2004. Fox is known to stir sensual emotions with her sexy appearances in magazines like Maxim, Rolling Stone, and FHM.
10. Melissa McCarthy:
Melissa McCarthy, an American actress has proved that obesity cannot stop a talent bomb from exploding. She is a writer, comedian, fashion designer as well as producer other than being an actress.
She has never acted in romantic comedy films, but still, her vigor is unstoppable and has placed herself in a prime place in Hollywood from her sheer talent. Her role in Spy was quite appreciated and she even won a Golden Globe nomination for that.
11. Jessica Alba:
Born in 1981, Jessica Alba is an actress and businesswoman. From the age of 13, she has been making appearances in television and movies. With her acting abilities, Jessica has won many awards which include Saturn Award for Best Actress on the Television, Choice Actress Teen Choice Award and also got a Golden Globe nomination for her leading role in Dark Angel, a television series.
12. Jennifer Aniston:
Born in 1969, Jennifer Aniston does acting, producing and business quite at ease. She has been gaining popularity through television shows and movies.
She has received accolades with many premier awards like Screen Actor Guild Award, Primetime Emmy Award, Golden Globe Award, etc. Some of her successful movies are Horrible Bosses, The Break-Up, Just Go with it, Marley and Me, etc.
13. Scarlett Johansson:
Scarlett Johansson carries a charisma through which she bagged the title of the sexiest woman twice. This multi-talented personality, she acts, sings and does modeling. From the age of 10, she has been impressing her fans with acting. Some of the movies are The Island, Her, The Prestige, A Love Song for Bobby Long, The Black Dahlia, etc.
14. Angelina Jolie:
Oscar-winning actress, Angelina Jolie is one of the most beautiful women in Hollywood. Acting, film making, and different humanitarian activities make her a well-known personality.
She has been critically acclaimed and has won many awards for her performances. Lara Croft, Mr. & Mrs. Smith, Salt, Wanted and Maleficent are only a few names in the blockbuster list of her movies.
15. Jennifer Lawrence:
American actress, Jeniffer Lawrence has been the highest-paid actress in the world since 2015. She is even considered amongst the most influential person in 2013 and 2016 by notable magazines. She has received various prestigious awards that include Academy award, Oscar, BAFTA Awards and Golden Globe awards.
Being in Hollywood is like a dream come true and these actors and actresses have made their life greater than a dream.
Save