There are several actors in Hollywood who have attained world acclaim for their superior acting skills and the ability to entertain world audiences.
The world will always stay inspired by actors like Jim Carrey, Eddie Murphy, Leonardo Di Caprio, Jackie Chan, Bruce Willis and Bruce Lee for their excellent performance and the mark they have left on the Hollywood industry.
There are actors in Hollywood who have made a mark not just by their acting skills but also their stunning degrees and qualifications.
Here is a list of the magnificent actors who are equally qualified too.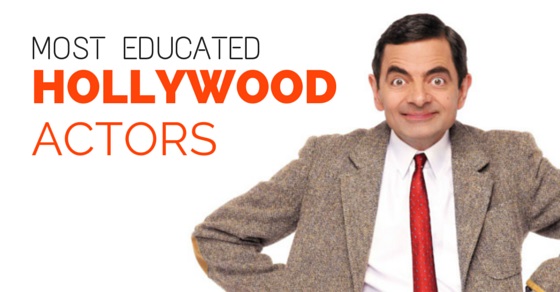 1. Rowan Atkinson:
Rowan Atkinson remains eternal in the minds of the viewers due to his excellent performances in Mr Bean and Johny English.
Children and comedy lovers around the world will always remember him as the Mr Bean. This great actor has also excelled in education is something few are aware of.
Did you know that Rowan Atkinson has got a bachelor's degree in Electrical Engineering? He also received an MSc in Electrical Engineering from The Queen's College of Oxford.
2. Ashton Kutcher:
Ashton Kutcher, who still remains a heart throb for many young ladies, is a famous model and actor. His role in 'Dude, Where's My Car' still remains fresh in the minds of people.
The funny fact about his career that few would be aware of is that he has done a major in biochemical engineering.
Kutcher enrolled himself into this course in the University of Iowa inspired to find a treatment for his brother's heart ailment.
3. Conan O' Brien:
Conan O Brien, more popularly known as an American Television host has also played roles in countless movies for the television and the big screen.
This American host is particularly noted for his work in The Simpsons. He did his schooling from Brooklyn High School and cleared with great honour from the Harvard University later.
When one checks the background of his parents, this was really no surprise. His father is a Harvard physician and his mother is a renowned attorney.
4. Ben Stein:
The actor and comedian Benjamin Stein is more popular among audiences as the speech writer for President Nixon. Benjamin Stein entered the entertainment field later.
This Emmy Award winning Game Show host is a graduate from Montgomery Blair High School.
He has also done a major in economics in Columbia University's Colombia College. So apart from his writing genius and excellent onscreen presence, he has lots to boast of.
5. James Franco:
American actor and filmmaker James Franco is remembered as the Academy Award winner for his role in 127 hours. He has given remarkable performances in many of his films.
The fact is he is not just a great actor but is also equally educated. He graduated from the Pato Alto High School and became a mathematician.
He was always encouraged by his parents that helped him gain good grades. He also scored really well in the SATs.
6. David Duchovny:
David Duchovny, who is most popular for his role as the FBI Agent in The X-Files, is an American actor with a great academic background.
The actor has passed out of Princeton in 1982 and has two Ivy League degrees to his credit.
David Duchovny also started doing his PHD when he was in New Haven but he never managed to complete it.
7. Hill Harper:
Hill Harper is a popular television, film and stage actor and is remembered for his role in the movie The Skulls that was released in the year 2008. This actor is not just a great actor but also has a series of degrees to his credit.
He has done his schooling from Bella Vista High School from where he graduated in 1984. He has also done his Masters in Public Administration. He has a degree in law from the Harvard Law School as well to his credit.
8. Matt Damon:
Matt Damon is an actor, producer as well as a voice artist. He has gained laurels in the film industry through his work in 'Good Will Hunting' for which he received Academy Awards. He has also received a star on Hollywood Walk of Fame.
This Hollywood star is also a Harvard product though he didn't really wait to receive his degree as the film industry was calling him. He has done his schooling from Cambridge Rindge and Latin School.
The number of educated and extremely qualified actors in Hollywood reveals that each of the great personalities from English movies have more to them than what is visible on screen.
These are individuals who have selected the film industry because of their passion for acting and entertaining the audiences.
These individuals are talented and any field they would join, they would succeed equally. This gives us a reason why many of the popular actors do not stop just at acting.
These actors also make sure they use their other skills and help the nation by joining politics. This is the reason why we have a big list of actors turned politicians in America.
9. Ronald Reagan:
The best example we can take is that of Ronald Reagan, the 40th President of America. Ronald Reagan has acted in big as well as small screen.
He started his Hollywood career in 1937. He has acted in over 50 Hollywood films. He has also been the host to television shows like Death Valley Days and General Electric Theater.
Ronald Reagan was one of the successful presidents of America. He brought about several changes in economic and other policies that helped Americans become more independent.
The Cold War was brought to an end during his presidency. The US military also saw positive changes during his tenure. In May 2007, his diaries written during his presidency were published as The Reagan Diaries.
America can expect progress and success with such bright stars performing in Hollywood as well as executing their skills to help their nation progress.