In one way or the other, the manner in which you carry yourself plays a very important role in modern workplaces.
People who pay attention to what they dress for the office usually have a great career life.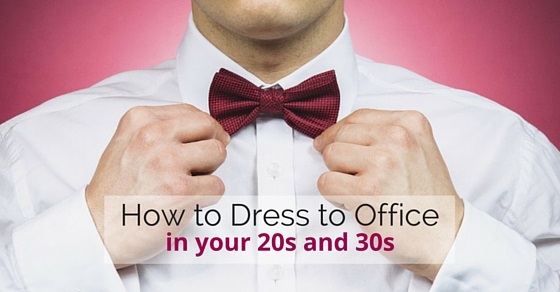 Your appearances always translate into your performance. Knowingly or unknowingly you always create an impression on the onlookers by what you wear.
Especially dressing five days a week with ill-fitted shirts, quite similar blazers or baggy trousers are not a good option to ascend the corporate ladder.
It is not enough that you are working hard, you should also be taking equal efforts to present yourself effectively.
There is a different style to go with in each age group. The outfits that look stunning on you when you are in your twenties may just look lousy when you are in your thirties.
Work Outfits for Women in Their 20s:
Especially for corporate professionals in the age of 20s, having a good sense of style is always important.
All of us have had a totally new phase of life. So your attire should always match up with this phase. Here are few of the tips to dress to the office in your 20s.
Get Rid of The College Mood:
As you are probably at the verge of a career and a new life, you need to get rid of your old ways. So always draw your line differently.
If your company has a dress code, follow it. Otherwise this is the time to understand what is appropriate in the working industry.
There are certain dress codes to be followed during the weekdays. There are some common styles of dressing followed during the weekends.
Taking a note of these unique factors can help you dress appropriately to work. You need to get rid of the causal approach you had in college and mould yourself to match the work ethics of the corporate world.
Pick The Right Fit:
No matter how expensive the clothing is, nothing ruins it like wearing something that doesn't fit. Always selecting the correct size is the first secret of looking smart.
If you are in your early twenties, you may be slim and ill-built. You need to pick outfits that make you look mature.
Suits and other corporate formal outfits usually look good on well built men. Avoid them if you are not thoroughly built. Instead, you should pick shirts that are perfect fit as per your physique. Picking the right fit may not always be easy.
Most malls and brands have shirts for the regular sizes. If you have a different built, you may have to spend some extra time to pick the right fit.
Have Well Set Hair:
Always dry your hairs before leaving to office. Men can spend some time styling their hair and setting them perfectly with the help of some hair gel.
Men should usually opt for short, well trimmed hairstyles. If you have prided on those long locks in college, it is time to give up your old ways now.
Women in their twenties can actually experiment with the best suited professional hairstyle. Boy cut looks great on straight haired professional women with a long face.
If you have long wavy hair, you may opt for a single bun or pony tail with a few locks let loose to give you the perfect look.
Experiment With Colours:
Twenties is the best time to experiment colors too. Always pay attention to color choices. You may wear rich dark colors to convey a stronger impression. You may opt for lighter shades to reflect your subtle taste.
While you try out different colours and shades, do pay attention to the opinion of people around you. Their feedback will help you identify which shades and colours suit you best.
Women can also experiment with the types and patterns of attires they wear to office. They may opt for plain outfits as well as outfits with ornate and intricate patters. You may opt for florals and paisley patterned outfits too.
You may wear traditional as well as modern formal attires to office. Try and identify what female outfit goes best on your persona.
Select the Right Accessories:
Pay attention to accessories like bag, watch and wear etiquette friendly jewelry only. Don't use strong DEOs and perfumes as they are often annoying to people around you.
Women also have an option of choosing from a wide range of formal and stylish jewellery. You need to pick earrings and bracelets that are classy and do not look gaudy on your formal outfit.
Men and women need to be equally careful about their footwear choices in the twenties. Men need to identify what kind of footwear is usually acceptable in a formal office environment. You may even have options in heels.
Women need to rate their comfort above their style when it comes to choosing the right office footwear. Opt for wedges or platform heels as these are comfortable and stylish too.
Avoid stilettos if you are not accustomed to wearing high heels because you can't pay attention to your work if the heels are uncomfortable.
How to Dress For the Office in your 30s:
Usually, people spend their 20's experimenting with the styles. By the time they reach their late twenties or early thirties, they are already aware of their style for the workplace.
Pick Your Style and Be Mature in Your Thirties:
Now, the thirties is the best time to lock down your style. The vital key to dressing in this age is to label your body and personal aesthetics.
This will automatically lead to sophisticated and smarter choices. By the time you are in your thirties, you have a more mature role to play in the organization. You do not have anymore time to experiment with styles and outfits.
It is best if you have understood your style by now and know exactly what to wear. It is time to create a statement with your perfect look.
Opt for the Classical Look:
If you do not have a clear idea what attire would look best on you then you should go for the classical look that has already been tried and tested several times.
The classical look is the most versatile and easiest way to dress for offices regardless to your job. This automatically keeps you away from the boring daily look.
If you seek inspiration, you can check out old fashion magazines that spell the ideal classic look for professional men. They would list out some common style that looks good on men regardless of the type of professional circle to which they belong.
Pick one of these outfits and wear it to your workplace. Do confirm from people around you that your outfit suits you well.
Use Statement Pieces to Make a Mark:
This is the best time to go for statement pieces. Along with this, one should also add more accessories in detail like shoes, jewelry, lips, nails, watch and bag etc.
You may pick the best brooch, stylish cufflinks, the right brand of pen and similar other accessories that make you stand out of the crowd.
Women may opt for unique hair accessories, the sleek and stylish hand bag, the right make of sandals and statement jewellery pieces to wear to office.
Make sure you do not look odd or funny and your choices go well with your office dress culture.
Don't Try To Be Too Stylish to Be Acceptable:
Wearing inaccurate attire not only distracts but also creates inappropriate impression. So always try not to be too sexy. One should be remembered for his or her work, not for what he/ she wears.
Hence, avoid outfits that are too gaudy. These would look good if it is a party or a get together but may not suit your work environment.
Right Accessories Do Make A Difference:
Outfits are the best complemented with accessories, not overpower them. The best suited option to keep their use to a limited extent only.
Always use those accessories which make less or no sound. You need to possess the right talent to pick the best accessories.
Work to Stay Fit:
It's not the clothing only that makes a sense. A well shaped body always adds a unique spark to the attires. So always select the best suited fabric for your skin like crepe, chiffon or synthetics etc.
By early thirties, most men and women gain some extra weight and grow out of shape. It is best to understand this fact and choose your outfits for office accordingly.
Final Words:
It is best to avoid body hugging attires in your early thirties as these will easily reveal the extra pounds here and there. Go for outfits that fit comfortably and give you the mature look.
With age, people who alter their tastes manage to make a lasting impression on people in the workplace. As looks often matter a lot in your career, these tips will help you be better prepared for office in your twenties and thirties.