What Are Brogues?
Brogues are low heeled leather shoes which have ornamental perforations at the top. These holes and perforations are done through a process called as "broguing" hence the name brogues. These styles of shoes have their roots originating from Ireland and England and were initially used as shoes that can be used for crossing wet terrains and bogs.
The holes allowed the water to drain from them and made them comfortable to wear afterwards. Here we have discussed few points on how to wear brogues for both men and women.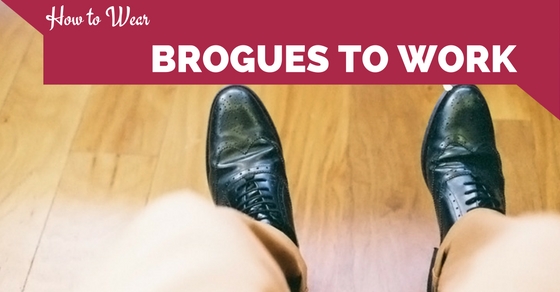 How to Wear Brogues?
Brogues were initially designed to be used for outdoor purposes, but after the introductions of brogues in recent years, they are widely used as office shoes or work shoes and they are now considered as a suitable form of footwear suitable for most occasions including formal and casual events.
Brogues are now a raging fashion trend for men these days and they are slowly replacing various shoes such as formal work shoes for office, sneakers and loafers. Even among women, they are a popular fashion statement, and they are successfully replacing the traditional high heeled shoes that women usually use for office. Brogues also come in various shapes such as full tip, winged tip, quarter tip and long wing based on their toe cap styles. And also depending on the closure style of the shoe, they are divided as oxford, derby, ghillie and monk. Depending on the occasion and purpose, these shoes have a multi functional advantage. No wonder they are very much popular among the working class.
Brogues Suited For Men:
Brogues can be used for different occasions ranging from formal to casual events. Depending on the occasion, brogues can be selected on the basis of their styles and the material that they are made up of.
For example: Leather brogues made from leather can be used for formal events and is a good addition to your office wardrobe. While, suede brogues made from suede or such similar materials can be used to match with casual clothes like chinos and jeans.
Brogues having a single solid colour can be used as a dress shoe for formal events like meetings, social gathering or black tie events. For instance, black brogues go well with the black suit and tie combination, while tan brogues made from tan leather can go well with a combination of white and navy blue attire. Also make sure that while selecting the right brogue for the attire, the pants of the wardrobe should not be too long as this will not define the style of the brogues and in the end will make you look sloppy and unpolished. Make sure to choose the right type of clothing that can enhance the style of the shoe.
Different Shoe Styles For Men:
As mentioned earlier, there are different styles of brogues that are differentiated by its toe cap style and also its overall structure. While selecting the right type of brogue, it is necessary to know which style goes well with your work attire.
1. Style based on brogue closure:
While selecting the right kind of brogue shoes, make sure that you take consideration about the closure style of the shoe. The closure style is often chosen based on the occasion and purpose of the shoe. There are four basic styles that come under this section, these are:
i. Oxford style:
Oxford style shoes are closed laced style of brogue. They are characterised by the V shape design that they have near the eyelets where the laces of shoe goes. Hence, these are also called as closed lacing shoes. These styles of shoes are suitable for both men and women and they are widely used for office purposes. While searching for formal shoes, oxford shoes are the first choice for many because of its contemporary look.
ii. Ghillie:
These also come under the category of the oxford shoes, but they are slightly different from them, since they have an open top and no tongue is present. The laces are very long and sometimes they can be worn over the ankle. These types of shoes are used for semi formal events such as parties and meetings. These add a level of chic to the office wardrobe. They have its roots as being used as dancing shoes in traditional Scottish dances.
iii. Monk straps:
Monk straps are very much different from oxford shoes, since they do not have straps to secure them. They have a long and secure tongue that is used to fit the shoe to the feet. These tongues are buckled to the sides of the shoe. These buckles are adjustable and are very easy to use. Monk straps are also widely used as formal shoes, but many people prefer oxford shoes for work. Monk strap shoes are worn by people who do not want to be troubled by shoelaces and people who hate tying their shoe laces from time to time.
iv. Derby shoes:
These shoes are also called as bucks and they have the eyelets for the shoe laces directly sewed on top of them. Hence, they have an open lacing method and they are very much different from oxford shoes. These shoes were primarily used for hunting and catching game. Nowadays they are popularly used as formal wear especially for work attire.
2. Based on toe style:
Based on the toe style, brogues are also differentiated, making them more versatile and wide ranging so as to meet various needs and requirements.
i. Wingtip:
These types of brogue shoes have a pointed tip and they have a wing shaped structure hence the name wingtip. Since they are brogues, the area consisting of the toe cap has ornamental perforations that are arranged in a decorative pattern, making them more suitable for semi formal events. Wingtip shoes that do not have perforations are also available these are called as "austerity brogues". The only downside being is that austerity brogues are not that popular than their other counterparts.
ii. Semi – brogue style:
These types of semi-brogue style shoes are also called as half brogues and they are differentiated from the rest by the availability of perforations on the top cap and also along the sides of the shoes. These type of shoes fall under the category of semi formal shoes and they are widely used to give a classy touch to the wardrobe.
iii. Quarter style brogues:
These are very much similar to the semi brogue shoes the only difference being that instead of having holes both at the top and the side of the shoe; these do not have any perforations at the centre of the top cap. Hence, they are called as quarter style brogues. These are the hybrid versions of semi brogue styles
iv. Long wing brogues:
Like the name suggests, long wing brogues are the hybrid versions of the wing tipped brogues. Long wing brogues have the winged designs extending over to the sides of the shoe, unlike the wing tipped style where the wing design stops midway. Unfortunately these styles of shoes are not as popular as the rest of the styles of brogues.
Brogues For Women:
For nearly 20 decades, oxford brogues were known as shoes that were used by young men from oxford. Nowadays, such lines of differentiation are slowly being dissolved and a new line of brogues are being released that are suitable for women. They are classy, fashionable and they still give a professional look to office attire.
The most popular reason why oxfords are becoming more and more popular among women is the comfort that they provide. While wearing pants and suit combinations, many women prefer oxfords over high heeled stilettos and pumps. The main reason being that, brogues provide comfort and freedom for the working women to move around during work and they do not give any discomfort to the wearer unlike their high heeled counterparts. As brogues are being more and more popular, they are also available in a wide range of colour and styles that makes them suitable for any kind of occasion.
How To Style Women's Brogues:
One of the main reasons why women like to wear brogues for work is the adaptability of the shoe. They are easy to be paired with any kind of clothing. Be it, casual or professional wardrobe, they are a good companion for enhancing the style factor and they are very much classy.
Another reason being that brogues especially oxfords are never out of style. Every time they manage their way back to the fashion trends. This is the main reason why they are basic style of footwear for the working man. Keep in mind that the style for brogues for man and women are very much different. Even though, both genders use the same type of shoe, the feeling that these shoes give off is very much different. For men, brogues give of a classy and antique feel for their wardrobe, while for women oxford shoes give off a totally different feeling. The reason being that, women can add a fair amount of personalisation to their shoes. This option is very much limited for men.
Here are a few guidelines on how to wear brogues   ladies can wear brogues to work as a part of their formal attire:
For business use:
Oxfords are the types of brogues that most women prefer. The main reason being that, they are very much flexible and adaptable to various type of wardrobe. One of the most popular ways to wear them to work is to pair them with more boyish office attires such as a classic dark pants and suit combination paired along with a pinstripe blazer.
Women can balance this masculine look by adding some feminine touch. This can be done by using adding various accessories such as scarves and shawls made of silk or any wavy material. This allows women to balance both styles together and achieve a perfect resonance between such styles making the outfit practical and comfortable.
The details and design of the shoe also play an important factor in determining the sharpness and practicality of the office wardrobe. Like men, many women prefer to wear oxford shoes since it can alleviate the style factor of the complete attire.
An oxford shoe having a thin line and a closed toe cap is very much favoured among working women. Not only it offers protection and comfort, it also offers practicality. Style is also an added advantage.
Make sure that women having a small stature should avoid oxfords having large soles and square shaped heels. This might make them look awkward and can also give a broad and chunky look to their legs. Try to follow looks that are stylish and classy and use shoes that are lightweight and easy to move around.
Also, women can also pair brogues with their semi formal outfits such as with pencil skirts and also short skirts suitable for work. Make sure to pair the brogues with the correct outfit, so that you won't look sloppy.
Oxfords are the type of shoes that can practically go well with any kind of outfit. Be it masculine, semi masculine or even barely feminine they are a good pair shoes to be matched with. This is the main reason why both men and women love wearing oxfords for work. Another added advantage is that, they are easily available in many shoe stores and retail outlets. Also, they offer a wide range of collections to choose from. Hence, depending on an individuals' tastes, needs and requirements.
It is a fact that brogues have been coming and going out of styles for many years. From being the staple footwear of male college students from the early 19th century to being one of the most sought after styles of footwear both among men and women, we can understand that brogues are here to stay. This is the main reason why people who occasionally wear brogues find it difficult to give them up when they temporarily go out of style. Many professionals like golfers and businessmen still prefer wearing brogues as a part of their daily outfit.
Save
Save
Save