The biggest trends last season were the culottes and ones who desire to wear them to work can make it possible. Actually culottes pants are loose fitting cropped pants which hang similar to a skirt. This garment was engineered during the times of Victoria so that women feel comfortable during horse rides and also present themselves as wearing a skirt.
Fashion has been leading and changes where culottes are made trendy and they look flattering and feminine when synced with the appropriate accessories. There are different color of culottes such as red, white, blue, brown, floral ones and more.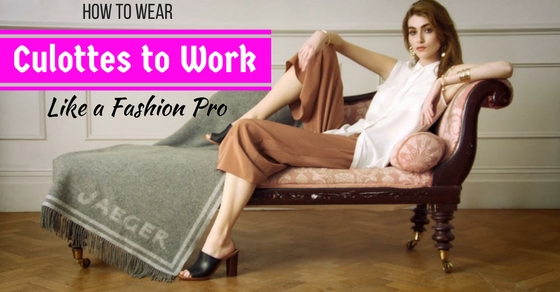 How to Wear Culottes to Work:
1. Pick culottes which mimic a skirt:
The unusual shape in culottes is the key factor which makes you look spectacularly modish or frumpish. Hence there are new and stylish ways in order to make you look stylish with culottes.
Choose culottes which are full in length and has a flowy look, try to pick culottes which are swingy skirt, full and long with a latest twist.
2. Using printed culottes:
While choosing culottes go in for bold pattern ones where your shirts can be maintained neutral along with simple accessories. This makes a perfect outfit for work and also makes you look trendy.
3. Choose full but not bulky culottes:
There could be lovely detailing in the culottes such pleated culottes which have pleats and soft folds in the leg. It is also mandatory to note if they move north to your waist.
When materials which are bulky with too much detailing is chosen they may make you look bulky which would spoil your look. Hence avoiding bulky clothes to work can present you better.
4. Right foot wear:
The length of most culottes can flash a perfect look when matched with fan heeled sandals. They can also be paired with mule and make sure that the leg isn't chop off.
Culottes are ones which vary in length below the knees and there are excellent lengths for individuals of all heights. Ones who stand towards the shorter side are to wear them with heels.
Heels have an additive point where they balance the large billowy leg opening and lengthen your look. Since footwear is the key depending upon the length of the culottes the individuals wear a loafer, sneaker, pump or sandal, or a normcore worthy slide.
5. Concentrate on the tops you wear for culottes:
Such statement making pants must be paired with the right tops so that you look modern to work. You must make sure that the tops you choose must be of less volume than the culottes you choose. This can be a perfect way so that you don't down in your fabric.
A refined top can offer you with a sophisticated look and hence teaming up with a silky top can be perfect. Another promising way to complement your culottes can be to choose a soft blouse which drapes a bit. Also a button-up style shirt can be a perfect choice that contrasts your culottes.
6. Four styles and colors for work:
To present you chic and avert from uniform to work, pick the polo neck arsenal which takes into account quality grey hues, this can be paired with brogues or loafers. The other shades for work can be the rich autumn shades which can be the best shades for woolen fabrics, where they can be paired with cream blouse and pointed heels.
In the same manner navy and grey classic colors can be matched up with your blazers. Also jacquard fabric and deep colors can be chosen for a luxe feeling. This can be paired with a plain crew neck along with a statement earring.
7. Tuck in or out?
It would be really flattering if you tuck in when you wear a blouse or a shirt. This is because it can be one of the best ways to present the shape of the culottes and also gain complement from your colleagues.
Ones with tummy can switch to the happy mode where they can wear a sweater that is tucked out which stills at the top of the hip bone.
8. Matching set:
When you're out for work, you can show a slice of mid-section where you can wear a matching culottes and a crop-top set. This looks unique and makes you trendy to work.
9. Shoes and bags for culottes:
Culottes are ones that stop just half the way below your knees hence airing them with heavy footwear can look chic. Culottes can be linked with any kind of footwear such as strappy heels to pumps or a sexy bootie. Also a fine low kitten heels can be perfect for work.
Ankles and feet are highlighted when you wear culottes and hence exploring and going wild with foot wear is necessary. When discussing about bags for culottes, going in for structured shape or ones with clear lines can be ones that could contrast your culottes in a fashionable way.
10. Choose a cropped tops:
A shorter always looks modish for culottes and when they are cropped they look even more chic. High waist culottes can be paired with cropped top or shirts which can be tucked in or can hit the waist band.
11. Going for printed patterns:
You can gain rich payoffs when you take risks in fashion especially in culottes. Print mixing can be one way where you could have some fun with your culottes.
A two-one vertical stripe bottom which can be a neutral like navy or white can be a good choice. This can be paired up with same colors and floral patterns, this makes you look chunky soled flat slide and can be a good choice for work.
12. Choose denim ones:
You can dress as per your desire up and down by choosing denim culottes which offers you a casual look and feel. The fabric is flowy and you look great when they are paired with cropped short sleeve, button down with a pony hair slide sandal and a necklace.
13. Adding blazer:
When you decide to wear culottes to work, it can be a good choice to add a trendy, short fitted blazer which makes you look more polished. Your look at work would look smartened along with kitten heels can make you look complete for work.
14. Being monochromatic:
For ones who feel unsafe about culottes' trend to work can stay back on the safer side, by choosing just one color from top to bottom. You can choose classic black from top to bottom where they can be paired with black slouchy sweater, smart bag and heeled booties. All these aspects would make you look lean, long and trendy.
15. Opt for midi culottes:
The best flattering outfit would be opting for three-quarter length for culottes. In order to possess a longer silhouette for petite, it is mandatory to pair up with a vest or a long blazer along with heels.
Accessories can be added to add beauty to your look where a stone and leather strap necklace can be an elegant one. The other additions would be silver and gold plated brass rings, leather trimmed cotton bags, leather heels and cuff, and more.
16. Structured top:
Another way to make yourself look charming for work can be to opt for boxy statement top which grabs others attention especially when you structured.
You can opt for a cotton top, with Gucci acetate glasses, silver stated bracelet, stainless steel, silver ring, viscose culottes, reversible leather and suede bag and a pair of leather sandals. All these accessories would offer you with a complete look.
17. Wide leg culottes:
Wide leg culottes similar to a maxi skirt paired with crop top or a long vest would be perfect for your height and look. Culottes can be chosen according to your length.
Cotton culottes which are 9 yards in whole can be paired with a polyester blend top, with leather sling bag, metal ring, necklace and pair of flat shoes. This can be a perfect choice to make you look professional to work.
18. Matching mid-length culottes:
Turn monochrome with mid-length cotton blend culottes, which can be matched along with sneakers, leather cuff, and gold plated and silver ring. A cotton blend sweater can also be opted to make your look casual.
19. Monotone dressing:
Going in for monotone setting can be the right way where you can present a modern look to others. A monotone dressing of culottes, along with a same colored bold air of shoes to wear with culottes and similar colored bag can offer you an outstanding look.
20. Adding leather jacket:
The latest trend of wearing a leather jacket over a conservative white blouse with refined wedges can be a good choice for work. Culottes fashion has been the latest trend which offers a cool look and more comfortable for work.
21. Printed culottes:
Another best way to look professional for work with culottes trend is to wear printed culottes with the same pattern short sleeveless tops where you can pair it up with heels and a white leather bag. A hat matching the color of the bag can be a perfect choice which makes you look amazing.
22. Tweed culottes:
Make yourself look stunning by choosing tweed culottes aired up with turtle neck cotton which makes you look cool for chiller days. This goes best along with a pair of high heels and broad sunglasses. Leaving your hair loose can make you look stylish.
23. Dark colored culottes:
For ones who always travel around for work can opt for dark colored culottes. Black culottes outfit along with navy blue full sleeved tops can make you look cozy and comfortable at work. This is easy to hop off the plane and get on with your meeting at work.
24. Leather culottes:
You could look office appropriate when you try to choose leather culottes which can be aired with silk blouse. Carry a large leather bag and high heels. You turn trendy and professional when your choice is leather and it also matches a perfect office style.
25. White on white:
This season has been great with new trends where white on white is being opted by many individuals. It is also needed to break the color pattern with another color accessory.
A white on white dressing of culottes can be broken by wearing a burgundy colored coat. This offers you a modish look and can be perfect for work.
26. Color printed coat:
When you have opted for complete black culottes and short black top, make your dressing interesting by adding a printed colored coat. This highlights your dressing and isn't boring for anyone's eyes. Match it up with a leather bag and high heels.
The culottes' trend never comes to an end; the culottes' suit is the latest trend in the fashion world for women. Working women can also opt for culottes' suit which makes them look professional and trendy too. A blazer can be added to the cropped vest.
Conclusion:
Culottes are comfortable wear for women especially ones who work. They can be perfect attire for work and can be used to dress up as per ones desire. All these ways of wearing culottes to work can be beneficial for culottes' lovers as they can opt for their own choice. Leather culottes are yet another latest fashion work wear which can be a perfect wear for parties and also to work.
With fashion and trend being updated, women also try to adapt and update themselves with the latest trend and fashion. Their accessories such as bag, jewels, shoes, glasses and more add to their trend when they desire to wear it.
Culottes are perfect trendy attire which women can feel chic and comfortable. There are number of online sites which offer the various categories of culottes as mentioned above along with their accessories. With easy shopping, women can always enjoy the feel and look modish in culottes attire.
Save
Save