When it comes to the clothing for offices it always got tricky for women. They cannot randomly choose something and wear it to work because it will look downright awkward and sometimes embarrass too.
Choosing clothes for office is not the easiest task and especially if you want comfort with styles as well as want to look classy and sophisticated enough to pass as a person who has good dressing sense, then you are in for more hard work than you think of.
There is nothing wrong in being fashionable or want some refreshing change in your office wardrobe, even the business casual starts to look boring if carried on for a longer period of time.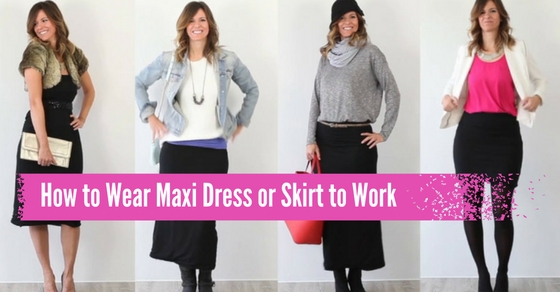 If you are thinking of some changes in your office wardrobe and looking for some cool, classy and office acceptable choices and "can I wear a maxi dress to work " is your confusion, then you should read this article.
In this article, we are going to discuss how to wear a maxi dress or skirt to work without being it looked like a nightgown or fashion consort. It can be very embarrassing if you don't know about the clothing you are going to wear in public place, more importantly your workplace attire because this is something on which your public image depends on.
Maxi dress or skirt is a type of dresses you need to be extra careful with because of their design and look; it doesn't take much to become the disaster of a wonderful dress if you don't know how to carry them successfully. Maxi dress or skirt offers you everything you want from the dress even if you carry properly; it looks awesomely amazing even at work. But first of all, you should know what the maxi dress or skirt is.
Maxi Dress or Skirt:
Well, maxi dress or skirt are long, flowing, top fitted dress mostly loved by all females due to comfort, style and amazing fitting for all the sizes. Maxi dress or skirt is made of a lighter material with beautiful prints, flowing bodice and different styles which make them perfect for any occasion if the person carries them with confidence and grace.
Maxi dress or skirts are a popular piece of clothes and available almost everywhere, women love them for the comfort they provide as well the classy look they give but the important thing you should know about a maxi dress is how to wear them so that you can look great.
There are many mistakes women make when it comes to wearing maxi dresses or skirt styles simply because it is easy to spoil the look with maxi dresses if not carried them carefully and your whole look can go to waste because of the size of maxi dresses and design.
Women love the style, comfort and that maxi dresses provide, but when it comes to wearing them to work you need to be extra careful because a simple mistake will make you look like an idiot.
How to Wear a Maxi Dress for Work:
Your office is a place where you cannot just pull the stunt of wearing anything without thinking it through. When you choose a maxi skirts for work you should know how to carry them so that you can save the embarrassment as well as can look and feel good in your workplace in a non-formal dress.
There are corporate houses which allow their staff to wear non-formal clothing for one day in a week or occasionally and if you are thinking of choosing maxi dresses for work, then here we are to help you in how to wear a maxi dress or skirt to work.
Maxi dresses are long, flowing and printed which can easily look like a nightgown if you do not know how to wear them in the first place. Here we are going to discuss all how to wear a maxi dress to work.
1. Choose solid colors, material:
When you choose a dress like maxi for the office use, you need to be extra careful with color and material because when it comes to maxi dress lots of things depend on color and material used to make the dress.
The appropriate color and material can make your dress look formal, elegant and good to go for the office use, but on the other hand, bright colors and the light material can cause you loads of embarrassment. It is important to choose the right color, and good quality material if you like to wear maxi dress to work.
Actually, due to their length, flowing bodice and larger than life appearance maxi dresses and skirt need solid colors and material if you are pairing them for the office simply because you need to manage formal look in this. You can only pull this off if you choose the right color and good material of maxi dresses.
2. Think before you select print:
Maxi dresses are full of comfort whether it is long flowing full body dress, a skirt or short dress because the one thing maxi dress promise is a total comfort, but the biggest problem with maxi dresses are that they easily change the look and can go against you if you are not careful while selecting the print.
Yes, the print, you will look like an idiot if you are not careful with the print of your maxi dress, you can easily choose a different type of prints and colors to make it look as formal as possible. Always look for the classy prints and avoid shiny details in your maxi dress when you choose to wear them to work.
3. Know your body well:
Well, maxi dresses are for all no matter the age or the size of your body, but the thing that matters the most is how much you know your own body. Knowing your body mean that you are well aware of your body structure and what kind of dress will look good on it.
When you know your own body, you can choose a right maxi dress without making it look like a nightgown or something cheap because it is important that you choose a dress that suit your body well. A well-fitted dress always looks good whether you wear to work or for any other purpose.
4. The neckline should be up:
Yes, neckline, if you are wondering why we are discussing neckline and not the overall dress, then you need to know that the neckline of the maxi dress is as important as the dress itself. A too deep neckline, halter or bareback looks extremely odd when you wear it to work because it is your office, not the runway of the fashion show and you have to wear a dress which comes as appropriate.
If your maxi dress has halter neckline, deep neckline or bare shoulder and back, then you can easily pair it up with a light jacket which looks good and stylish if you can carry them with grace and make your dress look appropriate to wear at work.
5. Balanced the length:
Well, maxi dresses are bound to be long, flowing, and broad no matter what type of maxi dress you choose, but that doesn't mean you have to trip over it and break your neck or ankle. Maxi dresses are for all no matter your height, but it never means that you ignore the length of your dress.
Choose dress according to your height, if you are on the shorter size then choose dress that compliments your height and if you are on the long side, then choose dresses that compliments your length. One thing you should be careful about is that your dress does not come under your feet when you walk after wearing your shoes.
6. Choose appropriate shoes:
Shoes are the soul of our dress; we cannot imagine a good dress without the pair of some amazing shoes because shoes make the look complete and whole. Maxi dresses are classy enough whether it is full bodice, skirt or knee length dress, but the best pair of shoes makes all the good change.
When you select your maxi dress to select appropriate shoes as well, you can go with either heels or flats depend on your dress and your height, but do not wear anything with very high heels as your dress has been already long and you are going to work not to some evening party.
7. Work on your accessories:
Yes, the accessories, your own style statement, but a maxi dress hold your urges of lots of different accessories to carry with your dress. Accessories have the capability to change the whole look of your dress even the mere sunglasses can change your overall look.
When you are styling your maxi dress to work, keep your accessories minimal because too many accessories with maxi dress make it look like a dress for some college party but not to work, so choose your accessories very carefully. Wrist watch, classy bag, a cool pair of shoes and some neck or hand accessories can suffice and make your look complete whether it is maxi dress or skirt.
8. Choose appropriate top to go with the maxi skirt:
Maxi skirts are long and flowing so match them with the appropriate top because your upper half changes the look of your lower half. Never choose too baggy or too much-fitted top of your maxi skirt for work, keep them under good fit with appropriate length so that your maxi skirt outfits for work can look formal enough to wear for work.
Long skirt for work are available in different sizes, shapes and patterns so choose them according to your overall look.
Things you Should Avoid with the Maxi Dress:
Yes, you can really wear your most comfortable dress of all time to work but hold your high horse right here before you make any hasty decision. As much as we love wearing comfy clothes to work, there are some rules with the dresses you wear to work and in this case with the maxi dress.
There are many things on the list of rules which came with red signs and you should totally avoid them.
1. Deep, halter neckline:
Deep, halter neckline in maxi dress is a big no when you are going to wear it to work. Halter neckline or too deep neckline makes your maxi dress more appropriate for a party not for some office work so avoid such kind of neckline or cover it with some nice jacket suitable with your dress.
2. Off shoulder dress:
Off shoulder dress or bareback maxi dress look classy when you wear it for some evening cocktail, but to work no, a big no. You cannot wear something like this working without feeling uncomfortable at some point because you are there to work, not to pull your neckline every other two seconds.
Avoid maxi dress which came as off shoulder or bareback and if still you insist on wearing such, then again pair it with some nice classy blazer or jacket to make it worth wearing to work.
3. Light color and print:
Light color and print look good in summers, especially when the sun outside is damn set on making you a red tomato, but when you wear such color and print to work think again.
You cannot afford to see through dress because light color and print can do that. Always stick to safe colors when you are choosing a maxi dress or skirt for office use.
4. Mismatching shoes:
Your shoes are you life saver then how can you think of mismatching shoes with your perfect maxi dress. Maxi dresses are a long, flowing and form-fitting dress which looks good classy enough to pass for office, only when you pair them with appropriate shoes.
So, do not underestimate the power your shoes hold over your dress and choose the right pair to go with your cool and stylish maxi.
Save
Save