Of all the different kinds of shoes that are available across the globe, sneakers are perhaps the most comfortable. Most offices have strict dress codes which they expect to be followed under all circumstances. However if you wish to wear comfortable sneakers for work, you must ensure that it is permitted. You would not want to land into trouble for wearing something which is not allowed.
If you are terribly confused about how to wear sneakers to work, then you should follow these tips to help you along the way so that you look both stylish and feel good.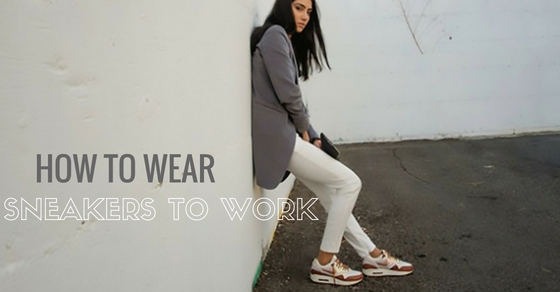 16 Tips to Wear Sneakers Without Breaking Office Dress Code:
1. Spend some time thinking about your look from before hand:
When working in an office don't just randomly throw on clothes in the morning. Think about what you are going to pair your office sneakers with properly so that you do not end up looking weird or ridiculous.
2. There is an array of colors to choose from:
Sneakers come in various colors, so don't just stick to the usual white or grey. Opt for colors like pink , blue and red as well. Nowadays there are plenty of neon colors available as well so do not try away from trying your hand at wearing them as well. Sneakers do not have to be dull at all.
3. Your sneakers should not be out of tune with your outfit:
When thinking of wearing sneakers you should go about things in the proper manner. Never choose to wear sneakers with traditional outfits as they do end up looking a little bit out of place. So ensure, your sneakers are not grabbing too much of negative attention to themselves as that is defeating the purpose of wearing sneakers. Sneakers are usually meant to come across as cool, casual and under stated as well.
4. Choosing the right bag is an absolute must:
Along with choosing a good pair of sneaks you ought to choose a good bag in order 'to complete your look. There is no strict rule as to what kind of bag you should opt for, so you can be experimental. If you wish to opt for a back pack, then you can go right ahead and do that as well.
Ensure that your bag not merely looks good but is sturdy and large so that you can carry all your things without any trouble. If you are confused about what color to opt for, it would look nice if your sneakers and back were of the same color.
5. Avoid wearing loud make up at any cost:
To avoid looking stupid it is very important that you do not wear loud or flashy makeup with your sneakers. In the workplace it is necessary to look professional and makeup is something which is not suited at all for the office.
In addition to that wearing sneakers means opting for a casual or semi formal look, so do not ruin your entire get up by wearing makeup. Let your natural beauty shine forth rather than being uncomfortable and caked with so much of makeup right through the day. Not wearing makeup really gives your face and pores a chance to breathe.
6. Ensure that you do wear socks as well:
When you wear sneakers it is very important that you wear a pair of socks along with it. There are numerous people who choose to wear sneakers without socks, but this is a bad idea, simply because over time your sneakers are going to smell of sweat. So do invest in some good looking socks as well.
There are plenty of different kinds of socks available out there too, so here be willing to experiment with color and length. Socks, as you know are very inexpensive so there is no harm in buying yourself some good looking pairs. So no matter how late you are running, don't forget to wear socks.
7. There is no need to stick to the conventional kind of sneakers:
You will indeed be baffled at the different kinds of sneakers which are available. So rather than sticking to the conventional kinds of sneakers you should go ahead and top for various kinds of sneakers.
Various brands come out with different kinds of sneakers in order to suit different purposes so try and get your hand on as many various types of sneakers as you can if you want to have an edgy and unconventional look.
Sneakers last very long indeed so they are quite like a long term investment. So do not opt for non branded sneakers as they will be nothing but a waste of money for you. You can opt to buy runners, slip ons or even kicks.
8. Look through some fashion magazines for some visual aids:
To help you on how to wear sneaker to work you can always take help from fashion magazines which are widely available the world over. Such magazines are very interesting to go through if you are a fashion enthusiast. However if you do not have the time to go to the store to buy a magazine, you can also go through Google images online. Take a little effort on your part and you are bound to reap rich dividends for it. Once you get a hang of things you will be surprised at how much you care capable of doing on your own.
9. Take tips from others in the workplace , who wear sneakers:
Sometimes while noticing other people you might end up picking up a few tips of your own. So do look around in your office and see how others wear sneakers to work. Once you take note, you can apply your own ideas as well. Just because you like the manner in which someone has put together their look, that does not mean that you have to copy it exactly. 'Blindly copying someone else is one of the worst things which you can do as it will show you to be someone who has no mind and personality of their own at all.
10. Do pair your sneakers with a pant suit:
Once you are out of your shell then you will be willing to take more risks fashion wise. So if you would like to wear sneakers to work go ahead and do so. Do pair your comfortable  work shoes with a well tailored pant suit and that is sure to look good and even a little different. However avoid wearing sneakers with skirt suit as that might end up looking a tad bit odd with the socks. Pant suits come in a number of sizes and kinds so do choose one which suits your body type well and flatters your personality as well.
11. Wearing jewelry is not a very good idea:
If you are a woman and have chosen sneakers as work wear and are wondering how to go about it, then it is very important for you to know that wearing a lot of jewelry with sneakers is a very bad idea. People who pair sneakers with a lot of jewelry end up looking like complete clowns at the workplace. No matter how good you want to look for work, you should never be over the top as you will surely end up looking tacky. Rather than choosing to overdo anything, always be understated and confident. Confidence is key to carrying out any look.
12. Digital watches go well with sneakers:
Rather than opting for a big chunky watch, you should opt to wear a digital watch as they look the best with sneaker. The combination of work sneakers and a digital watch is timeless and you can never go wrong with it. What's great is that when wearing sneakers you never have to feel pressurized as sneakers fashion always look good. If you do not have a digital watch then you can always purchase one, they are not expensive at all and they are very hardy as well. Browse any online shopping site and opt for whichever watch you like. It will only be a matter of a few days before your watch arrives at your doorstep.
13. Just because you have worn sneakers, doesn't mean you can't look professional:
The manner in which you act in and around the workplace really defines you as an individual. In the office people do not merely look at your work, they also take into consideration the manner in which you speak, dress and act. It is for this reason that you cannot make any mistakes in the workplace. Both your words and deeds have to be on point and very professional. It is very important that when wearing sneakers you ensure that your outfit is not looking too casual. If you feel you are looking too casual then you ought to opt for a formal shirt or blouse which will add that professional touch to your entire ensemble.
14. You need not necessary team up your sneakers with track pants:
Just because you have opted to wear sneakers that does not mean that you need to pair your sneakers up with track pants or a track suit. There are an array of options available before you. All that you need to do is be a little more creative.
Fashion is all about being yourself it isn't about spending a lot of money on branded and expensive things. Choose to pair your sneakers with a nice pair of slacks and it is bound to make a lot of heads turn. If you do not wish to wear slacks you can opt for a trendy pair of trousers and that will give you a cool semi casual look which is very fashionable and suave indeed.
15. Do not worry or be tense at all:
Wearing sneakers is no big deal. Believe it or not, hundreds of thousands of individuals wear sneakers to work. There is a misconception that those who wear sneakers to work are not fashion forward, but this is absolutely false. There are plenty of ways to make your sneakers blend into your work outfit. If you make smart decisions then you are bound to look good every day. Do not keep second guessing yourself and your fashion choices as that is going to just make you feel bad about yourself as well as uncomfortable in your own skin. Do whatever you think is right without second thoughts.
16. Start a trend of your own:
It is rather unfortunate that many people who work in big companies think that the need to look dull and boring. Such people always prefer to wear dull and neutral colors. If you wish to wear your sneakers to work, you should not think twice about doing so. Wearing sneakers has a dual purpose, first and foremost is that they look really cute and second of all is that they are really hardy. The commute to and from work is never easy for most people and if you wear flimsy shoes you are bound to face a lot of trouble. So if you are wondering how to wear sneakers to work, because no one else does, then maybe it is time that you start a new trend of your own.
In order to work in a proper and effective manner it is absolutely vital to dress comfortable. If your attire and work environment is not conducive to work then you will never be able to get ahead in your professional life. Sneakers help people who are constantly on the move and they are widely available in any country and at any local mall or shopping centre. Once you are sure about your own personal style then you should not shy away from trying new things. If you look good you will automatically feel more confident and sure of yourself.
Save