When thinking of big and bold colors the color which comes to our mind first is probably red. Though red is a lovely and sophisticated color, it is rather unfortunate that many people shy away from wearing it.
People think that they might look too loud and unprofessional at the workplace. This is truly a misconception. As long as you are smart about your outfit and carry it off with your head held high, no one will be able to poke fun at you.
If you have recently purchased a red pair of pants and are confused about how to wear them to work, then these tips are sure to help you.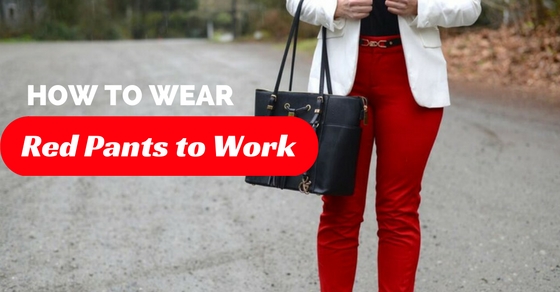 How to Wear Colored Pants at Work?
1. Do not think of it as anything more than a color:
Before thinking of anything else you must understand that red is a color. It isn't anything which you have to be afraid of. Just because you are a shy person that does not imply that you have to wear dull clothes which will help you to blend in.
2. Confidence is the key to carry off any outfit:
Once in awhile wearing bright colors will help you stand apart from the rest. How you dress does say a lot about you as a person so ensure that you are not letting yourself down. No matter what, always be confident in yourself as that is what will be most important to carry off the red pants or any other look.
3. Pair it with the right kind of top:
Choosing the right top is very important when you have opted to wear red pants to work. Picking the right top is rather picky, but if you play it safe with light colors then you cannot possibly go wrong at all.
Simple cotton or chiffon shirt would look both professional and fashion forward. If you decide to wear a shirt with patterns on it, then that too might look smart. Browse at any shop and you will truly be spoilt for choice.
4. It is advisable that you wear minimal jewelry:
If you are wearing red pants then you need not wear jewelry. If wearing a watch is an absolute must for you then you can always team your outfit with a simple watch in the color, red, golden, silver, black or even white. Any other colors would just be too much.
Avoid pairing your outfit with a big necklace or choker as chances are you will look really bad. Simple stud earrings would go best with the red pants. There isn't much scope for experimentation in jewelry once you have decided to wear your red pants to work.
5. Choose a bag that complements your pants:
Having the right bag is a must when going to the office. Ensure that your bag is both good looking as well as functional. So once you have decided to wear your red pants to work you should make it a point to pair it with a bag which goes along with it perfectly. The nicer your bag, the nicer your outfit is going to look on the whole.
As per the latest trends, try pairing your pants with a bag that's in a darker and more neutral color. If you're willing to go the extra mile, invest in a bag which has golden zips as it looks good indeed. These small things do go a long way in making a person look good.
6. Team the pants up with a smart pair of shoes:
Wearing the pants isn't the end of the story, you must pair the pants with the right pair of shoes. The shoes you wear should accentuate the color of the pants and not try to compete with them. So avoid wearing shoes which are green, blue or even yellow.
Try pairing the pants with nude or neutral shades like black, peach, white grey or even beige. This will elevate your outfit to another level altogether. If you take an effort in looking good then the results are bound to be rather positive as well. Simply throwing on anything to come to work is not a very nice thing to do as it shows a lack of interest on your part.
7. Browse through some online fashion pages to get some ideas:
One of the best ways to get new and novel ideas is by looking online and browsing through fashion pages. Once you go online you bound to find a storehouse of information which will help you a great deal. The information online will provide in great detail and you bound to find links to the online stores where you can buy the products as well.
Shopping online has become incredibly popular nowadays. If you are unsure about providing debit and credit card information then you can always opt to pay cash on delivery as well.
8. Seek professional help if you are confused:
In the event of being confused about how to go about wearing your red pants then you can always seek the help of a professional. Consulting a style expert might cost you some money but the advice which you receive is sure to be very worthwhile indeed.
However, rather than spending the additional money, you can always consult the shop assistant at the place where you purchased the pants itself. Such shop assistants are always willing to help and give fashion related advice. So do not feel shy to walk up to them and ask them how you should go about things.
9. Don't keep making a big deal about it:
It is rather sad, that many people after plucking up the courage to wear their red pants to work, go through the day making a big deal about the fact that they have worn the pants. Doing this is not merely foolish but immature as well. Once others see you doing this, they will think that you are not comfortable in your skin.
Making fun of yourself shows that you are quite insecure and are willing to be at the receiving end of what anyone has to say. How you react will serve as an indicator to the kind of person you are as well so think twice before doing anything weird.
10. Is it a better idea to wear it during spring or summer:
There is simply nothing wrong in wearing red pants, however, experts believe that you should reserve your red pants for the reason for summer or spring. Wearing your pants in these reasons is ideal simply because you will look very cool and fresh.
Winter is a great time to bring out the darker shades as they look sophisticated and elegant, but along with that they also help you keep warm. Wear your red pants on a beautiful summer's day, and you are sure to receive several compliments, from co workers and clients alike.
11. 'Minimal makeup is ideal when wearing red pants:
Once you have decided to wear your red pants to work, you should ensure that you let the pants be the highlight of your outfit. Ensure that too many things about you are not grabbing the attention of onlookers.
So along with your clothes, be very mindful that your make up is on point as well. Minimum makeup is a very wise thing to do. If you do however want to be a little bold then you can wear some black mascara and red lipstick, but anything beyond this would just make you look rather inappropriate for the work environment.
12. Make choices which suit your style:
When it comes to fashion making a proper choice is important. More important than making choices is doing your homework well. Once you have acquainted yourself with basic fashion rules then you can go on to experiment how much you want.
If you rate someone who has never really tried new things in terms of your wardrobe before then you should read up before taking any drastic steps.
You need not follow everything you read but apply whatever think would suit you and your work environment. Some offices have strict dress codes and it is of paramount importance that you do not go against the dress code of your company.
13. Do not use two bold colors at the same time:
Red is a bold color so when wearing it, you should ensure that you are careful. Ás it is often said in the fashion world 'Less is more 'and that is why you should never try too hard to look good. When wearing your red pants to work, you should ensure that you are not teaming your red pants with another bold color.
Wearing two or more bold colors is a big No. Though you are allowed to wear what you please in the workplace that does not imply that you look foolish. So keep your outfit in good taste, rather than coming across as someone who has a cheap and garish fashion sense.
14. Do not feel afraid to try something new:
Red is a color people are rather afraid of wearing. Just because this is the common perception that does not mean that you too shy away from using beautiful color. Red is indeed a 'brilliant color and if you play your card right, your red pants can surely turn you into the fashionista of the office.
As long as your outfit looks good in the mirror, you need not explain yourself to anyone else. So don't feel afraid to broaden your horizons and take matters into your own hands. Do not be one of those people who look so very boring at work.
15. Layering is a great idea as well:
Many people think that wearing red pants for work is rather unprofessional. If you too are rather skeptical about your red pants then maybe you should try layering your outfit.
Along with your red pants, you can wear a coat or jacket, and this will look a nice professional touch. Ensure that the coat you have chosen isn't the color red as well. A black or grey coat is bound to look very good indeed. Along with that, you can wear a pretty scarf to tie the entire look together as well. If you are a man, then replace the scarf with a trendy yet sophisticated tie.
16. Using various shades of red in your outfit is a good idea:
Just because your pants are the color red that does not imply that you cannot wear other shades of red on your outfit. If you are wondering how to wear your red pants to work then you should try using various shades of red through your outfit. This is good because it takes away the attention from your red pants.
However this having been stated ensure that all your garments and accessories are not various shades of red, as then your outfit and attire are going to look too over the top. Do not overthink things as people at work are more interested in your work than your clothes.
What To Wear With Red Pants?
A perfect office dress to work gives you a sense of professionalism and confidence at work. So having the right attire is very important.
But when choosing a dress for work, many people especially women find it very difficult.
Gone are the days where the organization used to mandatorily constrain employees to wear only formals. These days even regular casuals are also acceptable at workplaces.
This has led many people to style up their wardrobes by leaving the old school blue and black colors, they are trying new colors like olive green and red especially in trousers. Though these colors look trendy, you can wear it to the office as well as any party.
Here we have listed a few styling ideas on What To Wear With Red Pants
Red Side Stripe Culottes With Oversized Tops
Red Embroidered Pants And Kimono
Red Ankle Length Trousers And Graphic T-Shirt
Red Lace Hem Trousers With White Noodle-Strapped Top
Wide-Legged Red Trousers And White Pleated Top
Red Checkered Trousers And Tank Top
Tapered Trousers And Crop Top
Red Cigarette Pants And Black Crew Neck
Red Culottes And Tan Sweater
Red Palazzos And Black Top
Red Pants And Striped Shirt
Red Pants And Printed Shirt
Red Leather Pants And One-Shoulder Top
High-Waisted Red Pants And Blue Shirt
Red Pants With Black And White Striped Top
Conclusion:
In the professional world, it is important to always have faith in yourself as well as your ability. If you act in a vulnerable manner, then people will just look for opportunities to make fun of you.
To avoid this from happening you should always remain stern and dignified. Just because you have worn red pants, that does not give people the chance to say negative things about you. Once you have been able to carry off this look successfully then your confidence will increase as well. Ensure that you take your fashion decisions wisely so that you look good and trendy.