What Exactly is a Jumpsuit?
Jumpsuits are considered as a piece of clothing that has many functions. Originally it was used by parachuters, skydivers, race car drivers and adventurers alike.
Jumpsuits is a one piece garment where the top and the bottom are attached together to form the complete suit. Now if you are confused about how to wear jumpsuit to work then this article is perfect for you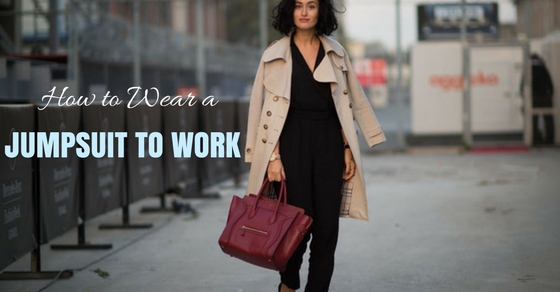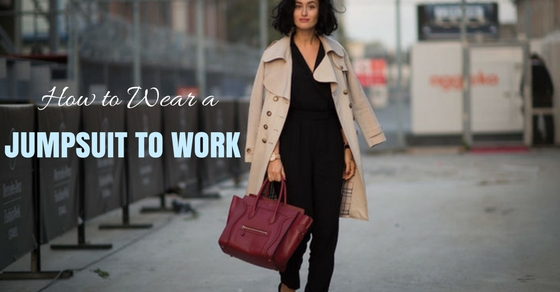 Nowadays, jumpsuit is a term given to clothing that has sleeves and legs and is a one piece suit. It has become a fashion statement among many individuals, especially among celebrities. The reason why they are becoming popular is because they are easy to put, easy for laundry and washing and they are very easy to maintain.
The only downside is that they should be removed completely when the wearer has to go for bathroom breaks and or to the loo.
Occasions to Wear Jumpsuits:
Jumpsuits for commercial use were first created by Florentine Thayat in the year 1919. The main goal of Thayat was to create a piece of garment, which should be comfortable, long lasting and should also be futuristic in design. Since then, formal jumpsuits were used by a lot of individuals as a rebellious form of statement. They add a touch of playfulness to the formal attire. They are very eye catching and flamboyant and they are very easy to style and comfortable to walk in.
Jumpsuit styles are the perfect dress for every occasion. If you are getting ready to go for a party or hang out with friends, or attend an evening function, jumpsuits are your go to dresses. Wide leg Jumpsuits are a good option for wearing to formal events. While stylish heavily printed jumpsuits can be used for social events such as parties and get together.
With the right type of fabric and finish, you can even replace the jumpsuit for an evening gown. Depending on the event and occasions along with time of the day, you can accessorize and style jumpsuits according to your liking and style.
Another reason why fashion jumpsuits are so popular is that they are a great way for stylising your body and shape. They go well with most body types and they provide a nice silhouette to the wearer. Whatever the body type may be, be it apple shaped, rectangular, heavy topped or heavy bottomed type of body shape, jumpsuits are a great way to define and add curves at the right parts of the body. They also fit perfectly at the top portion and also help to smoothen out any imperfections.
Are Jumpsuits Appropriate for Work?
While selecting the right type of office wear one might wonder, are jumpsuits appropriate for work. The answer can either be a yes or a no, in reality; it depends on the work condition that you are involved in.
If you work in a more strict and formal environment such as a banking firm or a corperate company such as law firms, most probably jumpsuits won't be not allowed. This is because such companies expect uniformity within their employees, so as to show how disciplined they are.
But surprisingly, if you work in a less formal environment such as advertising, marketing or the fashion industry, wearing a jumpsuit is welcomed. This is because such industries thrive in the individuality and the ideas of their employees and by allowing them to wear formal clothes of their choice, it allows the employees to work more and hence produce better results.
Office Wear Jumpsuits:
Due to the growing trend of wearing jumpsuits, there are a lot of variety and styles of jumpsuits that are suitable to wear for work. Nowadays, women have been replacing the traditional pants and suit office wear for a couple of stylish office jumpsuits. Jumpsuits are becoming more and more popular, since they are comfortable and easy to walk around in.
There are a few things you might want to consider while searching for the perfect office jumpsuits for work. These include:
1. Length:
Make sure that the jumpsuit you buy has an elongated leg, but not so long that it keeps touching the ground. Ensure that the leg of the jumpsuit tapers at the right end.
If jumpsuits have long legs, it can be a disadvantage for the working women, since long legs won't allow them to move freely.
Moreover, long legs won't allow you to show off your shoes and can give off a sloppy look. If you are buying a perfect jumpsuit, try to go for jumpsuits that have legs tapered at ankle length. This gives easy access and space for the legs to move around without looking unruly and awkward.
2. Fit:
Another factor that should be considered while looking for a good jumpsuit is that, it should have a good fit and should complement your body type. As mentioned above, each jumpsuit is suitable for each kind of body type. According to your body type, try to experiment with the sleeve length, neckline and the length of the leg and the hipline, so as to get a flattering and well fitted jumpsuit suited for your body type.
For example:
For pear shaped and heavy bottomed body types, try to find a jumpsuit that accentuates and enhances the shape of the hips and the legs. They should add a great amount of volume at the top portion so as to give a more uniformed look.
3. Colour:
For employees wearing jumpsuits for the first time, try to look for single solid block colours such as black. Once you are more comfortable and confident in wearing jumpsuits, you can experiment with various styles and colours. There are a variety of jumpsuits that have a good range of colours and prints such as geometrical shapes, bright colours such as whites, neon, blues and pinks, each colour makes the jumpsuit suitable for each type of occasion and purpose. You can also amplify the style of the jumpsuit by using subtle flowery prints and patterns.
Colours are also an important part of the wardrobe and having the right kind of shades of colours makes you look more professional and sharp. Make sure while wearing to the office, you have neutral colours such as variations of black, grey and dark blue as your first choice.
4. Check for any imperfections:
After you wore a jumpsuit, check for any imperfections. If you are wearing a jumpsuit with a high waist rise, then there are chances that you might develop the "mom butt" every time you sit and stand up. Not only this looks awkward, but it also gives a sloppy look to the attire. Make sure that the jumpsuit dress does not ruin the shape and size of your waist and bottom, and also ensure that it does not makes your posterior look longer and flat. To avoid this from happening, make sure that the jumpsuit you are wearing is flattering to your body shape.
5. Try to layer it:
To make the jumpsuits more professional, try to layer it with a blazer or a jacket and add simple accessories like a small chain necklace or a single solid bangle. Make sure that you are layering and adding accessories to the jumpsuit with a minimalistic approach. Too much of accessories make the professional look sloppy, also it gives off a feel that the wardrobe was assembled at the last minute.
Keep in mind that the black jumpsuit is one of the most basic pieces of clothing that every working women should have. It is a more modern version of the little black dress. Wearing black jumpsuits paired with simple gold accessories also adds a touch of complexity to the attire. Such attire can be used for both professional and formal events.
6. Have fun:
While stylising your jumpsuit, make sure that you are enjoying in what you do. Try to dress to impress and not dress just for the sake of going to the office. Make sure you can have made a statement by wearing a jumpsuit to work. So, to achieve this, make sure that you are having fun in selecting your perfect jumpsuit. Try to make it unique by personalising it according to your tastes and also meeting the rules and guidelines of office wear, set by the company.
For first time wearers, wearing a jumpsuit can be a bit intimidating, but if it is well fitted and flattering to your body shape, then automatically you will feel more confident and determined in your personality and behaviour. You can also feel an addition of elegance and chicness to your aura. Try to be confident in what you wear and you are sure to flaunt the jumpsuit in a positive manner.
How to Wear Jumpsuit:
While selecting jumpsuits there are a few factors that you should keep in mind while buying the perfect jumpsuit. Keep in mind that jumpsuits come in all shapes, sizes and styles and there are some things that you need to remember while selecting ones that are appropriate for work. They can be a fun fashion statement while wearing to the office, and makes you stand out more among the rest of the employees in a positive light.
With the help of a few guidelines, you can find your ideal jumpsuit and can also learn to wear them stylishly. The following are the dos and don'ts that you should follow while purchasing the right jumpsuit.
1. Try to find a suitable neckline:
Jumpsuits cover both the torso and legs of the body, usually with a continuous single piece of cloth. Sometimes it can be hard to find the correct jumpsuit that can flatter the top and bottom portions of the body at the same time. It all depends on the body shape. The happy news is that jumpsuits come in a variety of styles that can solve this problem.
One factor to keep in mind is finding the right neckline. Necklines are very much important to the structure of the jumpsuit. They frame the neck area and decide on how flattering your upper body and torso will be. Having a good neckline also means having a good comfort level while wearing the jumpsuit for work. Having a flattering neckline allows your jumpsuit to give off a professional look to your office wardrobe.
2. Check the material of the jumpsuit:
For professional occasions, try to find best jumpsuits that can hold their shape and structure and at the same time looks comfortable for the wearer and allows good air circulation. This allows the employee freedom to move around in a jumpsuit during office hours, without feeling hot and sweaty. Examples for such materials include: heavier cotton fabric and also silk. Such heavy fabrics also help to frame the structure of the wearer and help them to achieve a fresh and clean pressed look.
3. Stylize jumpsuit for work:
As mentioned above, work jumpsuits allow the wearer to make a style statement during work and they add a sense of confidence to the wearer.
The key is to find jumpsuits that can keep its shape throughout the day and they should be well structured. Try to find casual jumpsuits that have little details, such as having a belt around the waist, or having comfortable materials such as cotton, silk or linen that allows good air flow. Thus, reducing the chances of having sweat marks by the end of the day.
Jumpsuits can be worn with ankle boots or high heels to give a sharp look. Blazers can also be added to give a serious factor to the professional attire. Try to wear blazers that have a contrasting colour to the shade of the jumpsuit being worn. Make sure that the colour of the blazer is complementary to the colour of the jumpsuit.
In conclusion, jumpsuits can be a great alternative to various types of clothing and also allows you to show off your fashion statement. Whatever be the occasion, jumpsuits does the job for you. All you have to do is to try and experiment and find your ideal jumpsuit.
Save
Save
Save