Are you able to offer the things, what do employees want the most at work?
Most of you would say YES, but I suggest you to think again!
If you think that more amount of stipend is all that your employees want, then definitely you are making a huge mistake.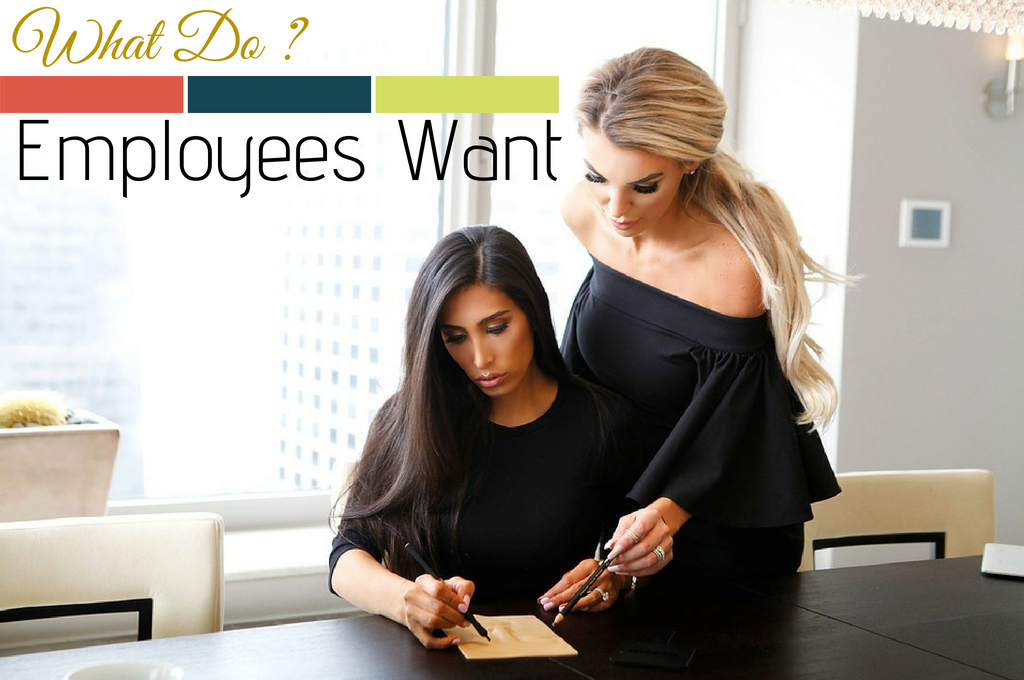 Besides decent salary, employees want lots more things from their work, office, employers, and profession.
If you are aware of all those things that your employees want then you can treat them in a better way. This will make your employees not just happier but also more productive.
Hence, if you want to avail the benefit of more productive and happier employees then you must gain knowledge about all those things that employees want.
What Do Employees Want?
So, here I list you the top things that your employees must be expecting from you, and which you will never be able to know, if you don't read this post!
1. Decent Salary:
Undoubtedly, the most important thing employees want is a good salary.
And why they must not be? Everyone loves feeling worthy and get a handsome salary. Even, salary negotiation is a big part of the professional world, where most employees negotiate for the salary offered to them on the first note.
Employers must keep in check to pay their employees, if not the best, then at least a decent salary that keeps them competitive in the market and make them happy.
Timely bonuses and increments can always be offered based on the periodic performance of employees.
2. Work-Life Balance:
Another top-rated thing that most employees want is a work-life balance. This is a highly important factor for employees when they decide about taking a new job or not.
If you are not happy with your employee's performance or want to test his performance then overburden him with work.
Since there are limited hours to work, so the employee would not be able to meet your expectations. This becomes a prominent reason to place him off the company.
On the other hand, if you love your employee then offer him enough time to maintain proper work-life balance.
Overburdening employees with lots of work has a direct link with increased stress, frustration, and dissatisfaction. If an employee develops such feelings then he will not want to work in such a workplace.
Offering a flexible schedule to work is a great way to retain employees that are vital to your business's success.
3. Timely Opportunities for Professional Advancement:
Another thing that employees want is satisfactory programs for career development. If your employees feel stuck in one position or role then they are more likely to look for another workplace offering better opportunities for career advancement.
Hence, if you want to retain your employees then offer them with an assortment of programs to help them enhance their skills as well as improve their professional well-being.
Moreover, if you offer enough opportunities for advancement and growth within a company then even the company have better chances of expanding and retaining productive employees for a longer duration.
4. Jobs with a Purpose:
How would you feel if you are made to do something without a purpose?
Not good, right! Same holds true for your employees as well!
Employees are always hunting for jobs and career opportunities that have a purpose. In fact, this is one of the most important things for large numbers of employees who are looking for a job change.
The present generation is highly active. Hence, they love working with organizations with a sense of responsibility and reputed position in the society.
Employers must be transparent in their operation to win the trust of employees, especially when there is a team of a young generation.
Also, employers must offer employees with various programs that can help them grow as well as create a meaningful difference in their respective field.
5. Engagement in their Current Roles:
While most of the employees love high-paying jobs, but if they feel engaged in their current job, then this is the best they can ask for!
When employees feel engaged and involved in their current role then this leads to a feeling of immense job satisfaction within them.
Employers must always offer employees with strong incentive to make them feel engaged. They should organize meetings, discussions, and outings other than the work so that the employees feel a lot involved in their work as well as linked to the company.
6. Basic Sense of Respect:
Respect is another fundamental right that every employee expects at his workplace.
If employees are treated with respect, then they respond well to their seniors, employers, and colleagues.
Employers can give part of respect to their employees in form of feedback and appreciation for good work. This also helps employees to stay aware of how they are performing at work and what is expected of them.
When employers treat employees as adults who are intelligent enough to make wise decisions, then employees feel respectful and equal.
7. Employees Want to Feel Involved in-Crowd:
When employers offer their employees a comfortable place to work and access to data and information quickly like others in the workplace, then this makes employees feel involved in-crowd.
Employees don't like to work in an organization where they feel excluded from the information that they require to support and accomplish the goals and mission of their organization.
Employers can make employees feel up-to-date by sharing with them important information, organizational challenges, budgets, upcoming goals, and more.
This will also help employees to make wise decisions based on the information they have, which can be also in the best interest of the organization.
8. Employees Prefer Empowerment about their Jobs:
Employee empowerment aids creating engaged employees interested to put forth their unrestricted energy to the company's business.
It is important to structure empowerment in an intellectual framework including organizational goals, responsibilities, and vision. Managers must communicate well with each employee about this framework.
9. Employees Want Accountability:
One more thing that employees want from their job is accountability and a clear direction about what they are producing.
They must be fully aware of the various parameters of a job where they are accountable to make firm decisions. If you expect better productivity from your employees then you must offer them with the ease of doing their job.
They must be accountable enough to take decisions, which are important for their job.
Employers can always define the desired parameter to employees for taking their decisions.
10. Employees Want Leadership At Times:
Employees desire a sense of moving on the right career track, moving to a position that is vital and defined.
Every employee loves working in a place that offers them with a sense of something bigger than they expect.
Whether it is the executive team or the managerial team, every employee must be offered the opportunity to actively participate as a leader at one point or the other. This will make them feel more confident and satisfied that they are working in an employee-friendly company.
11. Long-Term Commitment to Work:
No employee would love to leave and change his job within just a few months. Every employee wants a job that can offer him with long-term commitment.
Employees are looking for jobs that they can work committedly on the long-term basis. This is only possible when they are happy with what they are doing.
Their satisfaction towards various aspects of the job and workplace reflects a lot about the long-term commitment to their job.
12. Trustworthy Policies:
Employees love to work for a company that they can trust and one that lives up to their promises.
The company must be able to deliver individual benefits to employees ranging from fair salary, performance-based bonuses, and high-end benefits.
In addition to this, there must be a healthy relationship between employee and employer. The policies must be outlined in a way that offers timely acknowledgment and praise for the well-done job.
If the environment at the office is positive, healthy, and stress-free, then employees will hardly leave their job.
13. Fair Treatment:
While almost every individual is aware of the fact that life is not fair, employees want seniors and employers who can take fair decisions most of the time.
Every employee hates favoritism at workplace, particularly when a hard-working employee is neglected over an average or slow performing employee. Employees who work hard and are always delivering performance expect promotions and perks.
Employers must, therefore, offer an environment that is free from favoritism and is based only on the performance of the employees.
14. Employees Love to be Heard Out:
If employers are only giving advice, imposing decisions, and have very less or no time to know the interests of their employees, then they will fail to retain the best employees.
Even this will ensure that employees will not work in an organization for a longer duration.
Employees will never want a boss who believes only in taking the advice. It is important for the boss to hear them rightly and make his employees feel that they are being really cared and heard. This will create a huge positive impact on the employees.
15. Have a Stress-Free Work Life:
If the work life is stressed and tensed throughout then this will make extremely difficult for employees to work and deliver results.
Employers must plan a stress-free work environment for their employees that meets all the goals but do not add unnecessary stress to their lives.
Stress on few occasions is viable, but if it remains throughout then the whole work environment will become difficult to be sustained by employees.
16. Safe and Secure Work Environment:
Employees are spending most of their hours in the workplace or in their office. It is very difficult for them to concentrate if the workplace is unsafe and insecure.
Every employee wants to have a safer and secure place that can offer them with better working conditions.
17. Employees Want Clear Goals:
Besides a hefty paycheck and timely bonuses that are most important for an employee, they want to have a clear idea about their goals.
When employees are aware of clearly defined goals that are obtainable and measurable then this helps them track their productivity. The goals must be defined in a way that is close to accomplishment.
Once the goals are intact then it becomes easier for each team to decide ways to accomplish them.
18. Employees Want Flexible Work Schedules:
If employers are able to offer their employees with a flexible work schedule then this will help employees to deliver productive results and achieve their goals.
With flexible work hours, it becomes possible for employees to maintain proper work-life balance as well as manage their work in the most eminent way. This offers them with convenience to maintain synergy between their professional and personal lives.
Also, employers can set a policy for flexible vacation and allows them to work from home as this will help them develop a great deal of trust.
19. Opportunities to Present Ideas:
If you want to use your available human resource to the fullest of their potentials then you must offer them with the freedom to present their innovations and ideas.
This encourages employees to perform on a highly innovative basis and a creative platform that is an excellent culmination of leadership and creativity. Fostering innovation in the work allows the employees to work with fresh and much innovative ideas.
Satisfying the above desires of the employees will help employers to remain hardworking and loyal. So, even if you are not able to fulfill all their wants, try fulfilling at least most of them so that you have a positive, creative, and productive work environment.