In the task of job hunting, it is obvious for you to search the right place in order to showcase the passion and skills that you possess. Preparing the resume and the cover outside it are considered to be quite conventional and are now considered out-dated.
This is not because of the use of paper, but because of the advent of technology, number of softwares and so on that helps us to know and connect with the world by reducing the distance, thus making the world a global village. In order to hunt for the job, one can make use of the unconventional tips like: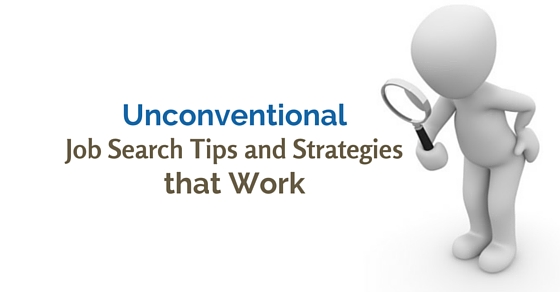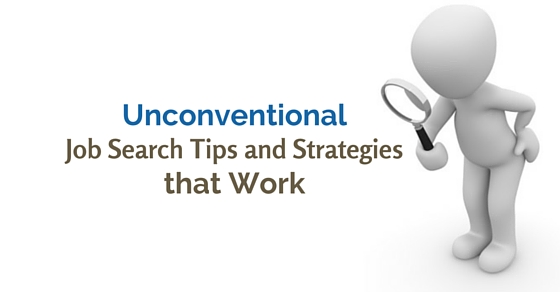 Unconventional Job Hunt Strategies that Work:
1. Prepare your resume:
It's not about making your resume with a detail of qualification, skills, and hobbies, experience and so on, instead make your resume a bit digitized and different. Make use of the software's and send your CV through email by attaching the work videos or any project or deal you have cracked with that. This can increase your chances of getting your desired job.
2. Connect with the number of people:
This is all about connecting with the unknowns. When you will connect with a number of different people, you will come to know about those who were out of your friend list. You will get aware of different companies they work with and also the work culture of those companies.
Suppose, you had a dream of working in a particular company, you can make someone from that company your friend and this way you will also enhance your job search as good friendship with him will help you in knowing the vacancies of any within the company.
3. Be vulnerable and ask for advice:
It is never bad to ask for the advice from any of your senior or experienced one. You should ask any number of people for good advice regarding the job hunting. Job hunting is basically selling yourself out in the market by making use of the best skills that you possess. You should start admiring the work people do and ask for their advice about how to perform a particular task with such perfection.
4. Do not run before your passion:
Everyone runs before their passion. If you have a passion for dancing, you would like to be a choreographer but this is wrong. You might have known a number of people who ended up losing their work, that too by not following their pre-existing passion.
Instead of searching for the job you are interested in, you should start loving the work, that you do and when you start loving and admiring the work you do, ultimately it turns into your passion. Following your passion has proved to be the most common advices now days.
5. Social networking sites:
Twitter is now days on the top. The utilization of twitter handled by you can also be one of the strategies of searching for the jobs. This is because, it shows how active you are and how often is your usage of the twitter account.
So, twitter's micro blogging platform is the best way to share the views by creating the community of people, thus enhancing your contacts, which ultimately assists in searching for the best jobs for yourself.
6. Start blogging:
If you are a good writer, start with your own blogs. Gradually, your blogs will get recognition and you may become known to a number of people online and you never know, one or two of them would like to hire you to work in a company, by seeing your good work. So, you need to make yourself visible on the blogging, or the other social networking sites, and then only you will be able to find a job in an unconventional manner.
7. Create an account on linkedIn:
LinkedIn is a professional account and every professional should have an account there. This is because, now days the companies before hiring a person go through the profile and gathers the whole information from the profile.
So create an account there by giving full details of the experience, education, interest and so on. This is also one of the best methods of searching for the job through uncommon manner. This way looks quite professional and also creates an impression on the company regarding your work technique, communication skills, writing skills and so on.
8. You can promote yourself by providing ads online:
Although it is not a common method, yet this is used in western countries especially Deutsch predicts that the hiring managers will go through the number of ads single candidate took out on Facebook and other social networking sites.
This method is new and could possibly work for the younger generation. So, you can also try for this. Making an ad is expensive and paid on some sites but free on the other. You can opt for the free one to test the method for job search.
9. Be a great admirer or a fan:
Once you have got a company you would love to work for, become the biggest fan and start admiring their work either by writing reviews for them on a weekly basis or writing the mails to them for the work they do. This will somewhere help you in getting counted, thus turning from a brand loyalist to the employee of the company.
10. Build and maintain the relationships:
The number of contacts you will have, the number of job offers you will get. This is all about building contacts. If you will have many people in your contacts, you will be able to know a little about almost every company as your friends might share about the work culture and the demands of the company from the employees.
So, if there would be any vacancy, you will be the first one to know and grab the opportunity. So, make a number of friends within the companies irrespective of the position.
11. Networking will help simply:
Expanding your professional network will do a lot good to you in building your career. Just living in a same shell and not peeping out will only reduce your potential and you will become an introvert. For the job search, you will have to become extrovert and should also possess the communicative skills to call to the person's attention.
12. Put up your work online:
There will be no need of roaming from here and there, from one company to another to show your work. Just have an access to the internet and upload your work there. You will start getting likes and ultimately you will get identified online.
This is for those who like to freelance like the photographers, writers, website designers, copywriters, content writers and so on. You can put up your work on the sites available online and this will help you in getting your work noticed easily.
13. Follow the pages on Facebook:
Now days, there are a number of job oriented pages on the Facebook and you can like all those for getting the regular job updates and the vacancies. Some of the pages are for the government jobs and others for the private.
Now days every company has made their website or the pages so one can follow them, text them, send the resumes and get hired. Try and make the best use of the technology. If you will make better use of it, it will prove helpful to you in every walk of the life.
14. Upload your resume on the sites like shine.com:
There are number of other sites also, that helps you in knowing the vacancies and also gives you chances to get hired. On the sites like shine.com, you have to upload your resume with other information in detail and according to the skills you possess, you get short listed by the managers, thus you are notified regarding the same and you get to know about the company through the email. So, by sitting at your home only, you come to know everything and also your job hunting becomes easier.
15. Be active and not passive:
Once you are on the micro blogging sites or on the comprehensive job sites like LinkedIn, monster or shine, just be active. You need to update your resume on a monthly basis so that something new comes across the recruiters and they opt to hire you instead of any other person for the job.
Your resume must contain the essential elements and omit the unwanted things as it will help saving the energy and time of the recruiters.
Conclusion :
So above are some of the unconventional ways by which jobs can be searched in the easiest manner. Now days, everything is being done through digitalization so, you should also become smart enough to make best use of the technology so as to get the optimum output for your own self. Job searches are very hectic and frustrating unless you get a satisfying job but once you get it, it makes your life. So, it is an advice to never leave even a single stone unturned to accomplish your goal in life.