Once graduation is over, a whole new lifestyle awaits every youngster. The stepping into the work life feels intimidating as well as anxious, as there will be many things as expected and known by advices but more to learn once the work life really begins.
It might be not as expected and turn out to be a whole new revelation so one should be ready to handle any astonishment without facing misery.
Discovering new ways of etiquettes, adjusting with new colleagues, meeting with new people, new work atmosphere etc all come together in this new work life package.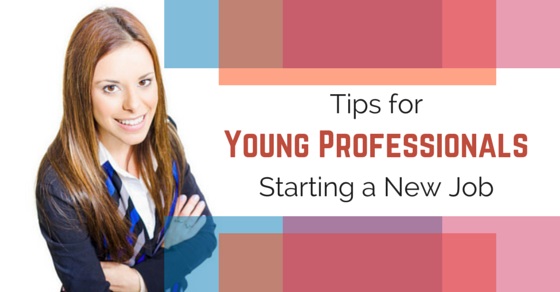 It makes no difference what professional industry you step in; there are evident things that one faces at every entry level job one should be geared up for. Here are 18 workplace tips for young professionals to start off their new job.
How to Start New a Job Successfully? Tips for Young Professionals:
1. Take it easy:
Do not panic or show nervousness by any means. Try to network your thoughts in a way that doesn't loose focus from the target.
Control habits like over chatter when nervous and channel your senses towards tactics to handle work professionally.
Do not hesitate or worry much and go along things as if you are in control. This will make others consider you seriously.
2. Shared values: 
Understand the value and goals of the company beforehand. Make certain of these values to match your own.
This will aid in building a good relationship with the boss and co workers. Consider the morals and ethics while working on a project and making decisions.
Shared values and norms of a work environment will help build healthy future with the company and the workers.
3. Be self-assured:
When you are certain of your skills and confident, your colleagues will have the impression that you deserve the job. This does not mean you need to be self-possessed.
Do not presume to have knowledge of everything and act self centered but be confident while approaching for a difficulty or doubt.
Share your opinions and thoughts with the co workers and confidently gain respect.
4. Withdraw thoughts of home: 
Avoid making personal calls or chatting excessively during work hours, leave it for the lunch times. Do not check personal social networking accounts too.
As a new worker at the same time as a professional, it is your duty to be focused 100% and show dedication to the work at hand. Reduce the phone distraction by keeping it away or in a drawer.
5. Beginner strategy: 
The moment you are done with the onboard procedure, you will have to be handling many tasks at once. Things will pick up pace and you will be in need of a strategy.
The strategy will get you stay focused and ahead of the game. Turn out as good as you are expected to be as a young professional with a fine tactic.
6. Be patient: 
When you are a new and professional worker it is okay to more likely feel as if you will be granted with the dream job of your career, however it is not the same in reality.
Most do get into such work but there has to be a definite step taken. Thus be patient when you are given small works of much less importance but try to deal with it well as these are known to build milestones to reach a level in the career.
You must cross these to reach your goal without regretting to not have work that has much exposure to success. Never give up as patience is a virtue one must follow here too.
7. Time to be responsible: 
Unlike your internship days, things now will not be supervised. All work has to be done within target time limit, with your own scrutiny and independence.
Enquire a lot about a work, get cleared all the doubts as much as possible in the beginning itself. Moreover you won't be receiving feedbacks as much, do not look forward to any feedbacks for every work you have completed.
Out of concern you can request a feedback yourself from the boss.
8. Innovation:
You have to start being creative and unique. It will be expected from you to share new ideas and novel methods. Spot problems and discover ways out for them.
Voice your thoughts during a conversation, maneuver fresh techniques to be competent. It's irrelevant that you are new, your opinions have importance and being innovative is a beneficial move at workplace.
Remember you were appointed for a cause.
9. Prominence to learning: 
Even if you are expected to do everything independently, it is not necessary you have to know to do everything. Learning is crucial to manage time, work along a team, and meet deadlines and even more.
Take advantage if the company provides chances to learn through special competence programs or grants compensation for such educations.
Learning is a continuous process and never ending. There is always something novel to learn about.
10. Well-timed email response:
Respond to emails timely, it is necessary in the working world. Every single being you deal with has a person to report to and a deadline to follow, thus it is indispensable to respond within 24 hours of receiving an email.
Indeed the sooner the better. Make sure the response you prepared has no grammatical error or spelling mistakes, having to reply in quickly is not an excuse for such blunders. Act professional but efficient.
11. Building networks:
The moment you commence a job, networking becomes essential. All through your career the networking process remains permanent. Attending company trips, business events and know more about your colleagues.
Networking is prospectively evident, in case of new project or changing jobs. You never know how these connections will prove beneficial.
12. Engage in activities in your free time:
In college extra-curricular activities were easily accessible as they were in plenty. However in worklife, one has to get involved in day outs, join professional clubs or volunteer organizations etc.
Go out for happy trips along with the colleagues and make new friends during the outings. It's important to connect and build a good social existence during the new worklife.
13. Support other coworkers: 
You belong to the same company as your coworkers and it thus makes it crucial for you to share ideas and support your colleagues.
Invest time in explaining things to your coworkers when they are in doubts or difficulty, this will be showing how professional you are.
Do not hesitate and help them take wise decisions. Listen to their ideas and place your reviews. This helps gain self worth and dignity too.
14. Be a good listener:
Listen to each and everyone carefully. From the boss to the associates, listen to each one meticulously and with consideration.
Everyone wants to be heard regarding their ideas so you need to express your views without hesitation and with assurance. This will help gain confidence as well as show how professionally you work.
15. Trace accomplishments:
Track your accomplishments, all along the career and especially during the first job.
Whether it's summaries of brainstorming sessions, evaluations of financial statements for a client, campaigns for an event, or an email marketing promotion, all are of great value and should be tracked.
Keep documented all of the works you have done for prospects to be discussed with your boss or future interviews.
16. Keep it professional:
You have to set up a look and function professionally. When you are around colleagues or otherwise also dress professionally, practice time efficiently and be considerate.
Think you are already living the goals of your career and play accordingly. To incline in your career, professionalism will do wonders.
17. Challenge yourself:
Once you are settle in the new work atmosphere start with challenging yourself for higher goals to be accomplished.
Structure a new policy for how to succeed in the industry you are working in. Set new goals at every level of work completion and achievement of success.
18. Always be optimistic:
Always have a positive attitude. This whole new job may prove initially to be overwhelming however eventually the work may become monotonous.
At every level of accomplishment and completion of work you must be positive about everything coming your way, from success to failure. Whether you have turned dreary of work or stressed with the deadlines, remain positive and assertive.
The people who are tangled and keep complaining about issues with work and stress themselves are not really any close to success.
On the other hand people who embrace the issues with tactics and sacrifice with no sign of whining are people who reach success. Optimism will bring better things to life.
Conclusion:
The first new job will be like a gentle gust of air, if handled with these tips. Bear in mind how to keep the right stance and persist to grow; this unique piece of advice for young professionals will help in beginning career strongly.
Plan the work before working on something; this will ultimately pay off in raises and advancements.
Remember taking risks as this is the most appropriate time one can play and handle risks well, at the same time learn from mistakes and elevate experience.
Save