Your resume, whether it has been posted on LinkedIn or sent through PDF or Word document through email, will always make the first impression and probably a lasting one as well. Therefore it is very important to provide information that is detailed, well written and worthy enough to make it to the first interview. But be careful too! You don't want to bore the recruiter or the hiring manager with details that are unnecessary. It will not only help you create the perfect balance but also create a very good impression.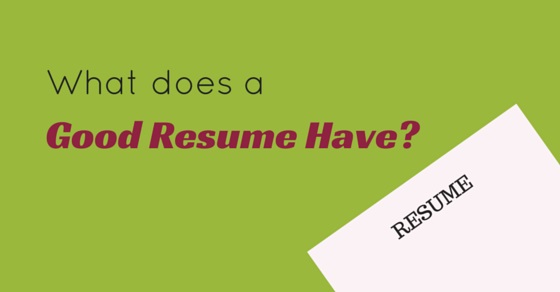 13 Good Skills & Qualities to have on your Resume:
So if you want to create that balance and impress your clients the first time they see your resume, this is the article you need to take advice from. It will not only help you craft a decent CV but also help you stand out.
1. List the important points:
No matter how much time you take to prepare and write down your resume, always remember your hiring manager will never take more than 7 seconds to go through it. So make sure to list all important points and achievements right at the top of the list. This is where the manager will pay close attention. After all, he or she has several resumes to go through. They wouldn't want to waste ten minutes of their time going through one when they can cover so many others within the same period of time.
2. Don't exceed more than one page:
It is good to enlist all successes and achievements, but if you exceed more than one page, there is a possibility the manager is not going to show any interest in reading further. He or she may just dump the resume straight into the bin. If you have just one page where you focus on the important points, keep all your points simple, clear and concise, there is no need for you to elaborate on any of the points or go on to the next page. Keep things precise and you are good to go.
3. Mention Points that Are Obvious:
You should never forget to mention those points that are obvious. In case you have never had a real job or if you are still graduating from college, you have to put down your scores. Put down your GPA, GMAT or college scores. This is important for you as it helps in getting jobs. If your GPA scores aren't all that great, you might not be considered for the job. So don't make that blunder and make sure all your scores are decent enough. Do put down the obvious points but do not miss out on the GPA marks. They are very important for all good resumes and CVs.
4. Keep Over designing miles away:
The last thing you should do while preparing your resume is staying far away from foolish things like over designing. If you are a graphic designer, then it is understandable. But in case you aren't, do not make your CV fancy. None of your bosses are going to be worried about that. They don't care about the font you use or the fancy titles you have applied. The whole point is to keep your CV as simple and decent as you can. This will actually fetch you way more opportunities to nail the job. Content matters most! Please remember this.
5. Your resume should be standard:
A fancy resume doesn't mean you have landed the job. What matters more is your behavior and your interaction with the person. So when you are writing down your resume, make sure it is standard. This means it is important to put forward something that is good enough but not bad. You have to make it easy for their eyes. So make it less complicated and more acceptable. That is the key to a good resume.
6. Try to customize your resume:
While getting your resume ready, don't use a generic one. Yes it is extremely important for you to focus and highlight all your important skills and attributes. So make sure you have laid emphasis on them mostly. Extra information is not needed.
7. Do not make things so obvious:
If you have already sent out like a hundred resumes to different companies and still haven't got any response from any, it's time to step out of the comfort zone and try something that is different. Try to do something that is unique. Attach a picture of yourself on top right corner. Make sure you are looking good in it. If you have a LinkedIn profile, don't forget to update a good picture there. First impressions are always lasting impressions if you didn't know. You can change the colour of your resume if you want. If you start getting calls back, do know that you have really nothing to lose. But if you try any of these, you will definitely get some attention.
8. Use good language:
Another thing you must remember while writing a good resume is language. Try to use good words. Of course this doesn't mean you should make reading very complex. The whole point is to use attractive words. Don't make grammatical errors. If you are going to mention technologies, speak about that in details too. Do not leave any room for errors. Try listing C++ if you have to. That would help too!
9. Keep the bullets short:
While writing a resume, please keep the bullets short. Don't elongate and elaborate too much and use paragraphs. Plus managers do not have all the time in the world to go through them. Also remember to write down a few things in tables. This would work best if you are using Microsoft Word while creating a resume. However make sure you hide the borders later. If you can do this, you will definitely impress the recruiting and hiring manager. Not just that, you will be called for the first round of interview as well.
10. Speak about your side projects:
It is always important to discuss side projects. You should make your efforts obvious in a resume. Any kind of side venture or side project that is indirectly related to the job you are applying for will definitely be a great idea. This will also be a very good opportunity for you to show that you are trying to grow and learn and contribute towards a healthy environment. This will make you look like a productive individual who is keen on improving himself/herself.
11. Try to leverage your failures:
The last thing you should mention in your resume are those where you have gone wrong. Here you should enlist your failures. That will make you look like an honest person and probably secure the job as well. According to experts, one non-intuitive thing that most employers want to see is a failure. CEOs are keen on knowing about those areas where you have gone wrong, areas where you have tried your best but still didn't reach your goals. This needs more innovation, the ability to handle and take risks and also learn through these experiences.
12. Mention your low level jobs:
You should also make it a point to mention all your low level jobs. Trust us, they all count during resumes. Even if you think the job is trivial and it doesn't matter, most bosses would still like to have some knowledge about your background. In fact some of the most successful people in the world of business have worked in McDonald's and KFC. At McDonald's for example workers are taught to handle team work, build basic skills and challenge themselves on a regular basis. This could help you too.
13. Enlist All Your Awards:
It is very important to mention all the awards and recognitions you have achieved so far. This will let your boss know that you are capable of handling difficult and stressful situations at work. Candidates who are talented and have a list of achievements are most likely to land the job than those who don't. Companies that are high performing and extremely diligent are always searching for those who have achieved something in life or are recognized already. Plus if you already have some experience before, you will be at an advantage already.
Writing the perfect resume isn't always possible because you don't know which company is looking for what. But you can always be on the right track by simply following all of these expert tips and suggestions. Not only will it help you land the job of your dreams but also help you understand work culture and job environment better. On that note, here's hoping that you have learnt enough about CV's through this article and that you will now get that resume prepared like a professional.
Save