Knowing what not to say in a job interview is as important as what to say in a job interview as these questions will decide whether you qualify or disqualify for the job that you're interviewing for.
If you think that you are the right candidate for the job, then your primary intention must be to get through the hiring manager. You may be a person with a great personality, appropriate skill set, and you may perform well in an interview to occupy the new role.
But it is mandatory to remember that during the preparation there are things you should never say during a job interview. Such aspects are important as the hiring manager may raise a red flag for certain answers.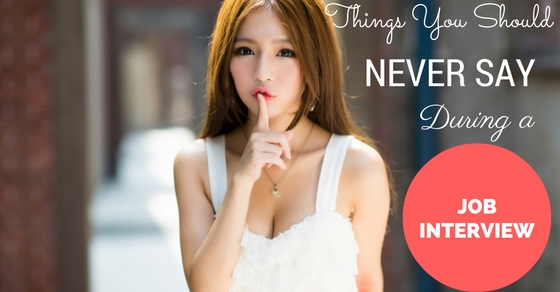 What Not to Say In a Job Interview: 
1. Talking negatively about the previous company:
You may have had a bad experience in your previous job and may also hate your former employer, but remember not to bad mouth your previous employer in an interview. Remember to maintain a neutral and positive tone.
Try to speak out what you have learned from your past, your experience and what you are about to do in the future. This context would be useful when you're asked why you left and how to do the right things in the future.
2. I'm nervous:
It is really important to avoid being nervous. Even if you're too nervous remember not to tell the hiring manager that you're nervous. This is important because hiring managers do not desire to choose an individual who lacks confidence.
President of job board Talent Zoo, Amy Hoover mentions that in this context honesty isn't the best policy. So hence do not reveal that you're nervous in an interview.
3. I'll do any job:
Hiring managers lookout for candidates who are passionate about the job role they take up. Hence the way you speak about your intention towards the job is important.
It is important to remember no to mention that you'll do anything as it may raise a red flag against you. Hence your hunt should be for a specific role in a company and you should be able to explain the reason too.
4. I don't have much experience:
It is usually a career changer or a recent graduate who mentions that they do not have experience. When you mention and apologize that you do not possess the right experience then it means that you project yourself that you're not the right hire and not a perfect fit for the job role.
In this way, you would make the hiring manager concentrate on your weaknesses. Hence you can make sure to concentrate on your strength, be positive and present your skills as well as show yourself enthusiastic for the position.
5. Do not say to refer the resume:
When the hiring manager asks about any skill set or experience, remember to present it perfectly rather than mentioning that it's on the resume. Though the answer may be in the resume, the hiring manager wants you to tell something more.
Another reason is that they evaluate you and your communication skills. When any question is raised remember to shine yourself for the moment and do not mention that it's on the resume.
6. Do not memorize and answer:
It is important to prepare for an interview but remember that memorizing from word to word not recommended. Certain candidates hyper prepared and waiting to answer such prepared questions.
But in this way, the candidate would fail to have a genuine conversation with the hiring manager. When there isn't a genuine conversation then the candidate would be detached and would never get a chance to be recruited. It hence suggests to prepare and do not memorize any answers.
7. Perfectionism is also a weakness:
When you say that you're a perfectionist and you can do anything it seems to be rehearsed. By answering in this way it may not represent your work style personality. It is hence recommended to make a genuine response.
8. Speaking stuff that you don't know about the organization:
You must do some research before going for an interview. Never speak to the hiring manager about things that you do not know about the organization.
It is important to do some research about the organization and the position that you are applying for. Do not present yourself, without knowledge about the organization.
Do some online research and also speak with the previous employers and gather the latest news about the organization.
9. I did not have a good relationship with my boss:
It would be suggested not to talk about any negative aspects of your previous boss or employer. Your hiring manager does not know your previous boss or his character, and when you talk ill about your prior boss, he may assume that you're a tough candidate to work with.
10. Do not use fillers:
Making use of more fillers while you converse may present yourself that you lack confidence or maybe you'll be put to the conclusion that you're weak at communication. Hence it is significant to avoid fillers and converse.
11. Avoid unwanted stories:
It would be a great opportunity to make use of stories that associate with the interview. This is one of the best ways by which one can develop a rapport that is memorable when compares to the fact.
But it is equally important to remember that you could share a story that is related to the interview or your job role. It must be in some way associated with the job role you perform or the experience of the interviewer where otherwise you would be raised with a red flag.
12. "sorry, I'm late"
Many candidates make the major mistake of being late for the interview. You may plan and start early but remember that reaching the interview destination early is important.
When you're not able to maintain punctuality for an interview then the hirer would assume the status after you get a job, which may lead to rejection of the job. Hence avoiding excuses in your first meeting and reaching the place early is vital.
13. "do you mind if I answer this call"
Texting or answering phone calls during an interview consider as rude behavior from the hirer's point of view. It is always advised to leave your mobiles either at home or outside the interview session until the session is over. Asking excuses to attend your mobile calls can raise a red flag against your recruitment.
14. Let's talk money:
Make sure not to discuss salary terms in the initial stage of an interview process. Hiring managers may conclude that your main motive is only money and you do not possess any deeper reason for the job and may raise a red flag for your job opportunity.
The type of interest employers look for are candidates who align with the mission values and goals of the organization. Salary terms can be discussed after the interview phase or at the end of the interview process.
15. "I want this job"
Remember not to reveal an indication which presents your desperation. Also, make sure you don't mention that you require this job for your present circumstances.
This is because of employers lookout for your desperation as a sign of weakness. Another reason not to mention this is that employers always wanted employees to work for the long term and not just candidates who need a job.
16. "may I know when we'll be finished here"
Another vital aspect to be remembered is not to show that you're in a hurry and have other chores to complete after the interview process. When an interview moves well sometimes, the interview may proceed for a longer time.
When you present, that you have something else important to attend, then the employer loses hope and may strike you out from the process.
17. "I love the perks being offered"
Do not show more interest and enthusiasm about the perks of the company offers and how involved you are. Avoid asking more questions regarding perks such as free snacks, policy, etc. This will surely develop an image that you're more interested in the company's perks than working for their mission and vision.
18. Speaking about vacation:
Some candidates ask for how many days off do they get with payment made. This would develop an image that you want to miss your work and take almost as many leaves as possible with paid. All these types of queries must leave for follow up interviews when HR discusses the benefits.
19. Do not bring up personal issues:
You can be sure to raise with a red flag when you mention that you are to divorce, or going through pregnancy or facing a tough time. It always advises not to share personal issues in an interview. This is because the interviewer can conclude that your issues may be a hindrance to your performance and hence discussing personal issues must be avoided.
20. " I don't have any questions"
It is quite usual that any interviewer would ask the candidate, whether he or she has any questions at the end of the interview. When such a question raise do not say "no", this is because it represents as if you're unprepared or not interested in the job role. Hence when you get a chance to clarify your queries if you have so.
21. I want to start my own business:
Entrepreneurial ambition is good, but make sure that it is perfect when it is unsaid in an interview process. It may be a productive mission, but hiring managers think oppositely as they do not view it as an employee's ambition but they view it as a potential treatment for the organization.
This is because they fear information threat and turnovers. These candidates considered future flight risks. There is also a lot of chance for an organization's information to leak. And hence mentioning this in an interview can be avoided.
22. Do not compliment the interviewer's appearance:
Though complimenting is usual in many interviews, it is always good to avoid compliments. This is because you are there for a reason and almost all interviewers want to maintain a boundary. It is always good to maintain a good distance where otherwise the hirers can mistake you in the other way.
23. Do not force rapport:
It is always better not to force commonalities with the interviewer. The scenario of the interview place may be one which reflects your hobbies and interests, do not take a chance and talk over it.
You may not have kids and when you comment on the pictures placed in the interview place of the hirer's kids it may seem fake. It is important to remember that rapport cannot be forced. When you see things which are of common interest just have a small talk about it.
24. "how am I doing"
When you ask for feedback in an interview process, it mentions that you lack confidence and you're also being open to negative assumptions. It also shows that you are ineffective and insecure too.
When you look weak asking this question, then it would put you under a pause because interviewers are looking for people who display strength. It is hence mandatory to represent strength and self-assurance during such scenarios.
Things to Never Say in Job Interview:
The main aim of a job seeker is to impress the interviewer and crack the interview. It is the primary most thing as getting a job in this competitive market is very tough.
There are a lot many things to consider for getting a job right from preparation to the proper execution in the interview process. You can also find many articles online which provide the best interview tips to follow. Though following all of them can push you on the success scale but there are few other things one needs to consider when attending an interview.
Things to mention in an interview are important but one also needs to know what not to mention in an interview as such things can backfire and losing your chances of getting a job.
Here are the 30 things that one should avoid saying before the interviewer.
"Should I list out my references?"
"Sorry If I am too Early."
"Just don't mind me following up—Again"
"Sorry If I'm too late."
"I'm Going Through a Tough Time Right Now."
"Do You Know When We'll Be Finished Here?"
"So, Yeah…"
"What the Hell!"
"So, Tell Me What is your role here"
"I'd Like to Start My Own Business as Soon as Possible"
"I'll Have the Steak and a Glass of Cabernet"
"Then, While I Was at Happy Hour…"
"Nope—No Questions"
"How Soon Do You Promote Employees?"
"How Much Vacation Time Do I Get?"
"Um, I Don't Know"
"I Pulled Together the STF Reports"
"I have developed a Strategic Alliances Synergistic Network …"
"On My Third Goose-Hunting Trip to Canada…"
"I, Like, Increased Our Social Following, Like, 25%…"
"I Think Outside the Box"
"I'm the best salesperson of my Company—and I also have good knowledge on Spanish"
"Perfectionism Is My Greatest Weakness"
"Yes! I Have a Great Answer for That!"
"It's on My Resume"
"I Know I Don't Have Many experiences, But…"
"I'll Do Whatever"
"I'm Really Nervous"
"I Didn't Get Along With My Boss"
"Ugh, My Last Company…"
Conclusion:
With all these useful hints, candidates who are preparing for interview sessions can be sure to cross the hurdles by reading these hints. Also, these points are valuable and can teach the candidates what must be avoided in an interview.
Success can reach by following the right rules and working smart. Interview sessions can tackle more interestingly by knowing the inner details. These hints open us what the hirers expect from a candidate. Hence candidates can move confidently for an interview with these hints in mind.