What is a Career Development Plan?
A Career Development Plan is a series of goals that are in the form of steps starting with minor to major accomplishments. Any individual with a certain aim in life should opt for a career development plan. This plan helps in understanding the targets and goals. In addition to understanding, this plan also helps in incorporating strategies to achieve the goals within a certain time period. A career development plan should be based upon the capabilities, potential and reality. People (employees) are always advised to set realistic goals or plans, so that they can achieve them.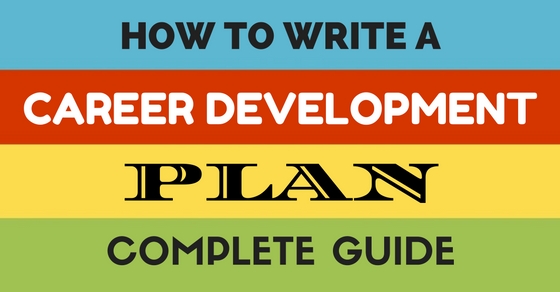 In short we can conclude that career development plan is a future planning (prediction) program, where the individual sets short term as well as long term goals. For example, in the life of a student, short term goals relate to the internal tests and term exams. While long term goals can vary according to their aim in life. Aspiring doctors will need extra science classes and good knowledge of the subject. Similarly, in the corporate world, employees prefer forming a career development plan (CDP). CDP is not a compulsion on any individual yet people want to make one because it helps them understand themselves as well as their goals better. CDP is a helping hand that helps people to follow their dream.
Steps to Create your own Career Development Plan:
With Google in people's life, things have becomes very easier for them. However, we always need to strive hard for better performance (and at times, all by ourselves alone). Why do we perform? We perform in order to attain certain goals and aims in life. Goals can be made for any reason. Homemakers, doctors, engineers, teachers, students, employers, employees, etc. have various goals relating to their daily activities. These goals are always random in nature. They have no set sequence until we decide to set them. One cannot jump from rags to riches in a day. You need a perfect plan and a few strategies to implement and make it large. Therefore, one needs a career development plan to understand his or her goals better. Moreover, career development plans can also help in sequencing the short term and long term goals.
Now the question is that how will you write a proper career development plan. Let us see some steps that will help you plan your career properly:
1. Goal analysis is important:
Goals and aims are the first things that you need to consider when it comes to a career development plan. Imagine yourself trying to make a career plan whereas you have no such long term goals to focus on. It seems like a confused thing to do. Thus, determining your long term as well as short term career goals should be the step number #1.
Tips: Following are some tips that you should keep in mind while determining your goals.
Remember to be realistic while selecting the goals. Once you have selected your goals, make sure to keep some reward for your motivation. For example, for an aspiring doctor being a doctor is a long term goal. However, before being a doctor, taking admission in a science college is important. Therefore, admission in a science college will be the short term goal. Thus, the short term goal completion will in itself work as a motivation for the long term goal.
Specifying the exact goal is also important. For example, instead of mentioning 'a doctor' as your goal, mention the exact field you would want to enter. It works in a similar way for an employee. Working in any field, an employee must list down goals by specifying the exact post.
Also remember to include your expectation from your goals. A professional accomplishment is mostly all about achieving something in life apart from the professional aspect. You might also list down the hopes you have from your post. It may also include respect from the employees as well as the colleagues.
2. Define your professional self correctly:
Question yourself about your abilities, capabilities and potential. Think about all your motivation, your dedication and your passion towards achieving the certain goal. You need to begin your work by analyzing yourself carefully. Understand your skills well. Now, some people believe that while beginning any kind of professional work, a person does not have any professional skills. However, we all do have certain general skills that develop with time and correct training. Those general skills are your best assets to begin in any career field. For example, your hardworking nature and/or your ability to be a good team player can come in handy at any career.
Tips: While laying down the list of skills you can focus on your education and hobbies. Hobbies develop our skills whereas our education shapes our skills. Both the aspects play an important role in the general skill development. In addition, make sure to consider motivational force. Short term goal completion may motivate you but to complete those small goals you need something to motivate you. Note down your inspirational as well as encouraging aspects that may help you in the future.
3. Realistic goals assessment:
Now most of us do set various goals depending on our skills, abilities, and potential. However, there are few people who are unable to understand their aptitude and make broader and unrealistic goals. Such people can ask few questions in order to understand whether they did set a realistic goal or not.
What does this goal hold for me?
Why do I aim for such goals? (motives)
What milestones would I need to cross to attain this goal?
How would it affect me professionally as well as personally?
If you face trouble answering these questions then your goals are not ideal or real. Irrational goals may ruin your planning altogether. Thus, re-write your goals and repeat the process.
4. Mark your current location (position):
Current position also plays an important role as it helps us understand the distance of the journey towards the goal (success). Evaluate yourself and try to understand whether you are ready to start making a career development plan. Understanding oneself will help you comprehend where you need to proceed further. Some people, at one point start questioning oneself whether they need to continue the same profession or they need to try something else. Therefore, think it thoroughly before proceeding to make a career plan.
For example, you can list down your current job description (whether you work or are a newly graduated student). Secondly, list down your strength and weakness. Lastly try to find solutions to overcome your weakness.
5. Detect potential barriers in the road:
Every possible task in this world comes along with smaller or bigger barriers that the doer must eliminate in order to attain success. Therefore, it is important to make a list of all the potential career accomplishment barriers. This can include all the barriers of the short term as well as the long term goals. These barriers can be personal or global. Personal barrier may consist of procrastinating nature, missing deadlines, etc. Whereas global troubles may comprise of global competition in academics, corporate world, etc.
Career Development Plan Example:
1. Primary career (assistant teacher).
2. Career goal (Teacher).
3. Short term goal (Active participation in all the student as well as teacher activities).
4. 2-3 things that you should do to accomplish short term goals.
5. Note down non-helping activities and try to minimize them.
6. Add extras (skills, knowledge).
7. Ask someone else to review your plan.
Do you think that career planning and following it is the responsibility of the employee only? Even the employer needs to support the employee in his or her task to help them grow effectively and keep them motivated. How would employers help and support the career development plans of their employees? That sounds like a disturbing question. However, do not worry because following are some of the ways in which an employer can promote growth in the diverse atmosphere of the workplace.
Ways to Support the Career Development Plan of your Employee:
An employer should conduct a meeting wherein he or she should focus on the technical and functional dimensions of the goals Overall achievement is only possible when the employer focuses on these two dimensions.
1. Individual approach:
Now, meetings are ideal when you are approaching a topic in a group. But, when it comes to career development plan, not everyone has the same goal along with similar potential and capabilities. As an employer you are required to approach your employees individually in order to understand their plans and help them take the correct path. However, you need to refer to their yearly performances, their current projects, previous project reviews, feedback and behavior in the workplace (with team mates). The more you understand the capabilities of your man force, the more you would be able to grow.
2. Resource analyzing and availability:
Resource is the most important thing within any organization. Apart from a perfect work atmosphere, an employee needs some extra training in the form of workshops or counseling. Therefore, it actually is the duty of the employer to provide the best of resources he or she can, to help the employees grow and get exposure. Experience as well as growth can be achieved through better training facilities, exposure with the other companies or through any seminar and workshop. Thus, the employer must work upon analyzing the present resources and enhance them. Moreover, these resources can also include teacher or personnel who supervise the work quality of the employees and give them appropriate feedback to improve. Before implementing resources for the employee's help, employer must first discuss it with the employees individually.
3. Prepare your own parallel plan:
Now what do you mean by a parallel plan? A parallel plan is a strategy that works in context with the career development plan of the employee. Each employee has a criterion upon which his or her work is justified or appreciated. Thus, while creating this criterion, employer should include the goals of the employee within the yearly plan. This yearly plan should note the activities performed by the employee to attain a certain goal. Now the question that arises is that an employer has dozens of other work to take care of in the company, how can he or she manage the employees on a personal (individual) level? Well, an employer is apparently the owner of the company. Therefore, he or she should invest in a personal workplace counselor or guide, who can take care of the matter with a professional touch. However, the employer must look into the work of this counselor once in a while.
4. Revise and adjust the plan:
Things can never work out properly without the timely consent of both the parties. Meet the employee individually and propose the parallel plan. Parallel plan is only a supporting system that helps the employee to follow his or her career development plan in a better way. On the request of the worker, revise the plan and also make changes if necessary. Moreover, create two copies of the plan, one should be filed within your copy and the other should be given to the employee to keep a referring through it. Moreover, it will help in discussing the plans in the future meetings.
5. Change is a part of life:
At any organization, mid-year review is one of the most awaited meetings. Mid-year meeting (also known as performance review), gives clear stats of the position of the employees. Here, the employer is expected to re-revise the parallel plan, employee's career development plan and the performance. Revising and tallying this information helps the employer know if he or she needs to make any changes. Time is the best teacher. It helps a person grow and understand things better. With time it is a possibility that the employees may have a bit of change in the plans. Employers must revise and adjust their parallel plan according to the changes by the employee.
Changes and adjusting is a part of life. As an employer, it is his duty to look after his work force and their development. This work force contributes in the development of the company at a whole. Therefore, if they continually develop then automatically their development will positively affect the company, resulting in growth.