Usually, people follow a process in their life, like studying, good education, better job and getting settled. In all this process of life, some people get stuck in the middle of the better job process.To get a job, a person needs to participate in the interview and then he or she will get that job. Apparently nowadays facing an interview is a courageous thing to do, especially when there is a lot of clearing processes. Moreover, some people experience severe pressure and job interview anxiety while attending such interview process.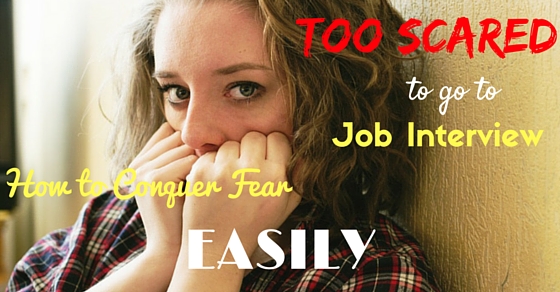 Ways to Avoid Unnecessary Job Interview Anxiety:
Interview fear and nervousness is nothing but lack of confidence, some people feel pressurized to attend an interview. They even start forecasting their interview results as they are going to get rejected.
These types of pre-assumed comments can create lots of anxiety and depression in a person's mind and eventually, this anxiety ruins everything while going through the screening process.
Therefore, for overcoming the anxiety of that level a person or a candidate need to follow these ways, which are as follows.
1. Try to prepare and plan:
People advise all those who are supposed to attend an interview. And those advises can be beneficial for those candidates as well. But in the list of advise, a person can deliver a genuine advise as to prepare themselves for the interview.
Nowadays, there are several sources by which people can prepare themselves before attending an interview. Moreover, these preparations before interview helps those candidates to be more confident about their interview.
2. Create a fake interview rehearsal:
Some candidates experience anxiety during and before the interview. Therefore, to overcome that interview anxiety, a person needs to create a fake interview rehearsal and also prepare himself or herself with all the questions which can be asked during the interview.
So by this, the candidate can gain more confidence with the help of such fake rehearsal, and he or she can then perform well in their interview without any nervous anxiety issues.
3. Maintain a smile:
A happy and a confident face brings in positivity in the surrounding. So, it is necessary for all the candidates that they need to carry a smile on their face through the interview. Maintaining a smile during an interview helps that candidate be more confident and hide his or her emotions as well.
Sometimes behind that smiling face there will be a person who is so scared and nervous about his or her interview, but that smile on their face can make them gain an extra point on their confidence level.
4. Try to distract yourself with music:
Some distraction is good for physical and mental health. And listening to music is of the greatest distraction for a completely new approach. Especially when a person is going through anxiety issue, then it is definitely necessary for that person to loosen up himself or herself and listen to some good music which makes them good about themselves and ultimately this can distract their anxiety into a completely normal form.
Therefore, listening to music before interview instead of over preparing themselves can help them perform better during the interview.
5. Share your nervousness:
Sometimes during the interview some interviewers can make out that the candidate is nervous about the interview. And if anyone of the interviewer asks about feeling nervous, then it is better to be honest with them.
Because later on they will definitely come to know that the candidate is nervous completely and that can add in some negative points in their interview results.
Therefore, being honest about nervousness can bring them some positive points in relation to their selection process.
6. Behave positive:
Some people have a habit of showing their nervousness openly, but over-showing nervousness can add in some negative points in their selection account. And that is why candidates need to go with the flow and behave normally during the interview.
Therefore, it is necessary for all the candidates that they need to behave professionally before and after the interview process, because during interview process every single candidate behaves professionally.
7. Avoid desperation:
There will be a possibility that some candidate who has come for the interview might be very desperate about their selection and which is why they can even make some extreme moves on the interviewers to get selected.
Therefore, it is a common advice to every single candidate that they need to control their emotions during interviews and leave from there respectfully. And at the end if not a job at least the candidate might earn respect from the interviewers.
8. Try to relax:
While waiting outside the interview room or office, most of the candidates freak out because of the candidates who have come for the same position. So instead of worrying about one's chances of getting a job and being anxious about it, it is better to relax themselves and take a deep breath to understand the situation which can help them focus on their interview.
Therefore, techniques of relaxation can be many so a candidate needs to adopt natural ways to reduce anxiety and be relaxed.
9. Avoid comparing yourself:
Sometimes some candidates get scared by rest of the interview candidates attending the interview. And apparently, the candidate starts comparing himself or herself with those candidates which is wrong.
Therefore, it is important for all the candidates to understand that comparing oneself with other will not lead one anywhere. It is better to feel confident about oneself to overcome the fear of the interview process.
Some of the Tricky But Obvious Interview Questions:
Conducting an interview schedule is a tough thing to do, but preparing the interviews for such interview is a completely different thing.
Nowadays, because of technology candidate prepare themselves before attending an interview. And while preparing, candidates look into such questions which they are afraid of and here are some tricks to answer such scary questions during an interview.
1. They question about previous employers:
It is a tricky question because in most of the reading materials about interview mistakes, candidate answers these questions starting with a negative aspect about their previous interviewer, but some interviewer doesn't appreciate that behavior and the candidate might lose his or her chances of getting a hired.
Therefore, instead of boasting about his or her previous employer a person can start explaining about his or her work in the previous employing company so that there won't be any sort of confusion.
2. About motivating stuff:
Some interviewers present such questions like what are your strengths and weakness, what are the things or any event or person who motivates you. While answering this question, a person need to think about the question first, then answer with a confidence.
Therefore, the candidate needs to answer the interviewer mentioning the event and people who motivate them and especially those who genuinely motivates them.
3. About hobbies and interest:
This is an expected and common question which most of the people don't take seriously. Therefore, it is necessary to understand the fact behind these questions, then answer the question with utmost certainty.
Moreover, the candidates need to explain them about those hobbies, which makes them passionate. There are some of the hobbies and interests which people like to make it a full fledged career out of it.
Therefore, explaining those hobbies can make the interviewer understand that the candidate is a passionate person.
4. About some scenarios in which you took the initiative:
It is a necessary question and a very recent one during interviews. With this question the interviewer wants to understand the credibility of the candidate. If a candidate is an experienced one in his or her field, then he or she would definitely share some exciting events in which they took the initiative.
But for fresher it is a completely new one to answer. Therefore, instead of talking about negative stuff, the candidate can present his or her personal experience in which the candidate took good initiative.
5. They even ask that if you be an animal, then what animal would you be?
It is a different and tricky one to answer. While answering this question the candidate need to understand the need for that question. After determining the question the candidate must answer that with complete certainty.
It is advisable that the candidate need to compare their nature with an animal which is merely similar to them. In this case the comparison helps them understand their answer first.
Therefore, at the end of the session the interviewer would completely sure of his or her decision.
Conclusion:
Finally, the bottom line is that being scared during the interview or feeling anxious before the interview is a common thing, but to overcome that fear of interview all the interested people need to read this discussion about how to overcome the fear of job interview.
And at the end of this discussion about interview fear and anxiety, people might get very helpful tips related to it. "Hence, readers who are interested to know more about this topic can look over the discussion for more information."
Save
Save