A standard of ethics in the workplace is something important which must be followed by every organization. When ethics at work is considered, it is something that goes beyond company policy.
Unethical behavior is something that falls under the gray area and people do not know how to react. It is always good to remember that unethical behavior is an illegal activity and leads to serious consequences when it's left unaddressed.
For the same, companies boost employees to report regarding unethical behavior in the workplace.
Such unethical practices and behaviors go unnoticed due to revenge, fear of losing job and more aspects. Let's address about a few steps regarding how to report unethical behavior in the workplace.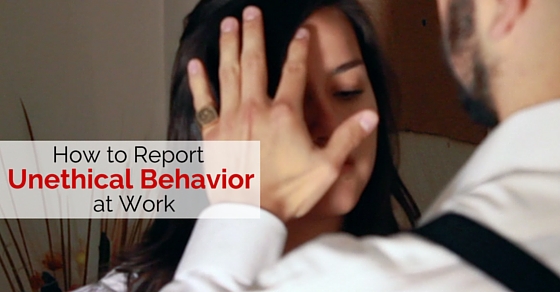 Reporting and Dealing with Unethical Behavior at Work:
1. Documenting:
Whenever you notice unethical behavior or ethical violations by the employer, make sure to document them. Important aspects to remember about recording violations are to list the date, timings, employees, supervisors, and managers present.
The comments and remarks are another important aspect that needs to be mentioned regarding the alleged violation. It is also advised to make copies of the documents and record the original copies for your personal future reference.
2. Collect witnesses:
Apart from documentation of unethical behavior, you also need to gather proof and witness for the unethical behavior at work that has occurred. Evidences may include emails, voice mails, files, testimonials, documents and more are ones which can make your case stronger.
3. Ensuring unethical behavior:
To make sure you're not raising issues over anything, get to know what contributes to an unethical behavior. Take some time and run through the company's handbook to know if the employee is violating the company policy.
There is a big difference between swiping an office supply and one who makes an accounting fraud. Make sure to take time and confirm when you spot something wrong before making it public.
4. Sharing with others:
As you are an employee in an organization you must be aware of all the whistleblower laws that exist. Get to know all the protections that fall under your category when you find an employee is violating or following to be unethical.
You should always remember to get an idea from others or others perspective by sharing your issue with others. They can be anyone such as friend, spouse or someone who you don't work with.
Remember that confidentiality is the key and hence do not discuss such matters at work place especially when you're in chaos if the issue is purely unethical.
5. Report to supervisor:
When an unethical behavior is deducted, do remember to report to the supervisor first. Your direct boss would be the immediate first person to whom you might report.
Your boss would be an experienced person and must have been trained in managing situation where he might diffuse or escalate in such scenarios.
6. Seek help from ethics department:
There are many organizations that possess an ethics department or confidential compliance. Certain companies also offer their employees with email address or hotline address so that they can report issues anonymously.
When a message is left in an anonymous manner, the investigator would never report the outcomes or discuss any other aspects regarding the issue with you.
7. Schedule a confidential meeting:
If you desire to share your issues with someone else within the company, then you can schedule a confidential meeting with the HR department and share the concerns. When your issues are employment based concerns, then it would be good to speak to a member of executive team.
When you're discussing the concerns, make sure to speak only factual concerns and do not blend personal opinions or concerns to the issue. A clear example can be, when you have an employee who violates the sexual harassment policy of the company, then do not take a motive to speak about the employee's marital status.
Just make sure to mention that the issue violates the work place policies and employment laws. Provide the documents to the person you speak and ask him to offer additional information by providing your contact number to the executive member.
8. For serious issues:
When you find out a serious legal or policy issue you can head to the human resource department directly. As an employee you have the obligation to report directly when there is any unethical behavior or act violates the policy and the law.
Unethical behavior reports are handled by department equipped to unethical behavior and can be consulted with legal behavior, auditing and quality departments and also with other management necessary.
Since HR has the capability to warn, fire and demote according to the warrant of the situation, revenges can be avoided that are plotted to occur.
9. Contacting government entity:
Suppose you do not get a response from the employer in your organization, the government entity who deals with such issues can be inquired and violations can be reported. A clear example can be that when unethical practices are identified regarding workplace safety, the occupational safety and health administration can be contacted.
Another apt example can be when you wanted to report about the unethical practices associated with overtime pay, minimum pay or other violations that are related to fair labor statistics act, then department of labor can be contacted.
In the same manner unfair job practices which include sexual harassment, sex based discrimination, and other factors that are associated with job are to be contacted to the equal employment opportunity commission.
10. Complete study and writing document:
In such scenarios where unethical issues are caught red handed, the employee who desire to take steps, should first make a complete study of the issue and document the issue first.
A written complaint can be a perfect way to document the issue that happened and can be referred in future whenever required. Hence complete study of the issue and documentation is mandatory for any unethical issues that happen.
11. Prevent unethical behavior:
It would be said that prevention is better than cure; in the same manner preventing unethical behavior can be the right way rather than handling the issues with a number of procedures.
The first best way to prevent issues is by creating the right policies and procedures where the violations, definition and reporting of ethics can be violated. The employee handbook must be printed with the policies so that they are aware of the procedures and policies and hence follow the same.
The ethics in workplace or organization can be maintained in such a way that right quality people are recruited in an organization. Hence the organization should employ screening tools, background checks and behavior based interviews.
12. Survey regarding unethical issues:
Unethical behaviors can result in worst situations and even loss of job. An online survey was conducted in the year 2013 with about 900 working people. This opened up the most common unethical behaviors at workplace.
The major ones where one taking the credit for someone else work, taking up long breaks and showing up that they are sick when they are actually well.
About one-third of the respondents mentioned that they use these reasons which are violations before taking part in the survey.
13. Unethical issues not being reported:
Another major report is that about only half of the respondents in the survey reported unethical behavior. The main reason is that they were scared about their career being damaged, they might find the workplace tough to work with the offender in the same place, they conceived that their complaints would not be taken a serious matter and finally some respondents in the survey mentioned that they did not know how to take the issue on the right path.
Conclusion :
These are a few ways that can be followed in order to report unethical behavior at the workplace. Employees who are unaware of the steps that need to be taken for any unethical misconduct or behaviour at the workplace can get through these points and start taking steps accordingly. Any unethical behavior is to be handled and carried over in a procedural and right manner in an organization to avoid chaos.
So, at large organizations, the human resource manager or department takes responsibility to bring out the concerns about unethical behavior of concerns, and also about unethical behavior of colleagues as mentioned above.
Importance of ethics in the workplace always comes first and this must be clear to all employees. Organizations can be brought to ground due to unethical practices and also can be a reason to shut down or leave the employees jobless.
Though vigilance may not be a part of job description, it is the duty of the organization to insist the employees to take up the job in a serious manner.
Hence unethical issues must be concentrated and the right way to handle them must be followed in order to make the work place a perfect situation without issues.
Save