You surely don't intend to lose great talent to competition because of bad recruiting software. Hence, it is the right time to incorporate Recruitment CRM software into your recruitment process.
CRM or Candidate Relationship Management is all about maintaining healthy relationships with the new candidates so that recruiters don't miss out the best talent. To make the process easier, faster, and efficient, there is CRM software available.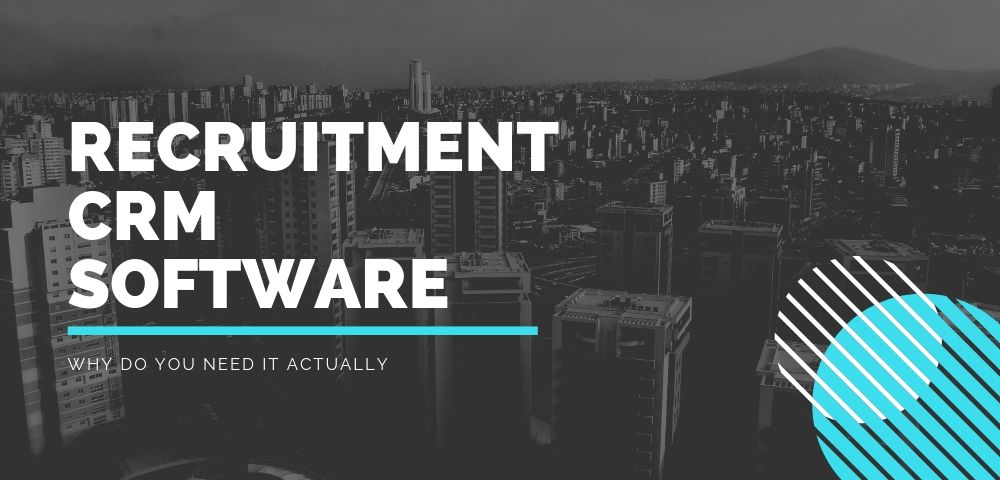 Smart navigation:
In this article, we will be discussing the below-enlisted topics,
With a CRM system, you can build and maintain strong relationships with job seekers while efficiently managing the recruitment process. If you want to know what exactly CRM is and how it can benefit your recruiting process, continue reading this post.
What is CRM Software for Recruiters?
CRM software for hiring managers is HR software that recruiters use to ensure relevant, timely, and updated communication with their candidates during the hiring process. Using such software can boost candidate engagement as well as enhance the overall hiring experience for the candidate. With the help of this software, hiring managers can manage and improve relationships with their existing and new job seekers.
The core idea behind introducing CRM software is to treat candidates like customers. Initially, CRM was focused only to retain customers and drive sales. However, in recent years, hiring managers and recruiters have realized the requirement for recruitment CRM systems.
With an increase in the numbers of modern job seekers and intense competition in the job sector, leading employers know that it is no easier to manually manage candidates through pen, paper, and emails.
There is a need for a better way to attract top talent, keep them engaging, and drive them through multiple stages of the hiring process.

Initially, ATS or Applicant Tracking System was introduced to streamline and simplify things. But, with further technological advancement, CRM in recruiting is introduced. As a result, recruiters and hiring managers can conveniently manage every aspect of a candidate relationship from initial sourcing to the final job offer.
Some of the features of an efficient Recruitment CRM system are:
Mobile-friendly and customizable online career pages
Automatic postings of job openings to leading job portals
Centralized database for managing candidates
Automated email templates
Hiring manager tools
Pre-employment screening
Interview scheduling
Reporting and analytics
Digital offer letters
Built-In Compliance Functionality
Recruitment CRM Software Infographic:
You can see things more clearly with this infographic:

Share this Image On Your Site
What a Recruitment CRM Should Really Do?
The competition for top talent has got really tense. It is necessary for companies to find the right-fit applicants. A way to hire the best talent is by creating a database of interested candidates.
Basic Recruitment CRM software does the same. It works as a database of candidates including their email addresses and names. These are the candidates who have opted-in your brand in one way or the other.
It allowed you to capture email, name, and other details of a candidate if you have a sound network, a strong community, or timely job alerts.
But is this enough?
Surprisingly not! Around 47% of Fortune 500 companies never send an email to the lead database after signup confirmation. This implies that nearly half of them have no strategy or they don't precisely know what to do after capturing initial details. This ultimately results in a missed opportunity as well as a broken candidate who opted to learn more about the company.
So, there is a need to do more than just running a basic CRM database.
An efficient Recruitment CRM is one that is paired with excellent nurture strategy and holistic recruitment marketing strategy. Ultimately, such a CRM can help you to hire successfully for business growth.
Therefore, modern CRM software must fulfill at least the following requirements.
1. Build Candidate Profiles:
An efficient CRM can help you build complete and more competitive candidate profiles including important details such as their social presence, skills, interactions, job interests, and more. It is not based on one and done data hiring.
The Recruitment CRM software is a component of a comprehensive strategy, which regularly updates and track more details on every person in the database.
2. Efficient Sourcing:
Most of the recruiter fish for the same talent in social networking platforms. However, no one is aware of what will happen to the database pouring in.
In this case, recruiters have one great choice to build their own database, which only they can source. This database will be filled with people who showed an interest in the company or brand.
Contacts on LinkedIn are cold leads. But individuals who have shown interest to communicate with you are warm leads. Coupled with a complete profile of the candidate, recruiters don't have to source again and again right from the scratch to fulfill every single requirement.
3. Categorizing Target Candidates:
The aim of CRM is to gather leads and manage the leads and relationships until the right conversion point is achieved. A robust CRM platform allows you to segment candidate audiences into numerous databases or nurture workflows, like hourly, veteran or campus.
Adequate categorization leads to efficient sourcing and lets recruiters send more personalized messaging, which leads to better chances of finding a suitable candidate for the job opening at the right time.
4. Automated Personalized Reminders:
Recruiters can avail personalization only with complete automation. For example, mostly, a handful of leads interested in your company begin the application process, but they drop off before getting complete.
A dynamic CRM integrates into the ATS can automatically lead to a personalized email, which reminds specific leads to complete the application. At this stage, personalized messages trigger people to take specific actions.
5. Tracking Interaction for Insight:
Might be you have not met most people in the CRM database, but you can know a lot about them. This is possible by using CRM within the recruitment marketing platform. It lets you see every interaction that contact holds within the brand, from social media to career website to email opens to the attendance of the event.
This lets you know the messages which are specific to a job family and is successful. This way, it transforms data points into insights for future decision making.
6. Nurturing Relevant Content:
When you gather names, you know nothing about them and even share little information about your company. The CRM database is futile and is of great help in this context.
Talent nurture and network strategy go simultaneously and CRM engine is behind that strategy. Though the CRM would not generate content for you, it will inform how, when, and why you created it.
ATS vs CRM:
Now, an interesting thing is that many individuals believe they don't require a CRM as they already possess an ATS. The reality, however, is different. Recruiters or hiring managers need both as these two serve distinct functions in each section.
ATS system is a compliance and workflow tool that allows managing applicants. The CRM software, on the other hand, is a pool of active and passive candidates and also applicants already existing in your system.

CRM system functions to scale the sourcing efforts of recruiters by attracting passive candidates ahead of the demand. Contrary to this, ATS are developed to create streamlined selection and hiring by eliminating unwanted administrative tasks. Also, it improves the most important hiring metrics – cost per hire, quality of hire, and time to hire.
If your ATS is bad, it does nothing more than executing repetitive functions. This means recruiting teams waste their time on non-valuable tasks rather than emphasizing on strategic initiatives.
Some signs that tell your ATS is not completely optimized with CRM are as follows:
Numerous entry fields need manual input.
You segregate candidates as per their current work or jobs than the desired work.
Increased cost per hire and time to hire, but the reduced quality of hire.
No technique to measure the recruiter-candidate relationship.
Increased administrative work.
Complex positions remain vacant for months.
Why Do You Need Recruitment CRM?
Presently, ATS is extensively used, but most of the analysts believe that in the upcoming years, 70-80% of the recruiting process will be regulated by the CRM.
There are some warning signs that tell you why your ATS system may not work efficiently or may fail to deliver the desired results.
1. To Avoid Shortlisting Duplicate Profiles:
A large number of situations can lead to duplicate profiles, even when you are using an ATS. It is because ATS systems come with restricted visibility. ATS limits as it manages everything from a requisition mechanism. Hence, it forces recruiters to focus only on the requisitions and does not let them collaborate with the entire pool of talent.
However, the perspective of a recruiter can be expanded using a CRM. It is because a CRM leverages a candidate-centric approach to recruiting. In this situation, when a candidate makes any action, those are tracked and visible to the recruiting experts. Most importantly, every action recruiting experts take, trackbacks to only one profile of the person.
The profile of candidates also reflects if it is being considered in a separate requisition or approached by distinct recruiters. Using a CRM, recruiters can narrow down requisition and still facilitate team-orientation and a collaborative approach to the hiring process.
Hence, when you use the best Recruitment CRM Software, you can know when:
An applicant re-applies
An already existing candidate is sourced
Recruiters get a referral for a candidate that already exists
Two different jobs are applied by the same candidate at the same time
When recruiting team sources the same person for two different openings
2. You Track Sourced Candidates Using Emails or Spreadsheets Only:
ATS was introduced to manage candidates after they have applied, and not before that. Hence, most recruiters are unable to efficiently track the source of the applicant.
A CRM tracks at all stages of the pre-hiring and hiring process. With LinkedIn email integration, daily email syncs, and appropriate source tagging, the CRM displays post sourcing text clearly for the recruiting team. It enables to track interactions before the talent even applies, which help recruiters to know who on their team has reached out, responses made and received by the candidate and other attributes to the hiring process.
A CRM software can answer distinct sourcing questions like channels or sources that lead to best hires, who did the candidate engaged first, email templates that work best, and more. Having all such information, the recruiting team is able to work more efficiently and lets you know the best time to reach out to a candidate.
3. Your ATS is No More a Goldmine:
ATS systems bury information when they close a requisition. This forces many recruiting teams to track candidates on spreadsheets. As a result, only 1 out of 152 inbound applicants get hired while 1 in 72 sourced candidates get hired. Sourcing can make you highly efficient.
CRM aims to precisely organize and keep data intact, including details of past candidates. When there is a new job opening, rather than immediate sourcing, it is best to tap into the existing talent pool. Moreover, advanced CRM offers candidates a newly opened matching role.
4. You are Spending Huge Time Toggling Between Separate Platforms:
It is time-intensive and can be confusing to collect bits and pieces of information about a candidate from distinct platforms. If you have to toggle through distinct interfaces to get context around the candidate, it clearly indicates that data is not flowing between the platforms. As a result, you may not be able to create a genuine talent report.
With authentic CRM software, recruiters can easily track everything right in the pre-hiring process. Moreover, it is the only platform that you have to search and pay for.
If your recruiting team is experiencing these and more other challenges, then it clearly indicates the need to focus on promising CRM software. A recruitment CRM can track everything and offer you the added functionality to complete tasks related to each stage in a single platform.
Benefits of CRM Software for Recruitment:
1. Builds Relationship:
CRM makes the recruitment process proactive by developing relations with candidates even before recruiters begin the hiring process. You can create a talent pool of interested qualified candidates to gain a competitive benefit in recruiting the best talent. This way, CRM can reduce the time to fill an opening.
Mostly, recruiters begin a search only after receiving a confirmation from the hiring manager. Also, they use a database of rejected candidates or restart the search process from the beginning. With this approach, it became difficult to build a strong brand of employment.
With CRM, candidates are nurtured, which means they are suggested only when there is an appropriate position to offer. Attracting the candidate to the company is a continuous process. Hence, using CRM help companies to build a talent pool of applicants interested and willing to join them.
2. Let Recruiters Know Candidates Well:
As an important initial step, HR managers must get complete details about every potential employee. They need to fetch details apart from that mentioned in the resume. Hence, hiring managers have to assess a variety of sources.
CRM can automate completely the process of gathering information. CRM integrated with ATS can track updates in the professional front of the candidate. It keeps recruiters tuned to career advancements of the applicants.
Along with candidates shortlisted during recruitment campaign, companies can store a database of alumni or those who rejected the job offer. Keeping in touch with such candidates can result in referrals or boomerangs as well as help recruiters to know the actual reason behind rejection of job offer.
With all such insights, recruiters can tailor further communication process and make desired attempts to bring such candidates back in the future whenever there is an opportunity.
3. Manage Hiring Pipeline:
The hiring process involves different stages of job placement. A candidate is successful when he is able to go through these various steps in a pipeline:
Shortlisted as a Lead
Gets Contacted
Goes through the process of interview
Receives offer letter
Hired by the client
This is the standard recruiting process for hiring a candidate. However, it is subject to change if new candidates or job seekers are discovered. When the candidate progresses through the pipeline, you have to add more qualified applicants.
With CRM, it becomes easier to create a regular outflow and inflow of candidates. It becomes possible to develop long-term connections with present, past, and future candidates.
CRM automation allows you to link with candidates and reduce the time involved in the recruiting process. Moreover, recruitment CRM lets you measure and sort the levels of interest among candidates. Also, you can categorize the experience, education, and skills of candidates.
4. Personalize Communications:
Using CRM for recruitment let HR managers target candidates from the database using personalized messages. These messages can be tailored on the basis of details mentioned in the candidate's profile.
Hiring managers can create plans for digital communication for distinct kinds of candidates, like turndowns, internal candidates, external applicants, and alumni. It allows creating and sending timely notifications and reminders of vital events to recruiters and talent pools.
Hence, Recruitment CRM software assists in communicating with numerous candidates, still offering HR managers complete control over the process.
5. Extends Talent Channels:
CRM enhances the way you use recruitment channels. There are various platforms to source candidates. Social media, job posting boards, referrals, and many other platforms help you to hunt high-quality candidates.
When you are using Recruitment CRM, you don't have to wait for the candidate to respond. Instead, you can make meaningful interactions with the candidates to develop relationships.
Moreover, it is possible to adopt a creative approach in sourcing strategies. When you network with potential candidates on various channels you can grow the candidate pool. This way, it is possible to foster trust and organize talent channels.
6. Application Support:
At initial stages, an organization can inform the candidates about adequate updates or vacancies in job specifications with automatically generated SMS or emails.
But automated emails can also support candidates at various stages of the recruitment process. Timely reminders can help job applicants to complete the application or update their profile.
For candidates selected for an interview, in-person or phone screen, it is possible to know pre-interview tips and facts about the company, which can relieve stress and let employer stand out.
7. Know about Passive Candidates:
Some of the job seekers are actively looking for a job, while others are not. The candidates who do not actively look for a job are called as passive candidates. Such candidates can play a role in successful recruiting.
A report from LinkedIn in 2016 revealed that only 32% professionals are actively looking for a job while 68% of them are passive candidates.
However, such candidates can be valuable for companies that need specialized skills. Such positions have a smaller pool of candidates. Hence, hiring managers can source difficult to find candidates and convince them to accept job offers.
CRM software makes it convenient to recruit passive candidates. Since you are able to develop a relationship with the candidate, so it is convenient to reach out to him. Moreover, old candidates remain a part of the pool. Hence, you no more have to regularly establish novel relationships.
8. Let the Candidate Know about Company Culture:
At an advanced level, offering potential future employees a taste of corporate environment builds engagement. For example, sharing content generated by employee like industry events, white papers, news articles, webinars, and relevant descriptions of company projects are more compelling than promises and ads.
Work experience or reviews by the staff in the form of videos or articles or their career success stories add a positive image in front of the candidates.
Final Words:
The modern job seekers prefer working with companies that offer them a streamlined recruiting experience. The candidates expect you to know their requirements and meet them efficiently without involving complex recruitment steps or putting them on hold.
In all such aspects, Recruitment CRM software can help. It can help recruiting managers to quickly identify the candidate and maintain a continuous communication process with them. Using CRM in recruitment let recruiters to be attentive and efficient.
This way, recruiters can offer excellent service, improve retention, and enhance client satisfaction.