When seeking employment in a company you must ensure that you are making your decisions wisely and not just taking up any and every job which happens to come your way.
If you are a career-oriented person then you should be extra careful in ensuring that you do not simply settle when it comes to choosing a job.
You must wait for the right job to come along. To bag your dream job you must keep working on your skills.
Given here are some of the main reasons why HSBC is the best place to work if you are thinking of applying there.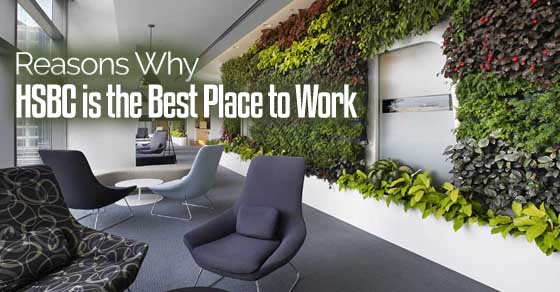 Image Source: e-architect
Top 16 Reasons to Work at HSBC:
1. The name which the company has:
You must ensure that you apply to only those companies which you know for a fact are reputed and have a distinguished name.
When you think of banking, one of the first companies which come to mind is HSBC. This is a name that people across the globe are familiar with and it is also a name that they trust blindly.
All you need to do is do a Google search on the company and you will find what positive feedback it has received. This itself points to the fact that HSBC is the best place to work.
2. The experience which you will receive:
When working for a company like HSBC the amount of experience you will receive cannot be expressed in mere words.
It is not like any ordinary company where you will expect to sit at your desk throughout the day. It is a job that continually challenges you and encourages you to bring out the best in yourself.
They nurture their employees and encourage them to act independently by putting into action all that they have learned in the past.
The things you will learn here in one day will be much more than you will be able to learn in any classroom.
3. The prospects which will be open for you:
HSBC as a company has 4 distinct groups. They are,
Commercial banking, which is the most popular service

Investment banking facility

Global private banking

Retail banking and wealth management.
Everything in the company is organized properly and efficiently so that the HSBC employees grow from strength to strength.
Once you have a company like HSBC on your resume, even if you not interested in continuing in this line in the future you open for yourself an unlimited number of new opportunities to choose from.
Bag a job in this company and rest assured that your future will be as promising as ever.
4. You can work in any of its 6600 offices across the globe:
For those who are unaware, HSBC is a brand that has over 6600 offices across the globe and it functions efficiently in about 80 countries.
Be it in North or South America, Europe, Africa or Asia, you are sure to find an HSBC there. It is not for nothing that it has so many millions of loyal customers the world over.
It is the best place to work, especially because if for any reason you want a transfer to another place, you can be sure that HSBC has an office at that location and they will be happy to have you working from there.
5. You will get a chance to meet so many professionals:
HSBC is the best place to work, simply because you will be under the guidance of people who will guide you along the right path and will be willing to mentor you at every stage.
This is not a company where they will micromanage the employees; they will simply be there for you in the event of you facing some problem or dilemma.
When you work under people who are at the top of their game and have slowly climbed from one step to the next, you too can follow their example as well as learn from the mistakes which they have made.
6. Your work ethic and style will improve a great deal:
It is the best company to work at simply because once you have received your training and guidance, then your work ethic and style will completely get changed.
Everyone in the company respected and treated like family and it's this feeling of oneness that will make you want to do your best at all times, irrespective of the hurdles which happen to come your way.
No longer will you be that graduate straight out of college or that person you once were, you will now be an inspired person, waiting to take the plunge and make your mark in the business world.
7. The handsome salary which you will receive:
When seeking employment in any company, it is needless to say, but one of the first things that people notice is the salary which they will be receiving.
Along the way, there will be many people who will tell you that money is not important and that as long as you are happy that is what matters the most.
In real life, money is important to survive and a company which values you will never underpay you for your service to the institution.
HSBC is a company that values its employees and pays them handsome salaries. The HSBC employees' salary is fixed and bound to keep you very content.
8. Co-workers are rather helpful:
HSBC is the best place to work, given the fact that the co-workers you will find here are simply one of a kind.
They will be willing to help you at all times, especially if you are new at the company and are wondering how to get a particular job done.
As long as you are friendly and try your best, you will find plenty of people who will be willing to extend a hand of friendship towards you.
Even if the employees are good friends, within the four walls of the office they are extremely professional at all points in time and do their job well.
9. Excellent and positive work environment:
The right kind of work environment in the office can bring out the best in the workers.
If the work environment is not good and the employees feel unhappy for some reason or the other, then the quality of work delivers by them will not be top-notch.
HSBC is the best place to work at given the fact that the work environment is very positive and conducive to work.
HSBC is a world and community of its own where employees stand by one another in times of need. There is no cut-throat competition and everyone adequately and fairly reward when they do well.
10. The flexible working options which give to employees:
All companies make tall claims saying that they look into the needs of the employees. HSBC is one company that does not just make promises like this.
They deliver on all the promises which they make. They have very flexible working options that the employees can avail of under certain circumstances.
This flexibility implies that the employees can work from home and in addition to that they can even opt for certain work hours which suit them.
Things like this show HSBC in a positive light, as a company which is a class apart from the rest.
11. Employees encouraged to maintain a healthy work-life balance:
It is the fact that there is so much cut-throat competition with various top companies in the market.
All the companies nowadays look for employees who will be willing to work as slaves for them.
HSBC is the best place to work because they are one of the few companies which encourage its employees to have a healthy work life balance.
It would be simply unacceptable to them if any employees experience burnout and that is why they look into the well being of all the employees who give their best for them.
Taking proper breaks is an absolute must after having a stressful couple of months.
12. Some benefits offered to the employees:
In addition to offering all the employees a rather handsome salary, HSBC is a company that offers some additional HSBC employee benefits for those who are hired by the company.
The HSBC employee benefits and perks like these are very useful indeed and serve as an incentive to make the employees work harder and be more dedicated.
These HSBC employee benefits include things like HSBC employee pension, health insurance, and personal development options.
Things like this will help you in the event of being ill and needing medical assistance. It is because of these benefits that HSBC is the best place to work.
13. Employees not discriminated on any basis:
There are plenty of companies out there that employs people from all walks of life, simply to save face.
On looking closer you will find that a lot of the employees not treated with courtesy. HSBC is the best place to work, given the fact that all employees are treated as equals and are rewarded based on merit.
As an employee, at no point in time will you feel that discrimination has been made based on caste, creed, sex, color, race, etc. These narrow differences did not give any importance to the company.
14. It is a company which believes in sustainability:
One of the main reasons why the company is the best place to work because it's not a company which only interest in its profits.
Nowadays every company looks to beat the other and does not even think of ways to give back to society.
HSBC is one such company that believes in sustainability and at every stage, ensures that what activity they involve with is not negatively affecting the environment in any way. They even monitor their carbon emissions.
Secondly, they have many educational programs, which they allow their employees to be a part of, if they wish.
15. Help the employees to learn and grow:
HSBC is a company that gives the employees everything which they need to become skilled professionals who can handle any problem which comes their way.
It is not for nothing that the clients are so happy with the service which they receive whenever they walk into any HSBC office.
The employees encouraged to better themselves with the training they receive from their mentors, yet more importantly, they also avail of courses and programs offered to those employees who are promising and eager to move ahead.
16. It is a brand which is growing from strength to strength:
Finally, HSBC is indeed the best place to work, simply because it is a company which you need not have to worry about closing down, given the fact that it constantly tries to improve itself with each passing day.
This is a name that has been around for over a hundred years since its birth and even today it continues to show promise.
The company has gone out of its way at each stage to show how much it regards its employees as well as clients who have placed their trust in this bank.
Conclusion:
These are some of the main reasons why anyone across the globe would like to part of this well known and successful multinational company that has successfully been able to carve a niche for itself in the area of banking as well as financial services.
If you think that you have what it takes to be a part of this reputed company then you need not shy away from taking the plunge.
People who are applying for the job need not be geniuses; they simply need to be eager and quick learners. There is adequate training to bring new employees up to speed with all that expected of them.
Save