Goldman Sachs, investment banking is a multinational company pioneering safe investment transactions, security banking, mutual fund banking and many other easing versions of the same, has held a high place among investment companies and sectors, dealers and bankers.
Since the dawn of the company in the 19th century, it has been van-guarding new ideas and policies to benefit its investors and clients. Obtaining a sky high place in the world of investment banking would not have been so easy if it was not as good a place to work at, as it fortunately is.
The following mentioned are few top reasons for working at Goldman Sachs.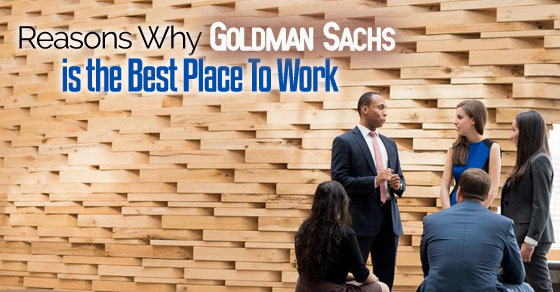 Top 18 Reasons for Working at Goldman Sachs:
Here are a few reasons why Goldman Sachs is regarded so highly in terms of providing a good work experience:
1. Team effort:
The foremost reason why Goldman Sachs has made such a big improvement in so little time is because of the teamwork from its employees. Not only the employees make huge commitments to the company but they also prioritize it on top of all.
The company is responsible to be receiving so much loyalty and care on the part of its employees as it has never given into foul-play when it came to them. The joint effort that the employees make day and night to keep the company unparalleled in all respects stems from the undying affection the company has for its employees.
2. Leadership:
The company also meets the crucial step of sowing the seeds of leadership in the employees so that they are ready to take on any challenge that comes their way.
Rest assured, some potential leaders shy away from opening up because of stage fright or getting the spotlight but Goldman Sachs strives to groom you up in a very sensitive manner so as not to make you too conscious about it.
The aiding aura of the company is instrumental in bringing out the renegade leader and worker that is lurking inside of you waiting to break out.
3. Perks:
Like every other investment company of worldwide repute, Goldman Sachs group has its own set of outstanding park sparks and facilities. It is safe to say the company gives more than it will ever ask of its employees in every respect.
The Goldman Sachs perks the employees are entitled to on top of all the convenience and the handsome salary are more than one can talk about. To top it off, the customary privileges the clients working with the company get are unbelievably great.
Very few banking companies do so much for their clients and dealers. Nevertheless, it will be unjust not to mention the unfaltering devotion the clients pay to the company.
4. Brand culture:
The brand name that Goldman Sachs has become has also incorporated its employees with a certain sense of intrinsic consciousness of its value both in and out of the doors of the office. Despite many other gigantic competitors Goldman Sachs stands tall much owing to the reputation it has earned over the years.
The company inspires its employees to carve their minds in a manner persistent with increasing the number of beneficiaries to the company.
Workers of Goldman Sachs are let to work in a liberated space where they can focus on their work with complete peace of mind as opposed to the maltreatment exercised on employees at various major companies.
5. Correspondence:
A characteristic trait of this company that sets it a class apart from all others is its provision to work from home. The company appreciates talents and handpick potential employees even if they are unable to be physically present at the office.
Many a time, employees owing to studies or any other domestic problem are unable to make the journey, so they are allowed to stay back and work from home as long as they are substantially contributing to the interests of the company.
Due to serious management of the company this facility is also made available in keeping with common people problems who can only afford to work from home.
6. Parental leave:
Unpaid parental leave has been a long standing plight of the young parents in the modern world because few large investment companies grant paid parental leave. Again, Goldman Sachs makes a name in this respect as it caters to employee needs in terms of paid leave.
Goldman Sachs never chases after benefits leaving their employees in a fix especially not when it comes to caring for our young ones.
7. International partners:
On account of its towering importance in the commercial world, the company has gained innumerable international clients by way of the trust and sense of complacency it imparts into its investors.
The name that Goldman Sachs has earned over time is solely predicated on the safe and sound business it offers to the clients. In the contemporary epoch of trade and commerce, Goldman Sachs has flourished as one of the investment banking companies with the biggest count of international dealers and investors.
8. Paid sabbaticals:
Goldman Sachs Employees paid even on holidays. This rarely sees as no company no matter how big they are would not this easily agree to promise paid sabbaticals.
Employees belonging to Goldman Sachs offices can easily take a day or two off or even go out on a week-long vacation without having to worry about the cut in their salary.
This acts as one of the primary reasons why Goldman Sachs bank is much sought after the company on account of the best kind of privileges a banking company can offer.
9. Keep fit at work:
The company has made it a point to make life easier for its employees and what better way to do so than to make sure that the employees are keeping fit. That is true, Goldman Sachs in addition to everything has a world-class gym facility for its employees.
Balancing work and health has never been easier to manage because you can hit the gym and let a little steam off whenever you feel you have bitten off more than you could chew at work without having to ride extra miles.
10. Paid time off for participation:
Goldman Sachs services also stand as an exception on account of paid time off for representing the company. Since promotional advertisements and presentations necessary to figure in the commercial map of the world, able spokespersons from the management assign in charge of company promotions at various organizations.
In spite of their time off for volunteering, they remain on pay for works even remotely related to the company. This explains how grateful the company is of its employees.
Also Read:
11. Compact work schedule:
The employees here need to fulfill their weekly work requirements concerning their target of contracts. The company moreover gives them the freedom to work over the week at their pace as long as they meet the conditions stipulated by the company of the target they have to reach.
Goldman Sachs gives very serious about deadlines and any pending work will only attract apprehension from the employers. So as long as you are finishing your work on time within the week the company will not be cross with your taking the weekend off.
12. No partiality in employment:
Despite the long hands, Goldman Sachs has, it never gives way to any kind of unjust maneuver in terms of any discrimination in employment. The company by nature and rule stay strictly away from behavior that can hurt employee sentiments and neither does it grant employment depending on the benefits the company might receive from it.
The leadership is fair and square when speaking about fair employment. Furthermore, no report or lawsuit has filed against the company for having made racial segregations or biased judgments.
13. Instant medical aid:
The company has left no stones unturned in taking care of its employees especially when it comes to health issues. More so, the company has its on-site medical facility completely free of charge for its employees.
It is not unnatural to fall sick in a place as odd as office anymore with the growing rate of pollution but you are safe to think that you will be in safe hands at Goldman Sachs. This on-site remedial center is led by experts in every field of medical science to deal with any kind of problem that might churn up.
14. College fee reimbursement and compensations:
Goldman Sachs even provides a nurturing environment for its young employees who are still interested in continuing with their studies. Besides being there for them in every possible way the company even sponsors their tuition fee and provides them with the essential monetary support they need to climb the social ladder.
Plus, in doing so, the company in return will be adding to the number of literate persons in the population. Goldman Sachs culture invariably supports the mental growth of its employees by looking after them like their own family at every step of life.
15. Diversity at work:
One remarkable feature of this company is the diversity of its employees. One of the primary reasons why Goldman Sachs careers is far from tiring out is its workplace ambiance.
The company selects its employees from far and wide and only based on their capability to add to the company. Goldman Sachs values or focuses more on creating a healthy work environment and does its best in bringing together the most amiable yet smart group of people they can manage.
Against all odds, the company has set a hallmark by way of creating the best discrimination-free environment for its workers making it harder for any other company to match them in this respect.
16. Reinforcing responsibility:
Apart from doing so much for its employees, Goldman Sachs takes special care in incorporating a sense of responsibility into the employees while creating a perfectly balanced and happy work environment.
Trying to maintain equality at work is not easy but Goldman Sachs, nonetheless, has been considerably successful in encouraging its employees to harness tremendous respect for each other.
Left to their devices employees can quite bend on rubbing cold shoulders with each other but this kind of work culture hardly tolerates at the company where they thoroughly teach to be responsible and helpful in every way imaginable.
17. Honest, ethical and competent management:
Goldman Sachs harbors honest and ethical management giving way to transparency in its dealing. It takes special care of individual clients and eradicates any kind of lackluster attitude towards work.
The company has strict terms of ethics while dealing in matters involving a huge sum of money and the incredibly competent management looks after all the works done under deadlines.
And to achieve such competence the workers bring to speed through vigorous and thorough grooming. Amateur employees give enough time to catch up with the heavy work routine before they appointed to take care of any major contract.
18. Care for employees:
Finally, at Goldman Sachs, the welfare of employees comes above all other things. The company hardly unlike any, takes up extra pains to make the employees feel at ease.
Providing a comfortable environment is the first prerogative to the company since, in the long run, they are the ones who will contribute to the company.
Needless to say that the company takes special care of women and personally arranges transport to make sure that they reach home safely. But not in any way does the company lag in taking care of its male employees either.
This is why work at Goldman Sachs is the best thing that can ever happen to you. Despite the various perks it holds for its employees the brilliant salary it endorses is more than one can vouch for.
Goldman Sachs's salary, when compared to other top employers globally, is no less. So, if you having qualms about whether Goldman Sachs is the best place to work the above points can be helpful to clear the air of doubt.
Save
Save
Save
Save