There's always a race to come first. There is always a race to do something different. There's always a race to join the best company in the world.
Talking about which MNC would be the best place to work at; one cannot find a better place than International Business Machines Corporation (IBM).
IBM is an American multinational technology and consulting corporation, with its headquarters in Armonk, New York. IBM manufactures and markets computer hardware, middleware, and software, and offers infrastructure, hosting and consulting services in areas ranging from mainframe computers to nanotechnology.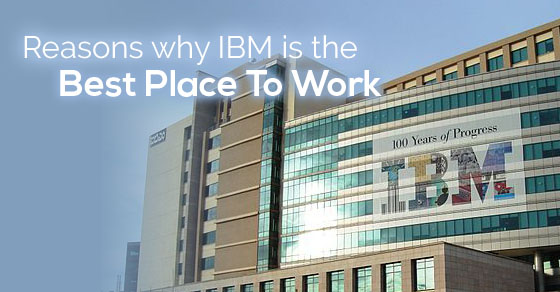 Is IBM a Good Company to Work for? Top Reasons
If you are also having a similar question in mind then this article will answer you rightly. Read on and know it yourself
1. Growth:
IBM got established in 1911 as a Computing Tabulating Recording company and slowly and steadily with the vision to rise and to grow, it originated as the 2nd largest U.S. firm in terms of number of employees (435,000 worldwide), the 4th largest in terms of market capitalization, the 9th most profitable, and the 19th largest firm in terms of revenue. It never looked back after then.
2. Technological Innovation:
Technology has always been on the count and with IBM one will get to learn the use of new technology and the access to the same. IBM has a vision that sees beyond the imagination and it has to power to change the world into a smarter planet. And with the dedication of its employees, it's been doing the same for the past many years.
3. Employee Treatment:
What matters the most in a company is how its employees are treated. Do they get what they deserve? Many organizations have this issue because of which employees very often switch their companies. But this is not the case with IBM.
IBM takes care of every small need and requirement of its employees and ensures a better environment for them to work in. Also in IBM all its employees are treated and considered equal whether its an intern or a senior.
4. The People:
With IBM you get to know people from different parts of the country. You get an opportunity to work with them and get an exposure that is all of a different kind. In IBM you are bound to make a new friend now and then which is a blend of fun and experience.
Along with communicating and working with new people, you get to know new languages, new cultures and even get a chance to try new cuisines.
5. Work Policy:
The work policy of IBM is very different from other companies. It gives equal work opportunities to its employees. Also, it is the first company to believe in and implement such kind of work policy. Every individual's work is recognized and appreciated.
6. Limberness of timing:
As an employee of IBM, you don't need to work 9 hours a day. As soon as your work is finished and accepted you can go back to your place. What matters the most to IBM is the efficient work, not the number of hours that an employee puts in.
7. The flexibility of the Workplace:
You can work from anywhere. As long as work is being done; it's all fine. It doesn't matter whether you are working on weekends or during office hours or whether you are working from home or at your desk. IBM requires work which you can do from anywhere you want to.
8. Contribution to society:
In 1914, IBM hired its first disabled worker. It opened the first professional training school for women. It even introduced the disabled employee training program.This shows that their work policy of giving every individual equal work opportunity is true. They stick to what they adhere to, which makes an employee feel safe in their words.
9. Pick and Drop service:
IBM also provides pick and drop services to its employees. A cab will come to pick you up from your place, will drop you to the office and after the office hours, it will again drop you back to your place. This was started for the safety of its women employees who has to work late till night.
10. Team Work:
In IBM you work as a team, not as an individual. The results that are brought at the end of the day are because of the hard work put up by the team altogether. With IBM you get to learn how to work as a team, how to cooperate and most importantly how to manage work amongst the team.
11. Friendly Environment:
IBM provides a friendly environment for its employees to work in. The ambiances, the work exposure, the people around you all contribute to the friendly environment at IBM. The peers are very cooperative and helpful. Since people of all age groups work together, therefore one gets to learn a lot of things.
12. Job increment:
With IBM, it's very often to get an increment in job depending upon the work you bring out. You can get an increment twice a year or you can get no increment even after two years. It all depends upon the quality of work you bring out at the end of the day.
Also read:
13. Foreign Tours:
IBM is such a company that will at least once allow you to visit abroad and have an outside world experience. If you wish to visit abroad without spending a penny from your pocket but on your company's expenses, IBM can give you that chance.
14. Learning events:
IBM often organizes learning events for its employees to keep them in touch with the changing era of new technology and new ethics. This helps its employees to work better and remain updated all the time. It also helps the company to work differently in the world full of competition.
15. 24/7 Help:
Your mentors or leaders in IBM will always be there to help you. If you are stuck in the middle of the work and don't know how to proceed further you can contact your seniors at any time and they will always be in the front to help you. This even builds your healthy relations with them.
16. Holidays:
IBM provides two days off to its employees every week, usually at the time of weekends but if a holiday occupies the weekday then the weekends are kept on for work. In spite of weekends you also get holidays for most of the festivals. Sick leaves are also permitted and one can even take 20 days off at a stretch annually.
17. Celebrations and Tours:
IBM also organizes recreational activities for its employees to give them a break from their hiatus routine. Every festival is celebrated in the company, nature camps are organized, and the yearly anniversary is also celebrated. Along with this, India nights, fests, etc are also organized by IBM for its employees.
18. Pay Scale:
With IBM you get a chance to increase your pay scale frequently. The starting package of IBM is also very enticing and it can go up to as high as eight zeros. Your package wholly and solely depends on your efforts put by you onto your work and also your capability to bring out the best for the company.
19. Work/Life balance:
If you work for IBM you will be able to keep a balance between your personal and professional life. Since the workload is not much and you can work from anywhere your life remains balanced. Moreover, you get sufficient holidays to spend time with your family as well.
20. Good place for working mothers:
Since you have an option of work from home which you can take any time, it makes it easy for working mothers to balance their home and work simultaneously. They can handle their children and their salary in a better way. All these benefits are available only to the IBMers.
21. Job stability and security:
With IBM you don't have the fear of losing your job until and unless you adversely harm the company but that is also in the very crucial stages. IBM provides job security and stability to all its employees with personal benefits and all essential aid that is required for the employees.
22. Management:
The management part of IBM handled very carefully and precisely. In a team, the work coordinated and distributed well to avoid quarrels and disturbances of any kind.
Management is the most important part of the organization accurately take care of in IBM under the guidance of the professionals. Everything sorts out and managed well so that the work and operations executed clearly.
23. Compensations and benefits:
IBM provides its employees the compensations and the benefits which make them happy and arise the essence to work more dedicated and hardworking. With the monitory benefits come responsibilities which the employees efficiently trained to handle.
24. Onsite:
Employees get a chance to go onsite which is very important to gain information related to the work you are doing. They get to experience along with the exposure to do their work in a better way. Also, onsite visits are very important for the team to know the groundswell.
25. New things to try:
Since it is a multinational company and is spread in almost every part of the world so the employees get a chance to try out plenty of new things as the company is involved in almost every technology. Employee horizon widens and in spite of just sticking to one stream you get to know many other streams as well.
In the process of recruitment, IBM assesses candidates against the following eight competencies:
Client focus
Communication skills
Drive
Passion of IBM
Taking ownership
Teamwork
Adaptability
Creative problem solving
IBM Primarily Functions on three Basic Principles:
1. Dedication to every client's success:
Every individual who works in IBM treated equally whether it's an intern or the senior. Every person's work gets recognition and every employee dedicatedly works for its client's success.
The fundamental principle on which IBM works is a dedication to every client's success and they work very hard to meet its client's needs. This makes IBM different from all other companies.
2. Innovation that matters:
Another basic principle of IBM is an innovation that matters. New technology open-heartedly welcomed in the company and employees also get training regarding the same. IBM believes that Work with unprecedented technology and change the way people think about computing. A new era of technology. A new era of business.A new era of thinking. And IBM is leading this new era.
3. Trust and personal responsibility in all relationships:
The third and the most important principle of the functioning of IBM is trust and personal responsibility in all relationships. Trust related to work, on the person with whom you are working and fore mostly trust in yourself that you can do this work.
After trust comes to responsibility. Responsibility of the work given to you and also the responsibility of the relationships you are going to build with your teammates and the clients.
With such vast opportunities and such bright and right principles, IBM is suitably the most appropriate place to work. It not only provides benefits to its employees but also to their families.
IBM not only works for its clients but also for its employees. At IBM you can make the world work better.
At IBM, you'll be part of an organization that values volunteerism and giving back to your community. Opportunities at IBM are endless.
<h3>Share this Image On Your Site</h3><textarea onclick='this.focus();this.select()' style='width:540;height:100′><p><strong>Please include attribution to https://wisestep.com with this graphic.</strong><br /><br /><a href='https://content.wisestep.com/quotes-by-walt-disney/'><img src='https://content.wisestep.com/wp-content/uploads/2018/08/Walt-Disney-Quotes.jpg' alt='Walt Disney Quotes' width='540′ border='0′ /></a></p></textarea><h3>Share this Image On Your Site</h3><textarea onclick='this.focus();this.select()' style='width:540;height:100′><p><strong>Please include attribution to https://wisestep.com with this graphic.</strong><br /><br /><a href='https://content.wisestep.com/quotes-by-walt-disney/'><img src='https://content.wisestep.com/wp-content/uploads/2018/08/Walt-Disney-Quotes.jpg' alt='Walt Disney Quotes' width='540′ border='0′ /></a></p></textarea><textarea onclick='this.focus();this.select()' style='width:540;height:100′><p><strong>Please include attribution to https://wisestep.com with this graphic.</strong><br /><br /><a href='https://content.wisestep.com/quotes-by-walt-disney/'><img src='https://content.wisestep.com/wp-content/uploads/2018/08/Walt-Disney-Quotes.jpg' alt='Walt Disney Quotes' width='540′ border='0′ /></a></p></textarea>Save
Save