There are several things Amazon considers before they can hire the next employer. When working for Amazon, the leaders will provide you with great people, give you projects that are new and exciting.
Jobs in Amazon also gives you a whole range of opportunities that are needed for growth. But you also have to see that those who are working for Amazon, do have a life outside their Amazon workplace. This is exactly why they provide a large number of Amazon benefits for you and your family members. Here are some tips on why is Amazon a good company to work for!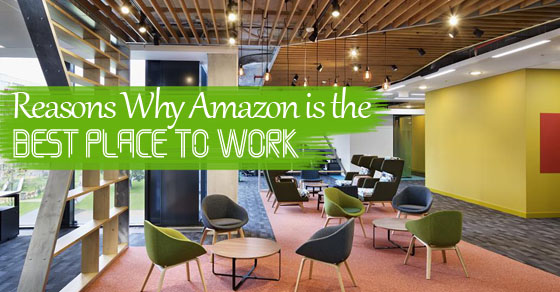 Image Source: czechleaders
Before moving forward, let us first look at
What Do You Know About Amazon?
According to LinkedIn, Amazon has topped the list leaving behind Google for the best place to work in the US.
Amazon is the second-largest private employer in the US which comprises of almost 566,000 employees. It is a US-based e-commerce and cloud computing organization located in Seattle, Washington, which was founded by Jeff Bezos on July 5, 1994.
Working at Amazon Corporate:
Let's witness few reasons on What it's really like to work at Amazon, according to their employees
The giant company Amazon in the market is well known for its churn and burn company culture. As per Bob Olson, a former Amazon Books Marketing employee, working at Amazon is like "nearly every person I worked with, I saw cry at their desk."
But later on, the company culture got better, as the organization took some strong steps after going through the reviews of their unhappy employees. As a result, almost 74% of employees recommended their friend to work for Amazon.
Few things that employees have to say about the Amazon at the present time.
Here are a few reviews of employees about working at Amazon,
"They get the opportunity to work with extremely intelligent people"

"They can work from home"

"Get number of opportunity for them to develop their skills"

"Receive competitive benefits and compensation"

"Make their lives better both professionally and personally"

"The company rewards performance without merit"
Why Millennial's Want to Work for Top Companies?
There are many millennials out there who try very hard to get into the top companies like Amazon, Google, Microsoft, Tesla, etc. The main reason for it is that these big giants provide them with things they would actually like to have. Some of them are,
1. Career growth and development
2. Flexibility
3. Sense of purpose.
According to a recent study done by Surveymonkey,  "Millennial are primarily interested in opportunities for career growth," Jon Cohen, chief research officer at SurveyMonkey, tells CNBC. "Look at Microsoft, Apple, Google. They all have that same characteristic: growth"
Some of the top 3 reasons are,
1. Tech's quick expansion makes the opportunity for many more jobs
2. Millennials value flexibility more when compared to freebies
3. Young professionals always aspire to make an impact
Working for Amazon – Reasons to be Cheerful:

The following mentioned are few tips for why is Amazon a good place to work and Amazon working conditions.
1. Great place to work:
People who have worked with Amazon before have often said the company is great to work with. The Amazon pay scale is good and above average as compared to other companies, it comes with several benefits and also gives you the freedom to move around.
Amazon work environment also lets people be themselves. If you have ideas, you can always pitch them without worrying about anything. People are open-minded here and willing to listen to you. If you don't mind a pager, this is the company you should be working for.
2. Good for those who like building things:
A second benefit of working for Amazon is that it is perfect for those who want to build new things. Amazon workers who have worked there for more than 10 years have also had the opportunity to build different kinds of elaborate systems that have changed the whole look of the company.
The early days have been quite demanding but the satisfaction is great. Yes, there are times when you feel challenged but at least as a builder, you will be satisfied. After all, the people here will give you the chance to build whatever you think is right for the company and help them change for the better.
3. Workplace is lackluster:
Management usually does not have an idea on what they are doing. Having productivity expectations that are too high and those that are unreachable could be very hard to maintain.
HR needs to make sure their job is being done the right way. They have to stop branding others who are pointing towards them the issues which most workers face. Being focused on the customers is always great but the company will always have to maintain the people who help in building the company into a better place.
4. Good company for those who are hard-working:
Amazon is a good company for those who are hard-working. Here you will always get the opportunity to prove yourself. You will also be given easy access to people and more resources. People here are always willing to help you become a better person and more successful.
You may have to work for a bit longer and sometimes a little more than you are expected to but the benefits will always be plenty. However, you must be prepared as it will be hard to keep up with everything. You might go through a tough time while trying to create a life balance.
5. Gives you great opportunity to learn:
Amazon today is one of the most successful companies in the world because here you will be given the golden opportunity to learn. It might not be the happiest place to be in like most of the tech companies but if you want to learn new things, we cannot suggest a better place to you than Amazon.
Here you will be given different assignments where you have to deal with difficult clients, an extra load of tasks and whatnot. But the benefit out of doing such jobs is that you tend to become a stronger person in the work field and become more prone to success in the future.
6. An innovative company that is perfect for geeks:
Amazon is also an innovative company. It comes with a long term view, is great if you are driven by data as well. If you are a geek and want to work for a company that will give you assignments regularly, Amazon is the place to be. The company is also ideal. It likes geeks and is a creative and inventive environment to be in. Your job here will also be long-lasting. They plan on keeping their workers for very long.
7. Great experience but highly demanding:
Working at Amazon gives you a great experience. It has great opportunities to help you grow. Also, the company lets you work with several talented employees. They will always push the envelope when it comes to creating new ideas.
You can work for long hours that come with a very high level of commitment. The environment at Amazon is always on a change. The people here are so dynamic but there is not much downtime provided.
8. They can chew you up if you allow them:
If you can run away from the legacy technology, there will always be a lot of cool stuff that will be worked on and the people here are brilliant and passionate. It is a great place to work in and also work with the practices and technology.
You have to treat your job in such a way as if it matters to you way more than your life does. You will be expected to work both evenings and weekends at home and have your head on the job all the time. If you think you can keep up with this, Amazon would be a great place for you.
9. A lot of hard work is expected:
You will be expected to work for about 70 hours every week, including the weekends. If you don't do that and work only 50 hours per week, your manager will not be able to tell you much. Neither will they have a good impression of you. When it comes to your performance review, it could actually turn out pretty bad for you.
10. You get to meet and work with clever people:
One of the biggest benefits of working with Amazon is that you get to work and be with clever people. These guys always have tricks up their sleeve and can teach you something proper every day.
The work culture at Amazon also has the intellectual lot who are working in several departments that can help you with the little things. If you really want to become clever like them, always remember that you need to pay more attention to their behavior and what they do during difficult situations. Observing these guys can help you a lot.
11. You will also get to learn about politics:
Life in Amazon also lets you learn loads about politics. For those who have worked here before have always spoken about the benefits of technology and what they have gathered out of it in the past few years of their experience. Not only has the company given them opportunities to shine but also let them learn about politics and diplomacy.
Once you have left a large company, you will be able to use the skills when you want, get more contacts, have more clients and buy those things which will renew the support contracts. You will know how people function.
12. You will become a part of a big community:
Working for a big company like Amazon means becoming a part of a huge community! Here you will get to meet, mix and mingle with people of all kinds. Of course, this is going to become a huge benefit for you in the long run.
If you meet more people and socialize with them more often, you can definitely overcome your biggest fears. After all, you will be working in a team. And Amazon is the right place to be in if you like crowds.
13. You will get time to reflect:
If you are working for a small company or startup, it will feel like you are putting your entire life into every day's work. There are huge companies like Amazon that do not move at such places which mean you will have enough time to think and reflect.
Here the company will move in a slow way without taking any risks. Sometimes this could be a great thing. The company in that way will be able to avoid wasting millions of money and secure themselves financially.
14. Lets you learn a lot:
Finally, if you want to learn a lot of things, Amazon is the place to be in. It will help you examine, observe and gather new ideas and perspectives. Not just that, you will also be given a clear vision of where the company stands at this point.
Whether it is good or bad, you will get to know the company even more. Plus a company like Amazon has all the resourceful people you will love to meet. They will guide you throughout your journey in Amazon and help you work on the technical skills too.
Also read:
Benefits of Working at Amazon:
The following mentioned are a few Amazon employee benefits one could get, when working in Amazon.
1. Health care benefits:
The health care benefits of Amazon includes a vision plan, dental plan, health care services. It also gives you an option between three medical plans. This includes drug coverage which will meet your individual and domestic partner coverage.
The employee assistance program also includes referral services which come with both financial and legal services alongside. It also has a long term and short term disability plan. Working for Amazon will always give you these huge health care benefits.
2. Gives you time off:
If you didn't know, Amazon also gives you a lot of time off. The associates here can earn as well as take vacations every now and then for their well being, provided they perform well at work. The associates that are non-seasonal tend to work for more than 20 hours per week and can accrue vacation during the everyday period.
Amazon place will also provide the non-seasonal associates who are expected to spend more than 20 hours a week along with the personal time that is fully paid for.
3. Saving plans as well as employee stock:
The savings plan is 401 k and comes with a company match as well. There are several employee discount programs as well. The employees of Amazon or Amazon staff will also receive several Amazon Restricted Stock Units so there is literally nothing that you have to worry about.
4. Relocation assistance:
Amazon's job benefits also include providing relocation assistance but only for a few positions. We have also partnered with a relocation service order that is world-class just to make sure that the relocation is as stress-free as possible. The service provider will also assist you with the real estate and the destination services just to find out the perfect location for you. This will, however, depend on the sort of position you have been offered.
Some of the benefits that fall under relocation assistance also include packing and moving all the personal commodities. This could also include your car. Secondly, you will also have storage for all your personal goods. There will be rental tours as well to help and assist you when it comes to finding a proper residence. Whether it is parking, maid service or utilities, Amazon always helps you in these cases.
Conclusion:
So, if you are confused that why you want to work for amazon follow the above tips. Working in Amazon, surprises come with a large number of Amazon perks or benefits. However, there are few drawbacks as well. If you have read the post thoroughly, you will know that Amazon is not suitable for all kinds of people.
If you are hard-working, consistent and willing to work 70 hours a week, this job is ideal for you. And in case you are not keen on doing that, you have to look for a job elsewhere. Nonetheless, if you have liked this post and would like to give us your ideas and feedback, do let us know in the comment box below. We would love to hear from you.
Save
Save