Landing a job is not an easy task. Preparing a good resume as well as giving your best at the interview is essential. The most common thing looked for by any prospective employer is good leadership skills of the individual in everything, starting from his resume to his interview. It does not matter which sector you want to work for, be it a corporate sector, a creative sector or an educational sector, all have tasks that require individuals with exceptional and effective leadership skills.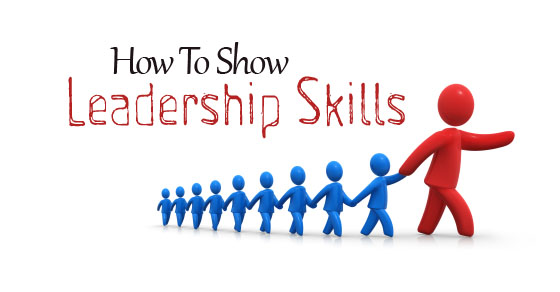 Leadership skills mean the ability to lead, direct a team, understand and take decisions which increases the overall productivity of the organization. Therefore, great leadership skills are essential for every organization for increased productivity and for the entire workforce to function smoothly. Therefore, showcasing top leadership skills is very important for increasing your employment chances. Let us now see how to show leadership skills in the interview, the cover letter, the resume and at your workplace.
How to Show Leadership Skills in Cover Letter:
Showing leaderships skills in a cover letter is similar to showing it in your resume. The only difference is that in a cover letter you need to be more precise and have to cut it short. Only bullet points highlighting directly your key leadership examples and leadership qualities and skills will do the task. Later you can elaborate it in your resume.
How to Show Leadership Skills in Resume:
Resume is the key to getting shortlisted for an interview. It is here that you need to convince your hiring manager about your leadership skills so that he or she is convinced enough to call you for an interview. If you can't convince this person, your hard work of preparing for the interview will go to waste as this is the first and most important step towards reaching your goal of landing a job successfully.
A hiring manager does not spend more than 10 to 12 seconds to skim through resumes. Therefore, he needs to get his work done faster. Leadership skills should pop out from your resume to make it easier for him to instantly shortlist you. These are a few ways in which you can do that.
1. Use bullets:
Using bullets is most important while highlighting your leadership skills or achievements as the managers who are going to shortlist you, do not read your resumes the way you assume them to. Before reading the entire resume they read the header or the small bulleted points to know whether you are a genuine leader or not. Therefore using proper bullet points which directly emphasize your achievements is important.
2. Tailor your summary:
Your summary should highlight your key aspects of leadership skills. In brief highlight all your recent achievements or instances where your leadership skills gave you an edge over the other workers at your workplace. Greatly emphasize the largest team led by you and their achievements under your captaincy. This is essential as most hiring managers read the summary to get the gist of the whole resume faster.
3. Keyword emphasis:
In this virtual age there are many jobs which require you to post your resume online at a job portal or a company's website. With this technology in hand, the hiring managers do not need to skim through the documents manually, instead they search for important keywords and resumes having them instantly pop up on their screen after which they read it. Therefore highlighting the keywords at least 12 to 15 of them according to your job description is essential.
4. Resume title should be your job title:
This is a necessary change as in conventional resumes this was not relevant but nowadays it has become important to give your resume a title which is absolutely the same as the post you are applying for. For example if you are applying for an operations manager post, your resume should start with the title 'operations manager'. This makes you come across as a decisive person who has specific targets and the interviewer will also target your skills for that post only.
5. Keep it short:
Use short statements as much as possible and bold them a bit to highlight your past and present achievements as a leader and also your leadership educational qualifications. This makes your resume easier to comprehend and is more direct and relevant for the hiring manager. These are called the taglines of your resume.
How to Show Leadership Skills in Interview:
The next big step is the interview. If you are shortlisted and are called to appear for the interview for a position which demands leadership skills, chances are that your interviewer already has a clue about your leadership abilities through your resume. Now what is most important is to highlight your skills further and explain them more elaborately adding in the specifics.
Here are some of the ways in which you can showcase your leadership skills in an interview successfully.
1. Know your resume well:
If you write something and appear to be something else, you will fail at the interview. Know exactly what you have, mentioned on your resume as you will surely be cross questioned. Study the instances or leadership examples that you have highlighted in your resume elaborately so that you do not need to think of an answer when the interviewer asks you.
2. Discuss your past:
Make sure you discuss about instances from your past where your leadership roles or skills allowed your co-workers or your organization to solve a problem. It also might be some group project that you led successfully in school and brought forward brilliant results. However insignificant it might be to you, it will be of great significance for your interviewer.
3. Be passionate:
You will surely be asked why you want to work for that company. Do not be lazy while answering this question. Show how passionate and desperate you are for the post. A good leader is always passionate about everything equally even if things are as meager as answering this question. Therefore come across as passionate and energetic as you can.
4. Show your decision making skills:
Decision making skills and leadership skills go hand in hand. The first and foremost leadership trait of a leader is his ability to take decisions fast and tactfully. You will be given scenarios or problems on spot which you might have to solve with the presence of your mind. Appear to take decisions as quickly as possible and also very carefully so that the solution reached by you is logical as well as efficient to solve the problems of the organization.
5. Be quantitative:
Be quantitative and know your numbers thoroughly. Do not go into storytelling for a leadership position. A good leader knows his facts and figures right. Therefore when explaining a situation you were a leader in, do not present it as a story about how things went about instead present the numbers like how many people you lead, what was the numerical cost and output of the project led by you or by how many percent you increased the output.
6. Be confident and calm:
Body language is everything at an interview. While speaking about your leadership skills, what is equally important is to show them visually that you have it in you. By the way you interact and communicate with them always show positive body language and be confident about whatever you say. Always stay calm even if the interviewer tries to aggravate your temper. Calmness is a very important trait of all good leaders.
7. Be spontaneous:
Be spontaneous and take the charge even when you are not asked to. This is a trait of a good leader. Do not wait for the interviewer to ask you about your leadership skills, instead very intelligently and tactfully divert every question's answer towards highlighting your leadership skills so that it comes across several times and lays stress on your leadership skills. When asked about accomplishments, mention how your leadership skills helped you in getting accomplished.
8. Highlight your mistakes but positively:
Highlighting your mistakes at an interview is a big 'no', but highlighting it positively for interviews for leadership positions is a big 'yes'. The trick here is to highlight it positively. You can do this by stating an example where you team failed at a task miserably under your supervision but you later took charge and improved upon it resulting in a final win for you and your team. A good leader is one who takes charge of his mistakes and never gives up.
How to Show Leadership Skills at Work:
Now that you have successfully passed the interview phase and are ready to hit the ground at your new workplace it is time to prove true everything that you have said or explained in you interview. Talking about leadership skills and showing it on field is very different. It needs immense hard work and practice and if you are one without any prior experience it will be a bit of a challenge for you. Here are some of the ways in which you can show strong  leadership skills at work.
1. Sharing is caring:
When you share your co workers workload it shows the boss that you are capable of handling much more than you are given. It also strengthens the bond between you and your co workers making them see you as their leader. In return you will also be helped in situations where you are in need of a helping hand. It also shows the hierarchy that you are not just interested in your own job but in the overall improvement of your organization.
2. Be a good student before a good teacher:
A good leader before leading learns how to lead attentively and is forever humble and never boastful. Take professional leadership development classes to enhance your skills and for a greater personality development and do not keep it to yourself only. Share it with your co workers and educate them in anything extra that you have acquired. It will make you come across as a leader who knows how to take care of his team.
3. Volunteer outside the workplace:
Do not restrict yourself only to the workplace. If a co worker or your boss needs help way after the working hours or even during a holiday, be ever ready to help them out. Or if a project needs extra attention which means working for a few extra hours, communicate it to your leadership management and volunteer to work for those extra hours even before you are asked to. This is a very good sign of a good leader.
4. Be a good organizer:
Organize team building activities to increase the bonding between you and your co workers, and among your co workers. Organizing simple things such as cooking together or having lunch together or organizing happy hours in between work or during a holiday where you go on a trip are things that will take you a long way and show others how good a leader you are.
5. Give more than expected of you:
Always deliver more than is expected of you. Never wait for deadlines or reminders, instead submit your work prior to the deadline to show your efficiency. If you are given a task, try to reach perfection so that it goes beyond the expectations of your management. Never shy away from walking the extra mile as these extra miles will one day make you reach the top of the peak.
Conclusion:
With these guidelines in mind showcasing your leadership characteristics and skills will be as easy as child's play. However a fake identity will soon be discovered as you will be dealing with people who have years of experience. Therefore it is essential to always be real and deliver only that is true of you. If you feel you lack something, it is important to practice and enhance your abilities before stating it at interviews or the workplace.
Save
Save