The Bank of America in short the BOFA was founded on October 17th, 1904 and deals with investment banking, consumer banking, wealth management, finance, and insurance to name a few. With its headquarters at Charlotte, North Carolina it is a multinational bank and the second largest based on its acquirement of assets.
Let us now see why the bank which was listed as the second largest banking holding organization in the world, by Forbes, is the best place for you to work for Bank of America.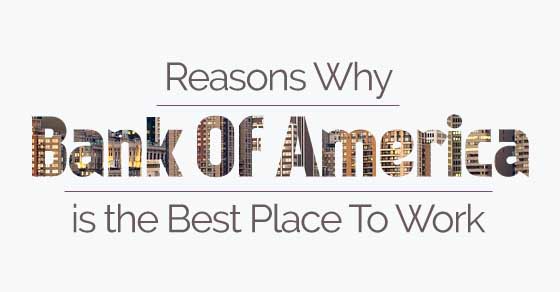 Top 32 Reasons to Work for Bank of America:
The following mentioned are the few best benefits provided by Bank of America to their employees.
1. Health and Insurance benefits:
The Bank of America provides a comprehensive healthcare and insurance package which includes health insurance for employees and their families. They also provide coaching for a healthy lifestyle and contribute to the health care accounts of the employees.
Alongside they also provide replacement of income with the life and disability insurance in the event of an employee experiencing fatal injuries or death.
2. Medical benefits:
The medical plans offered by the Bank of America are easily understandable and helps the employees take care of themselves and their families by saving money in the long run for out of pocket health costs.
They provide security and coverage for medical services like staying at the hospital, visiting doctors, taking specialist help and prescribing drug plans for easy maintenance of a healthy lifestyle.
3. Dental benefits:
Along with other Bank of America perks, the bank also will take care of your dental costs by providing dental care. They cover costs incurred by teeth extractions or repair, bridges, dentures, basic everyday dental care, fillings, preventive care, and major care.
4. The 'Vision' plan:
The vision plan of the Bank of America deals with eye care facilities for its employees and family. They provide you with glasses and lenses, eye checkups. The bank also runs a discount program on the vision plan with which the employees can avail of huge discounts on Lasik surgery, regular checkups, sunglasses, lenses, and other accessories for the eye.
5. Accounts for health care:
The bank highly encourages all its employees to take care of their and their family's health by investing a small amount of money every month from their salary into health accounts.
This money can then be used to manage expensive medical costs. This money is called pretax money as no taxes are imposed on them. As they say, health is wealth, Bank of America sets the example rightly.
6. Basic associate life insurance:
The bank out of its own pockets provides the employees' basic life insurance which is worth one time their total annual salary and can be a maximum of $2000000. This is a selfless attempt on the bank's part to show how much they value the existence of their employees and also of their families after the employees cease to exist.
7. Compensation for good performance:
The bank of America along with giving basic compensations for good performance also gives great bonuses and incentives if you perform exceptionally well. These bonuses and incentives are a big part of their compensation package.
8. Personal support by free counseling:
Along with dental, medical and vision benefits, the Bank of America provides its employees, help with counseling and therapy when one is going through a crisis in life. They are very involved with the community and treat its employees as family.
9. A good café for lunch:
The bank has a decent café offering food at quite reasonable rates for you to grab a quick breakfast or lunch whenever you are on a break so you do not have to venture out for food or carry it. The atmosphere here is quite relaxed according to many workers.
10. They take care of your workout needs:
You will be surprised to know that this bank houses a gymnasium for its employees on the part of the Bank of America employee benefits.
Therefore those who take their workout sessions seriously but do not get the time for it due to work pressure can access the office gym whenever they are free.
As they say, working out provides relaxation, the gym is a great way to pass your time, relax and be healthy at the same time.
11. Parking cover:
It has a huge parking area and the costs covered by the bank itself. Therefore, parking your vehicle is not an issue if you work in this bank.
12. Well maintained building:
The building, both the interior and the exterior very well maintained. It looks majestic and is squeaky clean. Nothing great like a company that takes hygiene and health seriously.
13. Reputed:
Bank of America is one of the most talked-about a bank in the whole world. This is, maybe the most general reason why working for the Bank of America is the best for you. With its brand name on your resume, you can go places.
Additionally, it increases your brand value too. With its name, your other future employees will understand that you disciplined, hard working and sincere without you telling them that you are.
14. User friendly technology:
The best thing about the company is that technology use very user friendly and every branch, as well as the customer service, use similar systems, therefore, it acts like one big team.
15. Opportunity for employee development:
The best thing about this bank is that there is a high growth opportunity. The managers and other higher officials are very open and encouraging.
Even if you start here as a customer service employee, there is better than a good chance for you to get opportunities to work within the bank. In short, there is a great opportunity for employee development and with the right mindset, you can easily achieve success.
16. Practices good culture:
The company holds a strong culture of team oriented risk management, change management, and quality management. Community relations and volunteer activities valued. The bank said to indulge in charity and community development activities quite often.
17. Personal development:
Along with employee development, you will undergo personality development by working for this bank. Working here makes you come in contact with the best among the best as they hire the best. You automatically will become more knowledgeable, more disciplined, hard working and sincere.
18. You can balance your work and personal life easily here:
Balancing your work and personal life is easy here as the working hours are fixed with work pressure only when a project is finalized. Otherwise, the pressure is at its minimal at all times.
19. Great managers:
Bank of America is the best place to work solely because of its good management. The managers are very down to earth and humble and practice an open door policy whereby any employee any time can just walk up to them and discuss problems or even have a casual conversation without feeling that they are talking to their superiors. Here, respect and friendship go hand in hand.
20. Great pay:
Bank of America's pay better than just good when compared to the average pay of every other organization. You also have to take into account the huge bonuses, incentives, health and lifestyle benefits, and basic free life insurance. No other organization can compete with it in terms of a bank of America benefits and pay.
21. Investment banking:
Purchasing Merrill Lynch Bank of America proved to be a mega acquisition for them. It worked out for them and they are now in a much stronger position to offer great investment products. It expected to grow more with its wealth management facilities. A strong company is always a dream to work for.
22. Great benefits for part timers:
Not every company hires part timers and even if they do, the part timers deprived of many facilities. Here at the bank of America, every part timer gets health, dental and life insurance and also daycare assistance. Part timers are provided with free assistance when buying a home for the first time too.
23. Flexible for employees who want to build up their degrees:
It is only at the Bank of America employee benefits that you find such flexible work timings. Even if you work as a full timer anywhere you will have to leave your job if you want to pursue a regular course for higher studies but not here in this bank.
Bank of America employee benefits package allows you to be a full timer and switch to part timing whenever the need arises and again snap back to full timing once you are done with your studies.
24. It is the best because the employees say so:
The employees are the best people who can tell you the pros and cons of any organization and the employees at Bank of America have given an average rating of 4 out of 5 for it, wholesale account executives have rated it 5 and engineers have rated it 4.9.
This is the highest rating received by any organization to date proving that the Bank of America employees are happiest among the whole lot.
Why Bank of America is the Best Place for Mothers?
1. A good representation of women:
In the Bank of America, the number of women workers is at par if not more than the number of men workers. In 2010 around 57% of women hired and 47% of women make up the managers or executive team. Out of approximately 248074 employees, 60% are women.
2. Long maternity leaves:
Women are given a 12 week long, that is 3 months of paid maternity leave to cater to the needs of their newborns.
3. Reduced hours for new mothers:
Many women who after the long maternity leave are unable to concentrate on working for longer hours or find it difficult to balance work and family allow to work for reduced hours initially to help them.
4. Childcare facilities:
Along with the above, the Bank of America perks also provides basic childcare facilities to every employee having children. This includes doctor visit charges, vaccines and daily needs of the child.
5. Comfortable surroundings:
A bank that has 60% of women representatives is surely the most comfortable place for women to work. A safe and comfortable environment boosts your productivity as well as gives you mental peace.
Why is the Bank of America the best place for fathers?
1. Long parental leave:
The bank of America realizes the fact that a newborn child needs the mother and the father both while it is growing initially. Mothers need the support of their husbands during this time. Therefore it gives the new fathers a 12 week long paid parental leave at par with its women employees.
2. Additional no paid parental leave:
Bank of America also offers another additional 14 weeks of parental leave for every employee especially new fathers but this is unpaid. Therefore if you are going through a major crisis or your baby or someone is unwell at your home, you can avail of this 14 week long leave without worrying about losing your job.
3. Tlaloc service:
The Teladoc service by Bank of America is another best Bank of America employee benefits, and it is for those emergencies when you need immediate medical attention for your baby.
With this service, you can chat with a doctor by video chat or call at a very minimal cost from anywhere. The doctors diagnose and prescribe medicines thereby saving your time that would have been wasted in visiting a clinic.
With all its acquisitions and expansions inside and outside California, the growth rate of this bank is the highest.
There was a lot of negativity surrounding the Bank of America in the past but after going through these informative facts about one of the most reputed banks, it is clear that the phase of defamation for the bank has passed and it shines in all its glory presently.
Therefore, working at the bank of America is the best option if you want to dedicate your life and are serious about working in the banking sector.
Save
Save