An organization meets success and it keeps going due to the employees. An employer's main responsibility is to keep employees happy with good job benefits. Telecommuting options and free snacks can please the workers but it is also necessary to go beyond that level and make sure that they love the jobs and they are happy.
The president and founder of interactive home Pete Pedone have mentioned that apart from perks, company bonus, and paid leaves, something more is required to keep the employees happy. There are studies that have mentioned that satisfied employees are ones who are happy, more productive, engaged and loyal to the organization.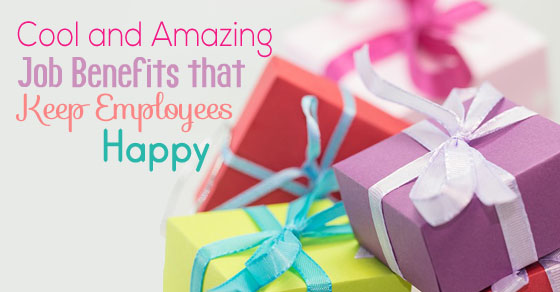 Creative Employee Job Benefits Ideas:
Employee benefits are provided not just to stop the employees from quitting but they are presented as a token of appreciation for their hard work and loyalty. Employee engagement is the main motto of the employers these days, as a happy workforce can help your business reach great heights.
So giving away a few perks for the employees is a gesture of effective admiration and respect towards your employees. Here is a list few innovative employee perks that they would love to have.
Truly Creative Employee Job Benefits Your Teams Will Love:
Set up a coffee gang
Make your meeting a walk a talk type
Build chillout spots to relax
Providing learning and developing opportunities
Give them book reading breaks
Make use of in-house professionals
Free event tickets and transportation
Place fresh flowers on employee desks
weekly video updates.
Loosen up
Parental benefits at work
Providing better health care
Save a Parent's Day
Being serious about mental health
Provide support when needed
Help them maintain work-life balance
Take stand for mental emotional discomfort
Pet-friendly environment
Make your employees brand ambassadors among others
Mentoring
Proper coaching and training
Provide the option to pick the perk
Help them out with something beyond bonuses(as money is not everything)
Secret Ways for Keeping Employees Happy:
The following mentioned are few tips on happy engagement in the workplace for employers.
1. Competitive health plans:
The biggest issue presently amongst employees is the health care plans which have been changed recently. With many benefits, other things that can be provided to employees are top-notch health care plans which have very less out of pocket cost.
Apart from that, your employees are also happy and satisfied with such healthcare benefits. There are many small businesses that are far better where they pay all health care premiums for their employees as well as their family members.
2. Limited work hours:
Employees should have the freedom to work at their flexible timings. There are many organizations which do not follow a 9 to 5 schedule. Work hours, and vacations aren't tracked in such organizations. The organization should only measure the work being done and they aren't worried about how long they stay.
Flexibility for employees about when and where they work is considered as an important job benefit. When employees enjoy flexible work hours where they enjoy work/life balance, then they stay in jobs though they are paid less.
3. Benefits for the family:
Apart from maternity leave, many other companies, for example, Facebook offers their employees abundant benefits, especially for parents. New dads, as well as moms, have amazing benefits from them with four months off to specially take care of their new babies. They get reimbursement for adoption and daycare and once the baby is born they get cash of $4000.
Another example in the same model is the Capriotti's sandwich shop which is a casual restaurant and allows its employees who are parents to take time off, where they can attend the activities and events of their children. In that manner, they are not questioned which is considered as one of the best benefits for employees.
4. Gym benefits:
In order to keep your employees healthy and happy, they must be provided with quality work out facilities. For example companies like 99 designs offers their employees with gym facilities to be used at any location.
With this benefit, they can work out any time either in their office during lunch or at home. The other benefit to be offered to the employees can be gym stipend where they can choose their own fitness studio.
5. Education reimbursement for classes taken by employees:
The main intention of this benefit is to encourage employees to take classes so that they can get where they need to. They can be allowed to take classes on some aspects they are interested in.
When the workforce is educated, it means that they are more productive. There are many tools that can help them such as Udacity and Udemy for business. Developing their skills at the workplace makes the happier.
6. Travel stipend:
To bring the employees not just out of office but also out of the city is achieved by providing them with a travel stipend. An organization called Airbnb provides its employees with $2000 a year so that they can travel to any place across the globe.
The other benefit they provide apart from travel allowance is that they allow employees to bring their pets to the office. They have yoga classes, ping pong table, have organic lunches and lot more. This is one of the cool and amazing benefits that make the employees happy.
7. Free onsite spa services:
There are many companies which possess an in-house masseuse and helps reduce stress in employees. Employees tend to make more mistakes when their stress levels are high.
Spa services are great ways which can help employees bring down their stress levels. Providing employees with spa services or offers can be perfect benefits for them.
8. To develop thinking aspects:
A number of improvement programs for employees are important and happens very minimal in a year in many companies. These lectures and events are beneficial and need to be focused. Companies like bucket feet provide educational series and programs where the gathering would be for an hour.
Here the employees can ask questions and also listen to the guest speaker. These informational sessions are mandatory and need to be listened to by the team as they are associated with the mission values of the company.
9. Time off benefits:
In organizations at times of stress and over-pressure, the employee needs to work hard too. In that manner, giving employees abundant time off is necessary. Companies like Virgin and Glassdoor offer their employees with unlimited time off. When there are no incentives then unlimited time off is of no use.
Employees must be provided generously with paid time off along with vacation time of three weeks. Apart from this, they must also get their birthdays off, additional vacation during the last week of December and summer Friday vacation days after five years of employment. These are a few amazing benefits to being provided to employees.
10. Educational benefits:
Any employee is valued by higher education but is not affordable these days. In that manner, a good example can be Star bucks which presented beneficial plans for education for all eligible US employees. The employees had the facility to go through an online program announced by Arizona state university along with complete tuition coverage.
With this, they get a chance to earn a degree while working. There are companies who cannot afford for such plans, but they can offer employee educational benefits and help them out for undergoing classes.
11. Games time:
Many companies have full-size courts to play basketballs for employees who love to play basketball. Companies can have them in-house relaxation lounges with classic arcade games along with Xbox, play stations, PS3 gaming systems. By this way, employees enjoy their work.
12. Profit-sharing:
Many companies share their profit with their employees either its quarterly or by the end of the year. When profits are shared, the employees invest in the success of the company.
Employees also have the mindset to work hard and efficient when they know that they have been offered from the company's profit.
13. Drink fridge:
The workplace can have a fridge full of drinks for employees. This can be a best and helpful benefit for everyone in the company. By this way they don t have to go out to fetch drinks and also they feel like home with this benefit.
14. Ping pong:
Every employee declines down by 2.30 and that's the best time to get to ping pong table a make a few smashes. By this way, employees also get to know one another in the work environment.
15. Season ski passes:
Skiing is loved by almost all employees at season times. Providing ski passes to employees can be the best benefit offered to employees.
When viewed from an individual level skiing is a costly aspect, and company passes can be the greatest and amazing benefit for any employee.
16. Onsite childcare:
This can be one of the best benefits welcomed by all employees who are parents. Companies can get licensed and start their own daycare in their office space. By this way, the strain on the parents is taken off.
By this way, the parents are able to visit their child during the break. This makes them very happy and relaxed.
17. Clubs:
Companies that provide cool and amazing job benefits to keep their employees happy can do hiking clubs, board game clubs, quilting clubs and photography clubs. Employers can invest in a variety of clubs based on the interest of the employees.
When the company has a hiking club up the mountain, then it is one way to get noticed by others.
18. Free food:
Companies that provide free food makes employees feel like home. Employees can get to the kitchen to get a snack rather than driving off site. Donuts in the morning can also be a perfect perk for employees.
19. Death benefits:
Companies can also offer death benefits to the employee's family members. In that manner, after the employee death, the spouse of the family would receive 50% of the employee's salary for about a decade.
In the same manner, children can be assigned to receive about $1000 each month until they reach 19. This is one such benefit which is followed in Forbes.
20. Surfing midday:
Many companies wanted to keep their employees fit and hence have planned and implemented a number of benefits. For example, Patagonia in California has provided volleyball courts, yoga, company bikes and more for their workers.
In the midday of work, employees can also get to catch a few waves. Surf reports are announced by the company desk on good surf days. All these benefits are rejuvenating and amazing that makes an employee happy.
21. Tabs for new hires:
Though it may be considered as a cheap perk, these benefits are ones that boost hiring efforts. It is usual to give cash as a hiring bonus, and hence, these kinds of gifts are amazing and interesting for employees. By this way, top level talents are obtained to sign.
22. Off-site events:
An off-site event such as a summer barbecue, go-karting, golf and lot more are ways which present the unity of the team. This is also a way to show your employees that you care and one great recruiting tool.
By enjoying these moments and snapping pictures the employees present the greatness of their company.
23. Home improvement and grocery reimbursement:
Certain companies offer their employees home improvement benefits by paying for it. Their homes are improved and they are provided with dignity which in turn enhances their productivity. Grocery reimbursements are also considered as one of the best amazing facts that add happiness to employees.
24. Examples of amazing benefits:

With the various cool and amazing job benefits, there are few examples to be mentioned and their benefits provided to employees. In that manner, Google is one qualified company which offers a number of unique perks for their employees.
There are ones who provide on-site haircuts, free breakfast, lunch and dinner, dry cleaning services and laundry facilities, swim in pace pool and equipped gym, ping pong, video games, football, and billiards, along with the on-site medical staff.
SAS is yet another organization which offers amazing benefits for its employees. Some of them are health care centers in their offices, three weeks of company vacation with paid services, unlimited sick days, on-site child care centers, children of employees are offered with the college scholarship program and no special dress code.
Zappos is another prestigious company for the wonderful job benefits it offers. They have monthly team outings, nap rooms for employees to rest and rejuvenate; employees are provided with a discount on shoes and accessories for 40%, pet insurance, dental, medical and vision coverage too.
Corporate giants these days are working their best to offer cool and amazing job benefits for their employees in order to keep them happy. Employers have decided to start a happy workforce by offering unlimited offers to their employees.
Few Other Unique Perks That Keep Employees Happy:
If you are working in a workplace where employee satisfaction is given prime importance then that is the best thing that can happen to you in your professional life. Employee perks need to be considered as rewards apart from the usual salary or pay. This system has now been adopted by every organization, be it large, medium or small.
Here are a few impressive perks that can make employee very happy
Employees bring their pets to work with them.
Onsite health care
Yoga and massage classes
Mental health support
Free books to read
can continue higher studies
Snacks and ice cream treats
Student loan pay downs
Flexibility of work hours
Mid workday surfing
Lot of vacation and time-off benefits
Organization matches with employee volunteering
Help you focus on personal life
Office celebration and parties
Traveling and hotel booking at discounted rates
Conclusion:
The more interesting and cool the job benefits are, the more they work for the company. These job benefits are also considered as important aspects as they help employees sustain in the organization and also grab more talents into the organization. Perks and benefits make employees happy and also benefit their family in a number of ways. Employees these days lookout for job benefits before they apply for any job.
Save
Save