You're a successful sales professional. You continuously achieve your targets. You are familiar with your competitors, products, targets, and market. You're not only buzzing with novel ideas, but you also have a feeling that you can perform better than your boss.
Truly speaking, you are ready for a new challenge, but it is again related to your targets. If possessing all these qualities makes you feel like a good sales manager, then think again.
You are doing great as a sales professional, but this does not make you successful as a sales manager. Being a good sales manager and a sales expert are two different aspects of a coin.
The fact, however, is that, if you are working as an excellent sales expert and can develop more qualities and sales manager skills then sooner you will be titled as a 'good sales manager'. To learn about all the qualities that one needs to become a sales manager and gain enormous success in it.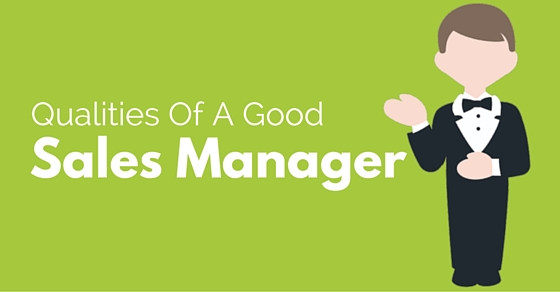 What Makes a Good Sales Manager?
To be a great sales manager, you need to possess a set of good sales manager qualities and skills such as:
1. Communication:
Just like any other profession, communicating with the team is extremely vital. Effective communication helps to bridge the gap between a sales manager and his clients and also with his team members. Without this, you cannot convince your clients or can instruct your team.
2. Managing the performance:
As a great sales manager, your seniors expect the best foot in front of each member of their team. It implies, that you not only have to manage your performance but also the performance of each member of your team.
You, therefore, have to track the progress of your team to ensure that you successfully achieve your personal as well as team goals.
3. Team Leader:
A sense of working in a team can generate a remarkable difference in your success and failure. A sales manager must have the potential to successfully achieve its sales target and at the same time should wisely manage the team.
It is vital to ensure that you share information, successes, and tips to maintain a progressive work approach within your team.
4. Pleasing personality:
It does not imply that you have to be handsome like a movie actor, but yes your personality must be pleasing in appearance. A sales manager is supposed to carry meetings with the clients, and it is the front face of the company to the client.
Hence, he must have good appeal and must be able to serve others for all essential requirements.
5. Decision Making:
Fair decision making skills are another vital trait required in the sales manager. Whether you are working alone, or in a team, you must take a fair decision under all state of affairs.
If individuals around you sense unfairness then it could be harmful to your personality and may make you lose all the respect that you may have earned over time.
Consistently performing well is not possible, but you can maintain a decent work track to gain appreciations from others.
6. Resilience:
At times, things may not go fine and may end you with difficulties. Things may go wrong on unreasonable grounds and may make you face complex disappointments.
But you have to be strong and don't allow such things to let you go down. You must be able to combat each problem and may carry on driving your objectives.
7. Motivation:
It is one such trait that is most difficult to learn and perform. Self-motivation is something quite simpler, but motivating others and that too on different grounds can increase your complexities to great heights.
Some sales managers end up giving great speeches, and hence, lose on their team. You don't have to give such speeches, as simple smiles, friendly gestures, and appreciations can also boost motivation in employees regularly.
8. Delegation:
As a sales expert, whether you will succeed or fail, that depends on your skills. The result is the reward of your efforts. So to be on a safer side, act wisely, and don't get prepared to do everything on your own.
If you wish to achieve really good results then you must learn to delegate effectively.
9. Passion:
It is also one of the top qualities for every profession, and even for a sales manager. Without passion, you can't achieve success in what you do, and hence, you have to be passionate about being a sales professional and loving what you are doing.
Without passion, it is not only difficult to head your team, but it is also impossible to set an inspiration to others.
10. Positive attitude:
It depends on the salesperson whether he can give smiles to other team members or not. A sales manager must have a positive approach towards work and must be able to develop a positive tone for the sales team and the entire company.
Good Sales Manager Qualities and Attributes:
The following mentioned are few qualities of responsibility and attributes of a good sales manager.
1. Integrity:
Besides passion, the other vital quality required by a sales manager is integrity. The salesperson should possess core and only then it is possible for him to achieve success for the short-term as well as long-term.
2. Loyalty:
A good sales manager is one who does not fake to his team nor the company. There is no need of making false promises, and even there is no need to show false achievement figures to the team.
Since a sales manager is the middle-man between the team and the organization, he must act intelligent and ensure that not only the company but even the sales team is aware of all actual happenings within the organization, especially within the sales department.
3. Availability:
Just like other challenging professions, the job as a sales manager demands complete flexibility and availability. There may be quite such instances when there is a need to work beyond time limitation, or when the manager has to attend important meetings across places.
In such cases, a good sales professional is one who is always available to work for the company.
4. Listening:
It is one of the most neglected, but the most vital quality required in a sales manager. Not only speaking or training the team is important, but it is also essential that the sales head listens to all issues of his team.
Maybe there are team members who have some important information to share. So, for all such and more other reasons, the salesperson must possess effective listening skills.
5. Continuous learning:
No one can gain until he is open to learning. It is extremely essential to keep your skills updated and to work as per the current and future requirements of the company.
A regular learning process is a way to go and only it can help a sales professional gain edge over others.
6. Innovative:
It is essential for a sales team manager to always lookout for ways that can help them to get the best out of their team members. They must be able to procure gains collectively as well as individually.
If there is any trouble met within the sales process then it is the responsibility of the manager to think of a wise solution for it, even if he has not faced such a situation previously.
Looking ahead and solving all kinds of team conflicts is the sole responsibility of the sales manager and he must be potential enough to perform it without further boosting the issue.
7. Confident:
If a company is facing any troubles then each employee looks for a problem-solving answer from the manager. A great sales head must be able to make fair judgments for all kinds of issues.
The sales manager needs to stay calm, relaxed, and confident, even under stressed or troubling conditions. A manager who panics cannot lead a team and cannot gain success in the long-run.
8. Able to coach:
A successful manager must be able to coach his team under different circumstances. He must be well aware of the strengths and weaknesses of his team members, and give them positive advises based on that.
Even the manager may possess some weakness, but that must not get highlighted in front of the team members. Efficient and good sales managers are advisors and mentors to their teams and must have the potential to develop their team member's abilities and talents.
9. Leads by example:
Trust and respect are simple words to speak but are harder to inculcate. Great leaders are those who practice what they preach. So to be a great manager, you have to render full support to your employees to become successful.
Don't consider your team members as competitors, and hence, try hard to ensure that not only you but even your team can gain fruitful returns. If required, then you should be willing to sacrifice the efforts and time.
10. Strategic:
To be a great sales manager, you need to be consistent in your performance. This does not imply that you always have to achieve more than 100% of targets. But, yes you must indeed be capable enough to find new ideas that can bring more success to your company.
Try to expand your quota and alter your team into conventionally unheard realms. The sales manager must regularly make attempts to bolster the tools and technology with a well-executed sales management process.
Incorporating new incentive systems and new metrics to award the high-performing team is another excellent way with which a great manager can expand the team quotas.
But possessing such qualities is not enough, if you intend to gain success in this profession, then you have to inculcate additional skills.
Successful Sales Manager Skills and Traits:
1. Business Acumen:
It is defined as the acute business thinking needed to accomplish sales objectives. The business environment requires sales managers and representatives to persuasive business skills.
If you wish to be successful as the sales manager then you should conveniently understand complex business troubles, and help your subordinates with the same.
Sales managers must teach their people on making intelligent decisions, work effectively, plan better, and execute operations that can deliver lucrative returns.
2. Hiring:
Most of the time, sales managers are not hiring regularly, and hence, the task of hiring the right sales candidate may become difficult.
But as sales head, it is essential that you possess precise hiring skills, and can hire candidature that can serve your business requirements. Wrong hiring may cost your team and the company a lot.
3. Performance Management:
There are countless ways of managing the performance, and to be a successful sales manager you must know how to manage the performance of you and your team. You can even develop an action plan for managing performance.
4. Professional Attitude:
It is essential to gain knowledge about the personal life of each team member, but success is achievable only when you know the right way to make practical decisions. Successful sales managers possess a balanced quotient of emotional and practical acumen.
5. Responsible:
A successful sales manager understands his responsibility for the team and ensures to take every action that can bring the team with lots of gains.
Conclusion:
Becoming a sales manager may sound quite easy, but it is not. The above mentioned are a few characteristics of a good sales manager to follow.  It is a task full of obstacles, but if you wish to gain success, then you must be capable enough to overcome all kinds of obstacles.
Just consider these qualities as simple steps, and try building them one by one. Soon, you'll be able to become a sales manager full of great qualities and the real traits of a sales professional.
Save
Save
Save