What is Staff Training:
Staff training is the process of training the current staff of the organization for enhancing the performance of the staff as well as the productivity of the organization.
This is also very important as it can help in the professional development or career advancement of the employee.
One important aspect of the business is training the staffs as they are one of the valuable assets. It is mandatory to train the staffs with the skill and knowledge required to meet the business objectives.
With the assistance of training, the best can be got from the staffs and they are made even more productive. By this way, job satisfaction is achieved and the staffs also retain back which avoids recruitment.
The staff training plan is an important aspect of business and should be implemented at regular intervals. Here are discussed a few aspects of staff training like importance, continuous training advantages, and disadvantages, etc.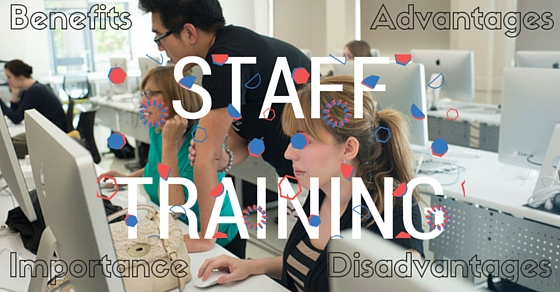 Types of Staff Training:
Employers provide staff training to their employees for the growth and progress of the organization.
When you are highly skilled and efficient, the productivity of the organization increases, therefore helping the company to touch new heights of success.
Staff training also helps you to advance in your career. The main aim of the employers to provide staff training is to keep you in line with the organization goals and aims.
Now let us look at the different types of staff training.
Onboarding:
This is a process in which new employees are joined in the company. The employee needs to communicate effectively with other colleagues of the organization.
During this onboarding stage, you should
Help them understand the company's core values and goals.
The learning process should be integrated.
Make them assess the performance and effectiveness of the process
Introducing the new employee to old staff, so that they get to know each other well.
Talent Management:
Finding the right employee for the organization is one of the biggest challenges which most of the companies face.
So by using talent management, you can recruit candidates as per the requirement of the organization.
Always remember, that company invests a lot of time and money on a new employee to enhance their skill so that they can become an asset to the organization. So by this, you might have understood the disadvantage of hiring a wrong candidate.
It is very important to equip the HR team with the right strategy so that they can recruit bets of employees.
Performance Management:
Performance management is very necessary for every organization. A little appreciation and gratitude towards the employee will help to boost the morale of the employee.
Schedule a performance review meeting and allow your employees to speak out their mind in the meeting. Also, try to provide them with productive feedback so that they can gain help from it and advance their career life.
Proper guidance and feedback to your employees will help them reach heights of success.
Staff Training Cost:
According to the Association for Talent Development's 2014 State of the Industry Report, companies usually spend an average of $1,208 per employee for training and advancement of their skill.
For an organization which has as the strength of 500 workers, that cost is higher, as the average summing up to $1,888 per employee.
Not only the money which is invested, every company spends almost 31.5 hours on an employee averagely to help him develop the skills required for the organization.
The time which you are spending is a very precious time for the company, wherein they can utilize that time for many different things like billing an account or turning prospects into clients.
Staff Training Methods:
As we know the importance of staff training, we should be very careful in using the best methodology for it to make it effective.
Moreover, the method which you use should match the organization's requirements. Some of the top factors for choosing a method are qualifications of candidates, cost, available time, knowledge, etc
Off-The-Job-Training
Apprenticeship Training
Vestibule Training (Training Centre Training)
Internship Training
Learner Training.
Importance of Staff Training:
Once orientation takes place, there is a need for training of employees in any workplace. In order to improve the capabilities, skills, and knowledge of the staff to do a specific job, staff training is important.
With the help of such training, the quality performance is gained as output from employees and also the thinking of the staff are molded. Staff training is important for the following reasons.
1. Enhancement in performance:
When weaknesses and shortcomings are identified, then employees are required to be trained.
Hence employee training is important as it amplifies skills and helps the staff to gain new skills. It has become important for companies to focus on training needs for individuals.
For example, there are many organizations where training groups are available for every department. Like training to improve performance are QA training, product development training, PMP and a lot more.
2. Enhanced productivity:
With the state of the art situations, productivity mainly depends on the technology being used rather than the staffs. Training and development these days focus on how well the employees are making use of technologies.
The employees are trained on existing technologies where they abandon the out-of-date ones. By this way of training, work runs in an efficient manner and hence productivity increases.
3. Tackle shortcomings:
There are shortcomings faced by every staff and hence training for employees is important as it helps them face any shortcomings. Training can be given appropriately to a specific group so that they turn out to be skilled.
4. Employee satisfaction:
Training is important in an organization as organizations that arrange for training are said to have satisfied their employees. Training must be ones that are relevant for employees and they have something to educate themselves.
If training is dull, boring and tedious, then they would result to be fruitless. With proper training, employees are also sent out for a number of conferences and seminars which is beneficial for them. With the help of training, employees learn a real aspect of the job and are satisfied with doing their job.
5. They are up-to-date:
Whether it is work, training, methods or legislation there are many things that keep changing in the workplace.
With the aid of continuous training, the staff, as well as a business, do not lag behind and they work at the best every day and also in the future.
6. Sharing the higher knowledge:
Promotion and career growth are some parameters that are mandatory at the workplace. By conducting training, the employees are able to share knowledge about higher job postings and the responsibilities they handle.
7. Retain star players:
Staff training important as they help to enhance the skill set and improve the performance of staff. In this way, retention is increased and star players are kept back in the organization.
8. Consistency:
With the help of a training program for employees, the employees possess a consistent experience along with background knowledge. The consistency of an employee is associated with the organization's policies and procedures.
9. Reduces training time:
When systematic training is provided by means of trained instructors, then the training period is reduced.
Staffs usually take a long time when they learn through trial and error methods. They may also not make use of the right methods to learn and hence formal training for staffs is important.
10. Safety in industries:
Staff training is important so that they handle machinery in a safe manner. Such trained staffs are well known about safety devices in the industry and result in less industrial accidents.
Benefits of Staff Training and Development:
The following mentioned are few benefits of training and development in an organization
1. Improves employee morale:
With the help of training, the employees gain job satisfaction and security. When staff is very much satisfied, then his morale is greater.
By this way the employee contributes more to organizational success and hence the absenteeism and turn over would be less.
2. Minimal supervision:
When an employee is trained he is well accustomed to the job and hence requires very less supervision. In this way, times and efforts are reduced.
3. Opportunities for promotion:
At times of training, employees get the chance to acquire enhanced skills and knowledge which offers them a clear way and enhanced opportunity for promotion.
In this way, they become an asset to the organization. This is one of the benefits of the training staff.
4. Productivity increases:
With trained employees, efficiency is increased which in turn increases productivity. Quantity, as well as quality performance, is achieved by the employees as they are well trained.
5. Better economic usage:
Trained staff would have the knowledge to make the best economic use of materials and equipment.
There will be less wastage, apart from accidents; damaged equipment's in the organization would be minimal in the case of trained employees.
6. Uniform procedures:
The best methods required for the specific work are standardized and adopted by all the staff as an effect of training. With the assistance of standardization, there is an improved level of performance.
7. Systematic usage of skills:
The main benefit of a training program in an organization is that it helps to lessen the learning time so that a level of performance is reached. The employees can learn from training methods instead of following others or by trial and error method.
8. New inventory skills are developed:
An organization may be in need of new skills for its operation and may face hindrance with employment. Training can be beneficial in picking out the perfect fit and eradicating defects if present in the recruitment process.
Another good suggestion would be to pick employees from within the organization and train them rather than recruiting new employees.
9. Updated with the latest technology:
There are constant changes in the industry and hence it is important for employees to be updated with the latest trends. It is quite often that new technology pops up and hence one-off training session would not be complete.
In order to make sure that the organization is making use of the latest technology, regular training is conducted.
Advantages and Disadvantages of Staff Training:
Advantages of Staff Training:
There can be many training and development advantages of the staff as they could use it for their company's growth.
1. Stay ahead of competitors:
In order to stay ahead of competitors, it is mandatory to monitor that your employees are advancing. Also, employee monitoring and evaluation hold an important part in the success of the organizations.
By undergoing staff training, the organization with its employees would definitely be ahead of their competitors.
2. Keep up with industry changes:
In order to be parallel with all industries and not left behind, staff training is necessary. With the help of staff training, the industry is said to be abiding by the industry regulations and also makes sure that the employees are updated with the latest skills.
3. An opportunity to learn:
When staff training is provided in the development path, the employees would have the interest to learn, implement the new strategies learned.
4. Grabs in new talent:
The aim of any organization would be to possess the best talents in their industry. With the help of staff training not only employee retention is attained, but the best talents from outside are also grabbed in.
With staff training, a good image is developed for business which is desired by most job seekers.
5. Self-confidence:
There is more self-confidence for employees when staff training is offered. There is more of adjustment amongst workers and the employees are not humiliated in the presence of seniors. With self-confidence, the employees are able to put in best efforts for the future.
6. Positive attitude:
With the help of staff training, there is a positive attitude amongst employees at work, along with enhanced motivation levels which enhances the result of the organization.
7. Group effort:
Staff training not only trains the staff but also helps them understand about working with a team with complete efforts. With such training group efforts are achieved.
8. Handles customers well:
Trained staffs are ones who know the techniques to handle the customer in the right manner. In this way, the business is run in a better manner where customer inquiries, sales and a lot more are handled effectively.
Disadvantages of Staff Training:
1. Waste of time and money:
There is surely a waste of valuable resources, as the organization needs to spend money, time, and hire other people for training. They also need to pay wages for both the trainer as well as the employees.
2. Increased stress:
In order to keep the staffs up to date with the latest trends and knowledgeable in their specific area, training staffs for more number of hours can make them stressed. As they are stressed, their job levels may go down too.
3. Too much of theory:
Training programs for certain departments are too much of theory than application. These kinds of lectures make it tough for employees to learn the subject.
Thus theoretical lectures make the whole training program boring when it's for a prolonged period.
4. Loss of interest:
At times of training sessions which lead for long hours, employees are bored and aren't interested in their session.
Data and information are thus not retained for employees who do not listen. When training programs are conducted continuously with the same data or theory, again and again, the employees lose interest.
5. Leave for the new job:
When an employee is trained and updated with all the latest knowledge and skills. They are prepared and ready to jump to another organization which offers good perks and salary.
6. Time requirements:
The other main important disadvantages of employee training are that there may not be enough time for staff training with the daily hectic schedule.
There are many organizations that dedicate very less time, which may not be helpful in making the employee productive or knowledgeable. With very less time, the trainer usually rushed through the main parts of the job which is to be understood by the employees.
7. Control of training:
When your responsibility of training for new employees is delegated to some other trainer or employee, then it is mandatory to think about what the employees are learning.
The trainer may not be a skilled and talented one like you; hence the employees may pick some bad habits and end up with quality less training. This would spoil the complete training. Hence having good control overtraining is necessary.
Staff Training pdf:
For more information related to staff training, refer to this link(pdf format): powercam
Above mentioned are a few advantages and disadvantages of staff training, benefits, and the importance of staff training. Staff training is mandatory and can be forced to be conducted in all organizations for the various benefits it brings in. The best part of staff training is that the organization and productivity increases. The organization earns a special image by providing quality training for the organization. Higher officials and managers must thus focus on such training and make it mandatory in organizations at required sessions.
Not all employees have the same level of talent when they step into the organization. They are hence required to be provided with good training at regular intervals in order to enhance their knowledge of specialized work. Only staff training can push employees to achieve and do something extraordinary in their career field.
Employees are maintained fresh and evergreen with such kind of staff training. Hence it is important to conduct staff training when required. These are a few hints which present the importance of staff training and makes any organization fruitful. Employees can read through these hints and get benefitted.
Save