What is Restructuring in an Organization?
Successful restructuring and reorganization of an organization require good preparation in advance, good planning which will address all the programmatic needs, support services which are needed to advance those organizational goals, good planning of the workforce and brilliant communication skills.
Organization leaders find it highly important to change how these units operate for a few reasons like changing priorities of units, enhancing the effectiveness of organizations, addressing the budget reductions, initiating new programs etc.
In this post, we are going to discuss some of the reasons, strategies, and benefits of organizational restructuring. Keep reading to find out more!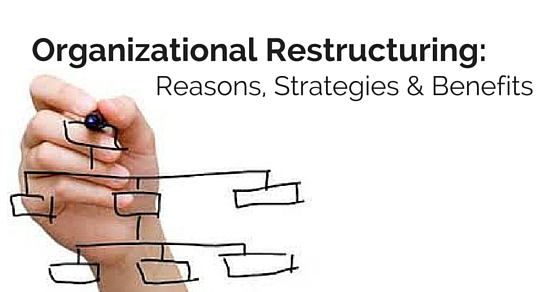 How to Plan Organizational Restructuring Strategies?
Here are some tips and ideas that can help you plan organizational restructuring strategies.
1. Give importance to quality over quantity:
It is highly important to lay special emphasis to quality over quantity both in the size of the company as well as product development. With such profitable websites which are being run by two people, there are thousands of employees that won't help you become powerful.
In fact, they will make you exorbitant and expensive and necessitate an output schedule that is ambitious. You should also keep those who are dedicated experts and also ask them to be resourceful as well as accountable and put out the quality of products that any group can easily and confidently promote.
2. You should be less organized:
There are organizational charts as well as major divisions which are designed for the system of the railway. Every individual should bring a team of experts and that team should be so flexible so that they can allow people who are involved in a project to freely discuss the concept through development. Nothing new has to be executed in an assembly line of fashion.
3. Collaboration matters and here's how you can do it:
With the audience:
You have to collaborate first. For this, you have to listen carefully. Understand what your audience needs, introduce yourself and contribute as well. Once you have managed to build a strong rapport, you can begin to ask questions. Give them value and you will receive value. The masses might not come up with the best idea but can definitely help some of the experts in refining it into something which they can easily engage into.
Collaborate externally:
Here you should pay very close attention to people who are on the edge. This includes the entrepreneurs, those who invent and people who influence in niche areas. In the past few years, their output is of having a major impact on the socio-economic landscape. They will surely not have those titles or even the expense accounts that you are used to, but they also have to be as competitive as possible.
Collaborate internally:
You should set a few common goals and then ask a whole variety of experts so that it can be considered. And make sure you have the whole team for the process. Just because a person has nothing to do with the issues as such, it doesn't mean that they don't have any ideas related to the solution. Anybody could help you during any minute. So let the whole team sit together.
Reasons for Organizational Restructuring:
Here are a few reasons for organizational restructuring. There are so many reasons why you should organize your structure as it will boost efficiency and keep technology up to date.
1. Changing nature of business:
In the world we live in today, there is only one thing that is constant: change. Companies that don't want to change tend to face huge risks in the line of production and become obsolete with time as well. Because of things like these, businesses also experiment with new kinds of products, explore and go to new markets, visit new customers on a regular basis.
Businesses always want new areas so that they can boost sales, boost the capacity and shed off the divisions which don't add much value. All of these initiatives will need corporate restructuring strategies. If you come with a new product line, it will require changes in their system, hire new experts which are familiar in the line of business and place them in high positions with other interventions.
2. New methods of working:
There are traditional systems of organizations that follow the same old 9-5 working hours tradition. But there are other requirements that could trigger organizational restructuring such as having new and good methods of work such as telecommunicating, having new systems and policies which could change the culture of your working place etc.
The presence of having telecommunicating employees or temporary employees could enquire an overhaul of all the management parameters, benefits, compensations of the administration etc. The new methods of working require giving emphasis on the results instead of the methods, having a strong policy of communication and reporting of relationships.
3. Proper technology:
Innovations in technology, the process of working, materials and other factors tend to influence your business and workplace in several ways. It also needs to restructure the organization with time.
For example, the enterprise resource planning which links the whole system and its procedures of an organization by boosting the power of IT could need some overhaul of the procedures and systems. Failure to do so could result in the system of the company as well as the procedures that turn more discordant and obsolete with time.
4. Buyouts:
There are times when restructuring exercises could result of the whims and other fancies of the owners. For example, the company could have a new owner who would like his stamp or even some personal authority and style in the business.
The restructuring will allow the owner to start fresh and in that way, he will be able to have better control. It will also allow him to reshuffle the key personnel and provides some power to all lieutenants who are trusted. He may also be able to pre-empt any of the inefficiencies that are caused by the previous owner to sell out even more.
Organizational Restructuring Strategies:
Some basic principles and strategies you must keep in mind before you plan on restructuring the organizational structure and design. Read them carefully before making final decisions.
1. Align the organizational structure:
All organization restructure have to be aligned to strategy. This could seem slightly self-evident to some of you but there are some organizations that fail to do so. For example, if local conditions happen to an important factor, then you should stress on local sales as well as marketing functions instead of a centralized behemoth which tries to matrix using a few local elements.
2. Cut down on the complexity:
If we put things in simple terms, then complexity does cost quite some money. Whether the organizational design and structure is complex, a product is complex and will offer a transactional process, the added cost of complexity shall also drag the performance a bit further.
However, there are three things that will help you in the organizational design. Some important principles you should remember include avoid making the roles of leadership too confusing or complex. Also remember to minimize the use of matrices. If you don't, it could cause a lack of clear direction.
3. Focus on having better activity:
Always remove any sort of inefficiency that could hamper the process of organization restructuring. This means that you have to know what people are doing at this point so that the chances of danger has been reduced.
You must have a good understanding of the tasks by role. This will also make sure that value-added activities have been thrown out when removing a role is required. Similarly, when it comes to duplication and redundant activity, it can be easily removed at the time of restructuring a company.
4. Creating roles that are feasible:
When you are assigning work to some of your people, don't ever overload them. Always remember that business restructuring strategy will always leave the organization with very few people which could leave you with very few people to work with. When you are applying downsizing strategies or restructuring organization or reducing the headcount, make sure that you understand the workload of these employees.
But understand that there is difference between downsizing and restructuring an organization. This may also help you design the roles which are neither heavy nor are they too light. Furthermore, you must remember that role design should always take a close look at grouping skills. Packing a role with many distinct skill sets will reduce the number of candidates.
5. Balance your work properly and load of managers:
When we speak of management loading, we are actually talking about a lot of hard work. It could be troublesome in some cases. Often its the inability of some managers to focus on leadership tasks because of expected output requirements. For example, the time which is spent on monitoring as well as coaching staff drop-offs could lead to several issues and errors caused by the staff itself.
As a result of this, the manager ends up resolving the problem. To make sure, it is important to balance three elements that include the staff which is directly supervised and managed, the ability of the staff to do work without any supervision and the amount of work that managers have to do to stay on top of their activities.
The Implications of Restructuring an Organization:
Restructuring of the organization happens usually in almost every organization. The reasons can be many like business growth, adding few departments or downsizing the existing structure. Such steps are taken for the betterment of business in all ways. Some of the methods through which the restructuring serves are,
Improved Efficiency
More Administration Work
Cost Implications
More Control
Cultural Changes
Speculative roles & responsibilities
Productivity/KPIs below the standards
Lack of leadership
Under or Over-investment
Decreasing or flat revenues
Budgets for marketing are granted inefficiently
Few internal reasons behind the corporate restructuring:
Lower gross margin
Poor internal communication
Higher cost of operating
Bad cash flow
Lack of proper designs of processes
High labour costs
Few external reasons behind the corporate restructuring:
New trends in the consumer/client sector
Implementing strategies that redefine the market
Due to the competitor's actions, the share market of the company decreases
Benefits of Organizational Restructuring:
The good thing about the company restructuring plan is that the cost of operations could decrease in the future. An example can be used to explain this. The payroll expenses will be much lower if the businesses have dismissed some of the employees. Likewise, there are outsourced operations which are usually less expensive than those in-house labour.
When some business eliminates a few layers of management during the process of communication, decision making and restructuring strategy could be introduced. For example, the records could become much easy to access if any business plans on implementing a filing system that is computerized.
Before we go, here are some final tips that can make the process of organizational restructuring much easy at your workplace!
Communication and Education:
Whether you are choosing to roll out new benefits towards the beginning of a new year or amending a new plan so that the benefits can be provided easily, communication is something that can easily help. Employees always care a lot about their benefits so they could hesitate about any of the changes which are being made.
You should remember to communicate with the team members more frequently and in an open manner. Always invite their feedback and let them know about your new plans. Have meeting sessions where you can answer important questions. Offer a grace period to them so that they can allow employees to opt-out of the benefits plan that is new.
Decide which plan would work well:
There are two benefits that come with planning. If the plan is defined, then some of the benefits of the employees have been defined and the employer will also have an obligation so that the promised benefits can be funded. Secondly, it is about having a contribution that is defined.
Here the contribution will always be predetermined and the employer will be obligated to pay the amount for every employee. There are times when employees want to change a plan to one that has defined a contribution that could be more cost-effective and much less risky. But always remember that the benefits have to be tailed so that it feeds the needs of the employees.
Actionable Steps For The Restructuring Process:
The restructuring process is an unavoidable phase in the development of the company. You may also encounter a few obstacles for the completion of a process like corporate obstacles or resistance from employees. But for the success rate and growth of the company, restructuring has become a mandatory process that needs to be accomplished.
There also happens times when the focus of the restructuring changes which no longer will be helpful for the organization. So, it is necessary to imbibe and follow a few strict rules during this process. Some of them are,
Planning
Organizing
Testing
Full execution
Analysis process
Plan correction
All these steps form together as a restructuring cycle.
Conclusion:
With this, we would like to bring the post to a close. If you have enjoyed reading the article, found some benefit from it and would like to tell us about it, please do leave your comments in the box below. We would be more than happy to help you. Also if you have questions in mind, drop them down as well. We will try our best to answer all of them. On that note, good luck!
Save
Save
Save
Save