What is a Nonprofit Organization?
A non-profit organization is a type of entity which is operated for social causes and serving the society without any profits in return. Some of the types of non-profit organizations are,
Shelters for homeless
Animal shelters
Schools
Hospitals
Arts institutes
National charity
Human service entities
Non-profit organizations do come in all sizes and shapes and it is essential for you to look very closely so that you know which one is best and right for you. Whenever you are looking into any organization, you have to learn about the environment, work culture and so many other things that affect the company.
Not only that, you also have to keep the finance and budget in mind at the same time. If you are looking for the best nonprofit jobs for yourself in the near future, this post will surely help. Keep reading to find out!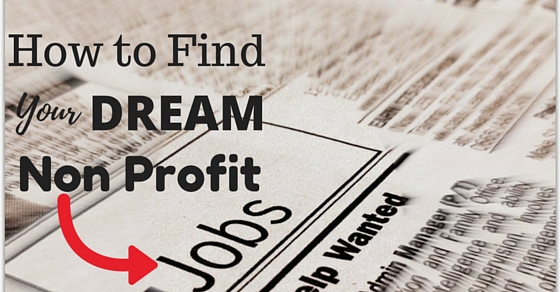 What Should You Know About Non-Profit Organizations?
Non-profit organizations are those which provide services to those that the government of business sectors do not address. Traditionally, they are usually understood as hospitals, religious and charitable organizations, private universities, etc. The whole purpose of nonprofits is to evolve the road of payment and building even better and more innovative systems.
However, organizations at this point are seeking for those employees who have had a whole lot of experience as well as background. Really any kind of experience may be applied to people if you haven't done such work before.
Benefits of Working in a Non-Profit Organization:
Here are some benefits of non-profit organizations before you apply for a job in it.
1. Lets you meet all sorts of interesting people:
Non profits always focus on employing those who are interesting and hospitable at the same time. It is actually a misconception that most non profits want to settle for people who work for very long and have very little pay.
Nonprofits, in fact, have the opportunity to choose between their best and brightest candidates. Now that is something we bet you didn't know about.
2. Lots of opportunities to grow together:
While there are plenty of corporate employees who can be given a single project, it is the duty of one non profit employee who finds themselves assigned to three important projects.
This could lead to even faster growth in career development and even more responsibilities in terms of jobs for those who are hoping to get ahead much faster.
3. Lets you change the world:
Non-profit employment also let you become more sophisticated when you start working with them. It will not only help you become more skilled and professional but instill new and creative ideas in your mind.
Many non-profit organizations have now employed a new kind of thinking by using technological advances by using a simple entrepreneurial approach to become more prepared and adept.
4. Valuing business skills:
The nonprofit organizations have now started flooding themselves with people who have spent days, years or even their career in some other sector and are now looking for some change.
The fine lines between both corporate as well as the community have been reducing and the value for people belonging to each sector has been rapidly understood upon one another.
Education and Experience Needed for Non-Profit Jobs:
The following mentioned are few tips that explain the experience and education non-profit jobs require.
1. A bachelor's degree:
If you want to get a good job in any non-profit organization, you must get a bachelors degree done first. The job market these days have got more competitive than ever so even if you would like to stand out as an applicant and earn some cash, you have to be a college graduate.
There are several areas you can choose from but make sure the subject matches with the kind of job you would like to do. Any major shouldn't be a problem but one that showcases your talents should be a better option.
Once you are done with your graduation, getting a master's would be a great option for you guys, especially if you are thinking of getting one in business administrations. It will help you become smarter and let you get non-profit jobs easily with good pay at the same time.
You could become a marketing director, a business manager, a program analyst, etc. Before you get admission, you have to prepare for a GRE and MCAT so that you can get into a good institution.
3. Masters in public administration:
Another subject you can choose is called public administration. Now, this is functional in all areas. The degree has been offered in several institutions and if you want to handle personnel projects, this would be the perfect opportunity for you.
The program generally lasts for two years approx and requires you to sit for GRE entrance examinations before you can get admitted.
4. Masters in Public Policy:
For this degree, you can learn how to manage, analyze and even lead some of the public services. You will also be able to concentrate even better on some schools that handle both international as well as global affairs.
The program will last for two years and will expect you to clear an entrance exam before you can sit for the exam. Here you will be taught how to develop strong administrative skills and work like professionals.
5. Training courses available:
Apart from getting an MBA done or even masters, you can straight choose a couple of training courses available online. It could be related to board relations, program evaluation, human resources, marketing, and fundraising.
The certificate will also be helpful if you want to become an executive director or director of development.
Resume Tips for Non-Profit Job Seekers:
1. Add information that is related:
Don't just randomly fill the resume with information that has no relation with the job you are doing.  Some of you might have had a wonderful time there but if you don't think it has anything to do with non-profit jobs, then don't make the mistake of adding them.
It would be a waste of time for you. If you really want to brush up your resume and add effective points, then add those experiences that actually matter. There must always be an objective for resume.
2. See your achievements:
Secondly, you should also quantify your achievements wherever and whenever you can.
Have you achieved something big in the past couple of years?
What awards and certificates have you got recently?
Were you praised for it?
Add all the numbers as well as the values so that the organization knows what you are capable of.
3. Read your resume before sending:
Finally, don't just send your resume just like that. Read it before sending it. Nonprofits are usually those that will not have all the resources to spend enough time that is needed to recruit when it comes to interviewing all the candidates while they juggle with other actions and responsibilities.
Therefore these people never really spend going through the resumes but the moment they see mistakes, they toss it in the bin.
How to Get a Job in the Non-Profit Sector?
In order to get hired in any non-profit organization, you must always remember to stay motivated. Most importantly, you should become more plugged and visible to all the current organizations and events. The more that you know about them, you will be more useful to your future employer as well.
Also when you have found a good job, remember that will have to look for another one again in the future. You just have to keep going and keep making connections.
Interview Tips for Non-Profit Organizations:
1. Your research is important:
Do your research before going for the interview. It is highly essential that you know about the organization as well as the field you are about to enter. If you have a good idea about non-profit organizations, interviewers will definitely be impressed by you.
For your research, we would suggest you to start off with the website. See the financial information, the staff lists as well as the detailed information related programs. Next, you should do some search on Google and see if you can see how the organization has been doing now and if it operates on an international or national level. All of these points matter a lot.
2. Show that you are connected to this field:
While attending the interview, always remember that it is your motive to show that you are connected with the field and that you do understand the mission of the organization. Show that you care and always work towards it.
When you are answering questions, show how eager you are to help others and people around you. Say that you believe in helping people. You may also share a personal story of yours that will show how committed you are towards the organization and that you are always going to be dedicated to this field exclusively. Saying things like these will help people know how caring you are and that you were made for this field.
3. Focus on why:
Mission fit is important but it is just another part of a much bigger story. Even though you are not told, we must let you know that all interviewers expect you to let them know why you would like to have this job at this moment in your present career.
There is definitely no one particular answer to this question but it does include questions such as when will be the right time for you to get the job, why should you be seeking or hoping to make a move at this time and why will you still believe that you fit well within the culture of the organization.
4. Get a list of questions prepared from before:
You must now come up with a list of questions that are generally asked during non profit jobs. The research you do right now will help you get ready for future interviews, especially those that are tough to complete. Chances are you will not be asked all of them but you should definitely be prepared for some.
If you are hoping to get interviewed by many people, then you should tailor the questions. Ask a friend who you have faith and do some practice interviews. Look for questions that are appropriate and ones you think will definitely be asked during the interview. Doing things that way can definitely help you a lot.
5. Never forget to be yourself:
No matter what happens, you should never forget to be yourself. There is no need to pretend to be a person or something that you really aren't. You should bring the staff to all your big interviews and let them help you out.
Most importantly, you should never ever be afraid to let who you may be as a person to shine through. This could be achieved by mentioning all tasks which interest you outside work. Also, you should remember that it is you who is being judged so giving away the wrong impression about yourself will be a horrible idea.
Best Paying Non-Profit Organizations Jobs:
Some of the most well paid non-profit careers in a non-profit organization include interns, teachers, chief executives, surgeries, nurses and others who work in hospitals, physical assistants, development managers, human resource managers, management and computer analyst etc.
Other good jobs in non-profit organizations also include law teachers, therapists, psychologists, administrative services managers, cardiovascular technologists and technicians etc. All of these fields are highly respected and equally well paid. You will be happy if you get a job in one of these sectors.
The best way to get into a non-profit organization is through an internship or joining as a volunteer. Also in a non-profit entity, there are many sectors in which you can join. Here we have provided a list of 100+ jobs. For your better understanding, we have segregated all the jobs into specific sectors.
45 Management Careers in Nonprofits
21 Fundraising Nonprofit Jobs
Management Fundraising
Front Line Fundraising
16 NGO Jobs in Counseling
10 Marketing and Public Relations Nonprofit Jobs
Technical Careers in Nonprofits
Human Resources Philanthropy Jobs
Religious Non-Profit Organizations Jobs
Health Care Not for Profit Jobs
Education Nonprofit Jobs
List of Nonprofit Job Boards:
Here we are providing a list of non-profit job boards.
10 Best Nonprofit Websites:
10 Other Nonprofit Job Boards

:
Best Non Profit Organizations List:
The best place to find non-profit jobs is none other than non-profit organizations. So here we have listed down a list of 181 non-profit organizations.
Conclusion:
This brings the post to an end. Before we leave, let us remind you to be careful no matter what kind of job you are doing right now, make sure that you have done proper research, got the right training and knowledge before you can think of applying for these jobs. Working in non-profit organizations is as difficult as any other job but the benefits you will reap are plenty. So do keep these points in mind before going for any interview. On that note, Good luck!
Save
Save
Save