Are you looking for the top benefits of doing MBA? If yes, then you have landed at the right post!
MBA or Masters of Business Administration is a professional course done after graduation. Only those individuals having a degree or diploma certificate in Bachelor's course are eligible for the MBA course. There are various institutes offering the MBA course for usual two years duration. But doing an MBA involves not just great time, but also hefty money.
It is because if you are able to complete successfully your MBA course and that too with good grades that will offer you tons of advantages, particularly if you are doing it from a respectable and renowned institute.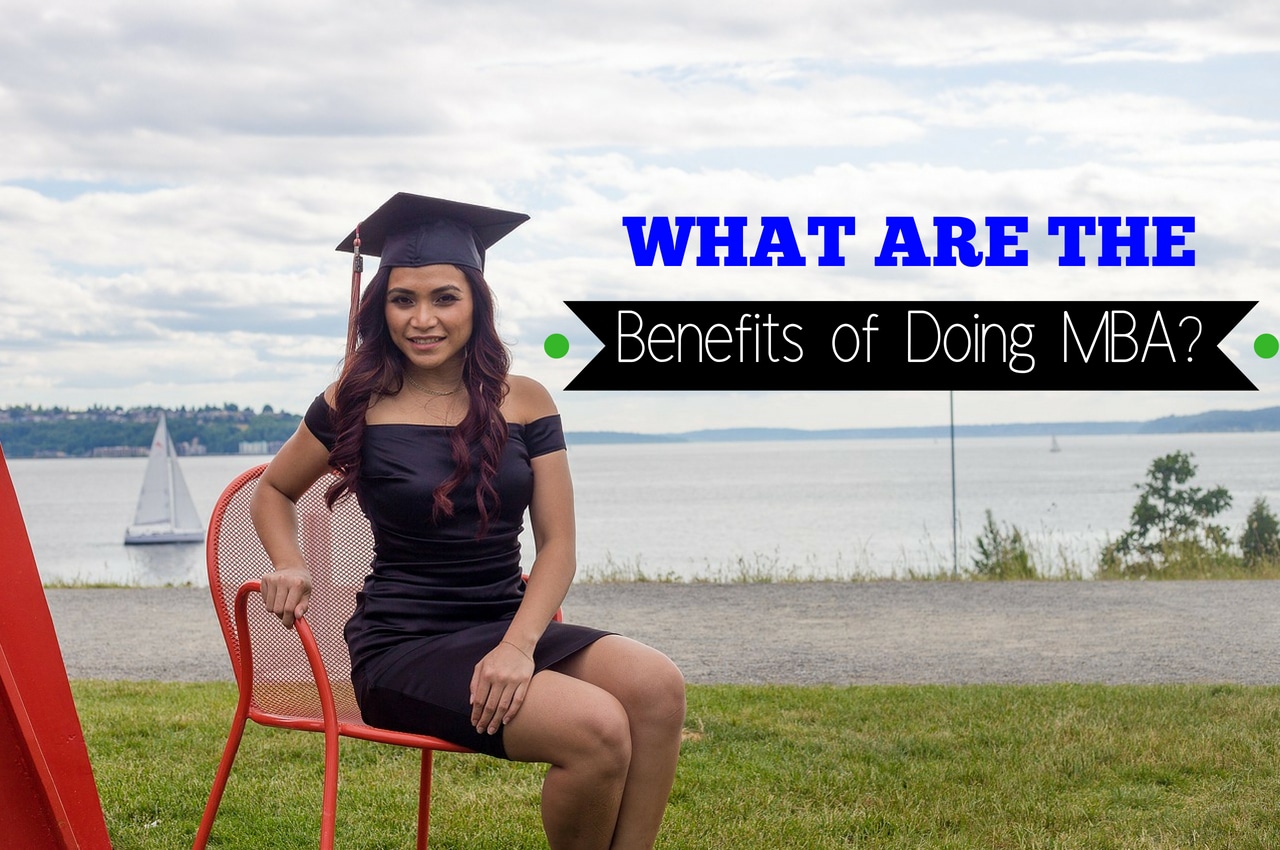 All this sounds really interesting, right! But the below section of this post is even more interesting as here I will list you all the top reasons for doing MBA.
So, let's get started!
Top Benefits of Doing MBA
1. Develop Incomparable Managerial Skills:
The MBA course is pursued by either young graduates or by experienced professionals who wish to learn expert managerial skills. During the course, students are taught about various proven ways and are imbibed with skills so that they can become successful managers in their career.
Some of the common areas of focus during an MBA course are – advertising products, maintaining healthy finances of the company, interpreting industry data, hiring appropriate employees, handling unexpected challenges, meeting forecasted sales and revenue targets, learning various ways to target customers, cold calling, and more.
2. Better Probabilities of Higher Salary:
Well, it is not essential that all those who do an MBA are offered with a higher salary. It is because this depends on lots of other factors as well like the institute from which you do an MBA, the grades you score, the extent of skills you learn, and the way you are able to execute the knowledge learned during the span of your course.
But, yes doing an MBA will definitely help you get better salary in comparison to other courses. You can expect a higher stipend if you are able to complete successfully the MBA course, and if you do it from a prestigious institute, then your payoff can be unimaginably high.
3. Learn the Skills of Starting Your Company from Scratch:
If you have always desired to become an entrepreneur then doing an MBA will be the best thing for you.
An MBA program can help you transform your dream into a big reality. This program is structured to help you acquire the business practices and knowledge that are needed to begin a new business or to expand and grow any existing business.
Most of the MBA experts end up beginning their own business and those who don't go for it are able to land to a reputed position in a prestigious organization.
4. Your Door to Numerous Career Opportunities:
The MBA program offer individuals with higher qualifications, which offers them with better chances of holding and availing high-level managerial position. More than 50% of MBA students across the world are either board of directors, senior managers, or business entrepreneurs.
This position is respectable in its own, and hence, offers a direct access to individuals with better career opportunities.
5. A Great Platform to Experience New Culture During Studies:
If you plan to study MBA from abroad then you will not just learn a new perspective of doing and managing the business, but will also experience an all new culture and place during your study.
This is great to expand the intellectual and cultural horizons as well as an excellent way to boost your career prospects. If you are studying MBA abroad then you can even identify new companies there with whom you want to work. Also, it is possible that if you excel in your studies, then you might end up staying as well as working there and even start your own business there.
6. Boosts Confidence:
An MBA course increases not just your skills and knowledge, but also boosts your confidence to a great extent.
You might be having a shy personality or lack the confidence to speak in public, but doing an MBA course will combat all such limitations. It is because an MBA course involves giving numerous groups discussions, presentations, attending seminars, doing group projects, and lots of other stuff. As a result, you learn to interact with different people having distinct mind sets, background, interests, skills and knowledge.
7. Learn Dealing with New People:
If you aspire to become a manager then you must possess the skill to learn dealing with new people, use skills of people in the best possible way, and to interact with individuals of different personalities to get the work done.
Furthermore, an MBA course helps to learn expanding the network. If you don't know the correct art of dealing with different people then you will not be able to become a successful manager ever. During your MBA course, you will get the chance to learn and inherent such skills.
8. Gain Specialization in a Specific Field:
You can do an MBA course in order to gain generic as well as specific knowledge about the subject. An MBA course is offered in various fields such as finance, HR, marketing, and more.
Every individual who does an MBA is able to get a brief knowledge about all the aspects and specialized knowledge about their preferred subject. After all, if you want to become a successful manager and desire to head a company then you must learn the various functionalities of the business and learn how to run it properly.
9. An Excellent Way to Advancement in Career:
When you become an MBA then you offer a great boost to your career. This is true, not just in terms of earnings and promotions, but also in terms of designation, reputations, knowledge, and expertise.
Doing an MBA course lets you become part of the management department and thereby gain knowledge about the art of making proper decision. Once you are able to do so then it all depends on how you use your personal intelligence and skills in order to climb the pace and become a senior manager from a line manager.
10. Adaptability to Changes:
When you become an MBA then you have to learn dealing with people as well as varying situations.
During your study, you are offered with different scenarios to deal with. You are trained to learn and analyze various situations, tackle disruptions, control and manipulate situations, adapt to changing scenarios, and stand successful under all circumstances.
11. Access to the Best Network:
This is one of the best benefits of doing an MBA course. No matter to which institute you go and to which specialization you select, your MBA program will definitely take you to a long way of networking with different people and personalities who can help your career to grow rapidly.
You may even get the opportunity to stay in touch with professionals who require the job to be done and getting professional help from such experts whenever you are stuck in a problem. With best network in hand, you are able to access valuable information and practice the course without experiencing many troubles.
12. A Convenient Way to Switch From Your Career:
The MBA curriculum is a comprehensive one including lots of topics and subjects. The curriculum helps students from varying aspects to learn in-depth knowledge about business development and business management.
Combined with this is the added benefit of internship opportunities offered to students. This helps the students to do the course who intend to switch to another career stream. Hence, if you are looking for a different career option related to the business field then doing an MBA will be a great option.
13. It Improves the Professional Skills:
One of the major benefits of an MBA course is to improve your practical and theoretical knowledge of how a business functions.
A core component of business success or any other business endeavor that matters is possessing excellent soft skills, like teamwork, leadership, and communication. Whether you desire to get a promotion or start an enterprise, having such skills can create a huge difference between failure and success.
14. It Offers a Better Job Security:
The job market is highly competitive than before filing numerous uncertainties and troubles of left out. This is a major benefit of doing MBA that it offers bigger job security that may contribute to the peace of mind.
The skills developed during an MBA program will ensure that you make a valuable member of the group. Even when you leave a job then your business qualifications will remain with you, enhancing the probability of getting a better job or to work more efficiently.
15. Broadens your Perspective:
Doing an MBA helps broaden your enterprise knowledge as well as helps you comprehend well the nuances of functioning in a global arena.
Most of such programs include overseas immersion trip so that the students can have an experience to manage their business in the global world. With this program it becomes possible to attract international students that add to the classroom diversity and enhance the overall discussion experience. If you wish to expand in the global economy, then this is the best advantage of the MBA program.
When you are able to successfully graduate from an MBA, then you can plan a strong career ahead. It is a highly respected and acknowledged degree that will definitely enhance your credibility among professionals and business classes. The best advantage of MBA is however, its versatility as it allows you to get into various career options and get hire to a better paying job faster.