What is a Marketing Agency? What does it do?

You think- Marketing agency is something that sounds so foreign these days. Do you know why we are so confused about the marketing agency terms? I will tell you why it is so.
With time, several people (excluding the marketing agency) have started with the brand building programs. These programs or activities have become a side business for small shop owners, students, etc.
For a few odd dollars, they promise you good work. Places from where you buy all your stationery for the office may offer you to build your brand through selling material with your brand logos.
On the other hand, college students have decided on using stuff like taking videos and pictures of the company, to build the brand through social media, for a part time income.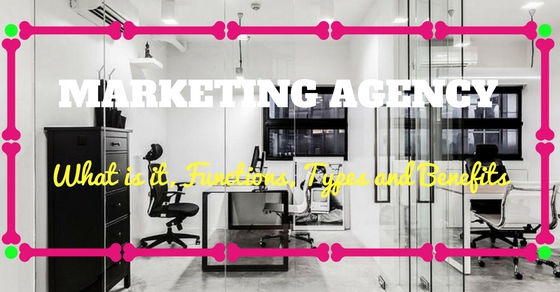 Reality – Marketing firm or a marketing agency is a specialized firm that helps in building your brand name in the most effective manner possible. A marketing agency has a specialized set of people who are efficiently trained in their work to give a profitable and worth result in a given time.
Unlike the amateur set of people who propose to sell material with your logos, what does a marketing agency do is to provide a counseling session with the client. This session includes discussion on various promotional strategies and tools for a better launch of the product in the market.
Herein the marketers discuss all the boons and banes of the technique that they will be using or are advising to use, with the client. They are experts in their field and thus the client pays for something worth the investment.
Functions of a Marketing Agency:
A marketing agency has innumerable functions to perform. These functions include web designing, social media marketing, web videos., television advertisement, consultation for business, branding, public relations, campaign development, hoardings, mails and or newsletters, ads and pamphlets, etc.
The functions of the marketing agencies do not limit to these. Thus, it is a full service i.e. all-rounder development of the products or the brand.
Tips:
People offering any lesser than the above list are far from being a marketing agency. Marketing agents have all sorts of contacts with printers, newspapers, radio stations, TV networks, etc.
Getting things done one by one from different people is too much of hassle. Instead, the marketing agency is one place where you get everything at once in a single package (effective too).
Marketing Agencies Types Based on the Functions:
Some marketing agencies may include entire functions while others specialize in solely one main function.
1. Advertising agency:
Advertising agencies are a creative set of people. Their functions are to create a perfect advertising plan and develop it into a successful campaign through print media like magazines, newspapers, hoardings, etc.
They also include radio and television in the plan. In short, these creative people can be of great use in reaching out to a wide audience.
2. Brand agency – the beginning:
Brand agencies are the ones that help in the initial stage of firm building. When an entrepreneur decides to start a new business, he or she has no readymade company name, logo, etc.
The brand agency is the best one in such a case. They conduct appropriate market research to get the hang of the market and its demand. Then they plan and strategize about the company name, logo, visual identity, etc. With the help of print and design people. One brilliant example of a creative logo is an arrow in the FedEx brand's logo.
3. Graphic and design agency – artistic:
Graphic and design agencies, as the name suggests, play an important role in converting content into a visualized image.
Visualization is the core function of this agency. However, its function is not restricted in the boundary of logo designing. They also produce artistic designs for advertising or packaging the product.
4. Digital or virtual Marketing:
Digital or virtual marketing may give a relating hint of social media. However, you did get it wrong this time. Digital or virtual marketing is an agency that focuses on creating a web of potential customers through the official company website.
They have strategies to implement or execute the plan. However, the sole goal is to attract more and more customers on the website of the company. Email and newsletter is another form of marketing provided by digital marketing agencies.
5. Market Research agency:
The market agency shares its feature with the brand agency but they are two different categories. The brand agency focuses on building a place for a new firm whereas the market research is carried out to analyze the market and the demand.
This does not apply to the newly created firms as they have barely made into the market yet. This research can be made through a street questionnaire or an online poll.
6. Media agency:
The media agency is another agency that works in affiliation with another agency. This agency works with the advertising agencies in planning the perfect platform for advertising.
For example, a place for the hoarding, magazine selection, newspaper, etc. This selection is based on the target audience and the reach through strategic advertising.
7. Print agency:
Have you seen those printed t-shirts and various other accessories with a brand name? However, those accessories have nothing to do with the brand. Well, that is a print agency for you.
The print agency checks out for good accessories and promotes your brand through the printing work. Also, the print agency is responsible for ensuring the punctuality. It manages the three aspects i.e. the budget, print quality, and deadlines.
8. Public Relations (PR):
PR i.e. the public relation agency not only maintains the good image of the company in the market but also look into matters like the promotion and feedback from the newspaper, magazine, television, or radio, whatever version you had planned.
9. Social Media:
Our generation is greatly divided on social networking sites. You name the site and the maximum of the youth population will be on the site. For example, social sites like LinkedIn, Facebook, Twitter, YouTube, Tumblr, etc.
These sites make it easier to reach a good amount of target audiences. Therefore, the social media agency found a solution. This agency helps you in building your brand widely over social media.
10. Web Designing agency:
Web designing agencies are responsible for building an attractive official website and develop it well with the theme, uptime, readability, etc. And web designing agencies work in affiliation with digital or virtual agencies as well as social media marketing.
However, some organization does not have a separate affiliating agency, instead, everything is provided under the same agency.
How would you choose a perfect package for yourself? Choosing something while considering the need is important. Hence, you have Marketing Consultants. These consultants have a wide knowledge of all the agencies and their offers.
They understand the consumer's needs well. A marketing consultant is like the main unit that runs everything. He or she, based on consumer need, makes the strategies and focus on the correct set of agencies to work together.
Why did I say the correct set of agencies?
Well, firstly these agencies work on the budget you give. Therefore, they do not extend to doing unnecessary work. For example, if your company is not much older than 2 months, then the marketing consultant would make strategies that help in building the brand at an early stage via a marketing agency.
Top 7 Benefits of Hiring a Marketing Agency:
Hiring people for some advice and getting work done by others is so much of trouble. You are a businessperson; however, these marketing strategies by various people have ruined you thoroughly.
Instead, why not hire experts. Marketing agencies are filled with experts. They will provide you the best according to your needs. Let us look at the benefits you get by outsourcing a marketing agency.
1. More than just a professional skilled marketer:
Marketing systems provide you with wonderful strategies, previous experience, advanced technology, etc. Also, you can intervene within the process, give your input, explain your personal view and check on how effective the strategies are working.
A skilled marketing person can make great changes to company revenue. Whereas, when you deal with marketing personnel with a lack of skills, he can affect the growth of your company adversely. With new technology at hand, marketers need to master the new advanced skills to keep up with the market.
An agency is responsible to give you all the aspects (up-to-date skilled marketers) within one dome. Agencies try to provide you with your requirements, within budget, and with the latest economic (market) knowledge.
2. Profit is the focus point for executives:
Executives have always opted for strategies that are profitable for the company on a whole. The result of any investment depends on the market value and partly the luck. However, profit is always one of the aims.
In marketing, when you hire someone for some kind of job, it costs you a good amount. However, if the hired marketer is unable to do his work profitably, then your valuable investment is a loss.
When you hire a marketing agency, they not only assure a positive outcome but also provide you with contacts that can save your money on outsourcing purchasing. A marketing agency is one package with various skilled talents and access to a cross functional team.
For example, if your consultant from the agency is stuck somewhere, he or she receives multi-diverse guidance from the entire skilled and qualified team. as a result, they hardly ever take a wrong decision.
3. Access to the professional interpretation of market data:
Marketing departments generally face problems when it comes to technology. Not everyone can afford to have a huge range of the latest technology. For companies with huge capital, it is possible to lay hand on the technology of their choice. However, they have no idea as to which is suitable and required investment. At the same time, small-scale companies find it hard to invest in this technology at all.
The work of marketing tools and technology is to increase and boost the efficiency, performance, and productivity of the strategy. When you hire a marketing agency, you are not only given access to the latest technology but also given accurate analytical reports. The entire work is done by professional and qualified people. Thus, it is a win-win situation.
4. Less burden on the routine of the staff:
In-house marketers are always an option for people who want to save some money by slumping down extra work on the staff.
Do you realize the trouble, hassle and discomfort your staff would feel on this sudden extra work? These burdens will not only make them tired and exhausted but reduce the regular productivity of your company on a longer run.
Also; your marketing strategies may fail or be less effective. Moreover, there is always this possibility of your staff resigning from the company due to the extra workload. They are assets of the company, who know the insights of its working and strategies.
Hence, when they leave they take a certain amount of knowledge about your assets along with them.
5. You save time and money:
Not your entire workforce possesses skills in the marketing industry. At one point, all of them lack a certain stage. Thus, when you choose an in-housing marketer, you require a set of skillful employees. Therefore, you will have to train your employees to work according to the requirement of the marketer.
However, if you directly opt to hire a professional and skilled marketing agency, you save money as well as time on training the entire workforce. Hence, the marketing agency is after all beneficial than in-housing marketers.
6. They stay abreast with the latest marketing trend:
Learning is a continuous process. There is no end to learning until you die. An in-housing marketer handles everything on his own. As a result, he barely has time to go through the latest technological development or tools for marketing.
Thus, there are more odds of them to be ineffective. However, marketing agencies take education as their major asset. They believe in training and getting abreast of the latest trends in marketing.
7. The outside perspective:
As businesspersons, your company is the best in your eyes. Similarly, your employees would not dare say anything wrong about the business. When you hire a marketing agency, they give you an outside perspective of the status of your business. The first step toward success is by identifying the current position and aiming for better.
Thus, we can say that indeed marketing agencies are worth hiring for the business.