Success for business owners is always achieved by means of networking and word of mouth. In that manner social media marketing can mean a lot for business owners to highlight their business. It requires professional and effective way to use social media. Facebook, Google+ and Twitter were mainly targeted as a source for business by many business owners to grab in more clients.
But business people should remember that these mentioned social networking sites are for social interactions and is not an appropriate channel to sell your product or service online. Business owners can .
Therefore make use of LinkedIn which is the biggest network with a number of trained professionals. Let's glance through a few LinkedIn profile tips for business owners.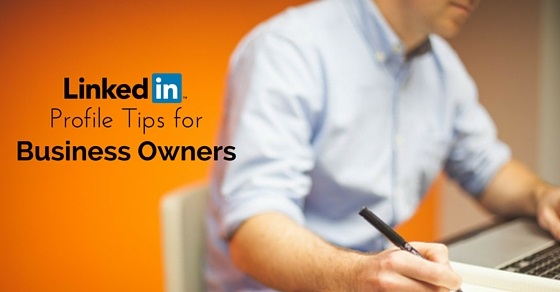 Tips For Business Owners to Leverage LinkedIn:
1. Adjusting the experience section of your business:
Business owners should be keen that their LinkedIn profile has their present business experience mentioned in it. Any old business or some experience which has nothing to do with the current business can be avoided.
Bhattacharya who is the founder and CEO of LineShed mentions that if the business owner is selling tiles then his profile with the number of pizzas delivered last month is something irrelevant to the profile.
Business owners should always bear in mind to stick to metrics and accomplishments that are appropriate to the present business. Otherwise there are more chances of confusion and risk that the clients may turn you off.
2. Listing skills and expertise:
Skills and expertise should be ones relating to your business, For Example if you own a bakery, mentioning computer and programming skills can baffle the client. When there are ample skills it is confusing and the client leaves interest. Hence, mention skills relevant to the business in your resume.
3. Make yourself public:
LinkedIn has the option which allows you to make visible as much as you desire. You can decide in LinkedIn how much information you wanted to make visible with people you're not connected.
The best suggestion would be that being a business owner, the individual should be open in the internet so that they receive more contacts which add to the success of the business. When you're fully visible in the internet searches, then you're maximizing your potential reach. To make your profile public, click settings and edit your public profile.
4. Engage and present as a business member:
It is important for business owners to know that LinkedIn is also a social media site but, completely varied from Twitter and Facebook. When you're using LinkedIn as a business owner, make sure to present your business face.
It is also good participating in more number of groups so that they are noticed. If you're unable to find a group, start one and carry on.
5. Finding you easily:
To help your prospects find you easily, make sure you optimize your profile. You should be one found at the top of the search results when a client or prospect searches for you in order to get linked to you.
Make a sketch of keywords that your client would use to find you out, in that aspect Google Keyword tool can be a great source which can help you out in this scenario.
6. Requirement for a vanity URL:
In order to grow and expand your business, LinkedIn assigns business owners with a URL which makes use of numeric code. This can be activated by getting into settings and clicking on public profile which helps you use your company name in your URL. This is an effective way to make your business highlighted.
7. Recommendations from employees:
Business owners are the ones who need more traffic and your profile can be loaded with traffic by gaining recommendations from the present as well as the past employees. People who are getting to know and learning your business can be impressed and made favorable.
8. Initiate a group:
Business owners should know that in order to make business and expand in all directions it is important to begin a group with a title that is appropriate to the business or customers.
Suppose you're a budding business owner and belong to a particular city then you can have your group name in that aspect Example Huntington beach small business. One advantage of groups is that you can become an expertise and a leader within your locality.
9. Updating company status regularly:
The status of your company should be updated regularly, by this way your followers will get to know what is happening in your company.
Business owners should be informative and provide clients or followers with ample information. Link to interesting articles and always make sure to offer value to the customers and followers who follow you.
10. Company page:
Almost small and many business owners do not take the little effort to develop a company page for their profile in LinkedIn. This is considered as one of the biggest mistakes because irrespective of the size of the business, developing company page for your profile can bring you a number of benefits.
Additional pages for the company can be added and ample products and services can be added to the pages. Search results have these pages and fetch you people looking for your type of company.
11. Professional picture is a must:
Being a business network professional's site, the picture uploaded should definitely be a professional one. Business owners should avoid pictures with agent X in your hands or other sort of pictures. There are many people who have lost opportunities because they did not possess a professional profile picture.
12. Custom website link facility:
The best beneficial factor for business owners in LinkedIn is that they can add up to three website to their profile. Business owners can make use of this facility and add websites if they possess.
The default website in the profile is the company website and this can be altered by clicking drop down list and selecting the desired one. By this way you are also allowed to add your keywords which offer you more chances to get listed in the top of the LinkedIn search results.
13. Best practices in LinkedIn blog for customers:
These are a few tips which can be useful for business owners with LinkedIn. Your profile should be a source which offers more message and information about your industry. Business owners should make sure that they engage customers and develop relationship with them.
Make sure your customers are not stuffed with promotional messages and products often instead be good friends with them. Likes and comments are obtained with the status that is posted, and hence status is very important. The owner should also ask for feedback from the customers to followers so that they can rectify issues and enhance their performance.
14. Answer section of LinkedIn:
To develop authority and also link with other professionals, the LinkedIn answer section can be utilized. For this possibility the user needs to get to the top of the screen where they can choose and get answers for questions. By this way potential clients can be obtained in an easy manner.
15. Groups is a must:
Apart from creating your own group it is important to join in other groups which are beneficial and informative. Business owners should remember to join into groups that are relevant to the industry.
Once the owners are a member of the group, it is mandatory to share original content from the page of the business. Also make a habit to comment on discussions that are famed so that your business is noticed. The buzz information each week can be determined by selecting get weekly digest.
Finally :
It can now infuse an eagerness in many business owners mind to optimize their LinkedIn profiles. There are ample points which mention for optimizing LinkedIn profile especially for business people. It is important to remember that every employee should complete the profile to 100% and do not leave incomplete.
LinkedIn is a gift and with this business owners can elevate their position of business with just a few clicks. The owner can gain in more contacts, information and lot more. The above mentioned tips are very useful for business owners in order to maximize their business and make it successful. More clients are obtained and productivity and sales are enhanced with the help of LinkedIn. Hence make proper use of LinkedIn and get benefitted.