Wanting to get a job within a day?
If yes, then you should first remember that it is not as easy as it sounds. You will be able to get a job within a day if you have prepared from before only.
And that is exactly what this post will help you with. In this article, you will learn how to find the job of your dreams within a days period provided you do what is told in the section below. Read the points carefully before starting off.
Also, the points have been tried and tested by several and have also paid off well. So trying some of them will surely take you a long way. Keep reading the post to find out what they are!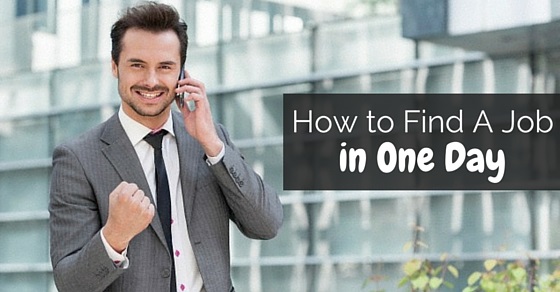 How to Get a Job in a Day?
1. View your previous resources once again:
It is now time to take a look at the work you have done so far and see which experiences and relationships can help you get a job again. There are only a few candidates who take reference letters from their old employers. Most managers or even executives who have come to us over the past few years have always come with a recommendation that is written.
When you receive such a letter, it helps your current boss understand how valuable and capable you are so that they can hire you for a new position immediately.
2. Get your resume done properly:
A second thing that should help you land a job in a day is getting your resume done right. If you are looking for a specific job within a days time, it is important to mention the key skills that will match with the needs of the job.
You should also have a summary of your previous achievements as this is vital for your recruiters understanding. It was very much worthwhile to have the resume developed by certain consultants who understand what the recruiters need and what they would like to see among job candidates.
The LinkedIn profile you have will boost your visibility as well as credibility. You should always check your resume twice and make use of the information that is available online on Google search by using the name and see whether your profile makes you look positive.
3. Show the employers what you are capable of:
A third point that can definitely help you get a job in a day is by proving to the client what you are capable of. Since this is an interview, you have to be able to make a good impression in front of them within a matter of minutes.
Whatever you have done in the past, from your previous volunteering to achievements shall be mentioned in this resume. You should also be able to talk about it when a question is asked to you.
4. Look fresh during the interview:
There are so many times when we have all the right qualifications but don't get the job just because we haven't turned up wearing the right outfit.
Experts have stated that it is actually quite easy to look like a professional when you are leaving home but by the time you reach the allotted place, there are chances you will look less impressive.
So carry your cologne and always remember to freshen up in the washroom. Carry wet wipes to wipe your face. You should be looking good during the interview.
5. Clean up all the social media messes:
Before going for an interview, it is important to clean up all the social media messes. After all, your recruiters will first judge your personality from your social media works.
There are some things that you should absolutely refrain from like:
making fun of or bad mouthing others
giving away information related to drugs and drinking
having a screen name that sounds highly unprofessional
giving away confidential information
making sexist or even discriminatory comments
All of this counts significantly. So if you have made any of these mistakes we suggest you stop right away.
6. Boost your network:
Another tip that you should prepare from beforehand is expanding your networks. Those who work on their networking skills are able to land a job faster than people who do not. You should let people know everywhere that you are in search for a job. This also includes your pals on Facebook and a few professional contacts as well.
If you don't happen to be a member of some professional association, you should join one immediately. This will help you get a job in the future if not now. There are plenty of recruiters and professionals who want raw talent or purple squirrels. You could definitely help them in that way.
7. Improve your skills:
In order to land a good job, you should have to boost and improve your interview skills. However, if the resume is not strong you will have to show the interviewer that you are talented and definitely worth a call.
You must show that you are a strong contender for the right job and be able to convince the employer to hire you only. You will have to prepare for the interviews for like any other test, especially if you have all the right information.
You have to devote some time and energy for preparing all the questions along with the recruiters who are much likely to devote their time in noticing your behaviour.
So make sure you have prepared the questions and are able to establish a good rapport with the person interviewing you.
8. Compete in an aggressive manner:
This is something that you should always remember. No matter at what point you are dealing with in life, always remember to investigate accordingly and compete very aggressively. This is often about being proactive and investigating a few local companies in order to understand the current hiring needs.
At times it is all about being decisive during an interview instead of simply beating about the bush especially when a question is to be answered. This also means that you will have to spend some more time on the preparation and then follow up.
If you want to get a job fast, go for the right ones that come with an advantage.
9. Your cover letter should be professional:
Always remember to have a professional cover letter during the interview. They should accomplish several important things that will help you get a job fast.
The language should be professional and formal, especially when it comes to composing a formal letter. You should remember to begin your letter with a formal greeting.
The letter should conclude by mentioning the interest that you have towards this job and why you believe you would be perfect for the post. You should also keep away from silly humour while writing a good cover letter.
10. Practice questions from beforehand:
Before attending an interview, it is crucial to practice some questions from beforehand. You should have some questions in mind already. Practice them when you are alone and in front of the mirror. See how you are answering them.
Do you sound good while speaking? Check and practice as much as you can before you attend the interview.
These practice questions can definitely take you a long way if you want to land a job that too within a day's time. So spend enough time on practice every day.
11. Seek for those jobs only that match with your qualifications:
This point will always help you save up on a lot of time and get that job within the shortest period of time. If you look for jobs that only match with your qualifications, you will be able to get what you want even at a faster pace.
Go to different websites and see what they have at this point for your experience. Try some of them and we bet you will get the job in a day for sure.
12. Go everywhere:
If you want a job in a day, you might try this idea. Go job hunting everywhere you can. Look up the newspaper for ads on a regular basis and then choose the best 5 you think that will help you. Then go to their offices and go through the interview.
See if you are eligible enough. Who knows? You actually might get a job within a day. There are so many people who have tried this technique and it has worked like magic for them. We bet it will help you too.
13. Take all the necessary stuff:
Before attending an interview, it is important to carry all the stuff that is necessary. From your cv to your cover letter and certificates, everything should be carried. After all, they expect you to have everything in hand during an interview.
So make sure you haven't missed out on any of these things. Plus you should remember to be well dressed and carry yourself properly. That is also something that matters.
Also remember that getting a job has a lot to do with your personality. So show yourself in the right way and you will have it.
14. Speak to all the prospective employers from a day before:
Speaking to all the important employers a day before also matters! Take some time out and speak to the supervisors who can actually give you a good idea of what you need to do well. You should show that you are genuinely interested in an interview.
Make sure that you have practiced some questions in hand so that all awkward silences can be avoided. Plus dress in a professional manner when you go to meet these people. You have to show that you mean business and are here for a good cause.
Final tips:
Here are some final tips that will surely help you get a job within a day
Don't get all depressed:
I know it is hard to get what you want but don't ever let these ideas get you down. Do not get depressed if it becomes a failure in your first try. These guys can always call you back when they need you.
Instead of feeling bad, be glad that you tried at least, and keep trying. If you follow all of the ideas we have just shown you, you will definitely be able to get a job sooner than later.
Do a practice interview:
You should always remember to do a practice interview before attending one. Ask someone who is your friend and a professional. Make them sit down and take your interview. There are so many things that you will actually begin to learn from this point. Your real side will come out during this interview.
Not only will you learn where you are going wrong but also be able to correct those mistakes. Won't that be a great thing to do before an interview?
Conclusion:
This brings the post to an end. If you are trying to get a job in a day, these points should certainly help. Also if you want something that can be obtained within a short period of time, these ideas will take you a long way.
Getting a job is not as hard as some of you might think. Also, it is not as easy as some of you are imagining. The right amount of preparation can actually help you a lot in the future.
So always try your best and see what happens next! Plus in case you have some feedback in mind, it would be great if you could like to drop a comment down in the box below.
We would always love to hear from you. Your questions are also appreciated so don't forget to jot them down either. On that note, good luck and wish you all the very best.