Employees are a very integral yet important part of any organization or industry and without them, not a single business can flourish nor can any company achieve its goals.
Employees are the ones who make things happen, give you the desired result, work through the operations and set the standard. In fact, the profitability of the business can never be enjoyed without employees.
A lot of things are to be kept in mind while hiring them as the business and its operations heavily depend on them.
As the business takes a lot of changes while operating, the employees are the ones who are affected the most.
The change could be related to handling a new manager or change in ownership of the company, new productions, office policies and what not but they must know about adapting change.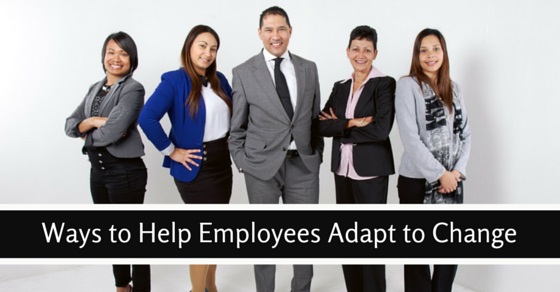 It is, therefore, very essential to help your employees get easily adapted to all kinds of changes so that you get the best from them in return.
Management often finds it difficult to handle such situations and they underestimate their employees which result in the downfall of even the biggest business empires.
Thus, the following are some easy ways for you to help your employees adapt to change in the workplace:
How Can Organizations Help Employees Adapt to Change?
Change is inevitable and is nature's law. It holds true in the professional world and is not unavoidable. Accepting it and getting accustomed to it, is the best solution. And to make it possible organization play an important role.
Here are few tips for helping employees deal with change in the workplace
1. Take Employees Into Confidence:
The most important step in helping an employee adapt to the change is taking him into confidence.
This will be very helpful if there are any organizational changes which are likely to cause any type of panic and anxiety in the section of employees.
Make employee understand the change or condition completely.
Illustrate the current situation, and explain every point so that the employee finds itself in a better position and knows what exactly is happening.
2. Make Your Employees Feel Safe And Secure:
When you explain the changing initiatives in the organization to an employee, also let the employee know that his position is secured and he will not be kicked out of the job.
Hence, when he knows that he has his place maintained in the organization along with his regular pay, he will feel secure and would have no difficulty trying to adapt to the changes.
Also, explain the cause and final outcome of the change which is likely to occur to the employees. This plays a very important role and waves a sense of security and motivation amongst the employees.
3. Help Your Employees To Adapt To The Change With Relevant Training:
Do not make your employees feel that they are not suitable for the change or not educated enough to continue working once the organization goes through certain changes.
Provide them with proper education, training, illustration, coaching, practice or whatever it takes to encourage them to adapt to the change.
4. Keep Your Employees Highly Motivated:
Motivation is yet another point to be kept in mind as it helps the employees to adapt well to the change.
Brief your employees about the change, and motivate them by telling how effective and helpful this change will be for their future.
The skills, processes, innovations, products, new technologies and training will be useful not only for the organization but also for their future.
You can tell them how trained employees are high in demand in a lot of organizations which is why they need to be a part of the new training and changes around the workplace.
This way, they will be more competent than the other employees of other organizations. It will make them more educated, motivated and encouraged towards work and thus, the outcome will be more positive for the organization.
5. Monetary Reward Is The Best Form Of Motivation:
Almost everyone in this world works to earn money.
When you see that employees are keen and anxious for the change and can strive hard to get the desired outcome and result, offer them some monetary reward.
This way, the employee will certainly be more motivated, will work harder with his heart, and get easily adapted to some new initiatives taken by the organization, referred to as changes.
6. Share The Facts And Figures With Your Employees:
Show them how the change can bring a huge difference not only for the organization but for them too.
Share the data and the numbers with them, and let them realize what will happen if the change is not adopted.
7. No Matter What Happens, Tell Your Employees That You Are There For Them:
Let your employees know that you are with them throughout the journey. The new change can be quite difficult for them but make sure to let them know that you are with them throughout every thick and thin.
Tell them that you are there for any help or guidance and they have your strong support. This will definitely make the adaptation easier for both you and your employees.
8. Make New Teams Amongst Employees:
Make new pairs. Try to pair the younger ones with the older ones so that the older ones can help the younger ones with their experience whereas the younger ones can help the older ones with new technology.
Making new teams can be more refreshing and would bring a new change for the employees as well.
Not only this fresh change will help them adapt to any changes in the organization but it will also help them to learn the nature of others and get inspired by each other.
This type of change is very much important for everyone as working with the same teams can be extremely boring, especially when the organization has plans for certain changes in the workplace.
9. Present The New Changes As Exciting Challenges For The Employees:
It is easy to assume that every employee will easily adapt to changes in the work environment but it is a lot tougher than one can imagine.
There may be some hardships in handling certain employees as it is human nature to not accept any change suddenly but you can always motivate them to face the changes positively.
Present the situation in a way that they take it is a challenge that will make their position stronger.
10. Allow Your Employees To Contribute To The Change:
An organization is nothing without employees; make them feel how important they are and how much their suggestions are valued.
Allow your employees to contribute to the change, and ask about their ideas or suggestions.
Hold meetings or start a poll about what they think can be done better to smoothly introduce and implement the new change. This is surely going to make them feel more comfortable with the change.
Changes may be related to any part or operation of the organization but as employees are the ones who work hard to get the desired results, therefore it becomes mandatory not to leave them alone in a situation that is new for them.
If your employees are not happy and they do not get along with the change well, then you are sure to make the working of the organization suffer.
Employees are an essential asset for every organization, which is why it is extremely important to help them adapt well to any change.
Author Bio: Lisa Marina is an HR consultant who provides consultancy to a leading assignment writing service provider. Moreover, she blogs workplace ethics that help employee adjust in a changed working environment.
Save