The work culture varies from country to country and state to state. The attires or outfits that may seem acceptable as formal wear in one part of the world may not be acceptable in another part of the world.
It is thus vital that you understand the code of dress for work in India when you plan to work in India.
Here we have listed out the different acceptable formal outfits for men and women in India.
If you follow these simple suggestions, you will be able to easily mingle with the dressing ethics of Indian professional environment.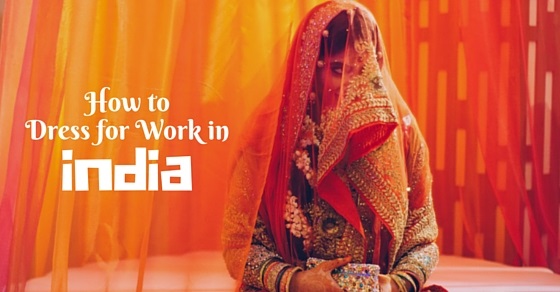 Dress for Work to Ladies in India:
When it comes to getting dressed for the office, women in India have multiple options to choose from.
There is a wide range of attires that are acceptable as formal office wear for women. This permits women to be stylish and variant in their styles.
Here we have listed out a few of the common formal office outfits for women in India.
Saree:
Saree is one common outfit that women in different parts of India wear in different styles.
The official look of Saree with the Palo on the left side is now the most common way to wear this outfit.
It is an acceptable professional outfit that women in India wear to their offices. The Sarees come in many different colors and materials.
A typical bun type hairstyle and a perfect formal sandal will complete the formal look of a woman in a Saree.
Office going women usually use a minimum level of makeup and jewelry to maintain the professional look and feel.
Salwar Suit:
While saree is a very common traditional outfit, many of the modern women find this attire confusing to wear and difficult to manage. That is the reason why many of them are opting for Salwar Suit or Salwar Kameez as the traditional formal alternative.
The salwar suits are available in many styles and fashions. If you are picking a salwar suit for office, go for one with a simple pattern.
Avoid Anarkali style suits as these are usually meant for festive occasions. A kurta style top is an ideal woman's office wear. Avoid loud colors like pink, bright green and light blue as these are more suitable for casual occasions.
Trouser and Formal Shirt:
In India, Indian traditional dress or outfits are commonly worn as formal clothes to offices. These are more common in the rural areas of India where fashion has still not caught up.
On the contrary, in cities, women also opt for formal shirts and trousers to wear to offices. The Indian women usually lack height and such outfits may not be the best pick for short women.
Pick trousers and shirts that go well with your look and figure. Selecting the right colors to make you look appealing is no easy task.
Well dressed women gain more attention and authority in the workplace and hence it is advisable to pay attention to your outfit before heading to work.
Formal Skirt and Shirt:
A formal knee-length skirt and a matching top or shirt also go well for professional women. These attires are best suited if you work in a multinational firm where the formal office dress code is followed.
The formal skirts were maybe dark-colored. The usual choices are black or navy blue. Make sure to pick a skirt that is no shorter than the knee level as this may not be acceptable in a formal environment.
Office Clothing Tips for Men in India:
The number of choices for men is somewhat lesser than that for women in the Indian professional environment.
Men usually adhere to the international codes of professional dressing and wear professional outfits that universally accepted.
Here we have listed a few of the most common Indian clothing men prefer to wear in India.
Pant and Shirt:
If you are doing an ordinary job where you do not have to interact with the corporate directly then a regular formal shirt and pants are the best office attire for men. You may select plain or striped shirts for regular working days.
If you are heading for an interview or if you have a presentation to attend, a tie would make a perfect accessory with your outfit. While most people do not seem to need the wristwatch because of their cellphones, it still makes an ideal professional accessory.
Tuxedo Suit:
While pants and shirts make a great professional outfit for most of the lower ranks, those handling managerial positions should have an edge over the others. They may opt for a Tuxedo suit for higher-level meetings or seminars.
These add to the persona and are great when you are heading for some international interaction. It adds to your persona if you have a good height and other appealing traits.
Safari Suit:
The Safari suit was a common formal attire for businessmen in India in the early nineties. These are stylish and come in some shades of grey and cream. They look great even on short men if they are stitched to perfection.
The best part of these Safari suits is that they are incredibly comfortable. They even have front pockets where you can place your cellphones.
Make sure you pick the right designer to design your Safari Suit so that it has the right look and feel.
Kurta Pajama:
Even in Indian offices, Kurta Pyjama is worn to the office only during celebrations and occasions. This is particularly the case in cities. Kurta and Pyjama were acceptable formal wear in the past but the things have changed lately with India being greatly influenced by the western dressing styles.
Usually simple white, off-white or grey Kurta Pyjama wore by men in the formal environment. At present, only politicians opt for this Indian formal wear or outfit. Yet, it could still be acceptable formal attire for men in the remote rural locations of India.
Dressing in an office is a great challenge for many who are not aware of the work culture in different places. The perfect attire is just the beginning of the perfect formal wear. You also need to have the right accessories so that you get the perfect look while heading to your workplace.
Here we have made a list of the right accessories for men and women that help them get the perfect professional look.
Hair Accessories for Women:
Women need to pick a nice hairstyle for their professional life. The hairstyle should be neat and elegant.
Pick some hairstyle where the hair does not come in your eye or affect your work. A bun is one of the most common hairstyles selected by Indian working women. You just need to have a good clip to tie all your hair in a proper bun.
Another option is to tie one ponytail. This is a great option if your hair is of medium length and cannot be tied into a bun. Other women maintain short hairstyles like Bob cut or Boy cut. You need to make sure you select a style that goes well with your face shape.
Footwear for Men and Women:
Men and women need to pick good formal shoes for their office hours. Men can select from a wide range of good leather shoes that offer comfort and protection.
Women have an option to choose between sandals and chappals. They may choose to wear flats or heels. They must opt for footwear that they are comfortable in.
Handbag for Women:
Women often tempted to purchase funky and attractive bags but these do not create the formal appeal.
Instead, women should opt for handbags of sober shades that have convenient storage space for organized storage of all their daily wares.
They also have long handled and short handle bag options to choose from. Again here, a woman should opt for the one she accustomed, so that handling it won't strain her.
Wallet for Men:
The wallet is an important accessory for men who are working. It is best to go for a wallet with several pockets so that you have a place for all your ids and documents.
It is a great idea to go for a leather wallet as these tend to last longer. Sleek wallets are now in vogue because they fit into the pockets easily.
Hygiene Accessories:
Your hygiene habits matter a lot in the workplace. It is thus a great idea to carry a hand sanitizer to keep your hands fresh throughout. It is also a good idea to carry a packet of fresh wipes.
When you are going to have a long day at work, it is good to carry a deodorant so that others around you do not have to suffer your body odor.
Women usually carry a comb, a makeup kit, and certain basic accessories when they head to a workplace. This is a good habit to help you stay active and fresh all the while.
Save