Be it an office picnic or holiday party, dressing well and appropriately for these occasions are necessary.
These are scenarios when you can reach out to the best in the wardrobe.
So, check out what is hot in the list, and get ready for yet another surprising list of workplace related wears, it is going to be much more interesting.
Mentioned below are few office party outfit ideas.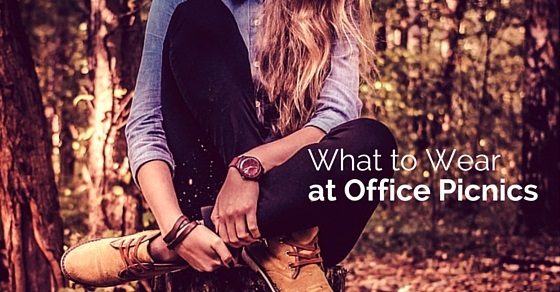 Office Party Outfit Ideas:
Sporty and Casual Outfits for Picnics:
While in office hours, most of the time people have to wear formals. The company picnic is a good chance to adorn casual clothing and feel free even with your professional peers.
Women can keep those formal skirts, pants, and blazer aside, and pull up printed, sassy skirts, cotton cargos, or a sleeveless jacket.
It is time to be your feminine best in the casual attire you choose. Shorts and track pants are also fun choices for men and women.
These are ideal outfits for picnics and fun outings. While you pick the picnic outfits, be careful about the color choices.
It is best to go for colors that are vibrant and friendly. Avoid dim or dull colors as these do not go well with the picnic environment.
Comfortable, not too revealing dresses:
Let your skin breathe, just let down your hair and dress comfortably in an afternoon gown or outdoor smart/short dresses for office picnic. This tip will help women enjoy the picnic to the fullest.
A revealing or short outfit usually does not permit the wearer to be comfortable and at ease. So women should avoid these during picnics.
Men can wear only casual inners at the top with a suitable short. However, do not wear too revealing dresses or clothing, if important delegates and industry bigwigs are tagging along.
Some biggies may just have an opinion about you even when you are least prepared for it. So it is best to avoid such outfits.
Wear as per the venue of the Picnic:
What you choose to wear will not be a constraint if it suits the venue. Unlike hangout spots with friends and family, where you can cover up in any piece of cloth irrespective of the destination, it is not so with company picnics.
About the venue and picnic day activities planned for the trip, and pick up clothing, which seems appropriate.
For sports and adventurous activity venues, choose pants and tops, or shirts, which are not too tight fitting on the body.
Men and women can pick a nice sports shoe to go along with the outfit. Make sure it is your size and you are perfectly comfortable in it. Sports shoes allow you to run about and be active all day long.
This is one privilege you do not enjoy when you wear your formal leather shoes. It is another reason why sports shoes are an ideal pick for picnics.
Staple Jeans and Tee:
Grab jeans and tee, pair it up with shoes or sandals according to the expectation terrain you all are stepping on, and you dressed perfectly for the office picnic.
However, do not wear tee shirts that are too gaudy or have obscene, dorky prints/messages, etc.
Some people just love to show off tee shirts with funny messages. If you are one of them, make sure the messages you choose are not offensive or obscene.
Ripped jeans could be fine for some workplace picnics, otherwise, stick to regular jeans. Women may even choose three fourths of jeans or types of denim.
You need to pick jeans that are a perfect fit. Loose jeans make you appear older than your age. Hence, it would always be wise to avoid such jeans.
Wild and Free:
You need to choose your picnic outfit keeping in mind the attitude of your peers and coworkers.
If the firm's policy is easy, then probably bold outfits will not do much harm, which is true for both men and women.
Jumpsuits are best for springtime. For summers, and autumn, a tube or tank top for is great for women, and men, nothing is better than an informal vest.
Every season has its unique style and if you belong to a cool office environment, there is no reason why you shouldn't try these seasonal styles.
Best Outfits for Holiday Parties:
It is always fun to dress stylishly to office get togethers. But picnics or trips are not ideal places where you can flaunt your style.
The day long activities in picnics require you to select an attire that will permit you to run about the entire day without any interruptions. This is not the case for holiday parties.
So why waste time thinking, just pick the most fashionable outfit in your wardrobe and start. Here we have listed a few ideal options for holiday parties:
Relaxed and Creative Clothing:
Be yourself during an office holiday party. You can wear formal or casual clothing, which is well tailored, clean, and matches the occasion.
If it is a business oriented party, then you may choose gorgeous conservative formal suits (for men), and relatively mid-length black or dark shade dresses, which are not too showy.
Go with the ones that have a creative edge over design and fit.
Customizing your outfit to add your touch or style statement would be a better option and also would look unique.
Designer Wears:
Look dignified and classy by wearing designer wear. Designer wears are truly exquisite and created keeping the special you in mind.
However, it may cost a bomb but definitely will set up an impression in front of the colleagues and company leaders.
It is not always necessary to select the popular designer wears, but clothing designed or customized to show the best of you will surely positively attract the attention of others.
Do not worry about the money you put in because a positive impression in a professional environment is sure to get you much better returns.
Bold and Confident is a Hit:
Go bold and confident at company-hosted parties. Women can wear a short skirt or dress that falls well on the body to reveal your curves.
There are special outfits designed to suit different body shapes. Based on whether you have a pear shaped body, apple shaped body or hourglass figure, pick your attire so that it gracefully reveals your curves.
Men can take pride in fashioning up with close cut suits, jackets, shirts, or a cowboy styled tees. Does tee sound too inappropriate for a party?
Well, no if it is topped with a smart party vest or court.
Glam Up with Accessories:
Official or office parties are the best times to explore with accessories. Jewelry or simple makeup accessories can provide a makeover to your appearance.
Choker, lockets, finger rings, bracelets, watches, and yes, the shoes – wear glamorous accessories on clothes, yet these should not be too loud.
Women can try out the wide range of earrings, ornaments and even the latest trend in lady's footwear. A stylish stiletto or a graceful wedge is sure to look pretty on your party outfit.
Men should be wise when they select their footwear. They must go with something stylish and yet comfortable. They may also have metal bracelets for their arms. If you do wear a watch, go for a good brand for an impact.
Select glasses that suit your face shape. Go for a decent looking wallet that does not look funny against the rest of your outfit.
Tuxedos for Extra oomph:
For those who did not know, tuxedos are designed for both men and women. These are an excellent choice for office holiday parties.
Wear a casual or formal shirt or top underneath and spice it up with a colorful or dark toned tuxedo.
So if you are still confused wondering what to wear for the office holiday party, you should opt for the tuxedo.
Tuxedo suits are available in many different colors and shades. Pick a color that will look good against your color and complexion. You should also be careful to avoid loud colors that make you look like a traffic signal.
The Right Hairdo is a Must:
Even if you have picked the best outfit, if you have chosen a random hairstyle that does not suit you, it is all going to get wasted.
So it is time you select the right hairstyle to suit your height, face shape, and gender.
A short trimmed hairstyle is the best option for men. It makes them look serious and highly professional.
Finally:
Women have multiple options to choose from. They may opt to leave their hair open in style if they have straight or wavy hair. They can also choose a boy cut or bob cut. This would be a great choice for women with straight hair and long faces. It is best to avoid professional bun as it does not blend well with the office party environment.