After graduating, many young people and students want to know about the various professional opportunities that provide high pay and a stable job. India is no exception.
Not only in India but many students and young graduates across the globe search for jobs that are not only satisfactory but also provide high and stable pay for their expenses and future endeavors. Along with financial status, a well paid job will also provide a good social position.
Having a good well paying and stable job, not only provides financial and social stability, but it also provides respect from colleagues, peers, and members of the society.
Both government jobs and private jobs provide satisfaction and financial stability for many young professionals. To have a good job, all it requires is hard work and dedication along with finding the right job tailored depending on one's skills and abilities.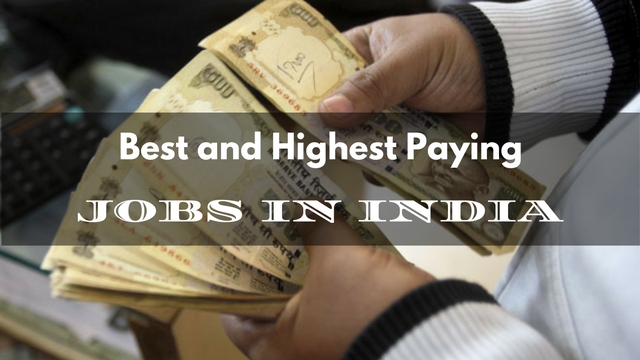 Highest Paying Jobs in India:
1. Medical professionals:
One of the most respected professions in India, it's a fact that many medical professionals and doctors earn well in India.
India has one of the largest populations in the world; this means that there is a high demand for doctors to treat the health problems present within the country. This also implies that the doctors working in the country can get a steady and stable patient flow both in rural and urban areas.
Medical practitioners such as physicians, dentists, doctors, chiropractors earn a good amount of money every year; and due to the need for medical specialists, doctors who have a specializing degree known to earn even more.
Also, doctors can have the freedom to have their very own clinic even while working at private and government health institutions, thus creating them a stable flow of income.
Many doctors earn about 40K to 60K while employed in a private hospital and for working at a government hospital, the monthly salary even more along with financial and social perks provided by the government.
2. The merchant navy:
The employees working for the Merchant Navy known to earn handsomely by the government. The only problem is that the Merchant Navy only recruits men for their jobs.
Many positions in the Merchant Navy provide attractive salary packages; these include the position of the ship captain, marine engineer, officers, navigation engineer, and technical and electrical engineer.
To be able to work in the Merchant Navy, one must have a liking towards an adventurous and exciting life full of surprise and unpredictability. It is also suitable for young male individuals who have an interest in traveling across the sea and for those who are versatile and can adapt well to various situations easily. The annual salary of a Merchant Navy official can go up to 8-15 lakhs annually.
3. Engineers:
Even though this a largely saturated and competitive field, but depending on the educational qualifications and ability of the individual along with the quality of the institute that one has graduated from, engineering can be a stable and well-paid job.
Engineering graduates from the various good name and top-class universities such as IITs, NITs, and BITS and so on provides a good salary package by many national and international companies.
Professionals who also have educational qualifications in some of the upcoming areas of research are also in high demand. With the right skills, education along with a good personality and dedication, one can find many good paying engineering professionals present in the industry.
Engineers working in core fields such as electrical, electronic have a good salary package which usually starts around 3-4 lakhs per annum for freshers.
4. College lecturers:
One of the noblest and underappreciated jobs that are present in India, teachers, and instructors have an important role in developing the nation in terms of producing skilled and talented professionals. Teachers also play an active role in training and teaching students about the various industrial skills and techniques that are in high demand.
One of the most well paid professionals in the teaching industry is college lecturers. Not only college lecturers paid handsomely, but they also gain respect and have an important place in society. They consider as a valuable citizen in the society.
One of the well developed and booming sectors that are predominant in India is the teaching sector. There are a large number of professional colleges that establish in India every year and due to the sudden increases in educational institutions, there is also a high demand of teaching professionals who qualify and well equities to teach the students.
Many private institutions are even willing to spend a good amount of money to hire experienced teachers who have wide and sound knowledge about their subjects.
Teaching is one of those professionals where the salary increases depending upon the teaching experience of the individual. College lecturers in India get a high salary package that usually starts at about 40k for newcomers.
5. Chartered Accountants:
The main task of chartered accountants is to track the financial and capital records of many large corporations. Many large and small companies have their own in house chartered accountants who help them to track and tackle the expenses and help these companies to have a smooth and efficient auditing process.
Having an efficient and reliable CA necessary for business as this will help the company owners to expand and manage the finances of the company.
The oath of being a chartered accountant is not always necessary as it is considered as one of the hardest occupations in India. One should only good with numbers but they should also well equipped with the speed to do their work within a limited amount of time.
Time management is essential for such professionals. Many chartered accountants are paid well and are provided with a stable and high paying job by many companies, businessmen and even small businesses. The annual salary ranges from 7-8 lakhs per annum.
6. Management professionals:
Management professionals are employees who have done courses in business management and administration and are working in managerial and administrative roles in companies, organizations, and institutions. Some of the most famous managerial courses available in India are MBA, BBA, and BMS.
Being employed in the management industry has its fair share of ups and downs. The salary package for people involved in the managerial and administrative sectors depends on the type of roles that the individual undertakes along with the necessary experience and expertise of the field.
Along with the type of qualification, the brand and quality of the institution where the individual has done their administrative courses is also an important factor. There are much top quality and well renowned MBA colleges which include IIM, XLRI, ISB, FSI, etc.
There is a high demand for managers who expect to work in areas such as hospital administration, hospitality and management, tourism, international business management and also in finance and media management services.
The annual salary package for a typical MBA professional usually varies from 3-5 lakhs for starters and newcomers in the management industry.
7. Architects:
India is a fast developing country, so there will be an increase in creating infrastructure and buildings for living and commercial purposes. Hence, there is a need for creative and innovative architects.
The architectural field is one of the fastest evolving trends in India. Architects who keep updated about the various architectural trends in the country often are busy with work and thus achieving a stable job and a high pay scale, the average salary is 365,894 Per Annum.
Many large clients and companies often try to hire architects who can deliver a satisfactory result by keeping in mind the budget and the available resources for creating large impressive structures.
Unlike engineering, architecture is not that saturated so there is always a chance for young and fresh professionals to venture into the architectural field and in some cases, one can also set up their architecture and designing firm. To become successful in the architectural field, the individual should have the technical skills and ability to create impressive results.
8. Investment bankers:
Investment bankers are employees who work for large banking corporations such as Goldman and Sachs, Blackrock, etc. They are not the normal banking employees who work in nationalized and private small scale banks.
To become an investment banker one of the most necessities is to have an accounting degree or any other finance-related degrees which include subjects like finance, English, mathematics, and economics. People who are good with numbers and have good analytical and logical skills can also venture into the industry as an investment banker.
To become a successful investment banker, there are many stages that one should pass through. These include stages such as analysts, associate, VP, and the director. These four stages define the career growth of an investment banker. Investment bankers who are appointed by international and well-renowned banking firms can have a starting salary of at least 7 lakhs per annum.
9. Scientists:
The development and research area of the country not developed as expected. The main reason being the fact that there is a large deficit of qualified, experienced and professional individuals. There are not many qualified scientists who are employed by the government.
For this reason, many government organizations including the state governments are also awarding research capital and scholarships to reel in young, innovative and inspiring minds to enter into the field of science and research.
Another advantage of having a job as a research scientist is the fact that one can contribute positively to the future and development of the country and also help the country to grow and prosper in the technological field.
There are many areas that one can research. These include fields such as healthcare, food, farming, innovations and technology, communication industry, fisheries, biotechnology and even genetics and defense forces of the country.
10. Government jobs:
The government of India also pays a lot of capital and revenue as salaries for individuals working in various government departments. one can have employment opportunities in various government sectors such as IAS, foreign services, security and defense services, police department and even cabinet and parliament offices.
To have a high profile and a satisfactory government job, it is necessary that one has to pass the civil services examination held by the government every year. To pass this test requires a lot of handwork and dedication.
The only downside of such jobs is the fact that the selection process and recruitment procedures are very tough and not many professionals can enter into the government sector.
The added advantage of working as a government employee is the fact that you are directly providing and contributing to the development of the country and such services actively help in the building of the nation.
Various government undertaking services such as the oil corporation of India, the electricity boards, the petroleum department and even various factories such as BHEL, SAIL, BEL are also providing attractive salary packages to rope in young and fresh minds into the government sector. Many government employees also get a large number of perks such as interest free loans, medical and travel aids, housing capital and so on.
High Paying Jobs in India:
Also Read:
 – Top 50 Highest Paying Jobs or Careers in the World
 – Top 33 Lowest or Worst Paying Jobs in America
Conclusion:
So, the above-mentioned jobs are best paying jobs in India. Keep in mind that most of the jobs that are in the technological and commercial industry are rewarding and satisfactory, but to earn a good amount of salary, the person must be good in their field and thus attracting a lot of praises and accolades from his or her supervisors and colleagues.
It also takes a good amount of time and hard work to reach a good position on the corporate ladder, and starting from a good job can help you achieve that goal. This list is intended to help young professional including the recently graduated freshers and students who want to venture out in the industry as working individuals.