The impression we make on the interviewer decides if we are suitable for the job or not. Thus we should be really careful about presenting ourselves in front of the interviewer. There are many factors that decide if you can make it through the interview, be it the way you are talking, moving, wearing clothes or presenting yourself. Though interviewers select the person on basis of their qualification, the way you dress professionally makes the impression on the interviewer even before you say anything. So here are some interview dress tips on what to wear to an interview or interview clothes for women.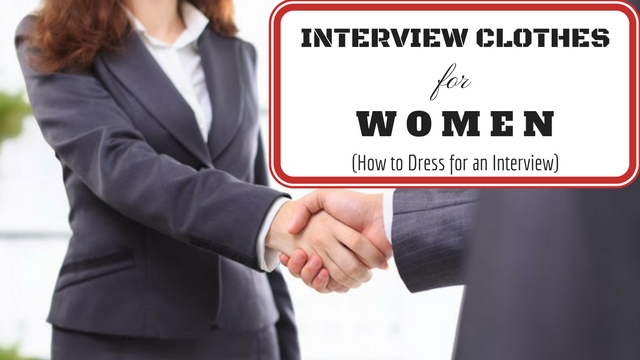 Dressing for Interviews:
Do's:
Decide the dress for job interview you are wearing, the day before hand
Clean and iron it perfectly.
Do look for dangling threads and remove tags before hand.
Try an outfit beforehand to make sure it fits you perfectly, neither too tight nor too loose.
Don'ts:
Do not wear wrinkled clothes. Wrinkled clothes give a shabby look to what you are wearing, and the interviewer may think you are careless or sloppy.
How to Choose the Outfit :
Clothing material:
Interviews are often long and tiring, so you should choose an outfit which is comfortable.
Do's:
Use dresses made up of cotton, silk, wool or polyester because they are quite comfortable to wear.
Sometimes it happens that the place you are waiting for the interview place is not sufficiently air-conditioned. So usually it becomes sweaty. Wear cotton dresses because they have good absorptive properties and they absorb sweat. Also, cotton dresses are stretchable and can fit according to your body, so it's quite comfortable.
Silk dresses are smooth and comfortable, and you'll usually prefer something comfier if you are going to give an interview which takes long.
After a long drive to reach the interview place, usually the ironed clothes get crippled and you don't have the resources to iron it again. So you should prefer woolen clothes which return to its original shape, even after being stretched and crippled. It saves a lot of time.
Don'ts:
Do not wear clothes made up of leather or satin.
Leather dresses are not stretchable and they form bruises on the body if worn for too long. Also, leather dresses are a type of club outfit, not a suitable outfit for an interview.
Satin clothes cause irritation and itchiness. So better stay away from satin clothes while deciding an outfit for interview.
Dresss color & pattern:
Do's:
Before choosing your job  interview clothes, have a look at the color map to find out which color suits you the best and accentuates your skin tone.
Usually, prefer solid and natural color like black, navy blue, gray, brown and khaki while choosing interview suits and skirts.
Every natural color has a different meaning to it. Choose a color which tells about you more and about your personality.
Wear light colored shirts like white, peach or lavender to contrast with the dark colored lowers or blazers.
Usually, prefer small and striped prints while choosing patterns for interview clothing.
Don'ts:
Do not wear bright colors to an interview. Bright colors are usually worn at nights, and in night clubs whereas interviews happen at day. They are unprofessional and go against the ethics of the interview.
Do not wear large or flowery print outfits. They are a bit too casual for a job interview.
Few Other Do's:
1. Wear it confidently:
If you are wearing a interview dress which you don't feel confident with, like if you are having a problem with the waistband or you are adjusting you skirt all the time, your interviewer will be sure to notice that. When you are physically uncomfortable, you are not able to concentrate well and you won't be able to give your cent percent in front of the interviewer. So be sure to wear clothes which you are confident in.
2. Dress in layers:
While you are dressing for an interview, keep in mind that you are dressing in layers so that you can make yourself comfortable according to the temperature of the place. Like, if you are in a hot and humid place, though the inside is air-conditioned, the outside is not, so you can remove or wear the outer layer accordingly.
3. Be conservative:
If you are having confusion in choosing an outfit according to the fashion, choose one which is more conservative. Fashionable clothing will be a distraction for the interviewer and rather than checking your accomplishments, the interviewer will be focused on your dress. So you should not wear trendy clothes. Prefer to wear sheath dresses, pencil skirts and pant suits with blazers and coats.
4. Dress appropriately according to post:
The dress should speak volumes for the job interview you are going to give. The way you dress for the post of HR Manager and CEO should be different from the way you dress if you are going for the post of analyst or a teacher. You may take a smart but less formal look while giving the interview for a CEO. Whereas, you can take a bit business look for a post of teacher, coder or an analyst. Wear quality suits with fewer patterns to level your outfit with you job level. Also, pay attention to other details about your getup.
5. Dress according to industry:
Different industries have different corporate cultures. Before deciding your job interview outfits, do a full research on the industry's culture. What you wear for a fashion firm's interview is different from what you wear to an investment bank's interview. Your look for a fashion magazine will be expressing your personality like you'll prefer wearing a jumpsuit, or tailored culottes. Whereas your outfit for an investment bank will be a bit formal and contemporary like a simple camisole or silk tee under a suit, or a tailored dress with a coordinating jacket.
6. Empty pockets:
Empty your pockets before entering the interview room. The bulging pocket is a big no-no for an interview.
7. Wear buttoned shirts:
Shirts will be the trend forever for interviews. They can be formal or casual as required by the situation. Even if you wear a shirt, it's better to leave at most only one or two buttons from the top, and no more than that. Better go for basic shirts or striped ones.
Don'ts:
1. Wear uncomfortable outfits:
Interviews take long. Wearing clothes which are uncomfortable will make you uncomfortable during the interview and it'll be the reason for your bad performance. Do not wear too tight dresses as they'll cut your skin, if used for too long.
2. Inappropriate outfit:
Avoid wearing dresses with plunging necklines and low backs or too short skirts or revealing dresses as they are a distraction for the interviewer. The interviewer won't be able to focus on your qualification, rather he'll be checking you out. So wear decent and sober clothes, which will be less of a distraction to the interviewer.
3. Dress casually:
Making an impression on the job interview will decide if you will get the job or not. You can't dress up casually in front of the interviewers. It gives an idea to the interviewer that you are also casual regarding the job. They want to hire people who will be devoted to the job and not casual regarding it. So you should be presentable in a formal look when you are going to give an interview.
4. Be flashy:
Don't be flashy regarding the clothes, handbags, and footwear you are wearing or carrying. Sometimes the interviewer may be in favor of the brand or against it and you would not want to upset the interviewer regarding something like a brand.
5. Be fashionable:
You are there to get a job and not be a fashion diva, so be as less fashionable and trendy you can be.
6. Wear jeans and t-shirts:
Jeans and t-shirts are everyday used clothes. Though they are comfortable, they are casual. You shouldn't wear ripped jeans and graphic t-shirts on an important day.
7. Wear sports clothes:
Avoid wearing track pants, sneakers, and other sporty outfits to the interview, because you are going to an interview and not a gymnasium.
Interview Accessories:
You can be a bit fashionable regarding accessories, to add a lively effect to your outfit.
Do's:
Wear a tie which is knotted firmly and not loosely tied around the shirt collar if you are wearing a shirt. Try a tie which is complimentary and stylish. Preferably use a silk tie.
Closed toe shoes are the best shoe choices to wear in a professional world. You can wear pumps, cones, t-straps or ankle straps. Prefer Neutral colors like black, brown, nude or tan. Try to keep it as simple as possible.
Carry a good quality leather handbags preferably of neutral colors like white, black, cream, dark tan or beige. Be sure that your handbag is able to carry all your documents with other things.
Keep your jewelry to a minimum. You can wear a simple necklace to even out the dullness of your outfit.
To make you outfit for job interview more lively, you can add a pop of color by wearing a bright color bracelet like yellow, red or purple.
A watch is one of the most important accessories to carry in an interview. It shows that you value time which makes a positive impression on the interviewer. And wearing a statement watch gives a classy look to your outfit.
Go for a natural or a minimal makeup.
If you want to apply nail polish, then apply nude, transparent, pink or red nail polish.
Don'ts:
Do not apply fragrance because if you have not applied the right amount of fragrance, it get's unbearable for the interviewer.
Wear caps and sunglasses:
Though many people think they should wear sunglasses to an interview, you shouldn't. Eye-contact is very much required talking to the interviewer, which won't be possible if you are wearing sunglasses. You should also avoid wearing caps and hats to the interviewer, it shows that you are not respecting the other person.
Try to avoid wearing earrings. If you badly want to wear one, then avoid wearing big earrings rather than go for small geometric studs.
Avoid wearing open-toe and strappy shoes. They are not appropriate for a professional look. Also stay away from flip flops, athletic shoes, Eskimo-boots. You can also wear a tennis shoe or work boots if your area of the interview includes a field visit. Also, avoid wearing sandals because they are unprofessional.
Though wearing heels look confident and professional, always try to be practical while choosing your heels. If you are not comfortable wearing high heels for a long duration, you should avoid wearing it. And if you are comfortable wearing heels, the height of heel should be low to moderate heel which should be less than 3". Still, heroes and platform heels are to be avoided as they make a lot of sounds and are high heeled, which can be quite painful after some time.
Do not wear any body piercings to an interview, be it a nose pin or an eye-piercing. Body piercings are unethical for professional world
Showing tattoos can have a negative impact on the interviewer and can be a reason for you being not hired. So, if you have a tattoo, try to hide it properly.
Interview Hairstyles:
Your hair style also is very important just as your clothes.
Do'S:
Your hair should be neat and elegant.
Low ponytails and low updos are the looks needed for an interview. These hairstyles keep the hair in place and let you concentrate more on the interview.
You can also do half hairdos, braid, buns and French twist to avoid hair coming to your face.
If you are having a short hair choose a hairstyle in which your hair remains in place.
So now that you have learned how to flaunt your clothes and other tit-bits in an interview, try these and create a lasting impression on your interviewer's mind.
Save