Most of us have faced this at some point of time or another. You just spent hours building that near perfect resume, and you send it out to your recruiters with high hopes. But why do you never seem to hear back from them?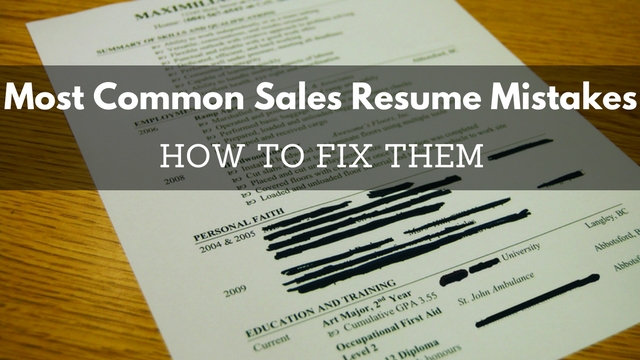 You might actually have all the necessary qualifications for the job, but you have not been able to advertise yourself efficiently on your resume. Before your recruiters get a chance to meet you, they will be meeting your job resume. Your good resume will create the first impression about you, so you need to make a resume which is worthwhile. While you may have followed all the technicalities to creating that perfect resume, you could still be making some common resume mistakes while resume making which are costing you your job.
Common Sales Resume Mistakes – How to Avoid:
The following mentioned are few tips and career advice on writing the perfect resume and some resume do's and dont's.
1. You didn't tailor your resume to the job:
Yes, it is one of the most exhausting jobs to do- to tailor your resume to fit into each and every job that you are applying for. Most job hunters just resort to creating that one 'perfect resume', and sending the same out to all their recruiters. You end up giving inadequate information, or irrelevant information in your resume- information not pertaining to the job you are applying for. This will give your recruiters the impression that you lack interest, or are unwilling to go that extra mile for the job. A recruiter does not want to read about you in your resume, instead, he wants to know how you can help him and the company. One of the biggest CV mistakes you can make is to give out standardized resumes, or not bother to read through the role you are applying for.
The Fix:
Read the job offer and what is expected of you properly.
See if you possess the necessary set of skills required for the job.
Tweak your resume to add the necessary accomplishments and skills you have in order to do the job.
Make minute changes in the resume format to sit into the role that you are applying for (assuming you are applying to various jobs at the same time).
2. Typos and grammatical errors:
This mistake is not as uncommon as you might think. A survey showed that 58% of resumes contained typos or grammatical errors. This is a common human mistake, and very much avoidable at the same time. A resume submitted with typos gives the impression to your recruiters that you lack attention to detail.
The Fix:
Proofread your resume, but do not stare and obsess over it for hours. You will most probably be too awestruck by your creation and will be biased to finding flaws with it.
Ask friends or family to read your resume to find common mistakes. An unbiased party will be able to spot mistakes more easily.
Use spell check and grammar checking tools.
Do not use short forms or abbreviations.
Try and re read your resume from the bottom upwards. Since you have been working on your resume for a long time, you will be used to the article. Changing the sequence of reading it will give you a new approach to it and will help you find your mistakes.
3. Too long or too short:
A recruiter will glance over your resume for an average of 6 seconds before moving on to the next resume. This is not because they are biased, or lazy. A recruiter has to go through dozens, even hundreds of resumes in a day. Dealing with this sheer number of resumes makes them a sort of expert, and by just glancing over a resume for a few seconds, they are able to ascertain if the candidate is worthwhile or not.
Keeping this in mind, if your resume is too lengthy, recruiters are most likely to toss it, as they simply do not have the time and patience to go through it. On the other hand, if a resume looks too short at first glance, it might give the recruiter the impression of something lacking.
The Fix:
Ideally, your one page resume is apt. Two pages- maximum.
Add all relevant details at the beginning, so it catches the eye of the person reading the resume.
For every 10 years of experience, add one page. So if you have 20 years of experience, your resume should be two pages long.
Write in short, crisp bullet points. Do not elaborate too much. Only write what is necessary.
Do not add accomplishments or achievements you gained in school, as they are most probably not relevant at this point for the job.
4. Formatting:
While you might be the most artistic, creative person in your peer group, your resume is not the forum to showcase your artistic skills. A lot of people think that adding a personal touch will tip the scales in their favour. You can try and put in your own touch into your resume, but you must be careful to not make it too messy. If it does not appease the recruiters eye, it will be tossed into the bin.
The Fix:
As far as possible, keep the artwork to a minimum.
Make sure your resume template looks clean and appeasing to the eye.
Do not add too many colors or pictures as it will just clutter up the main information you want to showcase.
You can download many free templates online, and then add a little bit of your own touch to the templates, to make them stand out from the rest of the crowd.
Remember, the main gist of your resume is far more impressive than any artwork or template.
5. Employment dates:
A common mistake a lot of job hunters make is to list their employment period by years and not months and dates. This could be an honest mistake on your part, but an employer will see the missing months and immediately assume the worst. They might assume you were unemployed for a period of time, or that you are trying to deceive them. More often, if recruiters are too busy, they will just toss out these resumes instead of wonder what the gap is about.
The Fix:
List your previous employment dates in reverse chronological order- the first point being your most recent employment details, and then going backwards.
Specify the days (if possible), month and year, to avoid any ambiguity.
List previous employer's information for reference.
Do not leave any gaps which might arouse suspicion.
6. Cut out clichés:
You search online on what a perfect resume should look like, how it should be formatted and what are the keywords you should add to grab the recruiters attention. You need to create a resume or build up your own perfect resume with all the right resume keywords, such as 'strong, motivated, confident, loyal, hardworking', etc.
You might be under the impression that adding these words in your resume will give you that one up above everyone else. What you are forgetting is that most of the other job hunters might be using the same words in their resumes to try and give a good impression. What happens in the end is, everyone ends up with similar resumes, and the recruiter is left staring at the same words on almost every resume.
The Fix:
Avoid adding clichéd words in your resume like 'motivated, hardworking, loyal'. Instead, try and list down incidents which showcase these qualities. Recruiters want to see these talents and qualities in real time, and not just on paper. They would like to know about examples where you have showcased your skills of being hardworking, or being loyal to your previous company.
Instead of adding the usual words, take out a thesaurus and put down different words for what you are trying to imply. Recruiters would like to see that you have put in additional effort into your resume.
Recruiters would also be impressed knowing you have an extended vocabulary, so showcase this in your resume. Use different words that catch the recruiters' eye, but avoid using fancy words whose meaning you are unsure of yourself.
7. Add relevant keywords:
When using the previous point in making your resume, it is possible that you can leave out adding relevant keywords in your resume. While you want to avoid using clichés and irrelevant information, you must include keywords pertaining to the job you are applying for.
The Fix:
Add only relevant keywords in your resume.
These keywords should be directly linked to the job you are applying for and the skills you possess for the job.
Adding these keywords will help the recruiter match your information to the job you are applying for, otherwise they might feel like there is a missing link in your resume, and reject it.
8. Lack of specifics:
Your resume is not the place for you to be vague, at any costs. Whatever achievements it is that you have accomplished, list them down and specify it. Avoid ambiguous statements, as it creates an air of deception of exaggeration.
The Fix:
Instead of writing "Worked with employees at a salon", specify "Worked in a salon with 20 employees with $1 million annual sales".
Always quantify your experiences as much as possible. This gives a stronger backbone to your experience.
Specify the name of the company, the time you have worked in that company, for how long you have worked, how many people you worked with, and the annual sales of the company.
Add your employer's details for further reference if possible.
9. Highlight accomplishments instead of duties:
When trying to build a resume, a lot of people get carried away and start listing their duties in the company. A recruiter is not interested in knowing what all you have done in your previous company, rather, they are interested in knowing how much you have accomplished in your workplace. So instead of listing down every single duty- "worked with children in a hospital, attended group meetings, updated departmental files", etc. list down exactly what you have accomplished.
The Fix:
Add exact accomplishments, such as "Developed 3 daily exercises and gaming activities for children's hospital".
Write them down in crisp bullet points, instead of short paragraphs, which would make it a long read for the recruiter.
10. Visually too clustered:
In trying to showcase your skills and talents, it is easy for you to get swayed away and add too much information into too little space. This is not only difficult to go through, but also looks very unappealing. If it looks visually busy, the recruiter might not want to waste his time going through the resume with a fine tooth comb.
The Fix:
Use only one font type throughout the entire resume.
Stick to simple font and a good font size (ideally size 14).
Do not highlight or use too many colors as it will look too visually busy.
Write all your information in short, crisp bullet points. Do not expand the points unless necessary.
Keep some "white space" around your resume. This will give it a more visually appealing look.
11. Too much information about hobbies:
Your resume should be a short document containing your skills, accomplishments and how you will be an asset to the company. It is not a piece of paper for you to write a biography about yourself. Avoid list of hobbies which are irrelevant in your resume, as this is of no interest to your employer. Your hobbies can be discussed with your employer during your interview, if asked.
The Fix:
Add hobbies which might be of help in your job, such as being able to speak more than one language.
Avoid adding irrelevant hobbies, such as having an interest in gardening, or sewing, as this is not relevant to your job in any way, and of no interest to your employer.
Just keep in mind, your resume is not your autobiography! Keep it short and precise.
Save