Every organization wants to work with very good employees to maintain a cordial relationship and to have a standard work atmosphere. For this process, they need to undergo various level of recruitment process to filter the right person. Once after completing the various levels of recruitment process, there is something called backdoor reference check, which is often done by most of the recruiters. Backdoor reference check is a process, where the recruiters, might collect a data about the employee from various sources other than the referees mentioned in the resume. This is mostly done with the experienced candidates.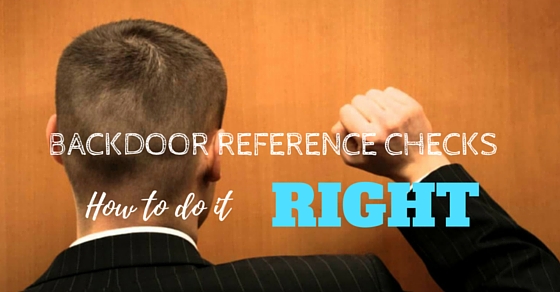 Are Backdoor Reference Checks Legal?
Nowadays, backdoor reference checks have become very common, especially in huge expanding companies who wants to hire an employee for a long time commitment to the role. For example, backdoor reference check is sometimes most necessary for senior most executive levels. With lots of help from social media, backdoor reference check have become very easy. There are few methodologies to be followed for the backdoor reference check in a ethical and legal way. Before doing a backdoor reference check, there are few things to be considered. They are,
1. Before proceeding, try to decide whether you really need the candidate for your organization. Also, consider thinking various other factors about the financial commitment of the position, critical need of the employee, and about the future relationship of him/her with the organization.
2. Think twice about the methodology by which you are going to proceed the backdoor reference check. Be it social media or meeting a person individually.
3. Never hinder his/her present organization as it may lead to some adverse effects to their present job.
It is not unfair to ask mutual association about the employee as long it does not affect his/her present job. But sometimes calling their present organization for checking references, without the concern of the person might cause some career risk to them.
How to Conduct a Backdoor Reference Check:
There are few things to be remembered when heading for a backdoor reference check. They are
1. Initially, try to get a written confirmation from the concerned person about the reference checks. Can be done through an email also. This is the first and important procedure before proceeding.
2. Do not attempt to contact the current employer of the candidate, unless and until the candidate has no objection to it. Because it might hurt their reputation when they have not informed about their job search.
3. Never take the words of the reference source to the fullest, until and unless it is a valuable resource. Sometimes there might be many reasons to be not accepted like cultural, attitude difference etc.
4. Do not try to hide from the candidate about the backdoor reference check as some way or other it might reach the concerned person someday. Try to avoid such embarrassing situations as backdoor reference check is not an unfair thing. Explain the person the real reason behind it, and also try to put forward that this procedure is not to cross verify their skill set nor their attitude.
Few best methods to do a backdoor reference are listed below.
1. Social media network:
With lot many social media network popping up, it has become easy to do a backdoor reference check through it. You can also do a reference check by getting through their network. This might not be a most trusted check, but it might help to verify their basic presence in the previous organization.
2. LinkedIn:
One of the easiest way to do a backdoor reference check is through linkedIn network. First try to know whether there are any common connections between them and you. If yes, try to do a reference check with them else, try move in their networks and find common connection. Before proceeding try to analyze thoroughly whether it is worthy and you have a common person to proceed. This might also become tricky if you may proceed to a wrong person. Take each step with thorough knowledge of the person.
Also, try if you have found some endorsements on their page by few people, do not try to call them for verbal confirmation as it is clearly stated about their skill set. Be sure to go through the testimonial part as it been written for reference purpose only. Make it a note to check testimonials, endorsements and common connections for a good
backdoor reference check.
3. Google search:
This is a common way to do a simple backdoor reference check. Try to google about the person and find whether they have a blog or a website on their own. You might also find about their professional network through it. You can also check whether they belong to any group or communities, and proceed through the backdoor reference check.
4. Alumni network:
Alumni network is an easy get through way to know a person better for a reference check. They are the right people to know about the person well. There are chances to find an alumni who might have done projects together. So, this is the one short way to get closer and do a backdoor reference about the candidate. You can find these alumni networks through some social media networks like Facebook.
5. Getting closer to the candidate:
This is also the best way to know the candidate straight in person. Make an appointment for an informal meeting for a coffee. Through this meeting you might able to get closer and learn a lot about them through their body language, commitment in speech and many other things. And it is a good way to do a reference check, as there is no third party involved in it.
6. Common people connections:
This is a type of reference check which can be done with the help of the candidate only. You can directly ask the candidate to mention whom they can get along to know about their professional life. This is a simple method as you might get some honest reference check.
Things To Avoid During Backdoor Reference Checks:
1. Do not do it without the candidate's consent:
Always make it a note to get a concern from the candidate before proceeding for a backdoor reference check. It can be written or through an email to ensure it for future reference. Avoid doing it secretly as it might get a negative impression about the recruiter. Try to get to know whether the candidate's intention about the reference check. If he/she is ok with proceeding the check only with referees then the candidate is trying to make sense but, if they completely avoid about reference check rethink about the candidate to proceed further or not.
2. Strictly no random calls or emails:
Do not attempt to send a random email to know the person. Never try to make a cold call without explaining yourself or about your intention. This might affect organization's reputation.
3. Do not ask inappropriate details:
While doing a reference check, do not try get into matters like age, marital status, or any person details which could lead to discrimination. Be to the point to know only about their professional front. Getting into personal stuff might spoil the entire process of reference check.
4. Never get in contact with the current employer:
Do not get into touch with the current employer as it might be a shock of their employee's job search or an awkward situation to face these reference checks.
5. Do not finalize anything abruptly:
We might not know fully about the person who gives a reference check. There might be any kind of issues going between the candidate and the person. Take everything in a written format to ensure the truth behind it. When the answer is negative, record the comments, then never proceed with that person for reference. Avoid making decisions with negative comments immediately. Try to balance the positives and negatives and come to a decision.
6. Always think deeper about negative references:
Once you receive a negative feedback, please try to think about the negatives and about the circumstances of the negative points before coming to a conclusion. Sometimes it might not be the candidate's fault.
7. Do not go reference which were beyond years:
Remember nobody in this world will remain the same forever. Try to go with recent reference checks rather than which was ten years before. Sometimes the information gathered might have taken back long time ago, which might not work for present scenario.
What you Must always Remember before doing Background Checks?
First point!:
Three things that you must remember before any backdoor reference in the future!
Is the person that you are hoping to reach out belonging to a credible source? Will you even trust them when it comes to different business endeavours? If you don't have an answer to job reference questions, then why will you even pursue them into hiring such a decision!
Second point:
If you actually know the backdoor reference, you will also have to find out how will they know about the candidate who is in question. Has the person interacted and spoken to them in a professional way or does the person in question come from a whole different team altogether? In case you find out they haven't, then you surely don't have to continue any further with such reference. There is surely no substance which can be given. Neither can there be any insight about what would be beneficial and what wouldn't.
Final point:
Finally, will the reference jeopardize the current employment of the candidate? Now this is something that you have to consider. It is always a risky affair to speak to someone who doesn't belong to the reference list of the candidates. Apart from that, candidates are not openly looking for any such jobs and by involving someone the person has not listed, you could call attention towards their job search. In that way, you could end up losing your top spot that will ruin the credibility at the same time.
Will Employees get Angry when you Conduct Backdoor Reference Checks?
No they don't! In general, the employees will never appreciate those candidates who will do more research related to the company and know what they are probably looking into. Since you are not getting offers, there are more chances that the companies are probably finding people who are much more compatible with the culture of the company than finding you. The pool of candidates are vast which allows all companies to become very selective.
Final thing you Must Remember:
Even though it is always a great idea to leverage your network, it is vital that you make sure to take all important precautions while you are reaching out to discuss a new and potential hire. The dangers that come with social media such as LinkedIn is that we being the user will get lured into some false kind of trust! You must always be sure and trust those people who belong to the network as same as you, before you will ever allow them to give your ideas and opinions on the candidates you have already.
Backdoor reference checks are always meant to know the candidate's suitability for the job position. Make sure any kind of backdoor reference checks should not affect the candidate in any way to move away from the job placement. And always try to keep it within the laws. Also if you have liked reading the post and found some help from it, please do let us know in the comment box below. We would love to hear from you. On that note, good luck and here's hoping you will be able to do backdoor reference checks in a much better way in the future.
Save