A modeling career is ideal for men as well as women. This is a field where you get to stay in the limelight all the time. You get attention from reporters and photographers. The pay is pretty high and the importance you get as a model is also equally important. ASOS is a major brand that seeks models from both the genders. They have called for freshers too and if you are new in the field, this may count as a very good experience. If you include experience with ASOS in your profile, it will add a lot of value. The following mentioned is a complete guide to become a model for ASOS.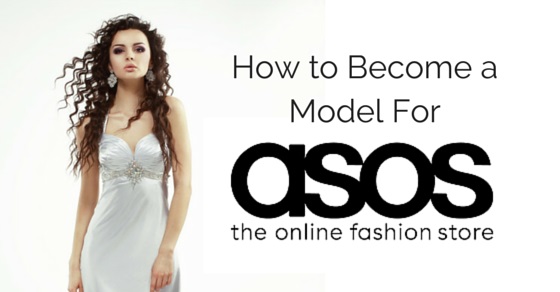 Tips to Become a Model for ASOS:
About ASOS Brand:
ASOS is a British fashion company. It sells a wide range of outfits, apparel, products, and accessories. These are designed for men and women. They have a wide range of fashion outfits like jeans, dresses, shoes and even impressive jewelry sets.
The opulent range of attires and accessories are remarkable. They are a huge store and they require fresh and talented models to represent their brand. They seek fresh talents each year through their photoshoots.
Male and Female Model Requirements:
The brand sells a wide range of products and accessories. These include products for ASOS men models as well as women models. They seek young models to represent these products. They clearly specify their requirements in the case of male and female models during the paid photoshoots.
They usually look for male and female models in the age range of 18 to 30 years. If you fall in the specified age category, you may apply for the opportunity. They seek models from the United Kingdom since they are a British company. Freshers are also equally welcome to apply for such opportunities.
The minimum height requirement for male as well as female models who photoshoot for the brand is 5'6". If you fulfill all their specified criteria, you can easily apply for the paid opportunity by filling up all the details in the form.
You may check out their website to know the online link where you can submit the form. The job location would usually be Notting Hill in the United Kingdom.
Interview for ASOS:
There will be a round of interviews before you are hired to work with ASOS. You need to be prepared emotionally to appear for the interview. The first best rule to appear for an interview for any prominent brand is to learn all the things regarding that brand.
You need to understand what the brand stands for. You need to have an idea about what kind of products the brand sells. This knowledge will help you face the interview with greater courage.
The questions asked to you during the interview usually tend to test your confidence and determination. They may ask you why you wish to model for the brand. They may also ask you what the brand represents. These are common questions that are aimed at understanding your knowledge regarding the brand and your determination to be a part of the brand.
You need to maintain a positive attitude while you are answering the questions during the interview process. Keep a check on your body language as it tends to count a lot during the interview like these. It would be wise to choose attires similar to the ones the brand markets while you appear for the interview. This is a great way to show them you know what the brand stands for.
Tips On Communication Skills:
In case of big brands like the ASOS, reputation matters a lot. You need to be extremely careful when you appear for the interview or interact with people from the brand. Make sure you appear cool and composed. You need to impress them with your attitude and good communication skills.
Do not let panic or anxiety show on your face. When you are asked questions during the interview, patiently listen, take your time to think of an appropriate answer and then speak back in a polite fashion.
Avoid biting your nails, scratching your head, digging for gold or moving your legs, all these are all signs that indirectly indicate that you are nervous. You need to take special efforts to conceal these signs.
When you enter a cabin, make it a point to greet your interviewer. A brisk shake hand is a sure sign of confidence. Always make eye to eye contact while speaking. It gives the listener a feeling that he is important.
Maintenance Tips for ASOS Models:
To get started in a modeling career, what matters most are your looks! Even when the brand seeks for models for photoshoots, they rate appearance as a priority. So, male as well as female models need to make sure that they are fit and healthy to be a part of these brands.
The males need to work on their six-packs so that they look muscular and elegant. The women need to make sure their assets appear beautiful and appealing in the different ASOS outfits.
A special diet routine needs to be followed to maintain the proper figure. Junk food should be completely avoided. Fresh fruits, vegetables, nuts, and juices are ideal. Oily food is known to be harmful to the skin. You thus need to select a diet routine that is perfectly healthy and keeps you beautiful forever. If you are not good at regulating your food, it is good to opt for a dietician.
Regular exercise is another key ingredient in keeping you in good shape. ASOS models need to take special care to maintain their figures. They have to model for outfits so they need to look attractive in the outfits. You may lose out on good opportunities if you have fat bulging out from here and there.
Joining a gym would be a great idea for people who lack exercise in their daily routine. A gym trainer can help you with the right exercises that keep you in perfect shape. Join a gym or hire a trainer so that you stay fit to be a part of the ASOS brand.
Maintain Your Record Clean:
The big brands like ASOS are extremely proud of their reputation and they make sure it is maintained. You need to have all your documents proper to apply for a big brand. Any history of legal problems can make you lose opportunities like this.
If you maintain good conduct, it will help you get the best opportunities in your field. Make sure you behave well with your friends and colleagues. This will help you get a good reference from your boss. This may count a lot in all your future projects.
Practice with Different Outfits:
Modeling is an art and you need to look natural when you are modeling for a brand. You can look natural in your outfit only if you are comfortable in what you are wearing. This means you need to practice with the many different outfits and attires offered by the brand. You need to practice modeling wearing jeans and dresses. You may also practice with the different accessories and products that the brand sells.
Also read:
Confidence:
Once you are confident with all the diverse outfits and products, you may ask your photographer to click your pictures in different attires. Be proactive when you are working with your photographer. Ask for suggestions regarding the different poses. If your photographer is telling you to alter your style, take it as a positive comment.
Create your portfolio with many different pictures. The brands look at different pictures in the portfolio and decide whether the model is suitable for the brand. Enhancing your profile in this manner will help you gain good opportunities. Concentrate and take efforts to make your profile and portfolio interesting.
Use the Social Media to Your Benefit:
The advent of the internet and the popularity of social media have changed the way modeling brands search for their models. The big brands now extensively research the different social media outlets to find their perfect face. You need to understand the significance of these channels and use it to your benefit.
Create an impressive profile on Instagram. Upload your most stylish pictures in different outfits. You may also use Facebook as a channel to reveal your skills. There are various modeling related groups on Facebook. You need to join these groups. It will help you stay updated about the latest opportunities like casting calls or modeling events. You may also take pains to follow websites of all the prominent brands that hire models. Subscribe for the newsletters of major brands.
Stay Active and Making Contacts:
You need to keep trying to make contacts in the modeling circles. You may check out fashion websites and fashion events that take place in your vicinity. You may also get in touch with your teachers to contact school alumni who are pursuing a career in modeling.
Try to get in touch with models who have worked for ASOS. They will have great knowledge about the brand. They can also help to clear all your doubts regarding the brand. Their knowledge and experience will help you get into the right brand without much challenges.