The retirement is full of emotions and memories that bring tears into the eyes of the one getting retirement. But it is not only the one who is getting retired is suffering the most, but the colleagues also take a great blow as they will also be missing a great person in future time.
Thus, a letter can serve a great purpose to show your respect and share a part of your memory about the person that you hold dearest to you.
Even if there is no emotional link between you and the person getting retirement, it serves as a great tool to show your empathy towards the person. Here we are discussing things on how to write a farewell letter.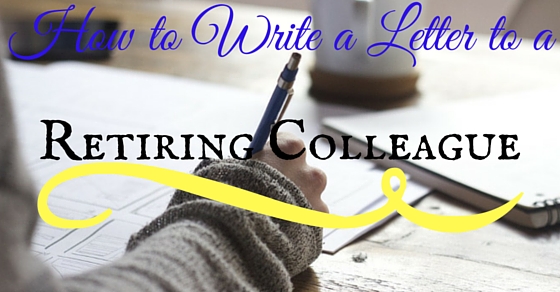 Tips to Write a Farewell Letter to Retiring Colleague:
So, whether it is for formal sake or your link with the person, a retirement letter is a good way to show that you really respect him as your senior, friend, guide, and mentor. It becomes very special and emotional when you are writing a retirement letter to a friend.
Take some time to refresh a part of the life where he helped you or guided you or maybe you both shared a working professional relationship which has really helped skyrocket your career. You can take the following tips and guidelines to help you write a better retirement letter to your colleague.
1. Give a bunch of warm wishes:
Just like any letter meant for a special occasion, this letter should show the warm that you have for a person. Although, one may say that words alone are not enough to show the proper emotion a rightful choice of word and a great style of writing can do magic.
The opening of the letter can be writing with warm messages to show that you care about the reader and that you both share a special relationship.
2. Address about the retirement of the reader:
A retirement letter can be written for a person belonging to different positions. So it is a good idea that you share a bit of information about the retirement of the reader. Make sure to maintain a tone of writing appropriate to the reader concerned.
You can mention the various things related to retirement. It can be in particular about how the retirement of the person will affect the dynamism of the organization or you can write about retirement in general.
3. Congratulate if it is appropriate:
Generally, retirement is considered as an opportunity to congratulate as it is a happy ending to the professional life of a person. So a letter can serve as a medium to congratulate the reader and wish him good luck for the future life.
Although, you should keep in mind that retirement is a happy end and not because of some other reason for which the person is not happy. Whenever, it is appropriate to wish, make sure to do so.
4. Share the success story of the retiring person:
Everyone loves to hear about their achievement no matter whether it is small or big. So make sure to make it special by mentioning the achievement whether small or big, appreciable or trifle, it shows that their efforts indeed made some difference in the company and that they had and will continue to be worth to the company.
The reader will also be left with a positive mindset about you and his work achievement while his tenure of job in the company.
5. Refresh a memory that you both share:
Sharing a memory that is close to both you and the reader can make the letter special and can help you to foster the relationship further.
When you share a part of the time where you both worked on a project or on a work that was of prime importance and that has in some way affected your relationship for good, it makes the reader feel good about it. This helps you to build a relationship that will also continue to exist beyond work.
6. Close the letter by wishing good luck to the reader:
The title itself is self-evident. You should end the letter with a great wish for the future of the reader. This may be a traditional way that is followed in most of the letter writing style but it is also a great way, to sum up, all your well-wishes in a concise manner and with the reader for a great time in the future.
But do keep in mind that the ending of the letter should be appropriate for the reader's life and not completely vague.
The above points are just guidelines to write a better letter. It is very important to note which point to be considered and which not to be as per the context, and the person you will be writing the letter. You will need to maintain the tone, content, and quality in the writing accordingly.
Tips to Fine Tune your Writing:
1. Keep it professional:
No matter how close you are to the reader it is essential to maintain professionalism in your writing. It is indeed something that will be personal in touch but is also important to maintain the professional connection in all mediums of communications.
It will include using proper grammar, no spelling mistakes, no ambiguity in your message, and being precise about what you want to say.
2. Follow the rules and regulations of writing a letter:
To ensure uniformity in all letter types, people have adopted certain conventions of writing a letter. You must keep in mind to follow this guideline. For your reference, we will discuss a bit about it in the latter section of this article.
3. Learn mannerism and etiquette:
Just as people follow manners and etiquette while conversing in real life, you need to follow certain manners of writing a letter. There are certain conventions to follow, certain guidelines to keep in mind depending on which type of letter you are writing. For this particular retirement letter you can follow these steps:
Include your contact number at the end:
Keep in touch with the retiring person and to do so, you must provide the required things necessary to be in touch with the person.
Be to the point:
It is important to keep your content to the point and precise so that it does not start to feel like a lengthy essay paper instead of a farewell letter.
4. Be cordial and kind:
This letter does not mean that it is the end of the world and that you will never be going to meet the person. You may think to use it as an opportunity to open up an old wound but that is not what this is all about.
Even after retirement, chances are that you will continue to meet in other places, events, and parties. Or even the person getting retired may throw a retirement party. So maintaining a cordial relationship is a sure way to be in good terms with people.
Message for Retiring Colleague:
Now we discussed everything that you can follow to come up with your account and write a beautiful letter to someone retiring but chances are some of you might not be able to come up with an idea about writing the letter.
So here we are giving you some sample letter content so that you can brainstorm and can write a letter of your own. But before that, we will first discuss the format of the letter.
[Sender's Name]
[Address line]
[State, ZIP code]
[Letter Date]
[Recipients Name]
[Address line]
[State, ZIP Code]
[Subject: If you want you can be precise or can write it in general words] (optional)
Dear [Recipient's Name],
[Body of the letter: It should usually be about half to one page. Keep it sweet, short, simple, and comfortable to read]
Sincerely,
[Sender's Name]
[Sender's Title] (Optional)
Sample Farewell Letters Content to Someone Retiring:
Here are a few sample letter contents which you can use to give the perfect edge to your retirement letter. Different samples have a different tone in them, so choose carefully as to which sample letter will suit your occasion. Some of them are formal while others are informal. Read through the samples to get a better picture of the possible content.
I and your other coworkers were blessed to have you as our guide who helped us in all the sphere of our work and assisted us in the times of difficulties. You have been such a wonderful person to us that we will never be able to find another person like you. We never want you to leave our team but it is the best time for you to take retirement. I pray to the almighty that the next phase of your life is filled with greater opportunities and happiness.
You have been like a parent to me who guided me and corrected me every time I made some mistakes. It is because of this that today I am capable of performing my duties. I will miss you a lot and I hope that you will have a great time after your retirement. I wish you could continue to say in the office but retirement is also a part of our life. May God bless you in the future journey.
Mentioning you just as my colleague will be an understatement of our relationship. You have been more than that. You are the one that I know them better and find it easy to share my problems. It is you on whom I relied every time any problem occurred because I knew that you will stand as my God and will steer me away from any wave of the problem. I will certainly miss you in the workplace but nonetheless, I hope to continue to see you outside workplaces.
It was your enthusiasm and hardworking nature that drove the working force of this place. The dynamism and activeness of this place whirled around your active skills and knowledge. Saying you goodbye will not be an easy task as we are not just going to miss a colleague but a part of our driving engine that helped us and the organization to reach to a whole new level. May your future life be a restful one as you deserve the right to ripe the fruits of your hard work…
You are the best example of maintaining a professional and personal life. While many struggled to come up with these two parts of life, you managed it with ease. This has been a great source of inspiration for us. Even after you leave the office, you will continue to be an example of a great employee and will serve us as our guide to handling our work and life tactfully. I hope that your journey to the next phase of your life will be a smooth and calm one.
While we will certainly miss your presence in our workplace, you will certainly continue to be an exemplary worker due to the extraordinary achievements that you have gathered during your tenure. It will be very difficult to put it in words as to how much we are thankful to you for your great contribution to our career and the advancement of this organization. We hope that you will continue to be an example in your future life and have a great time after retirement.
Retirement occasions are a great way to show your love and care to the retiring person. It is at this moment that you can enhance the bond and make it stronger which will continue to flourish even outside the job place.
A retirement letter is just one such tool that will help you to meet the ends of showing your love and care in words to the concerned person and bless the retiring person for a great future ahead. So, go ahead and write the best letter for your beloved coworker.
Save
Save