When you get an opportunity to work with a startup, there is always a certain amount of if's and but's associated with it. Though it can be quite rewarding, but at the same time it is unorthodox too.
The hierarchy in here is quite flat, therefore, there is no need to wait for months to get your idea approved.
In fact, if you want to explore some ideas of yours, then you are given complete charge of that and the onus will be on you to successfully complete it.
The environment is fast paced and as a fresher you will be able to gather some good amount of experience.
Moreover, there are some perks associated with some of the best successful startup companies, which you will hardly find in any big companies.
The big names in the industry are said to offer material perks, but if you are talking in line about the culture and friendly environment, then the best bet will be the startup companies.
As they are new and just setting up their business, therefore, they ensure that they have only those people on board who can work well as a team.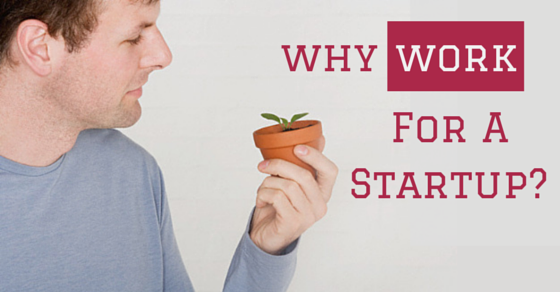 The Process of Getting Selected in the Startup Companies:
It is not that easy to get through the interview board of the startup companies and the only reason for that is they are not experienced in hiring.
So, it might happen that you will end up meeting with almost everybody in the company during the interview. But, yes, you can expect an answer on the spot about your selection as there is no such separate department to handle the hiring process.
The person who is taking the last round of the interview might have the full authority to hire anyone, if he finds the candidate suitable , you will be informed whether you are selected or not.
Things To Know Before you Start in a Startup Company:
If you are in a dilemma on whether to go for a startup company or an established one, then you must do your research on the working environment of both the companies and then decide which one will be best suited for you.
Apart from the environment, there are several other things that must be taken into consideration and they are as follows –
1. You might be asked to display your talent:
If you have written that you are good at coding or programming, then the startup company might ask you to come up with one during the interview process only.
It is done to ensure that they are hiring the best possible candidate for their company. They are a startup company, so they have budget constraint as well and that is the reason they cannot just afford to get into a wrong investment at all.
They know that if they have to grow from strength to strength, then they have to select the right candidates for the job. So, you have to prove your mettle to get selected in there.
2. Get ready to work for long hours:
You must not expect to work from 9 to 5 and go back home, instead you must prepare yourself to work long hours.
But the major advantages of startup companies are that they allow their employees with full authority and you will also be able to accumulate huge knowledge on the matter that you are handling.
It is so because you are the one who is handling everything about the project, therefore, you will get complete knowledge about the matter.
In big companies what happens is that, there are several people handling the same project, so the employees get to know about the part they are working upon and not the full thing.
Therefore, you must make the most of it and enrich yourself with the knowledge that you can garner from here.
3. Help you in getting self – sufficient:
You might be required to handle some minor issues with your computer or fix something else on your own.
It is not a big company, remember, therefore, you must be self – sufficient to work your way through some minor issues in the company.
Sometimes, it might happen that you have to dish out some cash from your own pocket to get things done.
But, the positive side of this is that when you see the company getting established and has a name of its own in the market, then you will feel proud because of the contribution that you have made on your behalf to get the company where it is today.
Things to Look for in a Startup Company:
Startups are a good way of starting your career, but it also holds true that it is not for everybody.
Not everyone is cut out for handling the pressure and responsibilities that are generally associated with the startup company. Here are some of the things to look forward to in a startup company –
1. Company Culture:
The company culture will be completely different from that of the big companies. You will be working in a close knit team where everybody has the right to speak if he or she thinks that it will be beneficial for the work environment or for the company as a whole.
You can wear almost anything to work and there are no strict guidelines about the attire, so you can wear jeans every day or if you want you can wear shorts to work during the summers.
If you are most comfortable in the flip flops, then it is okay to wear them. Listening to music while you are working or if you want, you can work from home.
If you feel there are some personal issues, you have to handle, then you can just call in to say that you will be working from home and it is done, no extra question asked.
The work environment in the startup is maintained in such a way which will make the employees work comfortably.
You must be thinking to yourself about how to join startup companies, so that you can enjoy all these perks.
They are all working towards achieving the same goal, therefore, when you have like – minded people working for you, then your productivity is definitely going to get better and you will be able to achieve your goal with élan.
2. No need to wait for approval:
We all are aware of how the big companies work. If you want to implement something, even when it is good for the company, it will take months before you can actually see something happening on a positive note.
But, on the other hand, there is no need to go through such a long series of approvals and red tapes.
In fact, things are done much swiftly in the startup companies. When you are working in a small company or the startups, then you can directly go to the CEO and ask for permission because the hierarchy there is almost flat.
The more you can avoid the bureaucracy, the better because that way you will be able to achieve the goals much faster and decision making process is much quicker as well.
3. Works as an inspiration:
When you are building something from the scratch, then the attachment you will have with that is totally different.
You will have passionate people around you who are equally hard working and all of you will be working towards achieving the same goal.
Everybody is thinking about the betterment of the company and is always interested in bringing out some of the most innovative ideas to work. This way, they challenge each other to excel the work they are doing and which is great for any company and especially the startup companies.
4. Empowering everybody: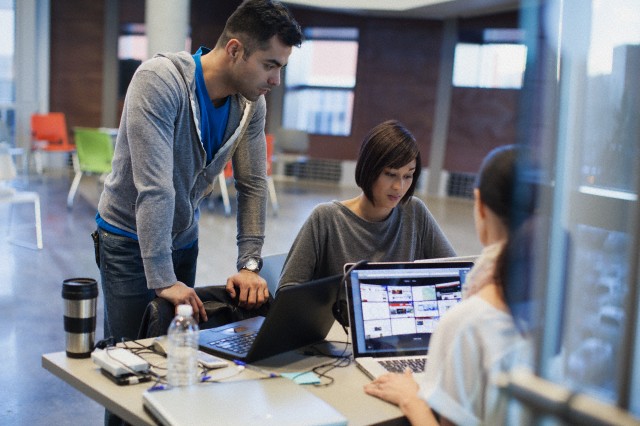 It is not that you will only have to perform your job and go back home, instead you will have to take active part in almost everything in which you have some knowledge.
You will be responsible in building up the culture of the company along with the values and goals, so it is a huge responsibility that you have to share which is almost impossible in the big companies.
The big companies already have set rules and company values and you have to follow them, there is no scope to change them or add in anything.
In startup companies you are welcome to share all your thoughts, so that it can be used to enhance the work environment.
Moreover, you will be allowed to test the ideas that you have in real life scenario, even when there are chances of your failure, but still you will be allowed to do so.
This way you will be able to gain more confidence and will enhance the decision making power in you.
5. Visible to others:
The bigger the company, the lesser the visibility, but if you are working in a startup company, then you can be rest assured about one thing that the visibility level will be much higher.
In a big company you won't even think that your higher authority will know you by name, but in a startup everybody is known by his or her name and shares a very transparent relationship with higher authority as well.
Even the customers don't have to go round and round before speaking to the concerned person, instead the customers and investors alike can directly talk to the top authority, if there is any complain about the product or services that they are providing.
In big companies, mostly the customer service department is different and the customers have to go through them even when they intend to speak to higher authorities.
But, in a startup, this barrier is not there and that is the reason, the complaints are well taken care of and suggestions are taken into consideration.
6. Prioritizing the work:
In startup companies, there will be hundreds of work pending, therefore, the onus is on you to complete the task based on the priority.
If you see that some work which is high on priority is not completed yet, then you have to see to it that the task gets completed within time and for that if you have to leave your work and help your colleague, then you will have to do that.
Moreover, doing so will increase the team bonding and the next time when you will need some help, they will be ready to help you even before you ask them to do so.
There is no such demarcation of work responsibilities; instead it is more of a co-operation between each employee that takes the startup companies ahead.
7. Having fun all throughout:
It is fun to work in a startup company because there is nothing fixed there, neither the work timings nor the process of work.
It is more about completing the work and in order to achieve that with limited resources, the employees have to come up with innovative ideas.
It is great to share the same table with talented people who are working towards the same goal, sharing ideas and asking for opinions even from newbies.
As a newcomer, you cannot expect anything better than that because the learning that you are collating from here will be a lifetime asset for you which will help you grow in the future.
Now if you want to know how to find new startup companies, then you can just go online and look for them.
8. Making money: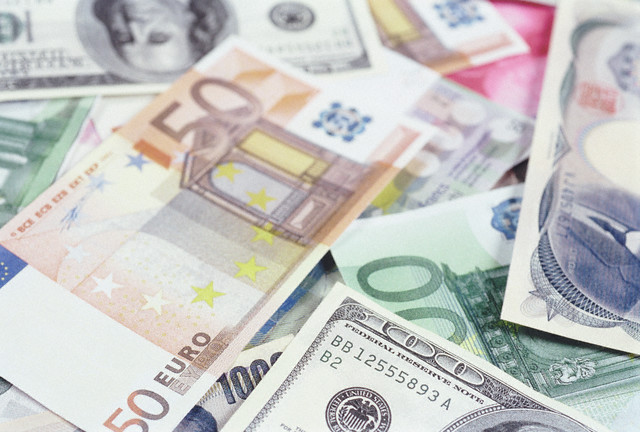 Some say that making money in the startup company is a far – fetched idea. Yes, it is right, but if you invest well, then you will be enjoying some good amount of money on your account.
When the company is starting up, then it is quite obvious that the stock price will not be too high.
So, if you can lay your hands on it, then the time when it goes public or when it starts creating a name for itself in the market, you will have your hands full by then.
Moreover, when you are working with a startup company you will start valuing each penny even more and you will also realize the true worth of money.
When you are working with almost no fund to the minimum amount of fund in the startup company, then keeping the costs to the minimum stays the main objective of every employee out there and it somehow prepares you for handling your own money as well.
9. Money v/s experience:
If you are looking for a good paycheck at the end of every month in your bank account, then startup company is definitely not for you, but if you are talking in terms of experience, then you cannot get anything better than the startup company.
10. Grow with the company: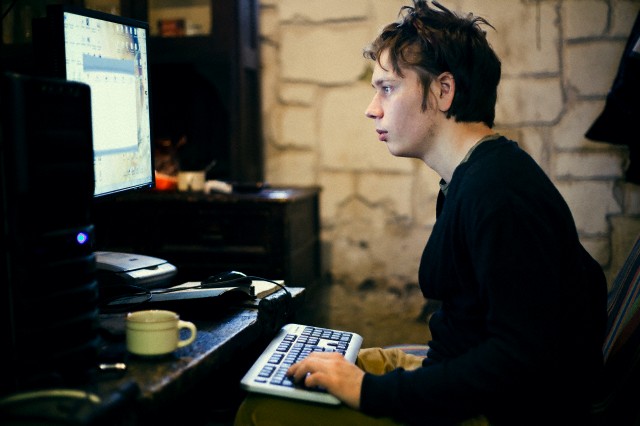 Your hard work will not go unnoticed, instead if you work hard and make the company roll in for a smooth sail, then you can see yourself in a better position in the company.
Moreover, when you are doing things on your own from the very beginning, then the success tastes even sweeter.
11. Responsibility increases:
When you are working in a small team, then the responsibility increases and you have to don different caps at different time.
You will be provided free hand to decide on certain issues and the whole outcome will be your responsibility. If you are successful, then the whole company will rejoice with you, but if you fail, then also the company will be affected.
So, it is a huge responsibility that every employee shares in the startup company. If you are not very much of a responsible person, then you must not even think about joining a startup company.
12. Challenging yourself: 
If you are working in a big company, then after a few days the job becomes quite a monotonous job and you get so used to doing it that you will almost be able to do it in your sleep as well.
There is no challenge left in the job anymore, but if you are talking about the startup company, then you will enjoy a new challenge every day and by the end of the day when you are able to solve the issue, it will be a satisfying day of work for you.
Wrapping Up:
Startup companies are not for everyone because not everyone is looking for a job which doesn't provide them with any security or health benefits.
Some people are in the groove where they will only do their work and that too within the time frame of 9 to 5.
It is not everybody's cup of tea to face the challenges every day and handle the immense pressure of work. In Startup Company everything is made possible only because of the team work and positive attitude towards work.