Human Resources(HR) is one of the most critical yet the most underrated department within many organizations. To ensure the recruitment of talented candidates across profiles, the training and performance evaluation requires a skilled team of HR professionals within any company, irrespective of its size.
The industry has slowly understood the true significance of HR professionals. That is the reason why many companies and firms are coming up with unique initiatives to train HR professionals. These HR leadership programmes aim to get the best of human resource professionals so that the profits can be increased and true success can be achieved.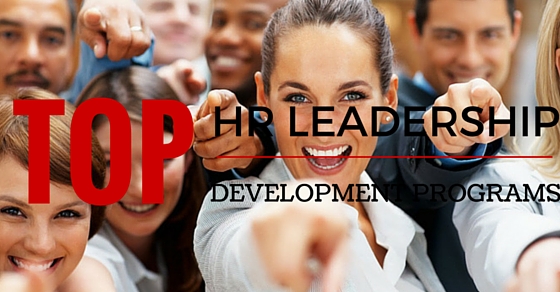 If you wish to be an HR professional, you should be aware of the different training programmes for HR professionals. Here are some of the best HR leadership programs that are necessary for the proper grooming of HR professionals.
Best Development Programs in Human Resources Leadership:
1. Human Resources Leadership Development Program (Johnson & Johnson):
Johnson and Johnson is a very famous company known mainly for its range of unique baby products. The firm has retained its number one position through superior performance and quality services. This would never be possible without the best manpower. The firm has developed a unique HR training programme that deserves a mention among the top HR training programmes.
This leadership development program is best suited for students who have a career in an ambiance of caring, where they can support their co-workers to ensure the well-being of people in different parts of the world. This program is run by the Johnson & Johnson family and is meant to groom budding HR professionals to build a cooperative work environment within the organization.
2. Accelerated Development Program-Human Resources(Ingersoll-Rand):
Each firm or organization has a different approach towards bringing out the best from the human resource professionals. The Ingersoll-Rand firm came up with a unique accelerated training programme that brought out the best in human resource professionals by posing true challenges. This is an added reason why this training programme is ideal even for freshers.
The Accelerated Development Program(ADP) of Ingersoll Rand is best suited for professionals who have just completed their graduation. The strong point of this HR leadership development program is that it offers trainees with challenging assignments as well as hands-on exposure and training by the senior leaders of the organization. In the course of training, students go through rotations in numerous geographic and business locations.
3. Human Resources Leadership Development Program(Amazon):
The MBA program run by Amazon is to create a team of visionary HR leaders who eye to track and groom the best talents for the organization. MBA and post-graduate level students at Amazon are provided with the responsibility of handling a wide range of HR related activities.
They are also offered with the autonomy to think strategically and take important decisions that have a major effect on the company's customers as well as their business. Therefore, management students get a clear idea about the HR functions related to the e-commerce industry.
4. Human Resources Leadership Program (General Electric):
There are many companies that come up with impressive motto to gain appreciation from audiences and clients. However few companies actually adhere to their great sayings. General Electric is surely among the few companies that completely live upto the word they give. Their management program is a clear reflection of their words.
Shaping the work culture to shape the future has always been the motto of General Electric. GE goes beyond the barriers of organizational hierarchy, industry, and country to support the growth of their personnel and create visionary HR leaders in the world.
The role of the HR department at GE is to foster a vibrant atmosphere where the staff can give in their level best and prove to be valuable assets for the organization.
5. HR Pathways Rotation Program(Intel):
Intel is a world famous company that has managed to retain its reputation over the years. Consistent performance of its man-force is sure one of the major reasons of its success. They have managed to keep their employees satisfied through their efforts and unique management policies that are sure noteworthy.
Ensuring a high level of employee satisfaction for an organization as big as Intel is a challenging task. The main task of the HR department at Intel is to hire, develop and retain employees. They are also entrusted with the responsibility to create a great working environment at Intel.
There are ample opportunities for trainees to learn the main functions in the HR profession. The superior opportunities offered to the employees at Intel has been the reason for satisfaction of the employees at Intel.
6. Human Resources Leadership Program (Cisco Systems):
Just like Internet is altering every way of working and enterprising, it is also having an impact on the management aspects of a company's functioning. The best example to quote here is that of CISCO. The Human Resources Leadership Program by CISCO has gained importance in the modern world.
The internet is a vital aspect of any type of business today and has raised the significance of networked connections manifold. The out of box ideas of Cisco's HR team has a vital impact on all walks of life- starting from education, healthcare, retail & banking, to public and private sectors, smart cars, gadgets and applications.
7. Human Resources Development Program(Chevron):
Human resource is an important facet of any business organization. Few companies seem to give HR team the importance it deserves. One of the few companies with a remarkable HR programme is Chevron.
Human Resources Development Program conducted by Chevron has been designed to ensure a promising career for HR professionals joining the organization, which is known across the world for its focus on growth and innovation.
While undergoing this training program, HR executives will get the perfect opportunity to put their education into practice in a cooperative work environment. The experience gained at Chevron will provide them with the perfect stepping stone to their career.
8. Human Resources Leadership Development Program(Raytheon):
Raytheon Company, along with its sister concerns, is a technology company dealing in defense and other sectors which come under the purview of the government. Raytheon creates products, services, and solutions in markets such as effects, sensing, command, communications, and control.
They understand the significance of Human Resource in expanding and diversifying a business. That is probably the reason why they have a unique human resource leadership development program that focuses on encouraging leadership skills in HR professionals.
The program helps to enhance leadership skills in different HR professionals so that they can get the best of work from the employees in the organization.
9. Human Resources Development Program (Aditya Birla Group):
The Aditya Birla Group is surely one of the world renowned business groups from India. It has managed to maintain a high reputation over the years with its consistent performance. A very good HR team and impressive HR policies have surely been responsible for the success of this firm or organization.
The firm has come up with a notable and unique HR programme. The main of this HR leadership program is to provide professionals with outstanding analytical skills, strategic management, and people skills to be the mainstay of HR department of the Aditya Birla Group.
As a result, management students are offered with challenging roles to manage the worldwide operations of the Group, thereby placing them in designations with high responsibility.
10. HR Leadership Development Program(IBM):
There are few firms that does not regard HR with the respect it deserves. IBM surely stands as an exception. It is among those few firms that give HR the deserved respect.
At IBM, HR is regarded as a strategic partner for achieving the long-term goals and objectives of the organization. Students and professionals who undergo this program are offered specialist, generalist, and global rotations across HR in the course of their training. They are made to undergo three one-year rotations, included a necessary international opportunity.
Other highlights of the program include executive mentorship and shadowing and an annual global learning event which is held once in a year. This event comprises executive roundtables, networking activities, and leadership training.
The programme helps to fine tune the HR skills in different candidates. This is a major step in converting motivated candidates into ideal professionals. The human resource training programme has gained significance in the recent years.
Role of HR in the Growth of Firms and Businesses:
The advent of machines and the Internet have surely simplified work and made it fast. Yet, manpower still remains a major deciding factor in the success of a company or a firm. A human resource team ensures that all the employees stay satisfied and motivated so that the company is able to achieve its set goals.
The different human resource development programs help to fine tune qualities like leadership in the human resource executives. This helps them to extract maximum work from the employees. The role of a human resource team can never be undermined. Companies that give the right significance to the HR team succeed and attain their goals in the long term.
Save