A resume can be created by everyone, but a very few skilled people know the art of building an excellent resume.
While applying for a job, it's your resume that creates the basic impression on the employer about you.
A research by TheLadders, a job matching service, reveals that recruiters spend about six seconds of their time to review a resume before making the initial decision about a candidate.
So if your resume is poor, you are rejected straight away without letting the employer go through your entire application.
He will not even give a second thought to meet you as a person. So it is very necessary to know the right art to build the accurate resume.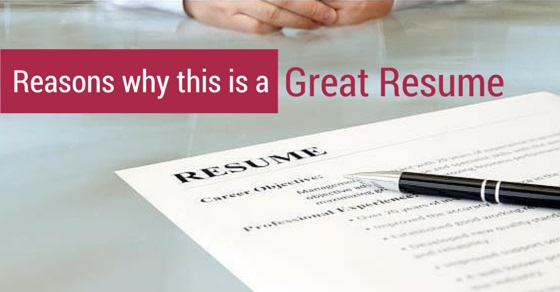 Resume for Job Seekers:
There are several reasons why a resume is marked as perfect or excellent. Yes, it did include all the things that a resume generally needs but the way it is written and the additional contents change it completely.
1. The resume is consistently branded:
Career expert from TheLadders. Amanada Augustine, says that when you use a common name, consider using your middle initial on your resume and online job profiles to make a difference.
For example, if your name is John Henesy or John A. Henesy, then use the same name on your social profiles for consistent branding.
2. Uses the accurate phone number and email:
Include a single and accurate phone number where you can be called up or can respond to a voicemail.
Similarly, your email address should be correct and working. If you use the wrong details then employer will never find you, hence, that will create a negative impression upon him.
3. Objectives are ripped off:
Writing down objective statements like "a professional seeking for opportunities that will allow me to utilize my skills and benefit the organization" totally pisses off the employer.
Definitely, you applied because you need a job and writing such unnecessary statements means utter nonsense and unhelpful.
4. Instead an executive statement is included:
Replace your objective statement with an executive summary. Explain within 3-4 lines what you are proficient in and in what way you can provide value to the company. That makes easier for the recruiter to understand you.
5. It includes company description:
It is good to include company descriptions in your resume so that the employer gets an idea about your company profile.
To add a description you can visit the particular company's 'about us' page and pick up a few lines from there. The description should be written right below the company name.
6. Your achievements are listed in three bullets per job:
List down your contributions towards the company and explain what you have achieved.
Recruiters go through a number of resumes so they want to complete as soon as possible. So jot it down point wise so that they find it easier to read.
7. The resume uses the basic fonts with black color:
A resume looks good when any basic font such as Arial, Times New Roman or Calibri is used in it with automatic black color in it.
Basic fonts make the resume look professional and easy to go through. It maintains the style and standard of the resume.
8. The resume avoids fancy fonts and colors:
Using fancy and italic fonts prove that the applicant is very casual and lay back. Also using colors in your fonts can irritate the employer, so it's better to stick to the basics. Fancy fonts look very casual and non professional.
9. The resume avoids headers and footers:
Using your contact details in headers and footers look good but using it in embedded tables and charts often scrambles it in the applicant tracking system.
10. Education is mentioned at the bottom:
Unless you are a graduate, don't mention your educational qualification at the top of the page.
Rather focus and highlight your work experience at the top and list down your education at the bottom of your resume. Employers are not interested in viewing your high school years.
11. The resume avoids the 'references upon request' statement:
If a recruiter needs any references then they'll request you to provide. So you don't need to include this meaningless line in your resume.
12. The resume includes a link to the applicant's professional profile:
A study reveals that 86% of the employers want to see the online profiles of candidates. So a link to their profiles should be included in the contact information.
This will prevent employers from mistaking you with someone else. They can quick view your online profile with the help of that url and get to know more about you.
13. Properly formatted:
Use white spaces before mentioning any important point. That draws the employer's eyes to the important points very quickly and saves his time. Keep your resume properly formatted with equal spaces and gaps.
14. It does not contain any images:
Avoid using any images in the resume. This can confuse the application tracking system and jumble up your resume.
15. The resume is updated:
Many candidates send their outdated resumes. The reason behind is that they don't crosscheck it due to their laid back nature and send the outdated one.
But when the employer physically meets him, he says which is totally different from his resume. That creates a negative impression on the recruiter. That is why you need to send updated resume .
Conclusion:
So you can see that there are certain criteria to build a perfect resume. When you prepare a resume, review it certain times before creating the final draft. I believe each time you'll find a mistake so you need to keep crosschecking until the mistake is removed completely.
Do not review it twice or thrice at a time but keep a gap period of 1 to 2 days for each review. As much as your crosscheck with a fresh mind you're likely to point out the mistakes quickly.
Any educated person can create a resume but only a skilled person can build a perfect one. So you can practice it yourself and gain that proficiency. A perfect resume brings your chance closer to get into a company and impress the employer.