The economy of the world keeps on fluctuating and the possibility of it getting constant in the near future is low. With the difference in demand and supply where the supply is high and demand for the work is low, the competition tends to get tough automatically.
The industry works only for the survival of the fittest, where one needs to prove their efficiency almost all the time. With the recession hitting the industry, repeatedly maintaining the jobs is quite difficult these days. With some smart decisions, one can easily stand ahead of others despite the recession.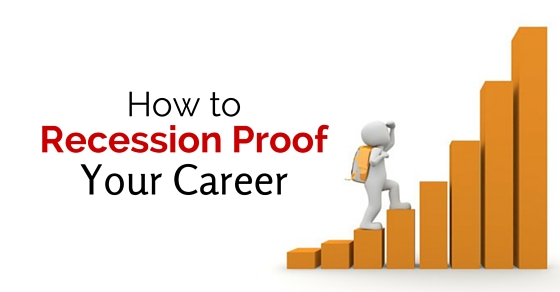 How to Recession Proof Your Career?
1. Create yourself as a brand:
Work to make and represent yourself as a brand. Specialise in something with which people recognise you and you are the best in it. No one is good as you are. This will help you in a long run when the decision to sack the employees is considered, the decision makers will see you as someone who is valuable and beneficial for the company. Because they will know it will be difficult to find a good brand like you again.
2. Connect with senior decision-making management:
Being in the eyes of senior management for good reasons is essential, as they will be aware of your presence and know you personally. The decision makers will know about your capabilities and will prefer keeping you as a part of the company. A good rap with them will always work. Talk to them during lunch breaks or find an opportunity to know more about them, not only on a professional but personal level too.
3. Be confident:
Everyone likes a person who is confident about themselves. No matter how scared you might be from inside but never let that show on your face or in your attitude. Be positive and share your positivity with others too. Ensure not to be overconfident about anything but the right amount of confidence will always work in your favor.
Keep in constant touch with the key decision makers and communicate that how much you enjoy working for the company and how you are beneficial to them.
4. Establish your network:
Networking always work. Meet lot of people and interact with them. In case of crucial situations, knowing the right people will work the most. They can help ensure the positive decision favors you. Networking also helps in the time when you need to find the right job in case you want to move out from the company as per the situation. This will work as your safety net and people who you know can recommend or connect to you the next best opportunity.
5. Keep things under control:
Sometimes things may go haywire and one might tend to lose cool. Always remember the most important thing is to keep everything under control no matter how hard it might be. Prevent yourself from venting your anger in any form be it verbal or physical as it will ruin your chances of recession-proofing of your career and will make you an easy target to sack from the job. Keeping emotional control will present your attitude towards the difficult scenario and it can work for good.
6. Create your value:
Prove yourself as an asset to the company. Take initiatives for the company that can be beneficial for them. See the loopholes that might be fixed and can lead to the growth of the employer. Take charge of the situations and provide solutions to the problems. Present innovative ideas to the management, your efforts will not go in waste. This is a gradual process leading results for the long run. Proving yourself as a valuable asset to the company will work in your benefit.
7. Update your skills:
With so many technologies coming in and every year freshers getting out of the colleges with more updated knowledge about the system. The competition is already tough and these freshers are ready to do the job in low pay.
Hence, it is an add-on to keep learning new things every few days, keep yourself updated on the new technology coming up and how this can benefit to the employer. Knowledge is powerful and it will help you in future.
8. Prove your accomplishments:
Just working for the company is not always enough. Take the credits for your achievements and accomplishments, keep your senior management aware of what work you did and how it brought the benefit to the company. Let not others take credit of your hard work and cash on it later on.
Hence, it is important to be appreciated with what you do and keeping aware others of your efforts.When your senior management is aware of your efforts they will surely consider to keep you in the company for the benefit.
9. Hard work pays off:
Always put your best foot forward and do not hesitate to work hard. Work as if you are working for your raise and do not miss the opportunity to prove your worth. Be on top of everything and ahead of everyone.
This can only happen when you will work out of your comfort zone. No company will every want to lose their top-performing employees. Also, the more you work, the more you will learn and it will also build your knowledge and experience.
10. Smart work is an advantage:
Remember smart work is equally important as hard work. Smart work means efficient time management and knowing the right resources to get the job done. See how you can save the expenditures for the company during recession time or find the solution for recession-specific challenges.
See how you can deliver the best results in short period of time. Every employer loves those who can work more in less time and is considered precious for the company. Some people have the natural instincts towards the smart work while it can also be learnt with some common sense.
11. Plan ahead:
Always have a backup plan, no matter how hard or best one can work yet the future is unpredictable. Be aware of the future situation of the company and if you think that the chances of you surviving in the company is low then it is good to find your job in another company or where you find it right. A sensible and timely decision will be on your advantage during the critical time of recession.
12. Be the owner, not the employee:
Another important thing is to work like you are working for your own company and not just as an employee. The attitude towards work will bring the change in yours. Think how you will plan and find solutions for the problem as your own. It will showcase your seriousness and passion towards your work. Hence, it will provide an edge over others to keep your job.
13. Use social media:
Use social media efficiently to portray yourself as a brand or create your profile. Present your professional persona and connect to various headhunters who can help you to find the best possible job in case of firing. Preparing for the worst before itself will land you in the right place and keep you in the safe zone.
14. Develop your hobby as a small business:
Pursue your hobby along with the job and try turning it into a small time business. You can start with selling products online or if you enjoy teaching you can pursue that. There are few professions which are never hit by the recession and are the best option.
Always look out for the best opportunity which can serve you well hence the dependency of others will reduce.It also opens up the door for a future opportunity to be an entrepreneur. But it is important to take the calulated risk when planning for a bigger change.
15. Cut down your expenses:
As said, future is unpredictable despite putting efforts in the right direction. It is good to ensure to cut down your expenses, for example, unnecessary shopping, cutting on your rent, etc. A good financial stability will keep you strong and motivated. In case you are being laid off then having a strong back will give you time to find better opportunities and succeed. Do not hesitate to shift with your parents for a while, think of it as taking a vacation for the time being before you get back on your feet.
Conclusion:
These above few points will help you prepare for the worst scenario. Most of these will benefit you save your job but where you find it difficult, it will help you to find the best alternative. Not only for recession but it will also help you for the future also. Prepare and work for a financial strategy as because of the lay off, the finances tend to become weak. A well thought plan will always work for good and keep you ahead of everyone and safe for future.