What is a Freshers Party?
A freshers party is a very popular cultural activity that is actually very creative and one that brings people together and gets to know and understand each other. It is a fun-filled, entertaining and knowledgeable event.
It is always a great way to welcome the shyer (since they are still new) and help them come out of their shell, show off to their colleagues what their strengths are, be able to know the other new hopeful and the most important is that this is a great platform to motivate and boost the morale of the freshers by making them feel included and part of the family.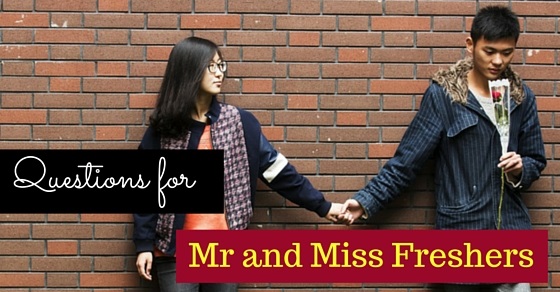 Smart navigation:
In this article, we will be discussing the below-enlisted topics,
Here we are going to discuss a few things that help us choose Mr and Miss freshers and have a look at the questions for freshers party in college.
Questions for Mr and Miss Freshers Party:
These are the few freshers party questions usually asked when choosing a Mr and Ms Fresher.
1. "If you are beautiful and not so smart, or smart and not so beautiful, what would you like to be and why?"
2. If you are asked to rank WEALTH, HEALTH and FAMILY according to their importance How will you do it and why?
3. Who do you think is more stupid, the JUDGEs, the CONTESTANTS or the AUDIENCE?
4. What would be the first thing you do, if rules have been removed from your college for one day?
5. What would you like to know if you get a crystal ball that could tell the truth?

6. What is your biggest fear?
7. Why is lemon juice prepared with artificial flavour and colour whereas a dish cleaning gel made with real lemons?
8. If you got a chance to go back and be any age you want for a month, what would you choose and Why?
9. In case you need to choose between peace, love, and happiness; what would you choose and why?
10. If money was not a constraint, tell me about your dream vacation.
11. Share something which you never understood when you were a child, about the world?
12. Explain about a good personality trait that you lack.
13. If you were judging this event, which traits would you look for in a Mr Fresher competing candidate?
Questions to Ask in a Freshers Party:
For the organizers, this event is a very stressful time, getting everyone and everything working in accordance with the plans. It is especially hard for the judges to prepare freshers party questions that will not only give the seasoned people a good understanding of the freshers but questions that will also help the freshers gain the confidence that this is a way of welcoming them to the family.
Good preparation is required and judges are not expected to ask the same questions asked in college freshers party every year and hence a little creativity comes into play.
1) The reason behind the choice:
Wouldn't your colleagues want to know what were the reasons behind the freshers choice to join you? This is also a very creative way to ask the freshers what their aims and ambitions are. It is obvious that they have a career end-game in mind that made them choose a particular path.
It will be very interesting if the freshers come up with a very creative answer to your question. Most freshers will feel comfortable with this question since it is easy and they do not have to think too much about the answer, however, the way the question is formed should be creative and not in the usual straight cut "why are you here".
2) Hobbies:
The answer to this will tell you a lot about a person, their likes and dislikes, their interests and what activities are close to their hearts. Of course, this should also not be a straight cut question, it should be formed in a very creative way and it will be interesting to hear the answers since most of them will be witty and will tell you a lot about the person.
This is again one of those easy questions that will whet the fresher's appetite since this gets them settled down and feel at ease. No matter how you ask the question, make sure that the question not only revolves around the topic but also will get them thinking rather than just answering straight away.
3) About them:
Here is a very creative question that will get a lot of laughs, fun and most importantly the information that you need about them. Everyone has an opinion about everyone else and there is a lot of judgment that will go on every second of the hour, however, what a person thinks about themselves will show a lot about the character of the person.
Being confident and witty is the most important characteristics about the answer, there will be a lot of answers that will just be a repetition of very cliched ideas. However, it is the wit and the humour of these contestants that will give you the answer to who will be closer to the winning round.
4) Thinking cap:
This question would require a lot of thinking on the contestant's part. Questions that range from their outlook on specific educational updates (these will be according to their educational background), their outlook on the feminism scene, employment sector, certain industries and their quota for a new hire.
It is important however to note that some might attempt to answer this question according to popular beliefs and pick-ups from magazines or news. Putting on the thinking cap, ask them a creative question like the things that they would like to change if they were to host the same event; either way, get them to think.
5) Assumptions:
What is better than getting your contestants to really think about a topic that is not factual but a fig of your imagination and see what is the extent of their knowledge – whether there is any practicality to what they have learned or just textbook knowledge.
Take on your creative thinking, discuss with a lot of people so that you get a good grasp of the concept as creativity is better with two or more heads together. If your aim is to really get an in-depth understanding of the fresher's intellectual ability then these types of questions will surely give you a peek inside their mental prowess.
Mr and Miss Freshers Competition:
This is a contest where the freshers are being judged according to their personality, attitude, aptitude, general outward appearance and of course their ability to answer questions that will let you know their intellectual strength. This is a fun way to get to know the freshers just joining in and there is a lot of fun and exciting stuff that can be introduced to the event that will make the show more successful.
With a lot of personalities that will join, there are bound to be some who would like to show their hidden talents and hobbies. Here are a few fun things that this kind of contest will bring to the table, just small facts that make this an enjoyable experience.
1) Getting to know the new freshers:
Yes, there are a number of new freshers joining your world and this is a great platform where they will tell everyone about themselves, their likes and dislikes, their hobbies and just getting to see who the new people are.
2) Creativity:
The best thing about such contests are the creative ways that they are being conducted, the event is full of creative inputs, designs, costumes and especially a creative way of getting to know the new people who just joined in.
3) Joining in the welcoming party:
This is a great way to welcome the freshers and letting them know that you care for them and their stay. This is also a great way to make them feel comfortable in a new setting, getting them settled in and just knowing them before the official introductions.
Rounds for Mr and Miss Freshers:
As it is with all contests, there is never just one round of selections. The Mr and Miss freshers event also have a lot of rounds that help in the selection process and slowly sieves through towards the best five or best three. Each round has a different selection process and with each level, there is a specific number of people who are chosen to step forward to the next level which will again have another set of selection processes.
Here is a breakdown of the most common rounds that can be found in a Mr and Miss freshers contest.
1) Introductions:
This is the very first round which is the introduction round – participants are given the chance to introduce themselves, in their own unique way to the crowd and the judges.
The participants are given a specific time frame where they will fight towards making the best first impression to the judges and thus making sure that they are chosen for the next round. They can choose to introduce themselves by giving a small freshers introduction speech, act a short play, dance and even sing their introductions to the audience and the judges.
2) Ramp Walk:
In this round, participants walk the ramp in their best dress and wearing their confidence. While the participants are doing their best version of a 'catwalk' the host will announce each of their names and some facts about them.
This round helps the judges and the rest of the audience evaluate each participants' confidence in carrying themselves, their dresses (this is a very good way of knowing how a contestant can present themselves) and of course if they can impress everyone with their outward personality and their smile.
3) Talent round:
This is a fun and interesting level. After the participants are done with the introduction and the ramp walk round, there will be some participants who were able to impress the judges, move to the next level.
In this round, all contestants are given the chance to show everyone what their talents are. This is an important round since most often, this round is taken as the level that will take the winners to the semi-finals.
4) Question round:
After the participants have been selected, they are moved to the next level which is the question round – here the judges will ask each participant a question that will range from general, witty to the more personal and thought-provoking queries.
There are some of these questioning rounds where the questions are written on paper and the contestants are asked to choose one from a collection of questions and answer whatever one they get. The winners are chosen according to the answer that they give, not whether it is the wrong or the right answer but their take on the question which usually needs a lot of creativity and wit to win.
5) Coronation round:
This is the round where the winners of the Mr and Ms fresher is announced and given a sash with a crown (these are not always a necessity and the event planners can always come up with another way to reward the winners).
There will be three winners to the competition, the runners-up, the first runners-up and the winner. Most of these are accompanied by the winner giving a speech and if not there will be an end-of-event act after everything is done.
Role and Importance of Freshers Party:
Fresher parties are organized by the college management every year in order to welcome the fresher students into the college and make them feel comfortable about the college and its environment. This way the newcomers will feel confident and get accustomed to the culture around.
The party would comprise of many colourful events like ramp walk, western dances, entertaining skits, stand up comedy shows etc.
The fresher's party is also an opportunity for newcomers to get in connection with people of other departments, meet their seniors and other prominent professionals to build a better network.
So altogether, it is an occasion for having a fun-filled networking program that is beneficial for all those participating in it.
Farewell Questions for students: Mr and Miss Farewell:
This is an interesting way of knowing the thoughts of the Mr and Miss freshers when they are prepared to leave and go out into the world. Here are a few farewell questions for students that will help so many other prospective become much smarter and understand their sessions better.
The best questions would be the ones that target the winners' answers when they were contesting for the Mr and Miss fresher when they first joined in and compare their answers from then and now.
1) Summary:
These are the winners of the Mr and Miss freshers a few years ago, it is always great advice to talk to them about their experience when they were part of the family. Asking them about the things that they have learned through the years since winning the contest.
Their outlook on their years being part of the institution or corporation, there will be some very interesting learning from their answers because life will change a lot and their outlook will be different from what they were when they won the title.
2) Learning:
During the question round, their questions were specific to what they believed back then, asking them if those opinions have changed and if they have what are their opinions now about the same topic and especially what led them to change their outlook now.
What have they learned that has made them change their tunes now. Their answers can be published so that they are able to gain some knowledge about the years of being part of the new family.
General Questionnaire for the Farewell Party:
1. Will you host a party for your friends if you won a jackpot?
2. Is it possible for you to move apart from sex for almost a year?
3. What would be the first place you wish to go if you had teleporting abilities and why?
4. If you ever got a chance to pull down somebody pant, who would it be?
5. Do you feel sad when you miss something in your life?
6. Do you have a malfunctioned wardrobe?
7. What is your idea about perfect sex?
8. Did you ever push the blame on others for the mistake you have done?
9. Did you ever had your '15 minutes of fame'?
10. Do you carry anything weird in your wallet? 
11. Being a girl, do you think to feel your good height is a negative thing?
12. Do you think that most of the guys prefer a better figure than a beautiful face?
13. Tell me the one thing that can turn you off about the opposite gender?
14. Name a person who you most admire and why?
15. If suppose you get very rich and gain fame, would you still be in contact with your old friends?
16. Did you ever send any foul messages to anyone?
17. If you got the power to turn invisible, What will you do?
18. Have you ever heard any meanest thing from anyone?
19. Name a rock band you wish to take along with you to get entertained on Mars?
20. What would you do if your parents disapprove of the boy you love? 
21. What are your thoughts on you being judgemental?
22. What would you do if your parents disapprove of the girl you love?
23. Do you wish to do anything which you haven't done before?
24. Name an animal which you think looks similar to you?
25. What was the unfunny thing, you heard last?
26. Do you have the habit of admiring yourself in front of the mirror?
27. Have you ever farted in public and blamed the other person for it?
28. If you ever get the opportunity to converse with the President, then what would be it?
29. Explain the very prime thing you would notice whenever you meet someone for the first time?
30. Where was the disastrous food you have ever had? 
31. Did you ever crap or peed in a field?
32. Do you suffer from any phobias or fears?
33. Did you ever have special feelings towards your best friend's girl?
34. Who is your favourite superhero?
35. Did you ever have special feelings towards your best friend's guy?
36. Have you at any time wished to be like anyone?
37. Do you envy girl pals of your boyfriend?
38. Would you utilize your superpower for your personal gains or for others welfare?
39. Do you wish to leave any addiction or habit?
40. Tell me any irritating thing about you? 
41. Name a celebrity you would never wish to go on a date?
42. Have you ever made friendships depending on their status?
43. Do you use any common word very often while speaking?
44. Explain any wisest thing that you have ever done?
45. Explain any stupidest thing you have ever done?
46. What do you think is your biggest failure?
47. Tell me something about your worst kiss experience?
48. Name a TV series you would like to act in and why?
49. Did you ever lie for your own benefit over someone?
50. Tell me something that you would like to shout out loud? 
51. What do you think "Is internet ruining minds?"
52. Do you turn on when you see a girl having a good posture?
53. Tell me about the best compliment you ever received?
54. What words do you want to be written on your tombstone?
55. What opinion do you have on gun control laws?
56. What turn you on, a man with a smart brain or guy with good physique?
57. Ever received any worst compliment, then what is it?
58. Do you agree with happiness as a mindset?
59. Tell me something you would wish to boast about?
60. Did you ever took a book from someone and never gave it back? 
61. Do you think, smartphone are addictive, then how to manage it?
62. How concerned should we be about the world?
63. Explain the philosophy you would swear by?
64. What's your opinion, Does size matter?
65. What do you think is the man's sexiest body part?
66. What do you think is the woman's sexiest body part?
67. How much you would rank yourself on a range of 1 to 10 in term of looks and why?
68. Do you think you are good looking or sexier when compared to your friends?
69. What do you like the most, guys having chest hair or a shaved chest?
70. Do women who reveal, attract you? 
71. Do you waste food?
72. Name a violent video game which you have last played?
73. Do you favour the death penalty or are against it?
74. Do you think your attitude is completely misunderstood?
75. Explain about any embarrassing moment?
76. Does your deep thinking make things complex for others?
77. Tell me about any wish, if you are granted one.?
78. Which cartoon character do you think is just like you?
79. Have you ever wished you were a little taller?
80. What is the one thing that irritates you most?  
81. Name a person you want to be stuck in an elevator?
82. Did you ever get a feeling of sexually aroused while taking a bath?
83. Do thoughts affect you in a positive or negative way?
84. Do you like every post your friend's posts on social networks?
85. Do you have any secret from the past which you feel like revealing?
86. Did you ever lie just for a good cause, if so what was it?
87. Which phase do you think is better, childhood or adulthood and explain why?
88. What goes through your mind when rumours are spread about you?
89. Do you get afraid in a few odd situations?
90. Do you wish something which you have in adulthood from your childhood? 
91. What would be the figure you would wish to have in your hand when you get retired?
92. Have you ever taught anything good and bad to anyone?
93. What is the first thought that comes to your mind whenever you listen to 'sexual appeal'?
94. Can you risk your life for something or someone special?
95. Explain your thought and view about the relationship?
96. Explain the funniest thing which you heard about yourself?
97. What would you do, if you get to know that the one you love is a liar?
98. What's the one thing that you dread off?
99. Do you have the habit of judging others by how they look?
100. Do you trust google a lot for your answers? 
101. Do you think, blondes and redheads are not as smart as brunettes?
102. What is the excuse which you use often?
103. What do you think, guys like curvaceous girls over skinny girls?
104. Explain the great tragedy of your life?
105. Did you ever have a crush on anyone at work?
106. Describe a creative thing that was done by you which benefited others?
107. Did your personal life got better with technology, then explain how?
108. When did you learn something new the last time?
109. What do you prefer, moist kisses or dry kisses?
110. Tell me about your role model? 
111. What would you do, if some handsome guy is hitting on you?
112. Name a person who you like to drink with?
113. Which country do would you want to rule, if you happen to be a wicked tyrant?
114. Where do you feel more comfortable except your home?
115. Explain a time when you really thought to crap down everything but was held back as you did not have any other choice?
116. How has social media helped you gain momentum in your personal and professional life?
117. Do you think good grades in academics help you succeed in the future?
118. Have you committed any mistake that made an impact on your personal or professional life?
119. Explain about a time you got damn emotional the last time?
120. Where would you want to just fly off anywhere in the world if you are given a chance, and why?
121. Do you usually please people by liking and commenting on social media sites?
122. Explain something that you would like to change in your past life?
123. Tell us about the illiberal thing that you ever have done to a friend?
124. Do you have any special talent that no one ever knew?
125. Have you ever been in a relationship purely for the money?
Workplace Farewell Party Questions:
1. Was it a tough decision leaving this job?
2. Tell me about the happiest experience you had in this company?
3. Explain about an epic moment in this organization?
4. Name a colleague who has motivated you in your life?
5. Do you regret anything most in your tenure?
6. Tell me something about what and whom you will miss the most in this company?
7. Do you find any development in yourself, working for this company? 
8. Did you miss out any important moments in your personal life while working in this organization?
9. Tell me something about the best and worst thing about this company?
10. Name any two colleagues who you want to work with you in your next company, you are joining?
11. Is there any colleague you couldn't get along with and why?
12. If you get a chance what would you like to tell the person who is joining in your position?
13. Have any suggestions on changing something or adding something new in this company?
14. Describe any most embarrassing moment that happened to you at work?
15. Do you have anything that you would like to change about yourself?
16. Will you encourage candidates to join this company after you've left?
17. Do you have any secret crush you have or had at the workplace and who?
18. Explain about an important lesson you have learned from your colleague?
19. Would you think, you will miss her?
20. If you find any issues with your new job, would you try to come back?
21. Do you think you have inspired motivated employees in this company?
22. What was the biggest mistake you have done in this company here and have you learned anything from it?
23. Can you explain your term in this company in a single word?
24. A food item/s from the cafeteria which you will miss badly?
25. Tell us a few of your important achievements at this company? 
Final words:
To conclude, this is a very exciting event and fun to be a part of as well; not just fun, such  events can bring in a lot of learning to everyone and what better way to welcome the freshers than hosting an event that is all about them. The freshers will feel comfortable and right at home; for them, the best advice is to relax and be themselves during the event as this is also just a fun way to get to know your fellow colleagues.
Save
Save