You spend almost half a day working at a desk and to fulfill the desire of having every bit along with you while working; you need to have some of the very common things besides you, so that you do not feel the need of going out after every single second. Avoid wasting time in figuring out important things in drawers and just focus on work.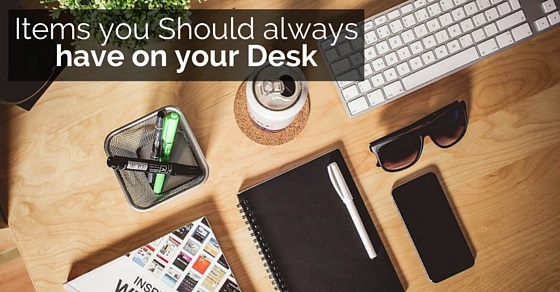 Essential Office Desk Items For Your First Office Job:
1. A water bottle:
Drink more water than eating food. Drinking water is good for health, especially when it comes to working the whole day on the desk. It keeps you the hydrated whole day and helps increasing the concentration level too.
Keep along with you a refill water bottle. Getting up every moment to drink from the water tank outside is disturbing and hinders the flow of work. So have a bottle filled with water with you.
Doctors cannot be there all the time, so first aid kit was made. Any place anytime can be a danger to you, so it is better to keep yourself safe. There can be any number of broken nails, sharp edges of furniture that can cause injury at any time.
So, to save yourself from those injuries, keep alongside the first aid box or kit at your desk. The first aid kit must be filled with eye drops, band-aids, painkillers, ointment, antiseptics etc. to protect from all the minor injuries.
3. Tissue papers:
Anyone can get sick at any time. Minor problems like sneezing, cough, cold, etc. can ruin the whole day. Keeping a handkerchief is although good, but tissues are a better option after all you can use them and throw, but handkerchiefs cannot be thrown after a single-use.
Either you are required to wash them or if left with no other option, throw it. Keep use and throw tissue papers with you all the time.
4. Mirror:
Keep a mirror with you. Although the appearance is not everything but that does not mean you will not keep yourself up to date. Check your hair; makeup before leaving to meet a client. Checking yourself before leaving will save you from the awkward situation and also you will not have to face the embarrassment in front of the boss.
5. Sanitizer:
You wish to work with twenty more employees at a time, but do not wish to catch a common cold, so make use of the sanitizer before eating the food and also after touching the feet.
Sanitizer is a mini doctor in it and helps you in protecting from germs. Hand sanitizer, face wash, the soap should also be with you. It is good to have things with you that you personally require as these things are not advisable to be shared with others. Such things need to be personal.
6. Stationary:
Pens, pencils, paper, ruler, erasers, colored pens, oil pens, files and everything else must be kept with you. Some of them should be on a desk while other things must be in your drawer for the backup.
Keep the pencils and pens in a funky bright colored holder, it will not only make your desk look happening but also interesting to work on. You may even ask for help from others, but asking for help will likely to waste much of time, in case even your colleagues do not possess them. So, keep your stationery with you for your own help.
7. Notepad:
It's human nature that one cannot remember lengthy and difficult things for a very long period of time, so for you to remember the important things, write it down on the notepad.
Keep your notepad on the desk and not inside the drawer as searching for it in the drawer will waste time. Write your big messages on a notepad, note down the lengthy memos on it.
8. Chargers:
Mobile does equal work with you. If you need to charge yourself with food and water, in a similar manner the mobile also needs to get charged. Keep your charger in your drawer and whenever in need, take it out for use.
You can even keep the power bank along with you. Powerbank is the more viable option than a charger as if you do not have a socket on your desk, the power bank will fulfill your purpose.
9. Snacks or the wafers:
You should keep with yourself small edible items like wafers, snacks so that you can feed your stomach when required. When you suffer from hunger, reach out of your drawer and eat what you have got into it. You will be able to serve others too with what you have.
Also, you can even keep with you the biscuits, tea bags, little sugar, salt or even the sachets of ketchup. You will not need to buy these things from the office canteen as you will already have these things.
10. Keep a formal dress-up item:
Your tie, blazer or a formal shirt can make you look professional. No matter how casual is your office, you need to dress up in a formal manner during the important discussions, meetings, or client meetings and can even in the interviews.
So, keep with you some formal dress up material so that you need not have to rush towards the home at the zero hours.
11. Headset or headphones:
The headphones are a must with you. At the time of loneliness, make use of the headphones to hear your favorite music. To get relieved from the crazy amount of work, just make use of the headphones, listen to the music for a while and again start with the work.
12. Footwears:
Keep an extra pair of footwear with you. For boys keep a pair of black and brown shoes and for girls to keep with you a pair of heels. You never know when your footwear will bid you goodbye in the middle.
So, be on a safer side as you may have to attend the special meeting may be at the time when you went through the tragedy of losing one shoe. That time the extra pair with you will be the life and image savior.
13. Lotions, combs, ponytail rubbers:
For girls, the comb, ponytail rubbers, and the lotions form the essentials. You can need them any time, so keep with you the little but inevitable things. These few grooming items will assist you spontaneously going out if required by the office heads to catch the shareholders for meetings or the seminars.
14. Photo frames:
No, not just the photo frames, but the family pictures or the picture of your beloved one or your children inside it, keep it along with you, it will not let you miss your near and dear ones. A single look at your loved one's photo can make you feel better and you will be able to concentrate on your work. You can keep fancy vibrant color photo frames.
It will keep your desk looking bold and interesting. Your desk may invite the number of employees for your help just because your desk looks more colorful and attractive. So, you will surely not feel bored when you will have a number of friends wandering near your desk.
15. Calendar:
Keeping a calendar on your desk is very useful thing. Simply tuck one calendar either under your keyboard or stick it on one side or can even keep in the drawer. It will be easier for you to have a look at the date and time. It will also keep you organized and up to date, you will be able to meet your deadlines.
Although mobiles have everything inbuilt but when it comes to being on toes for work, keeping a calendar is good and convenient enough than using mobile for checking the date and time. You can even mark the dates with a marker if you have deadlines and it will serve as a reminder to complete the task on time.
16. Mints or chewing – gums:
Chewing gums are good for the gums and also for attending the last-minute meetings. You eat lots of little things the whole day and it may create a foul odor, so to prevent the same, just keep with you the mints and the chewing gums.
17. Deodorants:
Your favorite and the light fragrant deodorants will be your partner in need. Spray them on your body and feel fresh. You will need them at the time of attending meetings and the important conferences, meeting the foreign delegates and maybe your own close ones, your friends, your family and so on.
18. Clear nail polish:
Nail polish is not just required to groom yourself, but can also be used for other purposes like sealing an envelope, saving a loose button of the coat, keeping tights from running any further.
Make use of the transparent nail polish as it is not visible and colorless you can use it for some unknown purposes.
19. Umbrella:
Keep an umbrella with you. The weather conditions are always uncertain and you never know when you have to suffer the brunt of heavy rains. Keep it with you as it will be of greater help when going out of the office in rains.
20. Stick on's:
You can stick your favorite cartoon characters, or even of the idols from whom you are inspired on your desk. It sometimes makes us feel good and sheds away the monotony. If not this, you can even stick your favorite quotes that are inspirational and motivational.
21. Few engaging books:
You can even keep with your few engrossing books. These can be of your favorite author and can even be the comic books. Whenever you feel tired and bored, can refer to interesting books or magazines. It will help pass your time when feeling isolated.
22. A pair of sweater, socks:
During cold weather, it is advisable to keep the sweater along with you. An extra sweater will partner you in extreme cold weather and shelter you from the cold blowing wind. You can even keep with you almonds, nuts and raisins with you to eat during the winter season.
These things help in keeping the body warm and shield you from the cough, cold, sneezing and other problems. A pair of socks should also be there in your drawer. You never know when you will be in need of such things.
23. Vitamin C supplements:
You don't have time to get sick, so keep yourself healthy and fit. Vitamin c supplements will do more good to you. Stave off the sickness with the help of dietary vitamin c supplements.
24. A lint roller:
Your pants may have dog hair on them, which might become unnoticed in your home mirror. Use a lint roller to shed off the unnoticed hair from your pants before moving out of the office for some external meetings and the business declarations.
25. Some utensils:
The utensils like spoons, glass or even a plate, you should keep with you. Using the utensils of the canteen to eat food can be unhygienic as the whole staff may use their utensils and you know those are not well washed and cleaned. So, stack some utensils with you to keep yourself wholesome and nourishing.
100+ Cool Stuff for Your Office and Awesome Desk Accessories:
Here we have enlisted few cool accessories that you can have at your office which makes your workplace more enhanced and elevated.
Cool coffee mugs
Camera Lens Mug
Annoy-a-Tron
Wrist Watch Post It Notes
Shark Attack! Coffee Cup
USB Wall Outlet
Remote Control Flying Shark
Facebook Like Stamp
Inkless Pen
Offensive Business Cards
Giraffe Coffee Mug
World's Largest Coffee Cup
Laser Guided Scissors
Pen Cap Utensils
Countdown to Retirement Timer
Battleship USB Hub
Workaholics Bear Coat
8-Bit Treasure Chest
Easy Open Key Ring
Katana Book Ends
Thor's Hammer USB Drive
Doctor Who – The Tenth Doctor's Sonic Screwdriver
Star Wars Mood Lights
Pocket Size Foldable White Board
Game of Thrones Sword Letter Opener
Work and Weekend Mugs
Gun mug
Best Entry Level Employee Mug
Maybe You Touched Your Genitals Hand-Sanitizer
Inception Totem
Air Wick Cinnabon Scented Spray
I Shoot People Mug
Insect Pushpins
Middle Finger Mug
Wall-e and Eve Coffee Mugs
The Craft Beer Revolution
Pivoting Power Strip
USB Typewriter
Solar Powered Keyboard
Pennant Sticky Notes
Mr. Spock Business Card Holder
Penguine Paper Clips
Pushpin Melee Weapons
Under the Desk Gun Holster
Office Nap Chair
Pencil Foosball
Wearable Air Futon
Lightsaber Keys
Honeycomb Shelves
Giant Floor Lamp
Tetris Color Changing Mug
Hotline Bling Ugly Christmas Sweater
Christmas Light USB iPhone Charger
Charlie Brown Christmas Tree
Emoji Keyboard
Star Wars Self Stirring Mug
Physical Social Media Counter
Individual Sriracha Packets
Death Star Planter
Gigantic Coffee Mug
Brik Book – Lego MacBook Case
Balloon Pin House
The Pussy Magnet
Q-Tip Crossbow
Infected Stress Ball
MacBook Pro with Touch Bar
Darth Vader Toothpick Dispenser
Unicorn Tape Dispenser
Grass Blade Pens
Bulbasaur Planter
Go F**k Yourself Card
Google Home Wifi System
Fidget Toy Hand Spinner
Portable Snack Storage Jars
Infinity Cube Fidget Toy
Poo-shaped Coffee Mug
Mobile Wireless Charger
Smart Modular Lunchbox
USB Fan with LED Clock
Giant Playing Cards
Cookie Monster Coffee Mug
Spinning Kinetic Desk Toy
Casey Neistat "Ask Me Anything" Desk
Meme Magnets
100 Tricks To Appear Smart In Meetings Book
Sushi Roll Shaped Push Pins
Get Sh*t Done Mug
Unicorn Neon Light
Groot Man Planter Pot
Sassy Desk Plates
Glass Blown Spider Figurine
I Survived Another Meeting Coffee Mug
Sheep Push Pin Holder
NES Cube Speaker
Logitech Vertical Ergonomic Mouse
Miniature Desk Zen Garden
Mezmoglobe – Kinetic Desk Sphere
Kasa Smart Wifi Power Strip
Spiral LED Lamp
Fake Stick-On Power Outlet
How To Get Fired On Your First Day Notebook
Star Wars AT-AT Tape Dispenser
Anaphor – Kinetic desk toy
Samsung Space Saving Computer Monitor
Ember: Temperature Control Ceramic Mug
USB Heated Mouse Pad
Super Mario Pipe Mug
iBot G3 Collectible figure
Office Buzzwords Coffee Mugs
Mini Cactus Planters
Jon Snow Globe
Fender Amp Mug
Camera Roll Tissue Dispenser Box
New Mac Pro
Stanley Hudson Drink Coaster
Time Flip 2: Interactive Time Tracker
Framed Tweets
Blue Yeti Nano Microphone
Coffee Pot Coffee Mug
Mobile 3-in-1 Wireless Charger
Motivational Profanity Pencils
Desk Foot Hammock
Cactus Pen Holder
Mezmotop™- Timeless Spinning top
Ko-Axis Rail Pen
Actually Curious, Happy Hour Edition
Into Focus Mug
Hydro Flask Travel Mug
Mini USB Paper Shredder
Anker Wireless Charger with Apple Watch Holder
I love spreadsheet mug
Wood desk organizer
Finally :
So, above are some of the things that you can keep with you on your desk. Keeping the important things with you is good, especially when it comes to the emergency.
Maybe on a regular basis, you do not need those things, but still, you never know when the time will take tide for you, and you would want them immediately. It is always better to take precautions than crying over later.