The hard part of finding a job is hunting for a job and waiting to get its desired effect. When you're looking forward to start a job search in a few days, there are few initiatives that demand to be observed in order to receive the same. You need to hunt for jobs in specific directions. You should also make others know that you're waiting for a job and ready to connect instantly. Let's glance through a few tips around how to find a job in 7 days and few tips for unemployed.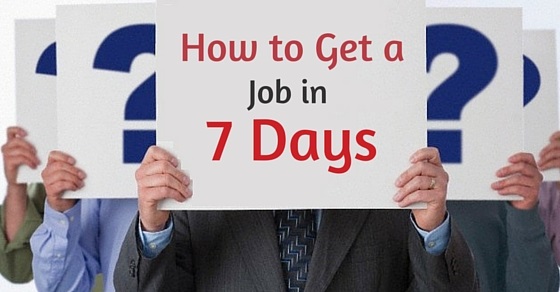 How to Get a Job in One Week:
1. Planning:
The initial footprint in finding a job in a day or within 7 days is by establishing your goals and organizing them the way it sustains to be lead. A job hunting process requires these two aspects. You can look out to proceed to a solid job, enhance your professional network, and attempt to set up spreadsheets for your network and more.
2. Explain your story:
When you're away for a job hunt and need job in 7 days, then you need to order your complete details about the category of job you require with your qualifications. It would be advisable to get a marketable description of yourself so that you're sold easily. The description you formulate can be altered, appropriate to the job role you're aiming.
3. Seek networks help:
Never forget the importance of networking and contacts who assist you in your task search. Postings online and job boards are other authors who can influence you in your occupation hunt. Your hunt should be targeted with this list and you can be mindful of the diverse opportunities available.
4. Categorizing accomplishments:
Apart from concentrating on interview skills and resumes, the candidate must categorize achievements from previous work experience. Some of them are school projects, organizing your achievements from your work experience, unique mode of job achievement with the results obtained, and more. Once all your achievements are listed try to quantify them.
5. Make a list of companies:
With all the initiatives the candidate must first make a list of companies that he desires to work for. The prospect can also develop a list with possible employers. There may be some that have not posted vacancies. Then the candidate can navigate to the various origins such as a website or in person to the company and look for an opportunity.
6. Focus on resume:
In order to appeal the employer, your attributes are too important as they append to the achiever. In order to market you and your skills in an effective manner, you need to formulate a perfect resume. A CV is the only key which can aid your clear entry for an opportunity so professional curriculum vitae must be fixed. In order to exhibit your abilities the cover letter along with the resume also adds to entry. The cover letter is the major aspect which determines if the CV must be continued to be read or not. The cover letter should possess information that is to the point and appropriate.
7. Do your homework:
You may have written down about who you want to work for. In the same mode, you need to research about the companies their products, services, backgrounds, and expectations in graduates for their recruitment. Research your network and get in touch with the related people. Look out for the varied type of questions and get prepared for the same.
8. Look for valuable employees:
There are many professionals who have a link with a number of employers and hence make sure to contact them. Getting in touch with professionals who have valuable contacts can help you obtain a full-time job. Networking is thus a very important aspect in the job hunt.
9. Professional skill development:
It would be an apt idea if the candidate could brush up with all the skills the company requires. The organization would expect candidates well-versed in a few platforms; hence, the candidate should know that and work accordingly. Skill development is thus important to get through the interview.
10. Reach the people:
Pass and get connected to employers with the avail of the professional description made by you. It is critical to recall that every candidate would have a less time to convey themselves with the employer, in that aspect make use of every second given to you to press out your potential and seize the business offer. Deliver presentation in a professional way and make sure to speak out with enthusiasm.
11. Tailoring and applying:
When you're in the procedure of looking for a job in a week, the most important Creative and effective resumes are important, that impresses the employer. So formulate resumes appropriate to the job role you give for. These are ways by which you can get recruited promptly.
12. Be more generous:
When an individual is looking out for a job in 7 days, he must be generous and apply for almost all the vacancies that are available. At that place there may be businesses that are outside your comfort level, applying for the same can help you develop in a professional fashion. When you possess an eagerness to learn and a positive approach, you would definitely find the best job and also detect the best in you. You may discover your dream company with no vacancies in it, but be bold enough and charge an introductory letter which should be concise and to the point mentioning your involvement.
13. Follow up:
When you get close to a week, make sure to come in contact with the companies that you have applied for. Remember to focus on your mobile so that you don't miss any opportunity as you might not know when the mobile rings.
14. Get to know the employer and do some homework:
In case you have applied for any of your favourite company, try to research few details about the employer. What he expects, his needs, what he would be satisfied at, what he looks inward for an employer and more. With the assorted social media networks, get in contact with the various professional contacts and gain details of the employer. By this manner, you can make yourself fit for the recruitment.
15. Do your job in an interview:
When you're invited for an interview, make sure to practice your chore at that minute. The employer looks out for two main aspects in a candidate, which are the ability to think and learn. Hence, in a job interview make sure to demonstrate your ability to think as well as learn to the employer. An example is, a candidate was being interviewed for sales and marketing, he was performing the job constantly which was pictured in his cover letter. The candidate talked about the goals of the company and ways to raise the gross. In the interview, the same candidate spoke about how to convey the destination to reality and how he would arrive at the sales operation. Remember to ask about the job role and process rather than questions about the salary.
16. Warm up with many job interviews:
It is a usual fact that a candidate needs to get warmed up for a job interview, it takes about three to five interviews for a candidate and get ready for a job interview. By this way the candidate is confident while facing a job interview.
17. Be prepared for types of interviews:
Usually, there are two types of interview sessions which are the technical and human resource management interview. The technical interview is job-related and the candidate is questioned about the technical aspects in an interview. In the same manner, an HR interview is going to recognize about the personality of the candidate to know if the candidate can work with the team. Hence the candidate must be ready for both kinds of interviews and face them in the appropriate manner.
Conclusion:
These are a few hints which can be observed by candidates who are looking out for a job in 7 days. When hunting for a business in a short time span it requires more research and smart work to be performed. With sound knowledge and positive aspect, one can gain entry in any organization within 7 days. The prospect needs to prepare more of research and set out into the process seriously. He should be cognizant of all the steps that happen in a job interview and proceed accordingly. When all these are well learned by the candidate, then receiving a job in 7 days is quite uncomplicated and comfortable.